Believe diapers are the newest planet-friendly diapers on the market. And they're here to raise the bar. 
This little-known diaper brand was created to provide diapers that do good for the planet, and for parents in need. Made from super soft and sustainable bamboo, these biodegradable diapers don't just tick the boxes when it comes to eco-credentials – the company is committed to donating diapers to parents who need them too. 
Here's everything you need to know about these game-changing bamboo diapers!
Disclaimer: Believe Diapers has not sponsored or endorsed this article in any way. As a mom who's passionate about buying the best for babies, I try really hard to include accurate information in all of my posts. If there are any inaccuracies present, please let me know; I'm more than happy to amend any errors. For more information about Believe Diapers, head over to their main site: believediapers.com This review has affiliate links. I may receive a small commission at no extra cost to you if you make a purchase through my affiliate link. Please read my disclosure for more info.
Believe Diapers Review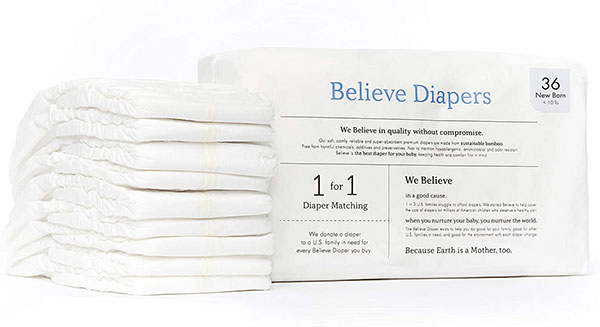 What are Believe Diapers made of?
I spend a lot of time checking diaper ingredients. So I love it when brands make theirs super transparent and super accessible. Believe diapers have got nothing to hide and make their ingredients clear for parents.
Believe diapers are made of:
Topsheet – Bamboo Viscose Fibers
Backsheet – Nonwoven BASF
Absorbent core – Totally Chlorine free wood pulp and SAP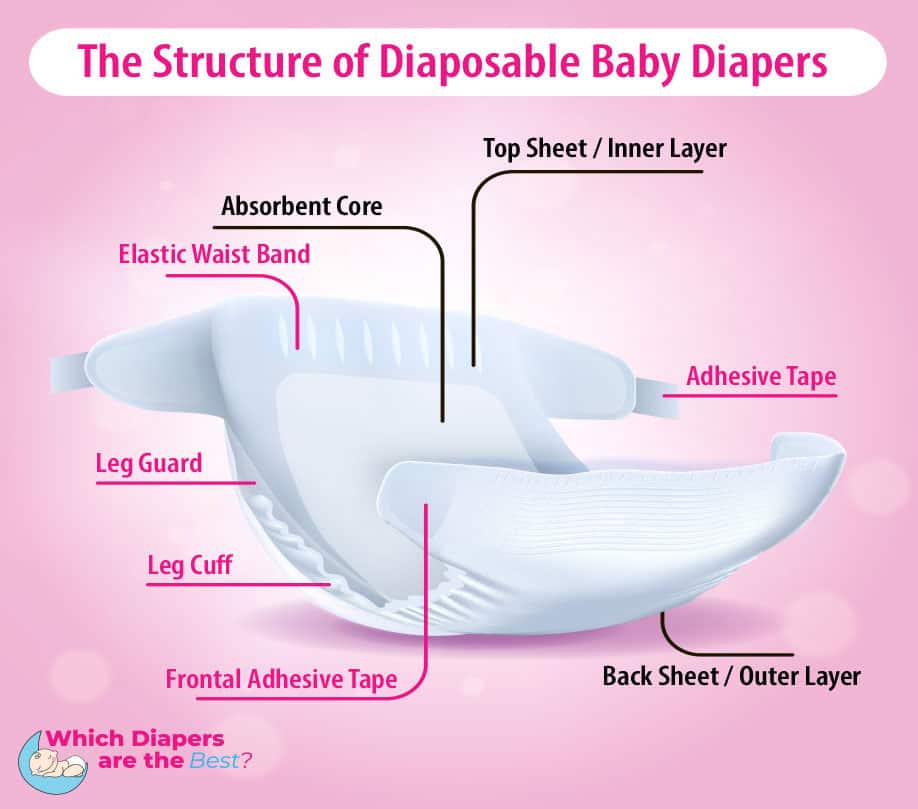 The topsheet is the part of the diaper that touches the baby's skin. It is made with Bamboo fibers in Believe diapers. Bamboo is one of the best materials, as it is hypoallergenic, soft, strong, and renewable. The brand tells us that no harmful chemical pesticides are used to treat bamboo. It's good to know that no nasty ingredients or chemicals are coming into contact with your baby's sensitive skin.
The backsheet is made of a nonwoven which is another word for Polyethylene. The company says that they found nonwoven BASF to be the best material on the market for preventing leaks.
Are Believe Diapers chemical-free? 
One of the most important things to consider when it comes to baby diapers is what's not in them. Parents are becoming increasingly savvy about toxins hidden in baby diapers. And more and more diaper companies are taking note.
But which should we be looking out for? And avoiding, of course.
You might have seen diaper brands advertise their products as free of phthalates, fragrances, lotions, or chlorine. This is great news for your baby! Phthalates are my number 1 'must-avoid' chemical, and for good reason. They've been linked to the increased risk of asthma and eczema in young children, as well as abnormal genital development in little boys. Why diaper companies are still allowed to use them is a mystery! 
The terms 'fragrances' and 'lotions' can be used to cover up a smorgasbord of nasty chemicals that shouldn't be going anywhere near your baby's skin. They can easily irritate their soft, sensitive skin, so they're best avoided wherever possible. 
More on this topic: Disposable Diapers: What Are They Made From, And Are They Safe?
Chlorine isn't necessarily bad for the skin, but chlorine bleaching is not an environmentally-friendly process, so diapers that are totally chlorine-free are a much better choice. 
When it comes to Believe diapers, they're certainly ticking all the boxes.
Believe Diapers are free from:
Where are Believe diapers made?
Believe diapers are made in China. The company says they chose China as the country has strict regulations on bamboo harvesting.
Believe Diapers price
*Prices were accurate at the time this article was published but may change over time.
A pack of 36 Newborn Believe diapers will set you back about 53 cents each on Amazon. A 42-pack of size 3 Believe diapers will cost you back just under $0.60 each. And a pack of 25 size 5 diapers come in at about 68 cents each. 
You can also shop Believe diapers on the company's own site, where you can subscribe and save. They offer free delivery on every subscription order, as well as 3 packs of wipes absolutely free! You can choose to have the diapers delivered every 2, 3 or 4 weeks. 
A subscription order of 168 size 3 diapers works out at about 48 cents each, which isn't too bad at all! And it's easy to change or cancel your subscription if you need to.
There's no denying that this price is significantly more than budget brands. You're paying more because Believe diapers are made with sustainable bamboo so, if your budget can stretch to it, they're more than worth giving a go.
Believe Diapers Size Chart
| | |
| --- | --- |
| Sizes | Weight |
| Newborn | < 10 lb. |
| Size 1 | 8-14 lb. |
| Size 2 | 12-18 lb. |
| Size 3 | 16-28 lb. |
| Size 4 | 22-37 lb. |
| Size 5 | >27 lb. |
Where to buy Believe Diapers?
You can buy Believe diapers both in stores and online. They're stocked at Amazon.com, and they're also available at Buy Buy Baby and Bed, Bath and Beyond.
Believe diaper reviews
Believe diapers average 4.2 out of 5 in over 50 ratings on Amazon. Parents and carers rate the diapers well for softness and absorbency, with users loving how comfy they are for their little ones and how great they are at preventing leaks. 
In terms of value for money, the diapers are rated an average of 3.3 out of 5. It's certainly true that they're more expensive than some other brands, but you're paying more because they're made from sustainable bamboo. 
Believe diapers FAQ
1. Are believe diapers disposable?
Believe diapers are disposable, but with a difference. Because they're biodegradable, they can be broken down back into soil within a matter of months. Some biodegradable diapers can be composted at home, while others need to be disposed of using a professional service. 
2. Are Believe Diapers biodegradable?
Believe diapers are 67% biodegradable within 75 days. The brand recommends using an industrial composting facility to dispose of them. Some parts will need to be removed before disposing of them, like the tabs as those are not biodegradable. They can, of course, be disposed of in the trash like regular disposables, but it's much better for the environment to use a composting service if you can. 
Without a doubt, the brand is doing its part of finding eco-friendly solutions to ensure that their diapers won't sit in landfills for 500 years like most disposable diapers.
Related Post: Top Picks for the Best Biodegradable Diapers on the Market
2. Are Believe baby wipes any good?
It's tough to find reviews of Believe baby wipes. It could be that the product is pretty new to the market, as Believe diapers are too. Believe wipes are made from 100% bamboo and water and, like their diapers, they're also biodegradable! They're hypoallergenic, so suitable for little ones with sensitive skin, and the company donates a pack of wipes to a family in need for every pack you buy!
3. Does Believe donate to charity?
It's clear that the founders of Believe diapers are incredibly passionate about helping parents in need. They explain that 1 in 3 US families find it difficult to afford diapers. And, shockingly, every 41 seconds, a child is born into poverty in the US alone.  
More and more diaper brands are recognizing the need to make a positive impact, and become socially and environmentally responsible. From purchasing carbon offsets to donating diapers, it's easy to find a brand that gives back. And Believe is one of them!
Believe partners with the Good+Foundation organization, a leading nonprofit that tackles poverty by providing goods to low-income parents and carers. So, for every pack of diapers or wipes you buy, Believe donates a pack to a family in need.
Believe Diapers Diapers Alternatives
Biodegradable diapers are the gold standard of diapering. In terms of disposable baby diapers, you can't get better than that. But the one downside of Believe diapers is the price – they're certainly on the more expensive side. That's to be expected when they're made with mostly plant-based materials, but are there any cheaper alternatives?
You won't find biodegradable diapers that rival the price of super budget-friendly diapers, like Luvs and Parent's Choice. Not yet, at least… But Dyper, one of my favorite brands (period!), offers biodegradable diapers that are a little more reasonably priced than Believe. While bigger sizes of Dyper diapers are on par with Believe, their smaller sizes are a lot cheaper. 
Related Post: Dyper Diapers Review: Eco-Friendly, Skin-Friendly And Bank Account-Friendly
A pack of size 1 Dyper diapers on Amazon will set you back just 32 cents each, and their size 2 diapers work out at 38 cents each. Looking at larger sizes, Andy Pandy diapers, another of my favorite brands, offer large size (for little ones 20-31lbs) biodegradable bamboo diapers for about 50 cents each. Plus, they're 85% biodegradable!
Read Next: Andy Pandy Diapers Review: The Best All-Around Diapers For Baby And For The Planet?
If your budget can stretch to biodegradable diapers, they're more than worth it. We throw away 20 billion disposable diapers every year in the US alone, most of which are made with petroleum-based plastics. The only way to make the disposable diaper market more eco-friendly is to choose biodegradable options as much as we can. Take note, diaper companies!
Read more about biodegradable diapers, Dyper products and Andy Pandy diapers in my handy guides.
Believe Diapers Review: The good, the bad, and the bottom line 
The good
The bad
Believe diapers: The bottom line
Believe diapers are making their mark on the diapering world. Taking social and environmental consciousness to the next level, the Believe company offers biodegradable diapers – 67% of them, at least – that are good for the planet, good for your baby, and even better for parents in need.
They're super soft, effective, and non-toxic, providing a diaper that's as close to perfect as we can hope for. Yes, the price is high and with so many of us watching our budgets right now, it might seem a little steep. 
If your budget can stretch to it, it's definitely worth giving 'em a go, and subscribing will save you money. Or if you're looking for other great value biodegradable diapers, try Dyper or Ecoriginals. Let's hope that, the more we switch to biodegradable, the more affordable they'll become!
Related Reading