More and more parents are choosing cloth wipes over disposables, and for very good reasons. According to surveys, over 16 million Americans used wet wipes, including baby wipes, more than 30 times a week in 2020. That adds up to a lot of waste, heading straight to landfill. In fact, using 20 wipes per day adds up to just under 22000 wipes in the first three years of a little one's life – and that's just for one baby!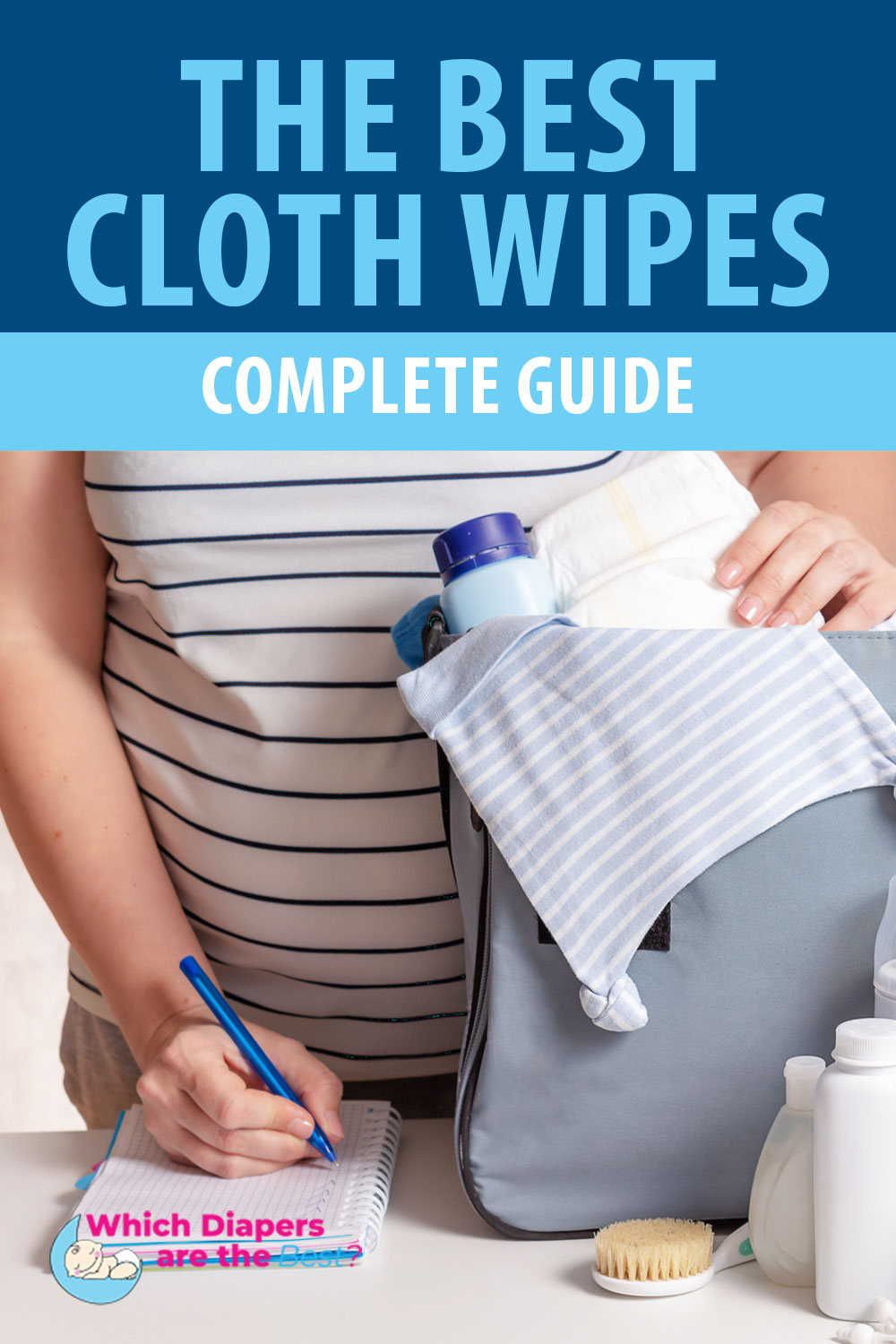 Most wipes are made with plastics, which is exactly what we need to avoid if we're going to protect our planet. These plastics head straight to landfill when we're done wiping baby and stick around for a few hundred years at least. And not only that but wipes have been known to cause sewer blockages.
Clearly, things need to change, and cloth wipes are the perfect alternative. But which reusable cloth wipes are the best?
What are washable wipes?
Washable wipes do what they say on the tin. Rather than throwing them in the trash, like conventional disposable baby wipes, reusable or cloth wipes can be washed and used over and over again. 
They're becoming increasingly popular among parents, not least because they're heaps better for the environment than regular disposables. But eco-friendly products sometimes have a reputation for being on the expensive side. And, actually, using cloth wipes can be a heck of a lot cheaper in the long run.
Note: Affiliate links may be used in this post. I may receive a small commission at no extra cost to you if you make a purchase through my affiliate link. Please read my disclosure for more info. All prices and availability are accurate at the time of publishing.
My top 4 cloth wipes at a glance 
1. Grovia Reusable Cloth Wipes
GroVia wipes are truly tried and tested. These soft terry cotton wipes have wonderful reviews – users rave about them. 
2. Buttons Flannel Wipes
Completely free of any added toxins, Buttons wipes are a great, budget-friendly option for eco-conscious parents and carers. 
3. Charlie Banana Cloth Wipes
Charlie Banana's premium cotton wipes are eco-friendly in more ways than one – the company commits 1% of its sales to environmental causes.
4. Babygoal Bamboo Baby Wipes
Babygoal wipes are made from super soft and absorbent bamboo – a more sustainable alternative to cotton. 
The benefits of using cloth wipes
So why make the switch from disposable wipes to cloth wipes? Here are the benefits of using these wonderful, reusable baby products.
Value for money



Okay, so you might pay 15-20 bucks for a pack of reusable wipes, which is more than the average pack of disposable wipes. But rather than buying a few packs a week, once you've bought your pack of reusable wipes, you're done. 

This 8 pack of Honest baby wipes will set you back just under 35 bucks. While they're a much better option than the average disposable – they're fragrance and chlorine-free – you'll have to fork out another 35 bucks next month, and the next month. You see where I'm going with this…

Of course, you have to factor in the extra cost of cleaning the wipes, but it's still much cheaper, in the long run, to wash and reuse your cloth wipes. 
Eco-friendly



It goes without saying that cloth and reusable wipes are much gentler on the planet than disposables. Most disposable baby wipes are made with some plastics, which means more plastic hanging around in landfill sites for hundreds of years. 

Buying a couple of packs of reusables and washing them means no excess plastic needing to be manufactured, and then thrown straight in the trash when used. 
Easy to use



To use most cloth wipes, all you need is water. Unlike using reusable diapers, which takes a little more planning, cloth wipes are so simple. Just wet them, use them, and wash them!
Gentle on baby's skin



Some reusable baby wipes have added chemicals and toxins like fragrances, lotions, and alcohol. These are no good for your baby's skin, and might even cause diaper rash. 

Cloth wipes are usually completely natural, with none of this nastiness added. 
What to look for when choosing cloth wipes
So what should you look for when choosing the best cloth wipes? Here's everything you need to consider before venturing into this wonderful eco-friendly world!
Material


From organic cotton to hemp, lots of different materials work well for cloth wipes. If it's important to you that the material is organic, make sure you check the product description. 
Price


The price of cloth wipes can vary quite a bit. Don't be put off by those that are a little more expensive, as long as they're within your budget. Some are better quality than others and will last longer, even after lots (and lots!) of washes. 
How to wash


How you wash your wipes might vary, depending on the material. It's important to check the product description to see what the brand recommends in terms of cleaning and washing. 
Added ingredients


The vast majority of cloth wipes don't have any added nasties like fragrances. But it's worth checking before you buy.
The best cloth baby wipes of 2022
1. Charlie Banana wipes –
Best Reusable Organic Cotton Baby Wipes

Charlie Banana wipes are pretty well known when it comes to reusable baby wipes. Made from organically grown cotton, they're super soft and completely free of plastic – great news for your baby and the planet! Each wipe measures 5.71 x 5.91 inches so they are big enough to do 3-5 folds during the cleaning.
Not only are these cloth wipes easy to use and soft on your baby's skin, but the company is certified climate neutral. Plus, they donate 1% of sales to environmental causes. 
Why Charlie Banana wipes are great:
The bottom line
You can't go wrong with Charlie Banana wipes. Made with organic cotton and fragrance-free, this company goes a step further when it comes to looking after the environment – they're certified climate neutral!
2. Thirsties Cloth wipes –
Softest Organic Cotton Reusable Cloth Wipes
Thirsties organic cotton reusable wipes come in 6 packs and are, as they describe it, 'irresistibly soft'. They measure 8 x 8.5 inches and feature 2 layers, so they're great for the smaller messes, right up to the poop explosions. They have great reviews – with 4.7 out of 5 on average – and they're made in the USA.
Why Thirsties wipes are great:
The bottom line
Thirsties wipes are a great option for eco-conscious parents. They're tough enough to handle big messes but gentle on the skin. 
GroVia reusable wipes are made of soft cotton terry toweling and measure just over 8 inches x 8 inches. So they're tough enough for your baby's bum, but soft enough for other uses too! They're even the right size for wipe warmers and have wonderful reviews – they average a brilliant 4.8 out of 5 in over 1600 reviews on Amazon. 
And they're great value at just under 20 bucks for a pack of 12. 
Why GroVia reusable baby wipes are great:
The bottom line
GroVia cloth baby wipes are of great value and tried and tested. An all-around fabulous option for parents looking to make the eco switch!
These 100% unbleached cotton flannel wipes avoid toxins and harsh chemicals found in some disposable wipes. With 15 7.5in x 7.5 in wipes in each pack, they're great value – at about 10 bucks. In just over 1800 reviews on Amazon, they average 4.7 out of 5. Users say they're easy to clean, heavy-duty, and soft. Some reviews say they lose softness after a few washes, though.
Why Buttons Flannel wipes are great:
The bottom line
These wipes are a brilliant value – the perfect starter wipes for those making the switch from disposable wipes to reusable!
OsoCozy wipes are a brilliant value. A 15 pack – each measuring 8 x 8 inches, will set you back just 10 bucks. These soft and gentle wipes are delicate on your little one's skin and they have great reviews – 4.6 out of 5 on average. 
Why OsoCozy cloth wipes are great:
The bottom line
OsoCozy provides a basic reusable wipe that's sustainable and great value for money.
Babygoal reusable bamboo wipes are truly multi-use. Great for wiping baby and bathing, they're made from 80% viscose from bamboo, although the rest of the 20% is plastic. 
These bamboo wipes measure just under 5 inches x 5 inches, are 1.5 times more absorbent than cotton towels and won't harden. They even claim to become more absorbent after being washed!
Why Babygoal bamboo wipes are great:
The bottom line
Bamboo is a great alternative to plastic. It's super-absorbent, soft, and sustainable – a great choice for eco-conscious parents!
Birdseye Cotton wipes are perfectly equipped to deal with messes. They're extra-large (a whopping 24 inches x 24 inches), made from organic cotton, and feature tightly woven fabric. They're great for wiping your baby, but are plenty big enough to be used as diapers!
Why Birdseye cloth wipes are great:
The bottom line
Birdseye extra-large wipes are the only ones that could be adapted for use as diapers! They're free of artificial fiber and available in fancy prints too.
These HipHop Panda bamboo towels measure 10in x 10in and can be used in lots of different ways – as washcloths, burp cloths, and, of course, for wiping baby's bum! 90% bamboo and 10% cotton, it looks like Hip Hop Panda wipes are free of plastic, which is great for your baby and for the earth. 
Why HipHop Panda Bamboo wipes are great:
The bottom line
I love anything and everything made from these HipHop Panda bamboo wipes – they are heaps better than plastic and super soft and absorbent too.
9. Burt's Bees Baby Wipes –
Super Soft 100% Organic Cotton Washcloths
These Burt's Bees super absorbent cloths are technically washcloths, but there's no reason why you can't use them as baby wipes. They're 100% organic cotton, measure 9in x 9in and available in a range of designs. 
Why Burt's Bees baby wipes are great:
The bottom line
Absorbent terry knit is one of my favorite materials for cloth wipes. And I love that they're available in fancy designs!
10. Hiamo Reusable Baby Wipes
Made from soft and gentle A Bamboo and Cotton Blend 
This soft bamboo and cotton blend is a great eco alternative to disposable wipes . Hiamo baby wipes are soft and gentle, but durable, with 2 layers of velour made up of 70% bamboo and 30% cotton. Each wipes measures just under 6 inches by 6 inches and at just under 15 bucks for 24 wipes, they're a great value.
Why Hiamo baby wipes are great:
The bottom line
Hiamo soft and long-lasting wipes are more than worth the initial investment when switching to reusable wipes.
What will I need to get started with cloth wipes?
So you want to make the switch from disposable wipes to cloth wipes – what will you need?
Wipes
The first step, of course, is to stock up on cloth wipes! Whether you buy a few packs of the same brand or try a few different brands, having plenty at hand is the best way to prepare.
Storage for clean wipes
You're gonna need somewhere to store your clean cloth wipes. When you're at home, something like this diaper caddy is perfect – it's got plenty of space for your wipes, diapers and creams. For when you're out and about, a pouch like this eco-friendly canvas bag is great for carrying clean wipes in your handbag or baby bag. 
Diaper pail, or equivalent
A diaper pail is a great solution for your dirty wipes. And if you use cloth or reusable diapers, it's perfect for those too – you can throw them in together and wash them together too. If you use disposable diapers, you don't wanna be throwing your dirty cloth wipes in the same pail, so it might be worth having separate pails. 
A mesh wash bag will also do the job, but just be careful with any loose strings around babies and young children. 
Check out my guide to the best diaper pails on the market right now!
Washing solutions
You'll need an effective detergent that's free of harsh chemicals and toxins and, ideally, eco-friendly. This Seventh Generation Free & Clear detergent is free of fragrances or, to go super kind-to-the-planet, try a laundry egg like this one. It replaces detergent, and lasts for a whopping 210 washes!
Stocking up on baking soda and tea tree oil is also recommended, as these are great for soaking cloth wipes before you put them through the wash cycle. 
How do you clean reusable cloth wipes?
It's actually super simple to clean reusable wipes. They can be washed with reusable diapers if you use them, or on their own. 
The first step to cleaning your cloth wipes is a little different if you have an older baby or toddler, not a newborn. Solid waste should be disposed of in a toilet before cleaning. It's really easy to do this – just dip the cloth in the toilet and give it a swish! 
The next step to cleaning cloth wipes is to soak them before putting them in the washing machine. A regular washing bowl will work for this! Soaking them in tea tree oil is a popular choice, as is a bowl with about half a cup of baking soda, and it makes getting rid of the remaining poop in the wash a doddle. An hour or two should do it. 
You might prefer to washcloth wipes separately to other dirty clothes. To ensure the bacteria is washed away and your cloth wipes stay fresh, washing them at 40 degrees (at least) is recommended. Use a detergent that's free of fragrances and harsh chemicals. This Seventh Generation eco detergent is EPA certified and completely free of fragrances, dyes, and artificial brighteners. 
It's fine to dry them with other clothes in a dryer. Or, if you want to be super eco-conscious, hang them outside!
What do you soak cloth wipes in?
Half a cup of baking soda in a bowl of water is my go-to formula for soaking cloth wipes. Adding some tea tree oil is another great option. It's known for its antibacterial properties, so it's a great option that'll leave your wipes feeling and smelling fresh! After a good wash too, of course.
How many wipes do I need?
Considering you'll be changing your little one about 4500 times in the first three years of their life – yikes – getting stocked up with plenty of cloth wipes is crucial. 
There's no magic number but bear in mind that the more you have, the easier it'll be to stick to reusable wipes. While you don't want to leave dirty wipes for too long before washing them, if you're stocked up with plenty of reusable wipes, you won't need to spend too long washing them. 
I have about 60-70 cloth wipes and I find that this is more than enough. Reusable wipes usually come in larger packs, so you'll only need 3 or 4 to be well-stocked. Reusing them over the first 3 years of your little one's life – and beyond – is super cost-effective, compared to buying disposable wipes. 
How do you make reusable cloth wipes?
It's super easy to make your own cloth wipes. And you don't have to be a sewing master to make them – there are lots of resources online to help you! My favorite material combination for reusable wipes is stretchy baby terry cloth on one side, and cotton knit on the other. 
But you can actually use all sorts of different materials and old textiles to do this – even old t-shirts, flannel sheets, and baby blankets! 
First, make sure your material is thoroughly washed. 
Next, cut into your preferred size. You can make them whatever size works for you. It's a good idea to make some smaller wipes, for smaller messes, and some larger ones, for messy poop explosions. 
It's best to use a sewing machine if you can get your hands on one for this next step. Use the overlock setting to make nice, neat edges.
Cloth Wipes FAQ
1. What is the best material for cloth wipes?
Parents who use cloth wipes tend to have their own favorite material. My favorites are wipes with stretch terry cloth on one side, and soft cotton on the other. But you can make your own wipes from old baby blankets and jersey shirts. 
Cloth wipes you can buy tend to be cotton, terry, or bamboo. Bamboo's a great alternative to cotton as it's super soft, more absorbent and it's thought to be more sustainable than cotton. 
2. How long do cloth wipes last?
Making sure you soak your wipes in water, perhaps with a little tea tree or bicarbonate of soda added, is key to making your cloth wipes last longer. Using a fragrance-free detergent is also a must. 
Sometimes, parents find that their cloth wipes can become stiff and rough after lots of washing. But some cloth wipes, like Babygoal Bamboo Wipes, say they become more absorbent and soft as you wash them! 
3. Do I store my wipes wet or dry?
It's best to store clean wipes when they're dry and keep them in a cool, dry place. Storing them wet will encourage bacteria growth!
4. Are Cheeky Wipes worth it?
Cheeky Wipes is a British brand taking the reusable baby market by storm. These reusable wipes are a little more expensive than some other brands but totally worth trying. These microfiber cloths contain no harmful chemicals or toxins and are loved by parents. They average 4.8 out of 5 in over 1000 reviews on Amazon!
Conclusion: Are cloth wipes worth it? 
Yes, yes, and yes. 
There's no wonder cloth wipes are en vogue right now, along with their eco-friendly cousins, the reusable diaper. 
While most disposable wipes are made with plastics and harsh chemicals, cloth wipes tend to contain little or no plastic at all and focus instead on soft, plant-based materials like cotton and bamboo. 
There are so many cloth wipes on the market to try, and you can even make your own! If you consider that you could be using 22000 wipes or more in the first three years of your baby's life, it's safe to say that making the switch to cloth wipes is crucial – for your baby's skin, for the planet, and for our future. 
Related Reading