So you finally have your beloved newborn in your arms after 9 long (and if they were anything like mine, pretty horrendous) months. Now what? Well, apart from keeping them safe and keeping their little tummies full, you're gonna need a decent diaper. 
Newborns need to be changed up to 12 times a day and spend pretty much every moment of their first couple of years in bum huggers. Their skin is particularly delicate so it's important that your diapers not only keep the pee and poop at bay but look after your baby's skin health too.
You'd be completely forgiven for not realizing that many brands use a whole host of nasty chemicals and toxins in their diapers; it's not like it's displayed in their marketing materials.
I'll tell you exactly what you should be looking for when it comes to the best diapers for newborns, what to avoid, and which brands offer only the best for your brand new baby.
Note: Affiliate links may be used in this post. I may receive a small commission at no extra cost to you if you make a purchase through my affiliate link. Please read my disclosure for more info.
The Best Diapers For Newborn Babies
1.Andy Pandy –
Best Newborn Disposable Diaper For Sensitive Skin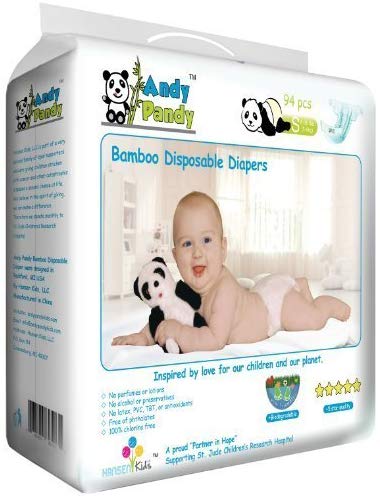 ---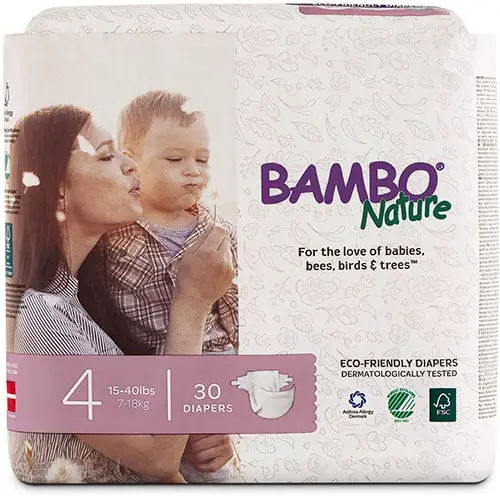 ---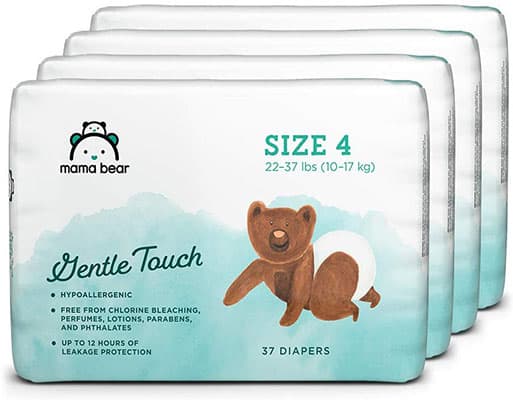 ---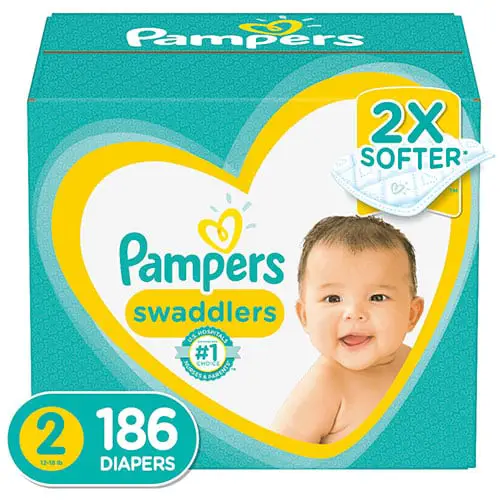 ---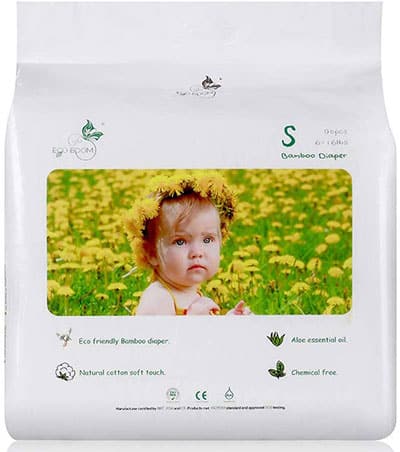 ---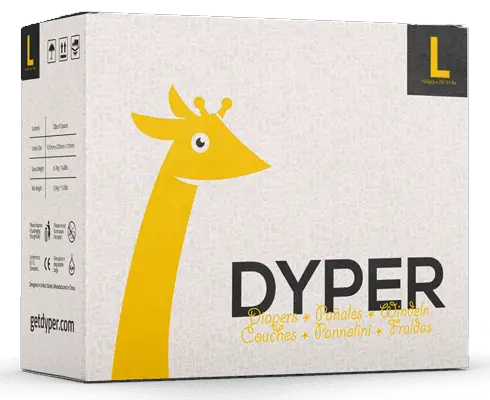 ---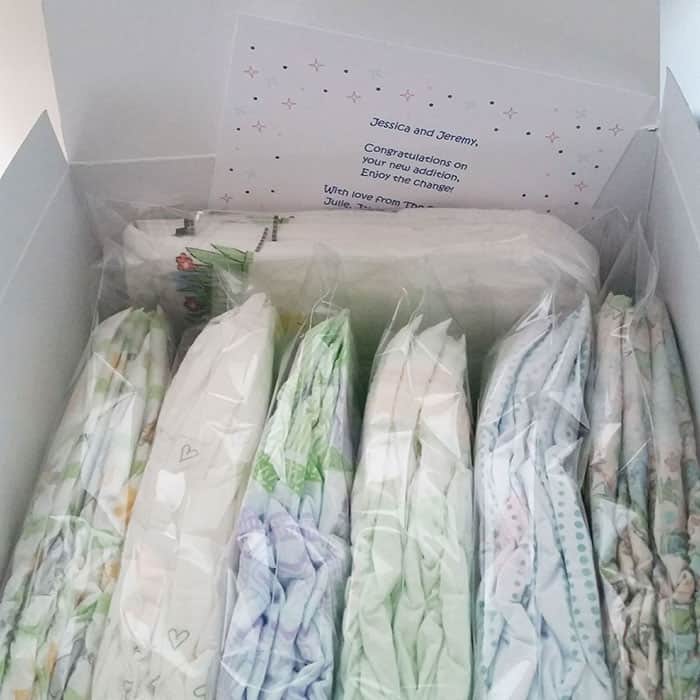 Which brand of diapers is best for newborn babies?
With so many brands available now, you're sure to find a newborn baby diaper that works and looks after your little one's delicate skin. Here's my pick of the best, plus a special mention of an awesome diaper trial service, which delivers several brands to your door!
1. Best Newborn Diaper For Sensitive Skin — Andy Pandy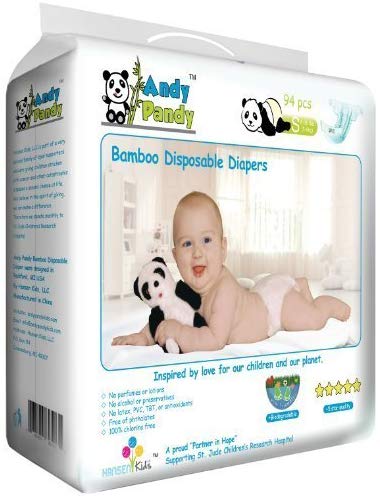 All newborn skin is delicate, of course, but if you find that your little one has particularly sensitive skin, it's even more crucial to choose a soft, hypoallergenic, non-toxic diaper. Andy Pandy produces bamboo diapers, which are amazing for the planet because bamboo's so sustainable, as well as amazing for your baby. it's grown without pesticides and it's soft, without the need for added chemicals. 
Andy Pandy diapers are naturally hypoallergenic, given that they're plant-based and free of chemicals like phthalates, fragrances, and lotions. They're also biodegradable, which means they break down much easier than plastic disposable diapers. 
Read Next: Andy Pandy Diapers Review: The Best All-Around Diapers For Baby And For The Planet?
They feature a wetness indicator, will set you back about 40 cents per diaper and the company plants two trees with every purchase!
Why they're awesome
The bottom line
Andy Pandy diapers are of great quality and naturally hypoallergenic, so they're perfect for newborns with sensitive skin. 
2.Best Organic Newborn Diapers — Bamboo Nature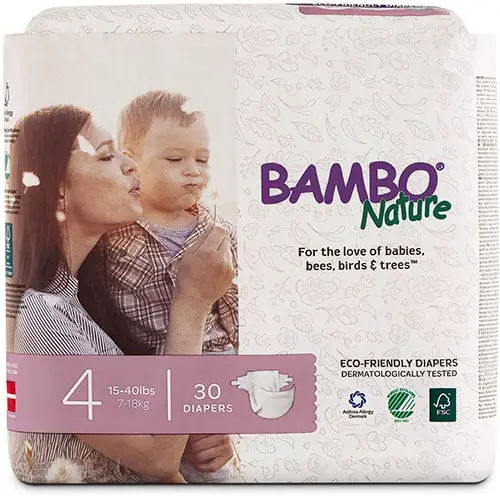 Bambo Nature diapers are probably one of the most popular organic, non-toxic diapers on the market. It helps that they're available on Amazon, where lots of parents take advantage of the Prime Family Program. It's free for Prime members, and you get up to 20% off the baby diaper and food subscriptions.
These plant-based diapers are free of nasty toxins and chemicals and, like Andy Pandy, made from super soft and absorbent bamboo. Bambo Nature diapers also carry the Nordic Swan Eco Label, which certifies a brand's efforts to minimize their impact on the environment, as well as offer skin-healthy products.
Read Next: Bambo Nature Diapers Review: Fantastic For Your Baby, Fantastic For The Planet!
They come in recyclable packaging for extra eco-friendly points and will set you back about 40-50 cents, depending on the size you need.
Why They're Awesome
The bottom line
Bambo Nature is a brand that clearly cares about its impact on the world around it. This is amazing to see considering just how damaging an impact the industry has on our planet. When it comes to the best organic newborn diapers, Bambo Nature is a great brand at the top of their game.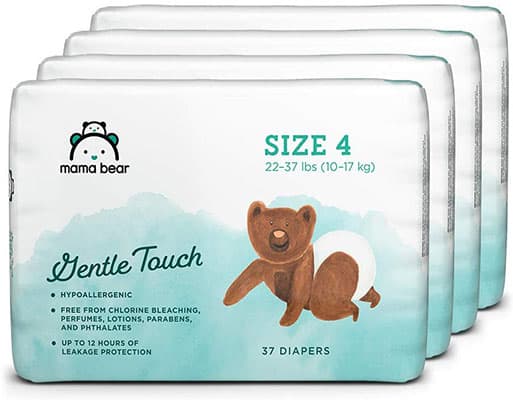 Mama Bear diapers are an Amazon brand, so you'd expect them to be budget-friendly. They're certainly kind to your bank balance and, at the same time, kind to your baby's skin. 
Amazon offers two varieties of their Mama Bear diapers – Plush Protection and Gentle Touch. While their Plush Protection variety doesn't offer any kind of skin-health or eco-friendly credentials, their Gentle Touch variety does. In fact, although they're not plant-based, they're free of the main toxins like fragrances and phthalates, and they avoid chlorine bleaching too. 
Not only that, but they're produced in a zero waste to landfill facility, which is fantastic news for the environment. Some fantastic news for your bank balance is that these budget-friendly diapers will only cost you about 16 or 17 cents per diaper, depending on the size you buy. It's pretty unusual to find non-toxic diapers suitable for newborns for such a great price. 
Why they're awesome
The bottom line
So Mama Bear Gentle Touch diapers might not have the same eco-credentials as other diapers, but if you're looking for great non-toxic diapers for newborns on a budget, they're a great choice. It's the best price for newborn diapers around!
4. #1 Hospital Brand Diaper For Newborn and Preemie Babies — Pampers Swaddlers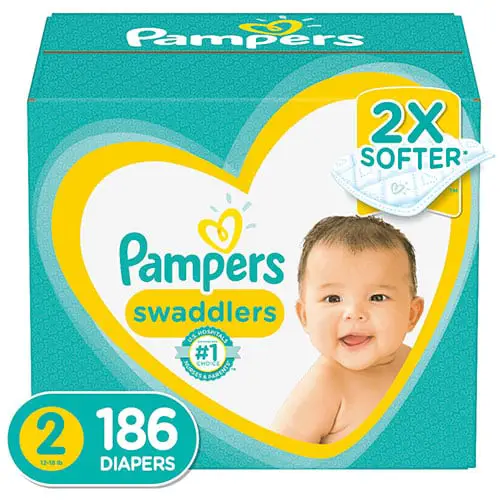 Pampers Swaddlers are tried and tested. In fact, they're the most popular diaper choice for hospitals, nurses, and parents in America. Pampers lets us know that their Swaddlers variety is 2x softer than the ''every-day-of-the-year' brand, although they don't tell us what exactly this means. 
They have a wetness indicator and another feature that's particularly good for newborns: an umbilical cord notch. It generally takes a few days or even weeks for their cord to come away naturally, so this notch is pretty useful – you're less likely to get it caught!
The only issue I have with Swaddlers is that they have added fragrances and lotions. It also looks as if they use phthalates, so they're not as good for newborn skin, or health in general. They also don't boast any eco-credentials, which many similar brands do. They're a reasonable price though: about 20-40 cents per diaper, depending on size.
Why they're awesome
But beware…
The bottom line
There's a reason why Pampers Swaddlers are so popular – they're effective. But many other newborn diapers are effective too, with many doing great things for the planet, and for your little one's skin. It's easy to get your hands on Pampers (they're sold everywhere), but other brands will do more for your baby's skin than Swaddlers. It's time Pampers got the memo about the healthy-for-baby's-skin and healthy-for-the-planet diaper revolution. 
5. Safest Newborn Diaper (Non-Toxic) — Eco Boom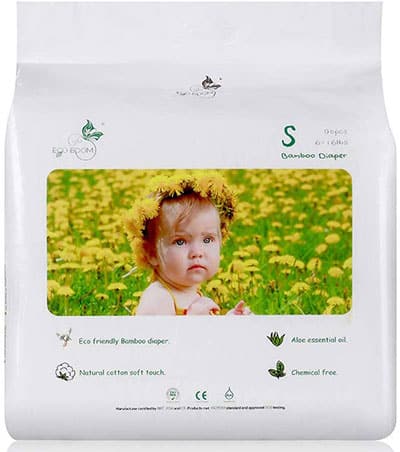 With every purchase for your newborn baby, safety is key. We've already looked at why seemingly-harmless diapers can cause potential health risks, so we need to look for those who shun toxins and chemicals. Eco Boom is another epic diaper brand, making waves in the non-toxic market. And with a name like Eco Boom, that's not too surprising.
Eco Boom diapers are made from bamboo and are biodegradable. They're comfortable for your baby as they have a flexible fit and they're free from nasties like phthalates, fragrances, and lotions, as well as chlorine bleaching. This is so important given the links between phthalates in particular with conditions like asthma, eczema, and abnormal genital development.
Eco Boom will look after your little one, as well as the world around them – these disposable diapers even have biodegradable packaging! They average around 40-50 cents per diaper, so they are a little more expensive than average.
Why they're awesome
The bottom line
Eco Boom is just one of the many companies putting your baby and the planet first. They're one of the safest diapers on the market.
6. Best Bamboo Infant Diapers — Dyper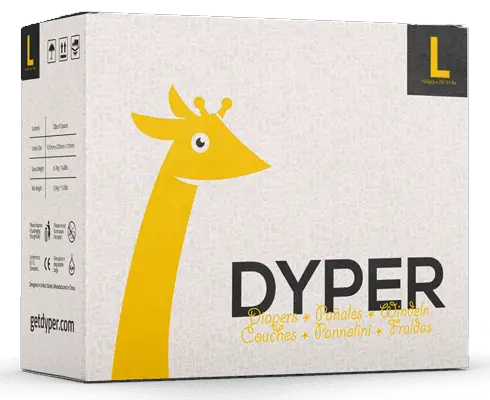 I'm well aware of the amount of time I devote to talking about diapers and their impact on the environment (a heck of a lot), but it's for a very good reason. 20 billion disposable diapers end up in landfills every year in the US alone, and each one of those diapers will take hundreds of years to break down – if at all – releasing toxins into the environment as they go. Suffice to say, we need an alternative.
Dyper is one of my favorite brands, and not just because of the name. Like most other bamboo diapers, Dyper diapers are biodegradable and free of harsh toxins. This means that they'll break down back into the soil much easier than their non-plant-based cousins. But Dyper goes a step further.
While biodegradable diapers are undoubtedly the best option, if they're sent to a landfill, they'll still potentially take a while to decompose; it really depends on the amount of sunlight they're exposed to. But Dyper diapers can be composted at home (the pee ones, not the poopy ones!) and the company even provides a professional composting service, which means they'll take your dirty diapers away for you to dispose of them in the most eco-friendly way possible. Plus, they're delivered to your door in biodegradable bags. And, Dyper will purchase carbon offsets with every delivery. 
Related Post: Dyper Diapers Review: Eco-Friendly, Skin-Friendly And Bank Account-Friendly
You'd think all of this plant hugging would come at a higher cost, but you can buy Dyper diapers for as little as 25 cents a diaper. What's not to love?
Why they're awesome
The bottom line
Looking after our newborns goes hand in hand with looking after our planet, and ensuring both have a healthy future ahead of them. Dyper is setting the bar high for eco-friendly disposable diapers, and it's hoped that other brands take note.
7. Best Diaper Trial Service — Diaper Dabbler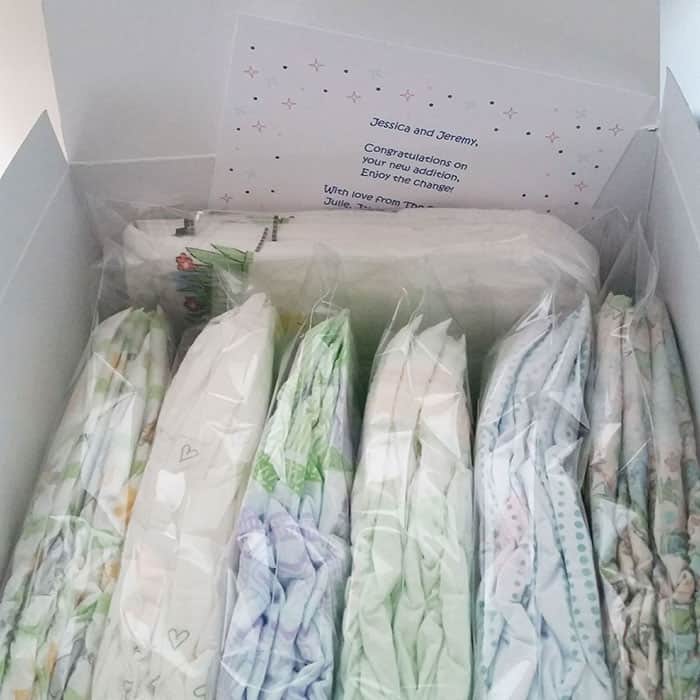 If you're not quite sure which brand to try just yet, never fear. Diaper Dabbler's ready and waiting to deliver several diaper brands to your door for diaper sampling fun! And when you're a parent, trust me, this will be your idea of 'fun'.
Diaper Dabbler offers several trial packs to choose from, one of which is the Newborn Babes Diaper Variety bundle, which includes 3 diapers of each of the following brands:
When you've found 'the one', you can then look at buying that brand at a lower price, either through their site, using their subscription service, or picking them up at the grocery store if they're available. There are multiple sizes on offer too.
Why this service is awesome
The bottom line
If you'd like to try a range of diapers before committing, this is the service for you. I love that they have a Mother Earth range, letting you try some of the healthiest diapers around before deciding which is best for your newborn.
How to choose the best newborn diapers
So what do you need to consider when you're looking for the best newborn disposable diapers? 
Softness
Our poor newborns have just been thrust (literally) into the world from their warm and safe womb cocoon, so we're gonna need some soft diapers to make it easy on them. Some newborn diapers, especially if they're plastic-heavy, are more on the rough side, and not particularly pleasant for any baby's skin.

Bamboo diapers are a great choice to ensure softness, and they're super absorbent too.
Non-toxic
Some diaper brands are less than transparent when it comes to what's actually inside their diapers. Unsurprisingly, toxins and chemicals used in diapers aren't usually displayed on the packaging, for very obvious they-wouldn't-sell-any reasons. 

In fact, a lot of these chemicals aren't regulated by the FDA, which means brands can use them however they like, and they don't have to tell us about it.
So what should we try to avoid when it comes to finding skin-healthy diapers for our newborns?
Chlorine:

it has made its way from the swimming pool into our babies' diapers. It's used to make diapers more absorbent, but it can and should be avoided if possible; it's terrible for the planet. Look for totally chlorine-free diapers if you can.
Phthalates:

they are nasty chemicals used in everything from baby diapers to vinyl flooring. They're used to soften hard plastics, but, again, they're completely avoidable. But what's so terrible about them?

Exposure to phthalates has actually been linked to asthma and eczema, as well as abnormal genital development in little boys1. A study in the Journal of the American Academy of Pediatrics concludes that small children are often exposed to these toxins, which isn't too surprising, given they even make their way into children's diapers and toys. If brands avoid them, they'll make it obvious on their packaging or on the site. If they're not mentioned, it might be safer to assume they're used.
Fragrances: while fragrances might appear to be a positive addition to baby diapers, in actual fact, the term is often used by diaper companies to hide a bunch of nasty chemicals. They could be using hundreds of unnamed chemicals and calling them 'fragrances', and these could be allergens, irritants, and carcinogens. These toxins could cause diaper rash, as well as respiratory problems. Again, companies will shout about the fact that they're fragrance-free if they're not used.
Lotions:

like fragrances, lotions can cause diaper rash and skin irritations. They're unnecessary and it's best to avoid them if you can!
Heavy metal inks and dyes:

cute designs on diapers do a pretty good job of persuading us to buy them, but they're completely unnecessary. Heavy metals, often used in dyes and inks, can irritate the skin, so look for dye-free diapers or those which use water-based inks. 
More on this topic: Disposable Diapers: What Are They Made From, And Are They Safe?
Wetness Indicator
It might not be a requirement for you, but I loved having wetness indicators to help me decide when to change my newborn. As a first-time parent especially, it's kinda shocking when you realize your little one will need changing 10 or more times a day. A wetness indicator saves you from changing them unnecessarily but will let you know when they do need one. 
Sizes
Some varieties of diapers are meant for older, active babies. Pampers Cruisers, for example, start at size 3, so they're no good for your newborn. Make sure the variety you're looking at produces newborn sizes. 
Price
If the price wasn't a factor, all parents would choose the most eco-friendly and skin-friendly diapers on the market. Unfortunately, price is an important factor for most of us, especially when we've just spent a fortune on baby items! Amazon's a great place to compare diaper prices because they often tell you how much you're paying per diaper. Subscription services, offered by lots of different brands, also offer great discounts.
The Dos and Don'ts of buying disposable diapers for a newborn:
Do:
Shop Around. Chances are, you've already spent a decent chunk of money on baby essentials, so you want to get a good deal for your diapers if you can, especially if you're on a budget. Comparing prices online is an easy way to check you're getting the best deal
Subscribe and Save. Loads of diaper brands offer subscription services – diapers straight to your door, and usually with a saving compared to one-off pack prices. Dyper and Andy Pandy offer these services, as do other non-toxic brands like Honest and Hello Bello. Some even offer free gifts for subscribing (and who doesn't love a free gift?), you won't have to worry about going to the grocery store to buy them and subscriptions are generally super flexible.

Or if you're looking to buy your diapers on Amazon and you're a Prime member, it's free to sign up for the Family Program. It gives you access to exclusive discounts, parenting tips, and up to 20% off the baby diaper and baby food subscriptions.
Read reviews. Ultimately, diapers have got to work. You'll have enough on your plate with a newborn without worrying about poop explosions. So reading the reviews from parents and carers who've tried and tested them will let you know exactly what they're like.
Try a diaper sample service. A diaper sample service like Diaper Dabbler is a great option for new parents. It offers you a chance to try a range of diapers to figure out which is the best for your little one, without buying endless packs and spending serious dollars.

I love Diaper Dabbler's 'Mother Earth' pack. It contains 7 eco-friendly diaper brands in size 1 (3 diapers of each brand) to let you try some of the healthiest diapers for newborns on the market, without committing! 
Be aware of hidden toxins and chemicals. Just because a diaper 'works', doesn't mean it's healthy. Many brands use toxins like fragrances and phthalates, which could have health implications for your little one. The best way to avoid these is to look for brands that are transparent about what they use in their disposable diapers. Look for diapers that are free of phthalates, fragrances, lotions, chlorine, and heavy metal inks.
More on this topic: Disposable Diapers: What Are They Made From, And Are They Safe?
Don't:
Buy in bulk straight away. It's very tempting to buy newborn diapers in bulk, especially considering that's usually the cheapest way. But, just like you don't know for sure if your baby will have hair or not or whether she'll be 6lbs or 10, you don't know for certain which will be the best diaper for your newborn. It's best to have a few to try, which is why Diaper Dabbler is such a good option. Whatever you do, don't buy in bulk until you know which brand works!
Be seduced by marketing. Lots of diaper brands now produce what they like to call 'eco-friendly', 'plant-based', 'natural', or 'organic' diapers. These terms aren't regulated by the FDA, and neither is the use of toxins that could still make an appearance in these seemingly innocent diapers. 

Pampers Pure Protection diapers, for example, aren't quite as pure as they seem. While they avoid chlorine bleaching and fragrances, there's no word on lotions and phthalates, so it's safer to assume they're used. In order to determine which diapers are genuinely eco-friendly or safe for your little one, look for diaper companies that avoid phthalates, fragrances, lotions, chlorine, and heavy metal inks if you can. It should be simple to see which are genuinely non-toxic. They'll probably shout about it – it's a huge selling point after all!
Best Diapers For Newborn Babies FAQs
1. How long do babies use newborn diapers?
Diaper sizes can be a little confusing. While sizes tend to be similar across brands, always check the pack you're buying to make sure your baby's the right weight for that size. As a general rule, newborn diapers are suitable for little ones up to 10lbs, so most newborns should need this size. 
But because they grow so terrifyingly quickly, they might only spend the first few weeks in this size. Every baby's different, of course, but you certainly won't need a huge number of them. 
2. Should you wake a newborn to change a diaper?
Waking a baby for any reason is a contentious issue. For some, it's a complete no-go, but you don't want your little one sitting in her pee or poop for hours on end. And because newborns tend to poop around the clock, you might find yourself with no choice but to change their diaper, even if they're asleep; this is certainly the case if you hear a very loud and unmistakeable poop at 2 am – sorry. But if you're lucky, your tiny baby might not even wake up while you're changing them! 
Leaving babies for too long in dirty diapers can cause diaper rash, not to mention it'll be uncomfortable for them. So while you don't need to change them after every single pee, try to change them soon after poops, even if they're asleep. 
Diapers that promise 12 hours of protection are a great choice for overnights, although your newborn will probably be a few months away from sleeping through. Or years, in my case.
3. Can my baby wear a diaper all night?
It's perfectly fine for a baby to wear a diaper all night, provided they haven't pooped and provided it's a good quality, absorbent diaper. Otherwise, it's gonna be uncomfortable for your baby, and a diaper rash can result from a wet diaper staying on for too long.
Newborns tend to need changing at least once in the night, although they might not even wake when you do. Older babies tend to be okay in diapers overnight if they're effective enough unless they poop in the middle of the night.
4. How tight should a newborn's diaper be?
It's important to secure your newborn's diaper well to avoid pee and poop explosions, but they don't want to be too tight. It should have enough breathing room and you should be able to run a finger all the way across the waistband. 
5. Are Pampers or Huggies better for newborns?
Pampers and Huggies are natural first choices for parents. After all, they're widely available, and they're effective. But most varieties of both brands contain unnecessary chemicals and toxins like chlorine, phthalates, fragrances, lotions, and dyes made with heavy metals. With so many amazing eco and skin-healthy options out there now, like Dyper, Eco Boom, and even the budget-friendly Mama Bear Gentle Touch diapers, there are better choices to be made, both for your newborn and for the planet. 
Check out my guide to what's really in disposable diapers and my picks of the best hypoallergenic and non-toxic offerings. 
6. Can you use size 1 diapers on a newborn?
Size 1 diapers tend to suit babies who are between 8 and 14lbs, although this might differ depending on the brand you choose. So if your baby fits into that weight category, they're likely to be perfectly suitable. 
I'd suggest buying a few newborn diapers and a few size 1 diapers before the birth. While science has come a long way, weight predictions are still sometimes very inaccurate! 
7. What brand of diapers do hospitals use?
The number 1 choice for hospitals when it comes to diapers is Pampers, their Swaddlers variety in particular. This doesn't mean that Swaddlers will be the best fit for your baby, and bear in mind that this variety of Pampers contains toxins and potential irritants. 
Pampers might be experts at keeping the pee and poop in, but it's not mastered the whole non-toxic diaper thing just yet. Pampers Pure Protection are a little better in that they're made without added fragrances and chlorine, but it looks like they do contain phthalates and lotions. 
8. What are the safest diapers for babies?
The safest diapers for babies, including newborns, are those which steer clear of toxins like phthalates and fragrances. Ideally, they'll use predominantly plant-based materials like bamboo, wood or cane, rather than petroleum-based plastics. 
Avoiding harsh chemicals reduces the chances of diaper rash, and other health issues associated with toxins like asthma and eczema. 
Whether it's non-toxic, hypoallergenic, biodegradable, cruelty-free diapers you're looking for, you'll find the safest diapers for babies in my guides to the best!
9. What diapers have umbilical cord cutout?
Not all newborn and size 1 diapers have umbilical cord cutouts. With cords typically sticking around for a couple of weeks after the birth, you might want to consider a diaper with this feature, although folding the front of the diaper down is just as effective.
The following diapers have umbilical cord cutouts on their newborn size :
10.How do you put a diaper on with an umbilical cord?
If your diaper doesn't have an umbilical cord notch, the best thing to do is to fold the front section of the diaper down to allow air to reach it. It's important to clean and care for it properly too.
The Best Diapers For Newborns: The Bottom Line
A newborn baby is the most wonderful gift. But he or she will also be leaving lots of little gifts for you in their diaper, so it's important that they're made of the right stuff. Their delicate skin needs the best: non-toxic, hypoallergenic, and super soft. 
It's quite shocking when you see what's actually inside disposable diapers; there are no wonder companies aren't always transparent when it comes to their ingredients. But now that we know what to look for, it opens up a whole new world of amazing diapers for newborns which not only look after their skin but the planet, too.
Whichever diaper you try for your newborn, remember to savor those first few days and weeks. The time flies so fast and, before you know it, they'll be out of diapers altogether, off to school, and, eventually, a grouchy, door-slamming teen. 
The joys of parenthood…
Related Reading