A diaper shower is a great alternative to a baby shower. Whether the mama to be is super organized and already has most of her baby supplies or whether she's already stocked because she's a second, third, or fourth-time mom, throwing a shower focused on – you guessed it – diapers is a great idea for a party. 
The idea of a diaper shower is still quite a new one, so what does it actually involve, and how can you throw the best diaper shower for your friend or family member? Let's take a look at the ins and outs of this baby shower alternative, including the best diaper shower games, diaper shower decorations, and diaper shower food. 
Note: Affiliate links may be used in this post. I may receive a small commission at no extra cost to you if you make a purchase through my affiliate link. Please read my disclosure for more info. All prices and availability are accurate at the time of publishing.
What is the difference between a diapers shower and a baby shower?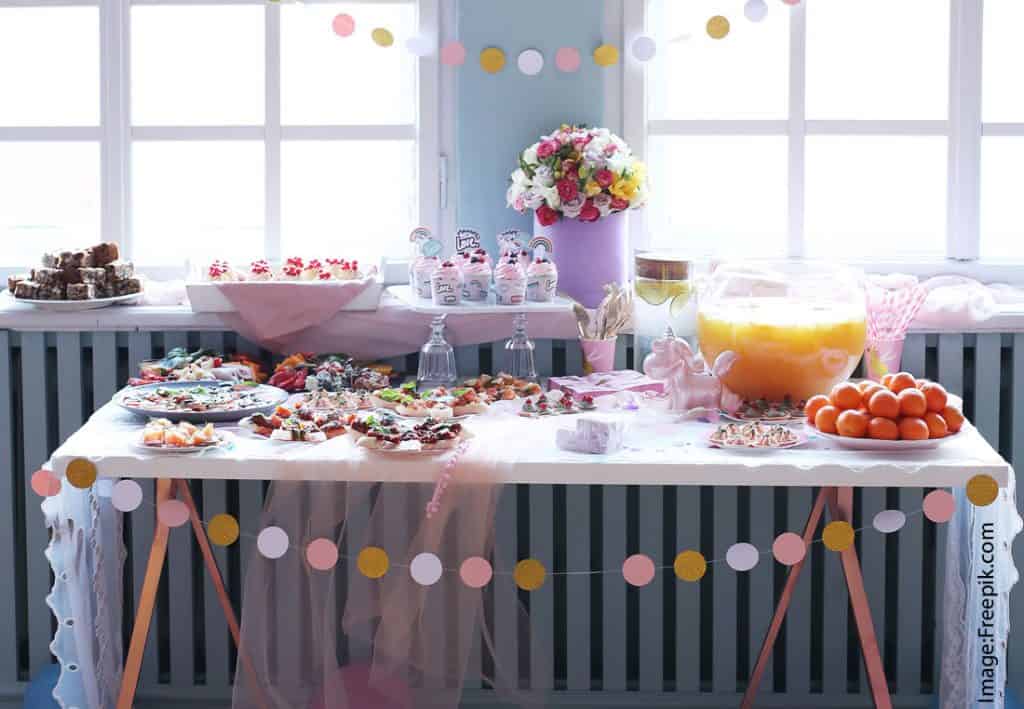 Pregnancy, while a joyful thing, is tough. The mama-to-be will have experienced 7 or 8 months of sickness, back pains, and 35,478 strangers touching her baby belly without asking first by the time her baby shower comes around. It's rough. So if there's anything she deserves to celebrate the imminent arrival of her bouncing baby, it's an epic party. But what if she already has everything she needs?
She might have been military-standard organized, buying everything she could possibly need by 4 months into her pregnancy. It's certainly not a bad idea. Or, if she's already done the whole having-a-baby thing before, she might already be well-stocked in baby supplies. And that's where diaper showers come in. 
Baby showers usually involve the giving of supplies like clothes, toys, muslins, bibs, blankets, and other baby essentials. If the mama-to-be is already well-equipped, why not throw a diaper shower instead: a party focusing on the giving of diapers, wipes, and diaper-related items to ensure she's prepared for the deluge of pee and poop she's about to be greeted with when her little one makes an appearance? 
Parenting is great.
What gifts do you give at a diaper shower?
Throwing a diaper shower means equipping your expecting friend or family member with everything they'll need to boss baby changing. Every parent knows just how expensive diapers can be, and the crazy number of diaper extras you need to be armed with to deal with them, from diaper caddies to changing bags to (thousands of) packs of wipes to diaper cream to one or two family members or friends on hand to help you with the let's-put-the-baby-straight-in-the-bath poop explosions. 
You might not always be on hand to help, but you can take a whole heap of stress out of being a new mom with an amazing diaper shower and the following gifts:
Apart from diapers, it's a good idea to check whether the mama-to-be already has the bigger items like a changing bag and caddy. The main focus is the diapers; she'll need a lot. In fact, from birth to being potty trained, a baby might need anything from 5000 to 7500 disposable diapers. That's at least 1500 dollars-worth. 
How to throw a diaper shower
Diaper showers can have all the elements of regular baby showers, but with a diaper theme, of course! You're gonna need all the usual bits of a shower, like invitations, decorations, food and drink and games. And the best bit, presents. 
Diaper shower invitations
The first step to any great party is an invitation. The COVID-19 pandemic has made our party plans a little harder, to say the least. But whether you're throwing an in-person or virtual diaper shower, you're gonna need invites, and there are so many options when it comes to invites. 
You can go with the traditional paper invitation, email invite or Facebook invite. The only real requirement is clear details about where and when it is taking place, a quick explanation of what a diaper shower is (ask the guests to gift diapers rather than traditional baby gifts), and, of course, a super cute design!
Diaper Shower decorations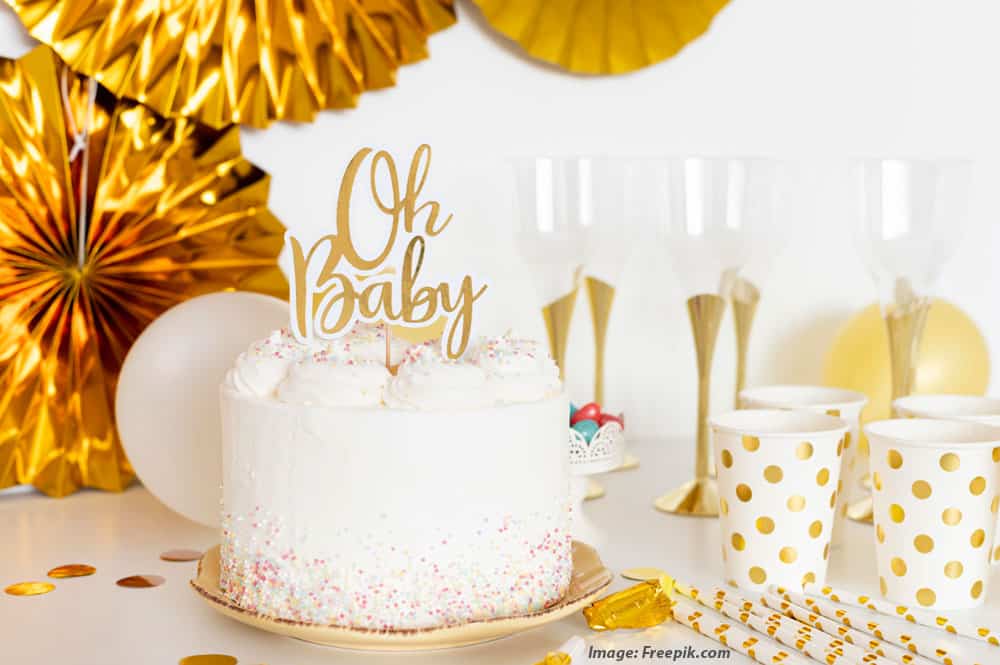 If you're hosting an in-person diaper shower party, decorations are a must. Simply make any typical decorations, like balloons and bunting, diaper-themed if you can! Or a make-your-own diaper bunting is a great idea.
I love this complete baby shower kit. It comes with 60 gold and white confetti balloons, ivy vines, 8 monstera leaves, 4 palm plant leaves, a garland strip, and, the best bit, 'Oh Baby' gold foil balloons. Because what's a party without a balloon centerpiece? 
This woodland-themed baby shower decoration set is just as cute; it includes a 'Welcome' burlap banner, a 'Baby' burlap banner, 6 forest animal cutouts, a 'Mama Bear' sash for mom, and 8 woodland themed fans. It's great for a woodland or rustic shower. 
Diaper shower Food
Let's be honest, the best bit of any party is the food. Determine whether the mama-to-be would prefer a more formal affair in the form of a sit-down meal or a buffet. Either way, ensure there are plenty of options for varying diets, like vegetarians and vegans, and, if you can, include a diaper-themed cake! 
If you're looking to put on a spread, a great idea for a shower with a sophisticated-feel is an afternoon tea. Inspired by the much-loved British tradition, food ideas for an afternoon tea include cucumber sandwiches, scones, cakes, and, of course, tea! Think the Mad Hatter's tea party, but without the talking animals…
Another great idea for an easy-to-do shower spread is pizza. Whether homemade or bought, it's sure to be loved by all guests and it's super easy to eat. You could even order in if you're hosting an informal diaper shower!
Whatever food you choose to serve, if you're putting on your own spread, consider an eco-friendly plate and cutlery set like this Urthware compostable set. Unlike disposable plastic cutlery, which will stick around in landfills for hundreds of years, this set, made from sugar-cane and corn, is biodegradable. That means it's made from plant-based materials and it will break down much more quickly than plastic.
Diaper shower games 
There's lots of well established baby shower games that are perfect for a diaper shower. 
The Dirty Diaper Game

This is super fun, albeit a little weird, diaper shower game. All you'll need is a diaper for each guest; it doesn't matter whether these are real diapers or diapers made from paper towels or napkins. 

Simply choose one diaper to be the 'dirty' one and use mustard or Nutella to make it so. Sorry, gross. As the diaper shower guests arrive, hand each one a diaper to be opened when everyone has arrived. The lucky lady with the 'dirty diaper' wins a prize!
What's in the diaper bag?

I played this game at my own baby shower. It's surprisingly tough, but a great way to get everyone involved. 

All you need to do is fill a changing bag with a few different baby items. They don't have to be diaper-related, of course! Each attendee feels the bag and tries to guess what's in it. The person who guesses the contents accurately wins. 
Pass the diaper

If there's ever a time for childhood games, it's a baby shower. 'Pass the diaper' is just like pass the parcel, but with a fun twist. Someone should be in charge of playing music whilst the guests pass around a folded diaper with a prize inside (make sure the guests can't see what it is!). When the music stops, the person holding the diaper is 'out'. Simply continue until one person is left holding the diaper at the end – they win whatever's inside! 
Diaper Shower FAQs
1. What size diapers are the best for a baby shower?
You'd think newborn and size 1 diapers would always be the best sizes to bring to a diaper shower. This is fine if you're planning a small party. But if you're planning a larger party and every guest brings lots of newborn diapers, your mama-to-be might find herself with too many. 
If you're expecting lots of guests, it might be worth asking a few of them to bring size 2 or 3 diapers to ensure that the mama-to-be doesn't end up with too many newborn or size 1 diapers. Babies grow so fast, and grow out of their diapers even quicker!
Read Next: The Complete Diaper Size Guide: Chart Of Most Popular Brands
2. Do you wrap diapers for a diaper baby shower?
It's completely up to each guest whether they wrap their diapers for the mama-to-be. I think it's still a nice thing to do if you have the time; it's a gift, after all! If you're looking for a super simple option, look no further than Diaper Dabbler, a great site that offers a wide variety of diaper bundles. Not only do they offer bundles with a range of diaper brands to help the new mom to find her favorite, but they come gift-wrapped, so they're perfect for a baby shower or diaper shower! 
I really like the Natural Choice For New Babies pack. It features some of the best non-toxic and plant-based diapers out there in sizes newborn and 1. 
3. Can you have a baby shower and a diaper party?
There's no reason why you can't have a regular baby shower as well as a diaper party! Just make sure you specify on the invitations what kind of party you're holding, and if you're asking guests to bring regular baby shower gifts, or if the mama-to-be would prefer diaper gifts instead.
4. What are the best diapers?
While the mama-to-be will be super grateful for any diapers the guests bring along to the diaper shower, it's worth remembering that not all diapers are created equal. You'd be completely forgiven for not realizing that many diaper varieties are pretty terrible for the planet, and not so great for babies' skin, either. 
Here's what to look for when choosing the best diapers for a diaper shower:
Plant-based.
Whether it's bamboo, cane, or wood fluff pulp, plant-based diapers are heaps better than plastic ones, for obvious eco-friendly reasons! 
Chlorine-free


Chlorine bleaching is often used in diapers to make them more absorbent, but it's actually not necessary. Look for diapers that are totally chlorine-free (TCF) if you can.
Fragrance-free


Fragrances in diapers might seem like a good idea initially, but the term can actually be used to hide a bunch of nasty chemicals. These could cause diaper rash, so look for diapers that are clearly labeled 'fragrance-free' or 'perfume-free'.
Related Read: Why You Should Avoid Fragranced Diapers And The Best Unscented Diapers On The Market
Lotion free


Just like fragrances, added lotions in diapers can cause diaper rash and other skin issues. If diapers avoid added lotions, they should be clearly labelled 'free of lotions'.
Phthalates


These super-hard-to-pronounce chemicals are often added to diapers to make the plastic more durable. They've been linked to increased rates of asthma and eczema and are just best avoided! Look for diapers which are clearly labelled 'free of phthalates'.
Biodegradable 


The piece de resistance of the world is the biodegradable diaper. Essentially, rather than taking a few hundred years to break down as plastic disposable diapers do, biodegradable diapers only stick around for a few months. This is great news for the planet! 
These are some of my favorite plant-based and non-toxic brands. Some are biodegradable too!
Related Post: Top Picks for the Best Biodegradable Diapers on the Market
Related Post: What Are The Best Organic Diapers On The Market, And Why You Should Look For The Most Natural Ingredients
5. What is a diaper raffle? 
A diaper raffle is a simple way to encourage guests to gift diapers. Simply ask each guest on the invite to bring a pack or box of diapers in exchange for a raffle ticket. You can give a ticket out for each box or pack brought along; it might encourage guests to bring more than one! 
At the end of the diaper shower, simply pick the winning raffle ticket and hand out the prize! The prize will depend on your budget, of course; it could be anything from some fancy toiletries to vouchers. 
Diaper Showers: The Bottom Line
If the soon-to-be mom already has everything she needs for the imminent arrival of her bundle of joy, it's a great idea to host a diaper shower instead of a traditional baby shower. While it involves lots of the same elements – invitations, food, decorations, and games – the most important distinction is the gifts, so make sure you make it clear on the invites! 
The mama-to-be will be so grateful for diaper gifts she'll need and use, and it'll allow for a stress-free first few weeks with her little one. Well, the stress of buying diapers won't be there, at least. She'll still have to contend with having absolutely no time for sleeping, eating, and going to the bathroom, of course. 
Parenting really is the best.
Related Reading