During pregnancy, it's all about the mama-to-be, and for good reasons. While pregnancy is undoubtedly an amazing thing, she has 9 months of battling sickness, aches, and pains and carrying around a soon-to-be watermelon-sized baby to contend with; of course, it's all about her. Her baby shower is all about letting go and celebrating the imminent arrival of her beautiful little baby. But there's no reason why the guys can't get involved too…
And with a diaper party, Let's take a look at all the elements of this amazing celebration. This relatively new idea is a great way to get the dad involved in the baby celebrations and, the best part, the guests are asked to bring gifts in the form of diapers. And, as every parent knows, parents-to-be are gonna need a lot of those. 
So what really is a diaper party and how do you throw the best diaper party for a dad-to-be? Let's take a closer look at all the elements of this amazing celebration.
What's the difference between a baby shower and a diaper party? 
While baby showers and diaper parties are both celebrations of the new arrival to the family, there are significant differences between them. 
Baby showers are typically parties for the mom-to-be and her female friends and family members. The food offered might be a formal meal, a buffet, or afternoon tea, with super cute decorations, including bunting and balloons. What's a celebration without a gold foil balloon backdrop, really? Games like 'Guess The Baby Food', 'Diaper Changing' and 'The Baby Name Game' also tend to make appearances at many baby showers. 
Diaper parties are a way to get the guys involved. The dad-to-be could even have a diaper party at the same time as the mom is having her baby shower! Apart from the mainly male guests, the food offered at diaper parties tends to be more casual; BBQ and takeouts are super popular food choices. And you don't have to worry about cute decorations at a diaper party, as long as there's beer!
Whether you're throwing a baby shower, a diaper party, or both, it's important to think about what the mom or dad will want from the celebration. The following is just a guide. If the mom-to-be wants male guests at her baby shower or the guys want an afternoon tea, go for it!
| | | |
| --- | --- | --- |
| | Baby Shower | Diaper Party |
| Guests | Female Guests | Male Guests |
| Gifts | Clothes, toys, muslins, etc | Diapers, diaper gift cards |
| Food | Fancy, afternoon tea, formal meals | Casual meals, finger food, takeout, BBQ |
| Drink | Tea, non-alcoholic champagne | Beer |
| Games | Baby trivia quizzes, Guess the name, etc. | Diaper raffle, baby beer |
| Decorations | Balloons, confetti, bunting, cute designs | Beer cake, or none! |
What's the difference between a baby shower and a diaper shower?
A baby shower in any form is kind of essential for every mom-to-be. An amazing celebration of her little bundle of joy is needed, but not necessarily in the traditional sense. 
The main difference between a 'regular' baby shower and a diaper shower is the focus on the giving of diapers rather than traditional baby gifts like clothes, bibs, muslins, blankets, and toys. This is especially helpful if the mama already has children; she most likely has the baby supplies she needs. So rather than have guests bring along duplicate presents, why not throw a diaper shower instead? 
As with all showers and parties, the devil's in the detail. From diaper shower invites and food to games and gifts, here's how to throw a seriously epic diaper party!
Note: Affiliate links may be used in this post. I may receive a small commission at no extra cost to you if you make a purchase through my affiliate link. Please read my disclosure for more info. All prices and availability are accurate at the time of publishing.
How to organize a diaper party
Most elements of your diaper party will be very similar to those of a baby shower, but it should involve a heck of a lot less planning. You're still gonna need invites, a theme, and food though. Here are some ideas.
Diaper Party Invites 
A diaper party is nothing without guests, so the first step is to get the invites ready. Whether you're throwing a virtual party, a small get-together or a big celebration, including all the details guests need to know on the invites, like the venue, or how to access the party if it's virtual, the time, theme, how to RSVP and, most importantly, specify that you'd like guests to bring diapers as gifts! You might even want to ask for diaper gift cards or particular diaper brands and sizes. 
In terms of the format and design, you can choose a traditional paper invitation, Facebook invitation, or email invite – whatever works best for the organizer. Just ensure that you include a short explanation of a diaper party, including the request for diapers rather than traditional baby gifts. 
Diaper Party Themes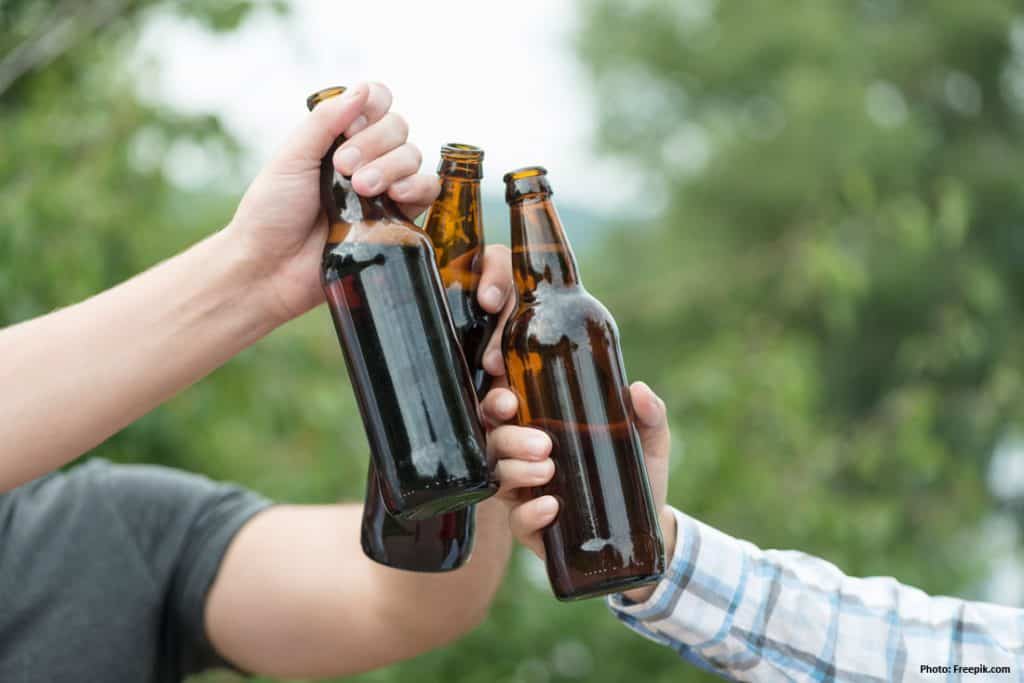 The most popular theme for a diaper party is, surprise surprise, diapers, and beer! Considering it's a party for the guys, it certainly makes sense. In fact, 'Huggies and Chuggies' is the description often used for this theme of diaper party. If that doesn't make the guests excited, I don't know what will.
You can provide the drinks yourself or, if it's a BYOB situation, make sure you include the details on the invite. 
A great idea for the centerpiece (not that most guys care about centerpieces, let's be honest) is to make a 'beer cake'. And don't panic – it doesn't involve slaving away in the kitchen for hours. All you need is a lot of beer cans and the ability to stack them in the shape of a tiered cake. It's actually trickier than it sounds but totally worth it. Wrap some ribbon around the 'tiers' to finish it off.
If the dad-to-be isn't a beer fan, his favorite sport is also a good idea for a theme, and you could always organize the party for when a big game's on. The organizer should discuss this with him before planning, unless it's a surprise diaper party, of course!
Diaper Party Activities and Games
Activities and games are usually a big part of a baby shower, and less so with a diaper party. But that doesn't mean they can't make an appearance! Here are some ideas for diaper party games.
Diaper Raffle
Diaper raffles are popular at baby showers, so there's no reason why they can't be a part of a diaper party. Put simply, it's a way to encourage friends and family to bring diapers for the dad-to-be. 
All you need to do is put the details of the raffle on the invite; explain that the attendees will receive a raffle ticket for each pack or box of diapers bought along. At the end of the party, the winner is drawn and they win a prize.
If you're feeling super generous, you could give the 'beer cake' to the winner!
Baby beer
There's no denying that the average guy loves a drinking game. Make this one baby-themed (weird, right) by filling baby bottles with beer and seeing who can chug it the fastest! 
Diaper Party Gift Ideas for guys
While the obvious gift to give at a diaper party is, shockingly, diapers, if you're invited to a diaper party and you're feeling generous, why not consider a 'new dad survival kit'?
New Dad Survival Kit
It's a super fun idea for a gift and the new dad's gonna need it, especially if he's a first-timer. You can include practical items as well as some tongue-in-cheek items too.
Here's some ideas for what to include:
Pop all your items in a plastic toolbox for the ultimate DIY dad kit!
Netflix Gift Card
Another great idea for a gift is a Netflix gift card, or some other TV subscription if they already have Netflix. For at least the first few months, mom and dad will probably find themselves watching a lot of TV. And they should enjoy it while they can before the baby is old enough to want to watch their own shows. At that point, they'll spend way more time watching Netflix Kids than binge-watching their favorite series'.
Diaper Gift Card
A gift card for somewhere that sells diapers is a great idea for a diaper party gift. As all parents and carers know, not all diapers are created equal. And because every baby is so unique, what works for one might not work for another. 
Whether it's for Amazon, Walmart, or Target, a gift card will allow the parents-to-be to choose their preferred brand and size of the diaper. It's a thoughtful yet easy-to-buy alternative to a pack of diapers.
Diaper Party FAQs
1. Who should you invite to a diaper party?
There's no one-size-fits-all approach to attendees at a diaper party. Baby showers are typically for the female friends and family members of the mom-to-be, but that doesn't mean that guys can't be invited too. And the same is true for diaper parties. 
If you're organizing a diaper shower for the dad-to-be, discuss the guest list with him. Would he like all friends, family and co-workers to attend, or just his close friends and family? Does he want a small get together, or a big celebration? 
A great idea is to have the baby shower for the mom-to-be and the diaper party for the dad-to-be at the same time – then no-one misses out! If you're holding a diaper shower for mom (the equivalent of a diaper party for the mom-to-be and her friends), check out my guide to throwing an epic diaper shower.
2. What size diapers do you get for a diaper party?
Asking for diapers as gifts is a great idea, but you need to think about the sizes you're asking for too. While you'll of course need newborn and size 1 diapers, if you're inviting lots of guests to the party and every single one brings a heap of the same size, the parents-to-be could find themselves with too many. 
If you are inviting lots of friends and family, consider asking for a range of diaper sizes on the invite, or even specify a range of newborn and sizes 1, 2, and 3 to ensure the parents are covered for the first few months. You'd be surprised how quickly babies grow out of a size.
Related Post: The Complete Diaper Size Guide: Chart Of Most Popular Brands
3. Which diapers are the best for a diaper party?
Whether you're going to a baby shower, diaper party, or diaper shower, if you're giving diapers as gifts, it's good to know which are the best. And it's not just the quality of the diaper that varies.
You'd be completely forgiven for not knowing that most disposable diapers aren't just terrible for the environment, but no good for babies' skin either. The majority are made from petroleum-based plastics, which will stick around in landfills for a good 500 years, and contain a bunch of nasty chemicals that could cause skin rashes or other health issues. 
Luckily, lots of diaper companies have got our back when it comes to eco and skin-friendly diapers. Here's what to look for when choosing the best diapers for a diaper shower, followed by some of my favorite brands:
Plant-based


Commonly used plant-based ingredients in diapers include wood fluff pulp, cane, and bamboo. These ingredients are so much more sustainable than plastics and break down easier too.
Related Post: What Are The Best Organic Diapers On The Market, And Why You Should Look For The Most Natural Ingredients
Chlorine-free


Chlorine bleaching is used in the manufacture of some diapers to increase their absorbency. This just isn't essential and there are lots of eco-friendly ways of doing this. Look for diapers that steer clear of chlorine if you can. They'll usually label themselves TCF (totally chlorine-free).
Fragrance-free


The terms 'fragrances' and 'perfumes' can be used to mask a load of horrible chemicals in diapers. When they're gonna be peed and pooped in, this is completely unnecessary. Look for diapers labeled fragrance-free to avoid these. 
Read Next: Why You Should Avoid Fragranced Diapers And The Best Unscented Diapers On The Market
Lotion-free


Lotions in diapers are equally unnecessary and can cause diaper rash. Diapers will be clearly labeled lotion-free if they steer clear of them.
Phthalates


I'd never heard of phthalates before I started researching diaper ingredients. These super strange-sounding chemicals are the worst of the worst. They're often used to make plastic more durable and can be found in everything from flooring to toys1. They're often used in diapers and, since their use has been linked to eczema, asthma2 and abnormal genital development in young boys, it's best to avoid them! Diapers should be clearly labeled 'phthalate free' if they don't use them. 
More on this topic: Disposable Diapers: What Are They Made From, And Are They Safe?
Biodegradable


If you're looking for a super eco-friendly diaper, biodegradable diapers are where it's at. Plastic disposable diapers take a few hundred years to break down in landfills, but biodegradable diapers can sometimes do this in a matter of months. Some biodegradable diapers can even be composted in your backyard!
Here's a list of some of my favorite biodegradable diaper companies. They all avoid toxins like phthalates, lotions, fragrances, and chlorine.
Related Post: Top Picks for the Best Biodegradable Diapers on the Market
Diaper Parties: The Bottom Line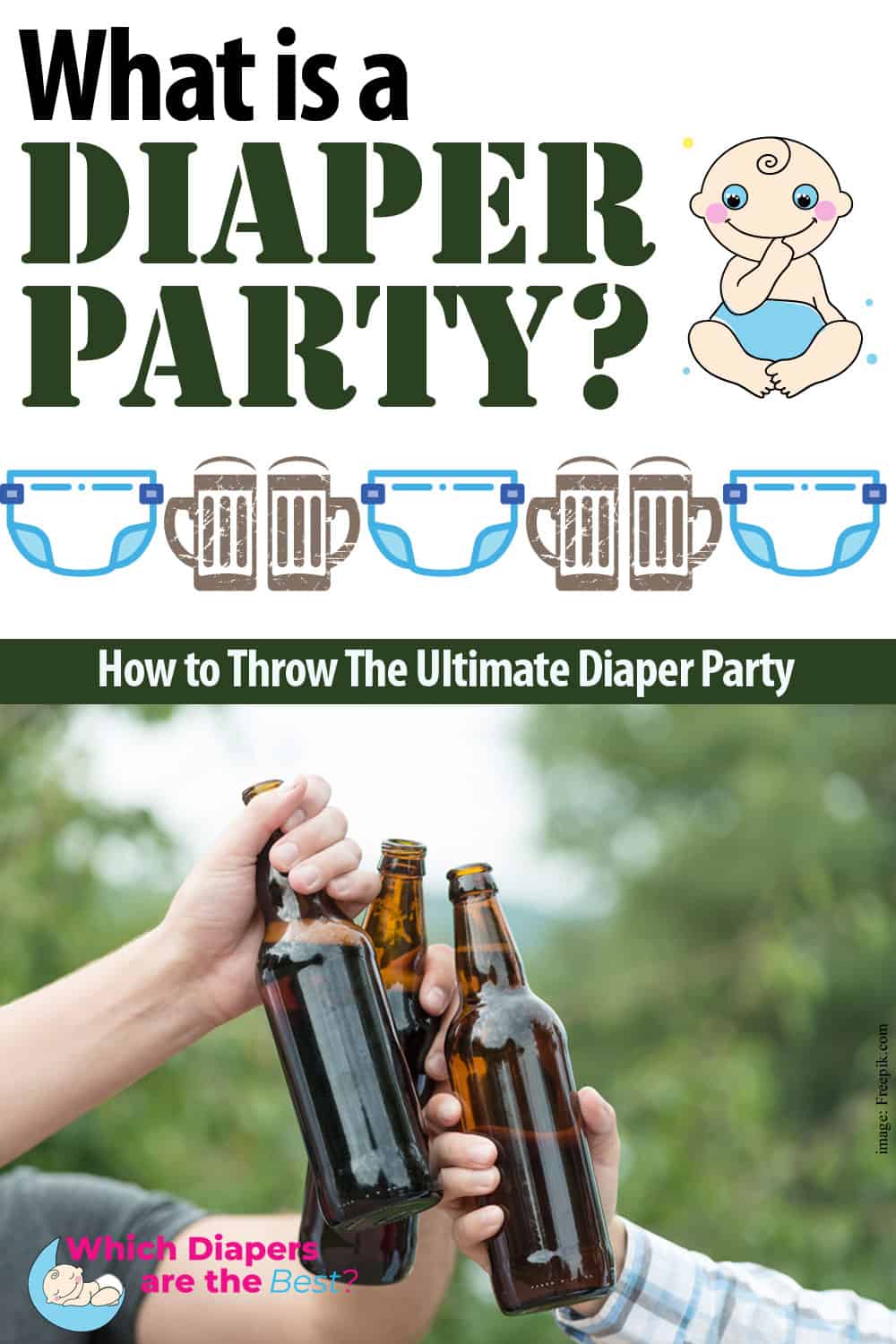 Unlike a lot of baby showers, the great thing about a diaper party is there isn't that much planning involved. All you'll really need is a bunch of the dad-to-be's friends and family and some beer. Okay, lots of beer. 
Whether you're going all out and throwing a huge bash for the lucky dad-to-be or holding a smaller, quieter affair, having a diaper party is a great way to get the guys involved in the baby celebrations. And you'll have plenty of diapers for the first few weeks of the little one's life at the end of the party too, saving dad heaps of time and money (both of which will be dedicated solely to baby for the next 18 years).
Happy diaper party organizing!
References
Jaakkola, J. J., & Khinght, T. L. (2008). The role of exposure to phthlates from polyvinyl chloride products in the development of asthma and allergies: a systematic review and metaanalysis. Environ Health Perspect, 116(7), 845-53.
Hannon, P.R./ & flaws, J.A. (2015). The effects of phthalates on the ovary. Frontiers in endocrinology, 6
Related Reading