It's pretty crazy how quickly you get used to dealing with the poopiest of diapers as a parent. Our adorable little angels look at us with those beautiful big eyes, an enchanting smile, and, at the same time, take an immense amount of pleasure in pushing out what can only be described as a poop volcano. Aren't babies wonderful?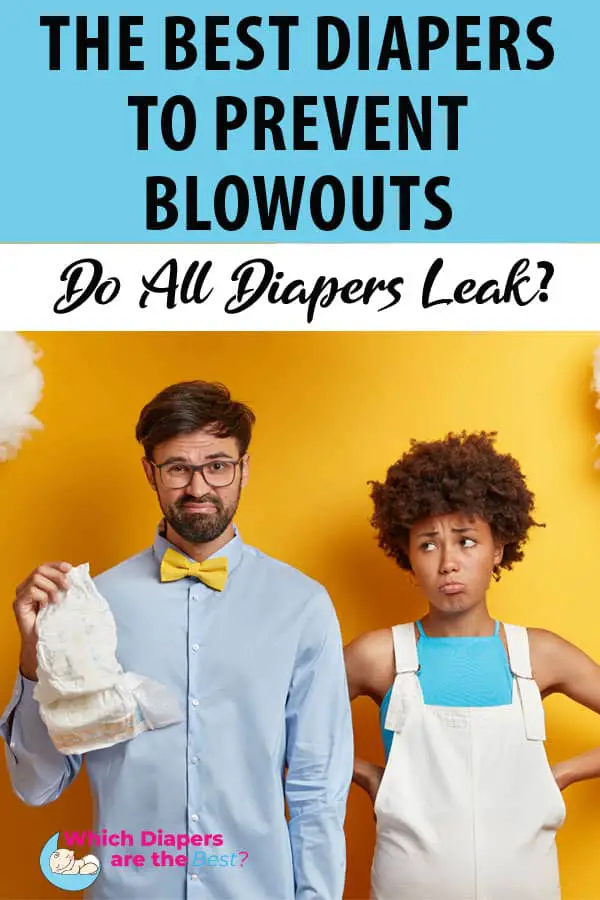 But, really, as long as these poops are safely contained inside, we don't mind. Is poop exploding out of the diaper, up to your baby's back, and on to their freshly washed clothes? Not so much.
So how do we avoid diaper blowouts? It's sometimes not as simple as putting a diaper on correctly, although there are lots we can do to try to prevent leaks. Ultimately though, some diapers just aren't the best quality and are likely to result in leaks and poop explosions no matter what. 
Let's take a closer look at what we can do to prevent diaper blowouts and the top 6 diapers for avoiding leaks. You, your little one – and your little one's clothes – will thank you.
Top Best Diapers To Prevent Blowouts
Note: Affiliate links may be used in this post. I may receive a small commission at no extra cost to you if you make a purchase through my affiliate link. Please read my disclosure for more info. All prices and availability are accurate at the time of publishing.
---
---
---
---
---
---
Note: Affiliate links may be used in this post. I may receive a small commission at no extra cost to you if you make a purchase through my affiliate link. Please read my disclosure for more info. All prices and availability are accurate at the time of publishing.
How to prevent diaper blowouts Tips
How do you prevent diaper blowouts? To reduce the chances of (very) unwanted poop explosions, consider the following tips.
1. Get the right diaper size
It seems obvious, but it's so important to get the right diaper size if you want to prevent blowouts. If you're repeatedly dealing with poop explosions and leaks, the first thing to do is check that the diaper isn't too small or too big. If it's too small, it's not gonna hold a lot before it starts seeping out of the sides. Too big, and it's easy for the contents to escape!
Check the size guide of whatever brand you're buying and make sure that you're buying the 'right' one according to your baby's weight. You should also check that the waistband is snug but not too tight and that the leg cuffs aren't too small or big. Some diapers even have size indicators, letting you know when you need the next size up.
2. Make sure it's fit properly! 
When I first put a diaper on my newborn baby, to say I hadn't got a clue what I was doing is an understatement. In fact, I remember initially putting it on back to front, to the amusement of my nurse. I thought, surely as long as the bum's covered, we're good to go?
I was wrong. 
Diapering is an art that all parents will master eventually. We soon find out that the sticky tabs should be fastened in a symmetrical manner, the waistband should be nice and snug, the leg cuffs should be pulled out and the back of the diaper should be flat against your baby's back, not folded down. Fitting the diaper correctly doesn't always prevent blowouts, but it certainly helps. 
3. Try a different diaper brand
If the size is right, the fit's right, and your baby's pee and poop are still making their way outside of the diaper, it might be time to consider another brand. Every baby is completely different, so it makes sense that not all brands will suit every little one. 
A great place to go if you're looking to try a range of brands without committing too soon is Diaper Dabbler. They offer a variety of diaper sample packages, letting you try a few brands before deciding which is right for you and your baby. I love their Mother Earth pack. It's full of eco-friendly and non-toxic brands like Bambo Nature, Dyper, and Eco by Naty, which are much better for baby's skin and much better for the planet. 
Related Post: What Are The Best Organic Diapers On The Market, And Why You Should Look For The Most Natural Ingredients
Related Post: Dyper Diapers Review: Eco-Friendly, Skin-Friendly And Bank Account-Friendly
4. Try a diaper extender pad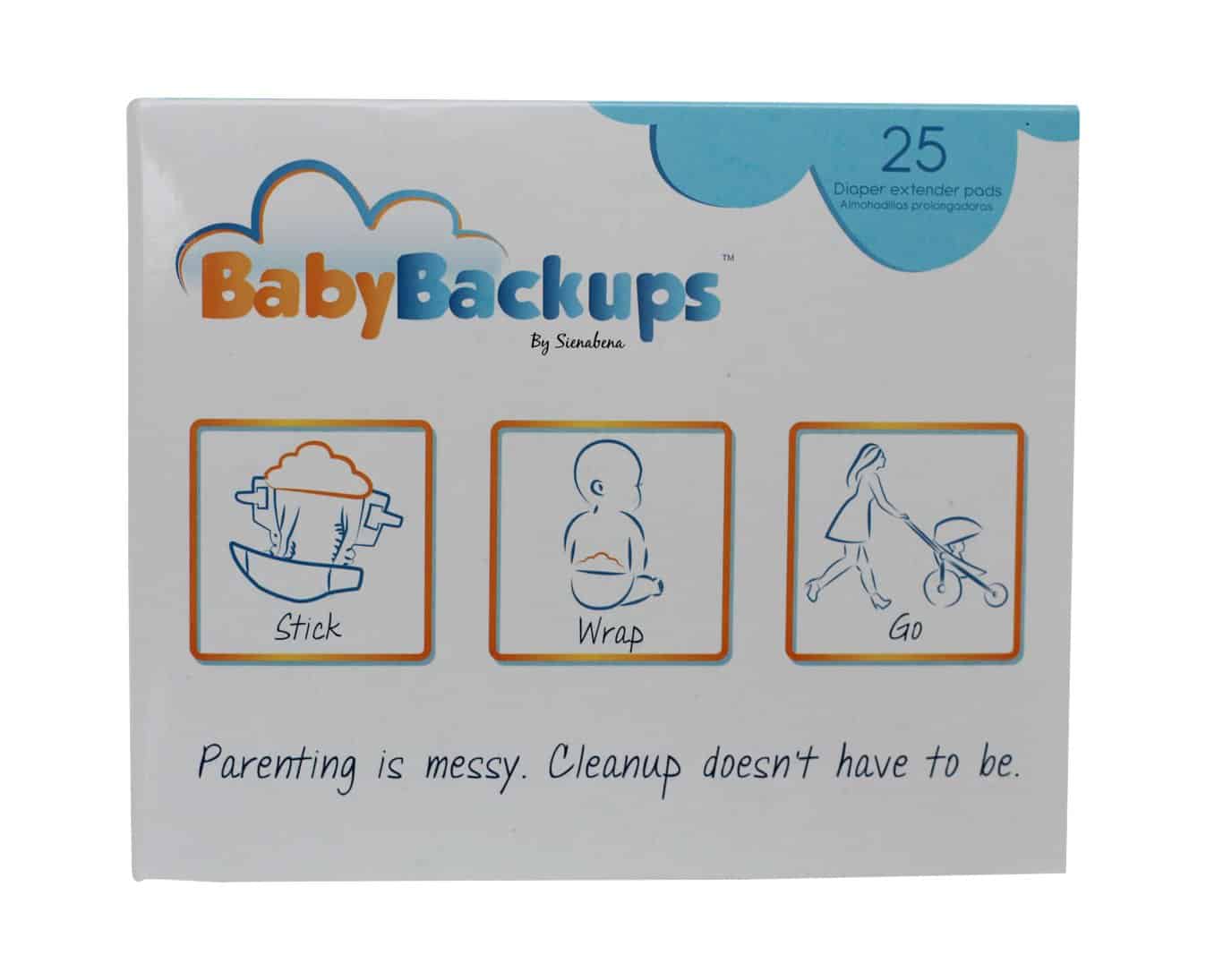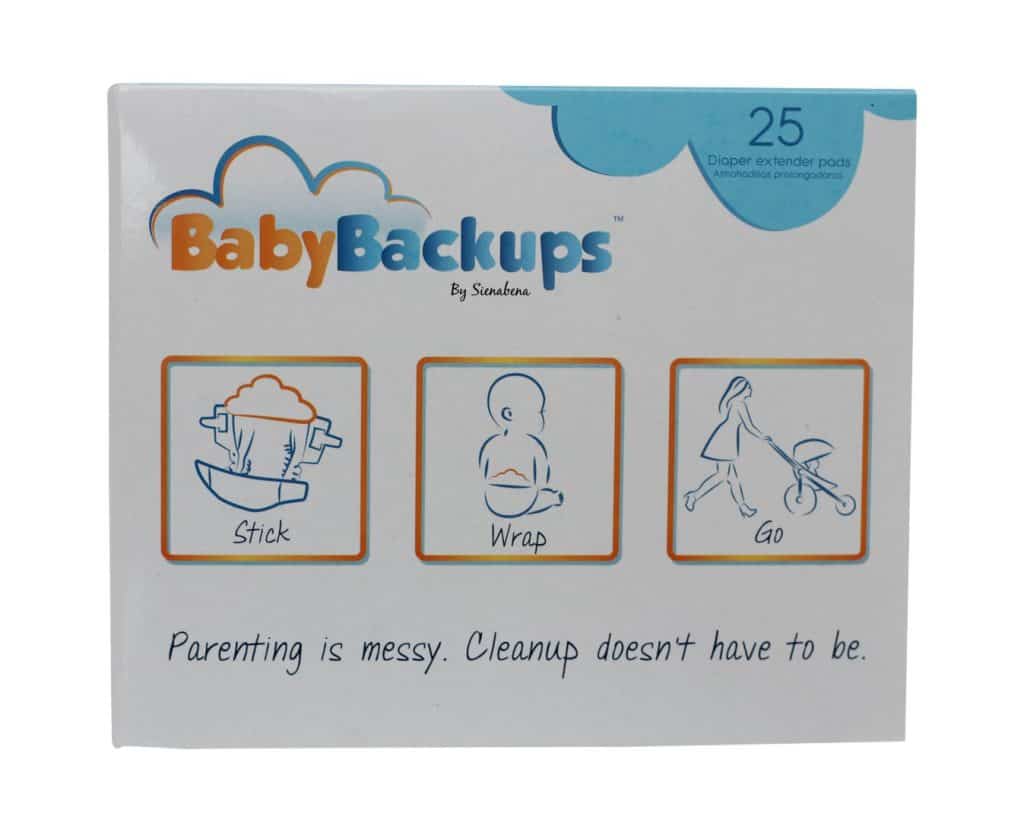 Another great solution if your baby is experiencing frequent blowouts is a diaper extender pad, which does what it says on the tin. Made to fit in any disposable diaper, BabyBackups extender pads are super absorbent, hypoallergenic, and are really simple to fit. They're especially great for days out and traveling. Flights are hard enough without dealing with a poop explosion in a bathroom the size of a closet. 
5.Try a baby blowout blocker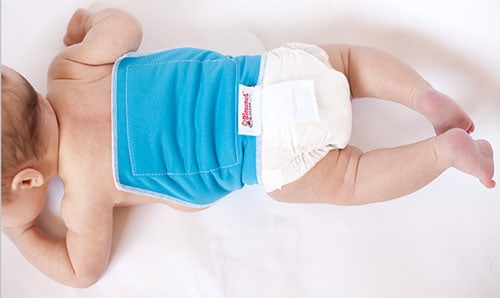 A baby blowout blocker is similar to a diaper extender pad. The great thing about it is that, unlike the pads, it's reusable. It works with any brand of diapers and it's suitable for babies from newborn to 9 months. The best thing is it's super simple to use – just fit it around the waist and it'll catch the biggest of blowouts!
6. Take diet into consideration 
If you're experiencing frequent blowouts and poop explosions, it's worth checking there's nothing in your diet (if you're breastfeeding) or in your baby's diet that might be causing them. Some breastfeeding moms find that cutting out dairy in their diet helps to prevent blowouts. Poop explosions can also be an indicator of an allergy or sensitivity that your baby might have to a certain food. Always consult your doctor if you have any questions about diet.
7. Give your baby a massage
I initially heard about baby massage as a way to bond with your little one (you can do this from 6 weeks onwards), and it really is a lovely thing to do as a new parent. But did you know it can also aid digestion? 
All you'll need is some baby lotion or baby-safe massage oil. One of the techniques that always worked with my baby was the 'I Love You' technique. To do this, you need to 'draw' the letters 'I', 'L', and 'U' on your baby's tummy, which helps with digestion and constipation. 
To start, softly stroke the 'I' down baby's left side. Next, draw an upside-down 'L' on her tummy, going from your left to right, and finish with the 'U', drawn upside down, going from your left to right. 
Say or sing 'I love you' at the same time for a great way to prevent blowouts as well as bond!
best diapers to prevent blowouts
The right diaper and the right fit should prepare you and your baby for every eventuality, but which are the best? Here's a roundup of the best diapers to prevent blowouts. 
Kudos Diapers—
Best disposable natural cotton diapers for diaper rash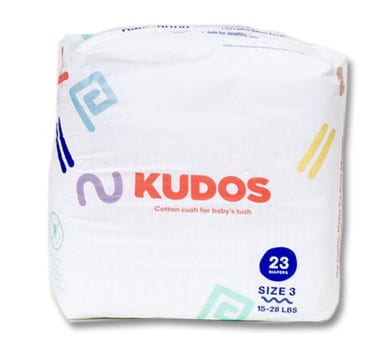 If there's one diaper brand sure to prevent blowouts, it's one that employs MIT engineers to create their products!
Kudos is pretty new to the diaper market. They offer hypoallergenic, clean cotton diapers that are completely free of harsh chemicals like phthalates, fragrances, and lotions. They have great reviews and many parents say they're great at preventing leaks and blowouts. 
Kudos diapers are special because they have patent-pending DoubleDry™ tech. In a nutshell, this means that there are 2 layers above the absorbent core. Other diapers typically only have 1. The first layer is made from sugarcane and has thousands of tiny funnels that wick moisture away from your baby's skin. Kudos' second layer is made with cornstarch. Liquid can quickly move through this layer to the absorbent core because it's pumped up with air. Who knew diaper manufacturing was so scientific!
Read More: Kudos Diapers Review: Disposable Cotton Diapers Made By MIT Engineers!
A size 4 pack of diapers will set you back about 46 cents each, which is a little more than budget brands, but they do use a high percentage of plant-based materials, so it's not surprising that they're slightly more expensive.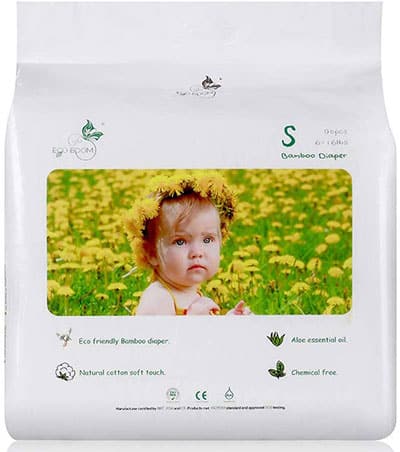 Eco Boom diapers really are game-changing. Completely non-toxic, these diapers are made from bamboo, a brilliant and sustainable alternative material to plastic, and biodegradable too. That essentially means that they won't stick around in a landfill for 500 years like most disposable diapers. Instead, they'll take months to break down, and won't release a bunch of horrible toxins like their plastic counterparts. 
Read Full Review: Eco Boom Diapers Review: Plant-Based, Biodegradable And Saving The Planet
They have great reviews, with no mention of leaks or blowouts, super soft and absorbent and they have a 'super diffusion layer' to keep the baby's skin dry. On average, they'll set you back about 40-50 cents per diaper, and they're available on Amazon.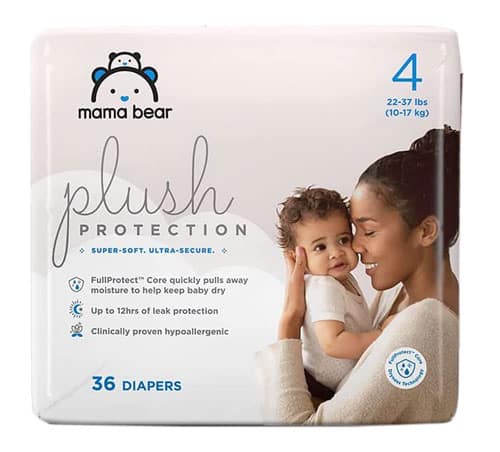 Mama Bear Plush Protection diapers have to be included in any discussion about leak protection. Amazon's own brand of diapers offers up to 12 hours of leak protection, along with flexible leg cuffs and a stretchy waistband. So, no matter how much your baby wriggles, crawls, and explores, they'll be protected.
Amazon's Plush Protection diapers wick away moisture with their super absorbency and feature a wetness indicator, letting you know when your baby needs to be changed. They're super budget-friendly, at about 16 cents per diaper, depending on the size you need, and you could save even more with Amazon's Family Program. It's free for Prime members and it'll give you access to parenting tips, discounts, and up to 20% off the baby diaper and food subscriptions. 
The only downside to Mama Bear's Best Fit diapers is that they're not toxin-free. For diapers completely free of chlorine, fragrances, and other chemicals, consider Mama Bear Gentle Touch diapers. They offer the same 12-hour leak protection but are better for baby's skin.
Dyper Diapers —
Absorbent Plant-Based Diapers for preventing blowouts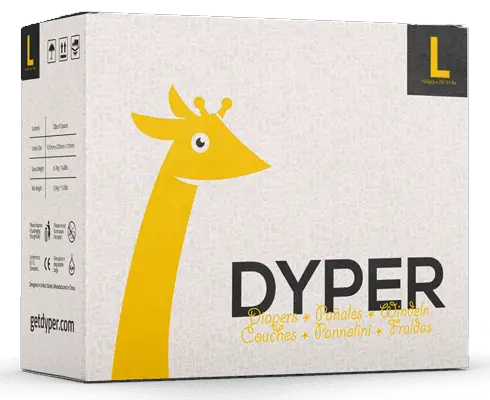 Dyper is one of my favorite diaper companies, and not just because of the name. Like my other picks, Dyper diapers are great quality diapers and super absorbent, so brilliant at preventing blowouts. They're completely free of toxins and also partly biodegradable. 
And because that's just not enough eco-friendliness, they'll even pick your dirty diapers up for you and dispose of them in an industrial composting facility. Oh, and the company purchases carbon offsets with every diaper delivery. Greta herself would be proud!
Read More: Dyper Diapers Review: Eco-Friendly, Skin-Friendly And Bank Account-Friendly
You can buy Dyper diapers for as little as 30 cents each, depending on the size you need. They offer a subscription service on their site for diapers directly to your door.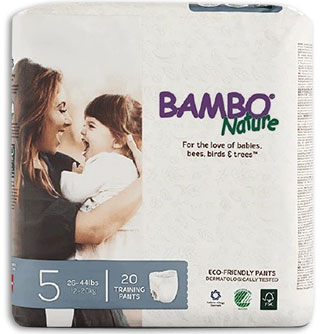 Bambo Nature diapers are gold medal-winning diapers. Not only do they have great reviews – they average 4.9 out of 5 in over 280 reviews on their site – but they're super healthy for your baby and for the planet too. Their quality, great fit, and absorbency do a great job of preventing leaks. Plus, they're free of toxins, made from sustainable bamboo, and available on Amazon.
Read Next: Bambo Nature Diapers Review: Fantastic For Your Baby, Fantastic For The Planet!
Bambo Nature diapers are a little more expensive than some other non-toxic diaper brands, but the quality's worth it.
Hello Bello Diapers—
a great quality diaper to prevent blowouts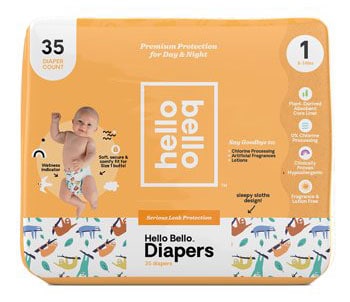 Believe it or not, Hello Bello diapers were created by the superstar actress Kristen Bell and her husband. It's as if she didn't have enough on her plate with globally popular Disney films and TV shows…
Hello Bello diapers are free of harmful toxins, made from some plant-based ingredients and, best of all, they're a great price – around 30 cents a diaper. That's brilliant value for a good quality diaper that should help to prevent blowouts. Their super-absorbent material locks wetness away quickly and they offer a snug fit.
Read Next: Hello Bello Diapers Review: A-List Diapers For Your Little One
Hello Bello offers a subscription service for diapers straight to your door and, for an added bonus, the boxes the diapers arrive in convert into playthings for kids! Think robots and pirate ships for starters…
Honest Diapers—
Super Absorbent diapers for preventing blowouts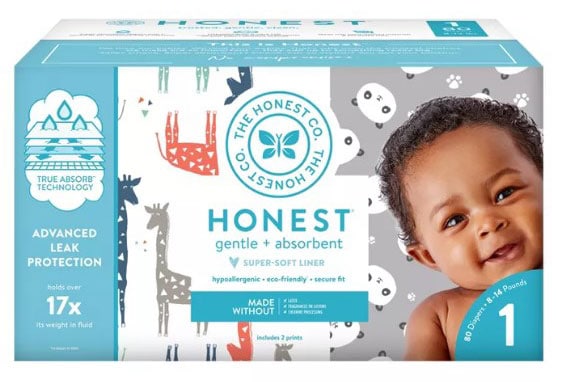 Another celebrity diaper offering is Honest diapers. Founded by none other than Jessica Alba, these super cute diapers have garnered quite the cult following. They're well known for their quality and super absorbency – in fact, they can hold 17 times their weight. They have easy refit tabs and leg cuffs and happen to be completely free of harmful toxins. 
Related Post: Honest Diapers Review: Honestly? They Don't Live Up To The Hype
Honest offers a subscription service for its diapers, which come in some seriously adorable prints. They're a similar price to Hello Bello diapers, so a little more than super budget-friendly options, but still not bad.
Diaper Blowouts FAQs
1. What is a diaper blowout leg?
A diaper blowout leg, or guard, is an extra layer of protection on each leg, designed to prevent leaks. Most diapers have this cuff-like guard. Make sure the guard is pulled out of each leg when the diaper is fitted, to make sure the legs are protected against leaks. The diaper needs to be the right size to be effective!
2. Which diapers have a poop guard and what does it do?
A poop guard sounds like something every diaper should get on board with, but not all brands feature them. This nifty feature is a little pocket tab at the back of the diaper that serves to, you guessed it, catch any runaway poop. It should prevent poop seeping out of the sides and onto baby's clothes and diapers like Earth's Best, Costco's Kirkland diapers, Huggies and Mama Bear Plush Protection have it. 
3. Are diaper blowouts normal?
Diaper blowouts are an unfortunate fact of having a baby. All new parents and carers will experience them so they're a perfectly normal part of caring for a little one.
On the other hand, if your baby's experiencing diaper blowouts frequently, it could be that something in their diet is causing them. Breastfeeding moms sometimes find that cutting out dairy helps with their baby's digestion. If your baby is weaning, frequent blowouts might be the result of a food sensitivity or intolerance. Always consult with your doctor if you think this might be the case.
4. Do blowouts mean the diaper is too small?
Diapers that are too small are likely to result in blowouts – there's nowhere else for the poop to go! But that's not the only cause. The diaper could be too big, it could be poor quality, or it might not be secured well.
5. Why do diapers leak?
Size


There are so many reasons why a diaper might leak. Firstly, the sizing might be off. Diapers that are too big leave lots of room for the pee and poop to escape. At the same time, diapers that are too small can't hold as much wetness as they need to. 
Quality


There are some great budget-friendly diapers, giving you lots of bang for your buck, Mama Bear Best Fit diapers being one of my favourites. But, while there are some great options, not all diapers 'work'. It's worth checking the reviews of any diaper online before purchasing. 

Poor-quality diapers will be prone to leaking and blowouts.
Fit


If the diaper isn't fastened or positioned well, you'll probably experience leaks and blowouts. The waistband should be snug, but not too tight, and you should ensure the leg guards are pulled out from the diaper and fit securely around the legs. A diaper that's too loose is an invitation for leaks!

It can be especially tough to fit a diaper properly on an older baby. When they start to wriggle, roll and crawl, sitting still for a diaper change is the last thing on their mind.
The best diapers for blowouts: The bottom line
Poop explosions and leaks are rites of passage for every parent or carer. We'll all face a 'let's just put them straight in the bath' situation at some point, but there are things we can do to avoid too many of them. From keeping an eye on a diet to making sure our babies are wearing the right size of the diaper, these messy moments, for the most part, can be avoided.
Finding the right good-quality diaper that's great at preventing blowouts is another crucial step, for your baby's comfort and, perhaps more importantly, for your washing machine. Removing poop stains from clothes is like asking a 2-year-old to stop saying no – it's not gonna happen.
I love Dyper diapers for their quality and Mama Bear's Plush Protection diapers are a brilliant budget-friendly option. And you can't go wrong if you add a diaper extension pad too. 
No matter what, remember to maintain a sense of humor when it comes to poop-all-over-everything explosions. Unless it happens on a long-haul flight. Obviously. 
Related Reading