It's never been more important to find out exactly what's going into the products we buy daily, as well as their impact on the planet. If we want to safeguard our babies' futures, choosing the greenest baby products on the market is a small, but the crucial thing we can do to help.
Ecoriginals, an Australian company, makes some bold claims when it comes to their green credentials. In fact, they claim that their diapers and wipes are the cleanest on earth. 
Wow.
While greenwashing in marketing is rife – when companies aren't actually following eco-friendly practices, but use the right buzzwords (eco, green, natural) to convince us they are – so it's super important to dig a little deeper when claims like these are made. 
Luckily, Ecoriginals are all for transparency. 
So what do we know about Ecoriginals? Are they really as green as they say? And should you give 'em a go?
Here's my honest review of Ecoriginals diapers.
Note: Affiliate links may be used in this post. I may receive a small commission at no extra cost to you if you make a purchase through my affiliate link. Please read my disclosure for more info.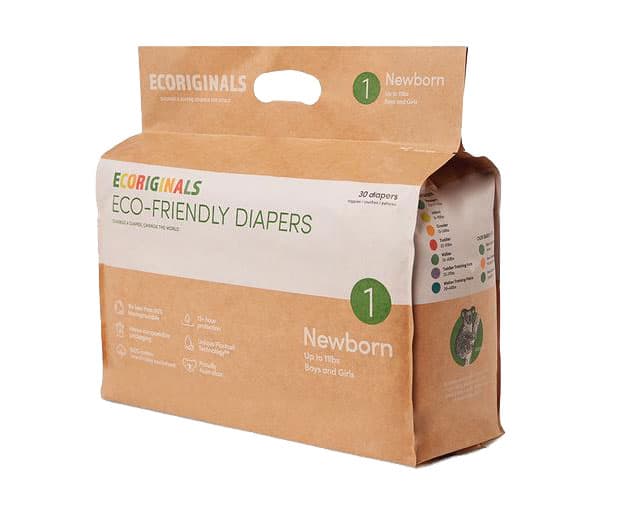 What do you need to know about Ecoriginals diapers 
What are Ecoriginals diapers made of? 
I love it when diaper brands make their ingredients clear. And Ecoriginals list theirs on their site for all customers to see!
Ecoriginals diapers are made with:
What are they free from? 
It's just as important to know what baby diapers are free of. Many diapers are packed with toxins and other nasties, which are no good for baby's skin and no good for the environment. 
Phthalates, fragrances, and lotions are all hidden chemicals that should be avoided wherever possible when you're buying products for your baby. Fragrances and lotions can irritate the skin and simply aren't necessary to make an effective, soft diaper. Ecoriginals prove it.
Phthalates can be found in diapers, kids' toys, and vinyl flooring and have been linked to the increased risk of asthma and eczema in small children. 
Chlorine bleaching isn't necessarily harmful to the skin, but it's not great for the planet. So it's great that Ecoriginals diapers avoid it completely.
Read more about these hidden toxins and what's in disposable baby diapers here!
Are  Ecoriginals diapers biodegradable?
The gold standard when it comes to eco-conscious baby diapers is biodegradable diapers. While no brand has invented a 100% biodegradable baby diaper (yet), there are lots of diapers on the market that come pretty close. And Ecoriginals is leading the pack.
Ecoriginals nappies are made with 90% biodegradable materials, which is even more than some of my other favorite brands: Andy Pandy (87%), Eco Pea (85%), and Dyper (85%). 
This is seriously impressive. But what does biodegradable actually mean?
Essentially, biodegradable diapers are different from those made mainly with plastics because they can be broken down over time, back into the soil. Rather than hanging out at a landfill site for 500+ years as most plastic diapers do, biodegradable diapers can normally break down in as little as a few months or years. This is heaps better for the planet and, ultimately, heaps better for our babies' futures!
Are Ecoriginals diapers compostable?
It's easy to confuse the terms 'biodegradable' and 'compostable'. But just because a diaper is biodegradable, that doesn't mean it's also compostable.
While some biodegradable diapers will find themselves in landfill sites with the rest, certain brands offer biodegradable and compostable diapers. This means that the used diapers (just the wee ones – not the poopy ones!) can be disposed of at home in a compost bin, or a commercial composting service.
Dyper diapers are an example of compostable diapers. They even offer to come and take your dirty diapers and compost them for you! Now that's service…
It doesn't look like Ecoriginals are compostable, unfortunately. But if you're looking for diapers that can be composted, check out Dyper, Andy Pandy, and Nest Baby.
Where are Ecoriginals made?
Ecoriginals wipes are manufactured in New Zealand, in a plant completely powered by renewable resources! Their diapers have a slightly different journey. They're made in a partner facility in China, with materials sourced from the US, China, and Japan. Ecoriginals says that they're looking to bring diaper production to New Zealand as soon as they can. 
What do reviews say?
Reviews of Ecoriginals diapers are simply glowing. In over 340 reviews of Ecoriginals' diaper and wipes subscription pack, they have over 310 5-star reviews – 4.8 out of 5 on average. 
Parents and carers say that Ecoriginals diapers are great at preventing diaper rash and they're super soft. Users love how eco-friendly they are and how, by using them, they're doing great things for the planet!
Ecoriginals diapers Size Chart 
Ecoriginals diaper sizing looks a little different from a lot of US brands. Here's a quick guide:
| | |
| --- | --- |
| Size | Weight |
| 1 (Newborn) | Up to 5kg |
| 2 (Infant) | 4-7kg |
| 3 (Crawler) | 6-11kg |
| 4 (Toddler) | 10-14kg |
| 4 (Toddler Nappy Pants) | 10-14kg |
| 5 (Walker) | 13-18kg |
| 5 (Walker Nappy Pants) | 13-18kg |
Do Ecoriginals have a trial?
Sometimes, you wanna try before you buy. And with Ecoriginals, you can!
For $24.99, Ecoriginals will send you a full pack of diapers or diaper pants, 3 full packs of compostable baby wipes, and a 20% discount code for future subscriptions. That is a $20 savings!
It's a great way to test out Ecoriginals' products, and decide if they're right for you.
Do they have a diaper subscription service? How does it work?
Diaper subscriptions are a great way to take the stress out of buying diapers. With Ecoriginals' service, you can save money and get diapers and wipes delivered straight to your door!
And it's so easy to use. Simply choose your pack – just diapers or diapers and wipes – how often you want your diapers to be delivered, and which sizes you need. 
Read Next: 14 Best Diaper Delivery Services: Comparisons & Reviews
Where to buy Ecoriginals diapers? 
You can buy Ecoriginals diapers and wipes on the Ecoriginals site, and on Amazon. 
Fancy trying Ecoriginals nappies? Use my code, ECODIAPERS, on the Ecoriginals site to get 30 off the 3 Packs of Diapers + 3 Packs of Wipes (3+3)!
How much are Ecoriginals diapers?
*Prices were accurate at the time this article was published but may change over time.
A one-time purchase of 6 packs of diapers will set you back just under 100 bucks. Subscribing will save you heaps, with the same bundle costing just $74.99. 
If you subscribe to 6 packs of Crawler size diapers, they'll set you back about 48 cents per diaper. Walker diapers will set you back a little more – about 63 cents a diaper. 
They're not the most budget-friendly diapers, but that's to be expected – eco-friendly products do tend to cost a little more. If your budget can stretch to it, with 90% biodegradable materials in each diaper, they're more than worth it.
What other products do Ecoriginal offer? 
Ecoriginals don't just produce eco diapers. Their wipes are made with sustainably sourced bamboo fibers and are fully biodegradable and compostable. In fact, they biodegrade in just 3 weeks. They're manufactured using renewable energy sources in New Zealand and are completely free of phthalates, alcohol, and chlorine.
Ecoriginals diapers alternatives
Ecoriginals diapers are certainly gold winning in the eco diaper stakes. But there are plenty of companies on the market that offer amazing biodegradable diapers, some of which can be composted too! 
Biodegradable brands like Andy Pandy, Eco Pea, and Dyper are some of my absolute favorites. They offer hypoallergenic, biodegradable, and toxin-free diapers, making it super easy for parents to put the health of their little ones first. And you're helping the planet at the same time by choosing these brands. In fact, Dyper purchases carbon offsets with every pack sold and they arrive in biodegradable packaging. 
Read Next: Andy Pandy Diapers Review: The Best All-Around Diapers For Baby And For The Planet?
Related Post: Eco Pea Diapers Review: Super Soft, Sustainable And Saving The Planet
Ecoriginals Diapers at a glance
The Good
The Bad
• Over 90% biodegradable
• Made with sustainably sourced wood pulp
• Suitable for overnights
• 40% greater absorbency than standard disposables
• Breathable layers prevent diaper rash
• Plastic-free
• Phthalate-free
• Fragrance-free
• Lotion free
• Chlorine-free
• Packaging is compostable at home
• Printed with food-safe inks
• Derma-test approved
• They plant a tree for every order
• Carbon neutral
• Australia's highest-rated diaper
• Save 25% when you subscribe
• Free shipping
• 100% satisfaction guarantee, or your money back
Not compostable
The bottom line
With a whopping 90% biodegradable materials, Ecoriginals' claim that they're the greenest diaper on the market is pretty accurate. They can reel off a list of eco-credentials longer than War and Peace and they even plant a tree with every order. It's a shame they're not compostable, but I can't moan too much when they're a carbon-neutral company. 
Are Ecoriginals diapers worth it?
So there you have it. If it wasn't obvious enough from my Ecoriginals review, I love them.
This bold Australian company makes some big claims, and it appears that their diapers more than live up to them. 
It's safe to say that greenwashing, especially in the baby products market, is rife. So it's never been more important for brands to back up their use of terms like 'natural', 'eco', and 'plant-based' with facts. 
Ecoriginals claim that their nappies and wipes are the cleanest on earth. And they're not wrong.
Related Reading