Honest Diapers have a big name to live up to. Founded by none other than world-renowned actress Jessica Alba, the Honest company describes itself as a 'wellness brand, empowering people to live happy, healthy lives'. Jessica wanted access to a range of simple, safe products for family and baby, which led her to create the diapers which have now gained a huge following. The company holds themselves to a standard of 'safety and transparency', which is what more and more of us are looking for when it comes to buying products for our little ones, diapers especially. 
The Honest Company produces a range of diapers, among other baby products, homeware, and bath and body essentials, which can be delivered straight to your door for the ultimate in diaper convenience! But, more importantly, do Honest Diapers live up to their name?
Unlike so many brands who don't clearly state the materials they use in their diapers and how they're made, will the Honest company rise to the challenge? 
I'm on a mission to find out!
Disclaimer: Honest Diapers has not sponsored or endorsed this article in any way. As a mom who's passionate about buying the best for babies, I try really hard to include accurate information in all of my posts. If there are any inaccuracies present, please let me know; I'm more than happy to amend any errors. For more information about Honest Diapers, head over to their main site: honest.com This review has affiliate links. I may receive a small commission at no extra cost to you if you make a purchase through my affiliate link. Please read my disclosure for more info.
Everything you need to know about Honest Diapers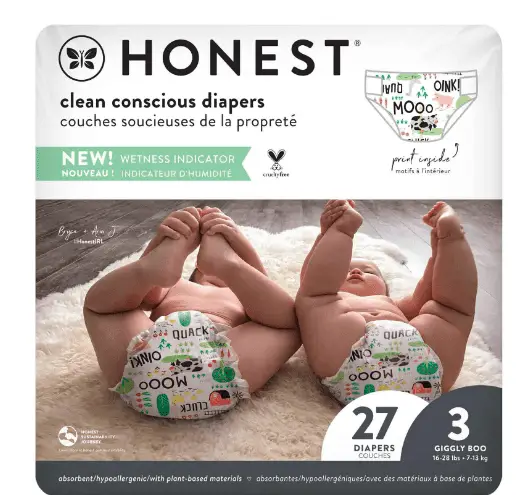 What are Honest diapers made from?
Perhaps the biggest test for Honest diapers is whether their ingredients and materials list lives up to their name. While loads of diaper companies are starting to realize the importance of honesty when it comes to listing their materials, there are still so many diaper brands that don't, making it harder for parents to make an informed decision.
Luckily, the Honest Company doesn't let us down, and provide a full and complete list of everything that goes into their diaper – hallelujah! When looking at ingredients used in diapers, and, equally importantly, what's not in a diaper, there are a few things to check for. 
Plant-based materials are always a bonus, as they're usually more sustainably sourced: bamboo, for example. What we don't want to see is unnecessary dyes, lotions, fragrances, chlorine, or phthalates. While the use of chlorine bleaching in diapers is more of an environmental issue than a safety issue, the use of phthalates in diaper production is a whole lot more concerning. 
Several studies have found that these chemicals can heighten the risk of asthma and eczema in children (1), and even cause abnormal genital development in boys. So why are they still used in diaper production, as well as in toys, flooring, and cosmetics? They're still not FDA-regulated, which means it's super important to check whether diapers contain them or not! 
More on this topic: Disposable Diapers: What Are They Made From, And Are They Safe?
Again, the Honest Company is coming through for us when it comes to the safety of our little ones, with a promise not to use phthalates in any of their products. In terms of chlorine bleaching, they avoid that too and use totally-chlorine free wood pulp from sustainably managed forests. So far, so good!
The Honest Company's diapers, despite what clever marketing suggests, are made predominantly with plastics, and a small percentage of plant-based materials.  The outer layer is made with plant-based plastic, while the inner layer is made with petroleum-derived plastics. There is Chlorine-Free (TCF) Wood Pulp From Sustainably Managed Forests in the core, but the company could be making much more of an effort to increase their use of sustainable materials. 
Top sheet – Polyethylene & Polypropylene
Back sheet – Plant-based plastic
The absorbent core – TCF wood pulp and traditional SAP
On the plus side, their diapers are free from latex, fragrances, and lotions, making them hypoallergenic. That means they're suitable for little ones with sensitive skin… in theory. The FDA doesn't actually regulate this claim though, so it's pretty easy for brands to state this.
Are Honest Diapers eco-friendly?
While they're not the most eco-friendly on the market, given that they're not biodegradable, the Honest Company seems to be doing more to minimize their impact on the planet than some other diaper producers. They use totally chlorine-free wood pulp, which they say is from 'sustainably managed forests'. The fact that they avoid chlorine bleaching is fantastic, as this is pretty terrible for the world around us. And the use of renewable plant-based materials is also another huge tick. 
But there's no escaping the fact that they use plastics for the main parts of their diapers. They do use some plant-based materials in their core, but is it enough?
Some companies have a 'no waste' policy as part of their production, which means that all of their waste will be reduced or recycled. Others wrap their diapers in recyclable packaging. The Honest Company doesn't boast anything similar, unfortunately, nor do they say their diapers can be composted. 
The brand states on their site that their new design of diapers is less bulky but 'more sustainable'. They explain how their new design is thinner, saving over 7,000 trees a year compared to the materials used in the previous design.
All in all, it's a mixed bag when it comes to eco-friendly credentials. They're certainly not the worst, but they have room for improvement!
How well do Honest Diapers work?
It would be safe to assume that the Honest Company diapers are effective, given their large fanbase. The brand promotes their diapers' super-soft liners, which are smooth and comfortable for babies, and a True Absorb Core, which holds 17 times its weight in fluid. This means great protection from leaks, and hopefully from blowouts too!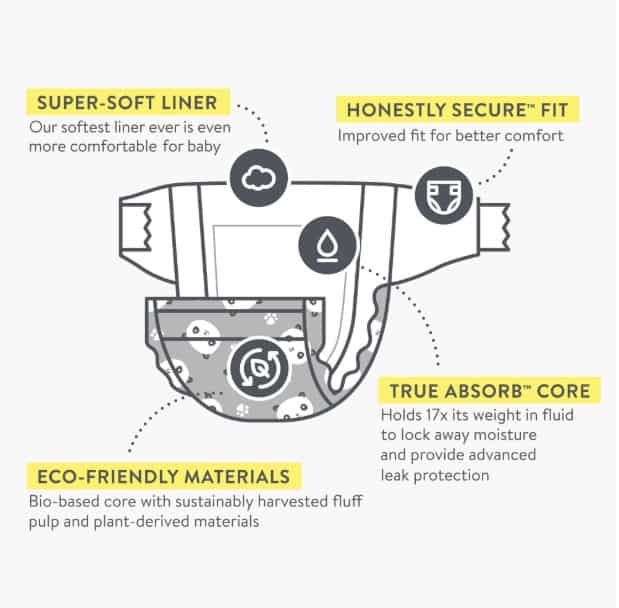 The Honest Company diapers also say they ensure a great, secure fit, with leg cuffs and a secure elastic band to keep leaks at bay, but ensure flexibility for your little one. Plus, they come in the cutest designs, which has absolutely nothing to do with their effectiveness, of course, but it's handy if you're a sucker for an adorable design…. 
Me, for example.
Honest Diapers Size Chart
| | | | | | | | |
| --- | --- | --- | --- | --- | --- | --- | --- |
| | Newborn | Size 1 | Size 2 | Size 3 | Size 4 | Size 5 | Size 6 |
| Weight | Up to 10 lbs | 8-14 lbs | 12-18 lbs | 16-28 lbs | 22-37 lbs | 27+ lbs | 35+ lbs |
| Units/ Bag | 32 | 35 | 32 | 27 | 23 | 20 | 18 |
Where can I buy Honest diapers?
Honest Diapers can be found both on the Honest Company's own website, and on Amazon. 


Amazon is a great place to buy Honest diapers because they make pricing clear and they also offer what they call the Amazon Family program. It's the perfect way to get the most out of your money, as it provides members with 20% off of diaper subscriptions and baby food subscriptions. So subscribing to Honest diapers through Amazon could save you a heck of a lot! 
The Honest Company also offers a subscription service on their site, but they only offer a 5% discount, compared to Amazon's 20%.
If online shopping isn't your thing, the Honest Company diapers are available in most Walgreen stores, Target stores and Buy Buy Baby stores, so there are plenty of options when it comes to purchasing. 
How much do they cost?
As with all diaper companies, prices vary depending on the size you're looking for, and the number of diapers in the pack. Some budget diapers can set you back as little as around 10-15 cents per diaper, with others increasing to 60 cents+ per diaper. 
Purchasing a one-time pack on the Honest Company's website will set you back around 47 cents per diaper on average, although they do offer a subscription service that will knock 5% off the total cost. So if you try them and they work for you and your baby, this is a great cost-saving option!
Over on Amazon, costs vary between around 32 cents per diaper and 59 cents per diaper, depending on the size you choose. 
So it appears that the Honest Company diapers aren't the most budget-friendly, especially considering brands like Mama Bear Gentle Touch diapers, which offer hypoallergenic diapers for under 20 cents each. Having said that, it's pretty normal to pay a little more for brands that use some plant-based materials, avoid chemicals, and try to do their bit for the planet. The subscription option is definitely worth considering if you plan on using the Honest Company diapers long-term. 
What do the reviews say?
On the Honest Company's website, they state proudly that 4 out of 5 moms would recommend their diapers to others, so this seems like a pretty good start! Over on Amazon, it's easy to read individual reviews, and, on average, Honest diapers are rated 4.5 out of 5, which is a fantastic number. The overwhelming majority of reviews are 4 or 5 stars, with users saying that it's worth paying a little more to get hold of such effective diapers. 
One reviewer says they're so absorbent that they're great for use overnight, and she never experiences any leaks. Others say they're great for sensitive skin and help to prevent diaper rash and many reviews mention the cute designs available. Sorry…
Searching for opinions away from Amazon, and you'll find more of a mixed response. One user discusses how she's disappointed that the Honest Company claims to be environmentally friendly, when 100% of their diapers will end up in landfill, unlike biodegradable diapers, which can be largely composted. She also mentions the important point that if your little one has a wheat allergy, it's best to steer clear, as they use wheat in their production. 
Frequently Asked Questions about Honest Diapers
1. Are Honest Diapers good?
In terms of their ability to retain liquid and keep the baby dry, the reviews would definitely suggest that they're up to the job. They can hold up to 17 times their weight in water, and many users say they're great at preventing leaks. They do seem to have a pretty large following, suggesting that most parents are happy with their effectiveness.
2. What makes honest diapers different?
The Honest Company diapers may have been pretty revolutionary in the diaper world when they were founded in 2011, with their commitment to stay away from harmful chemicals and the use of plant-based materials. But, honestly, there are so many eco-friendly, skin-friendly options on the market for our babies that the main difference between these diapers and others is the wide range of designs available. 
While they're undeniably cute, this really isn't an important factor and, if you're looking for eco-friendly diapers or budget diapers, there are better brands out there.
Related Post: What Are The Best Organic Diapers On The Market, And Why You Should Look For The Most Natural Ingredients
3. Are Honest Diapers worth It?
There's no denying that the Honest Company diapers are significantly more expensive than some of their counterparts. Ranging between around 32 cents and 60 cents per diaper, comparing them to some budget diapers, which will set you back no more than around 10-17 cents per product, they're on the higher end. If you're looking to spend as little as possible on diapers, but still access a product that's baby-friendly and non-toxic, there are luckily lots of other brands out there that will do the trick! Mama Bear Gentle Touch diapers, for example.
Considering that nothing really sets Honest diapers apart from their competition, along with their higher price, I don't think they're the first brand I'd be reaching for… 
As much as I appreciate a fancy diaper design, it's not really enough to justify the price!
4. How many diapers do you get in an Honest bundle?
This information can be easily found on the Honest Diapers website in the details section.
HONEST DIAPERS QUANTITY PER PACK
Size N: 32 per pack
Size 1: 35 per pack
Size 2: 32 per pack
Size 3: 27 per pack
Size 4: 23 per pack
Size 5: 20 per pack 
Size 6: 18 per pack
It looks like you get 32 diapers in a pack of newborn size for $10.95, which works out at around 34 cents per diaper. If you're buying size 4 though, you get 23 diapers in a pack for the same price: $10.95. This works out as around 47 cents per diaper.*
*Prices were accurate at the time this article was published but may change over time.
There is, of course, the option of subscribe and save on the Honest Diapers website, which takes 5% off of the total price. If you're a fan of diapers and are planning to use them regularly, this will definitely be the better option.
It's much easier to see what you're getting for what price when looking on Amazon or Target online.
5. Are Honest diapers better than Huggies?
Whether Honest diapers are better than Huggies is, of course, up for debate! It really depends on whether your priority is price, effectiveness, their suitability for little ones with sensitive skin or their non-toxic credentials. Huggies are one of the leading brands worldwide when it comes to diapers and, while not every parent will think they're effective, it does speak volumes that they still sell so well.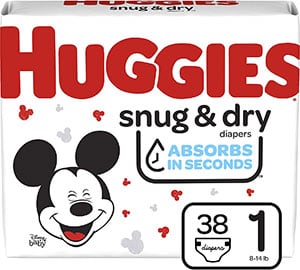 Taking Huggies Snug and Dry, for example, the brand claims that these diapers offer up to 12 hours of protection, are super absorbent, and contour to your baby's body, preventing leaks and blowouts. They say that these diapers absorb up to 23 times their weight, which is a little more than Honest, and they average 4.1 out of 5 in a whopping 14,000 reviews on Amazon.
In terms of their suitability for babies with sensitive skin, Huggies Snug and Dry are free from latex, elemental chlorine, fragrances, and latex, but they don't claim to be hypoallergenic, as some other Huggies diapers are. They also don't have any eco-credentials to boast and there's no talk of using plant-based materials in their ingredients, which certainly puts Honest diapers ahead in that category. With Huggies offering so many varieties of a diaper, prices vary wildly. But from what I've seen, they're not the cheapest on the market, and not the most expensive either.
So if you're looking for diapers that are better for your baby, the Honest Company certainly comes out on top. But, again, there are other brands that offer more in the way of environmental protection at a similar or lower price: Andy Pandy diapers for example, which are partly biodegradable too. Check out my article on the best biodegradable diapers for more options!
6. What diapers compare to Honest?
There are many similar brands to Honest, that offer non-toxic subscription diapers, made with some plant-based materials. Companies like Hello Bello and Abby & Finn are just two brands comparable to Honest. None of these brands offer biodegradable diapers – the gold standard when it comes to eco baby products – although they do all avoid toxins like fragrances and lotions. 
Abby & Finn tend to be the cheapest of these brands; Honest diapers tend to be a little more expensive. The best disposable diapers for your baby and for the planet are biodegradable diapers, like Dyper and Eco Pea.
Related Post: Dyper Diapers Review: Eco-Friendly, Skin-Friendly And Bank Account-Friendly
Related Post: Eco Pea Diapers Review: Super Soft, Sustainable And Saving The Planet
7. Are Honest diapers made in the USA?
The Honest Company is an American business, but their diapers aren't made in the USA. In fact, they're manufactured in Mexico.
8. Does Jessica Alba own honest company?
Jessica Alba is the founder of Honest. It's hard to find a definitive answer on how involved Jessica is with the company, and how much she owns. In 2015, Forbes reported her as owning 15-20% of the company, but that could have changed. 
It's safe to say she still has a hand in the company, as she talks about the brand in interviews and features a lot on the brand's social media accounts.
9. Are Honest and Hello Bello the same?
There are lots of similarities between Honest diapers and Hello Bello diapers: both are non-toxic and use some plant-based materials. Plus, both were founded by A-list Hollywood actresses!
While Jessica Alba founded Honest, it's Frozen star Kristen Bell who, along with her husband, gave us Hello Bello diapers. Like Honest, Hello Bello diapers steer clear of toxins like fragrances and lotions, but neither brand is biodegradable. And they could be using a much higher percentage of plant-based materials in their products. 
Both offer a subscription service though, which is pretty handy for busy parents.
Read Next: Hello Bello Diapers Review: A-List Diapers For Your Little One
10. Why are Honest diapers better?
Although Honest diapers come in seriously cute prints and designs, they're not as eco-friendly as they're made out to be. And they're certainly not better than many other similar-priced brands. Honest diapers are still made with petroleum-based plastics and they're not biodegradable. Plus, they're on the expensive side. 
Brands like Dyper, Eco Pea and Ecoriginals, however, offer non-toxic diapers that are great for your baby's skin, while looking after the planet too. All of these diapers are biodegradable and made from a very high percentage of plant-based materials. 
Check out my roundup of the best biodegradable diapers for more information!
The good, the bad and the bottom line
So what's the bottom line when it comes to Honest Diapers? As with all diaper brands, there are positives and negatives, but, ultimately, does the brand live up to the hype?
The Good
The Bad
◆   They use some plant-based materials
◆   Phthalate-free
◆   They're totally chlorine-free
◆   Free from latex
◆   Free from fragrances
◆   Free from lotions
◆   Hypoallergenic
◆   Super soft
◆   Cruelty-free
◆   Not tested on animals
◆    Available in-store and online
◆   They come in a variety of cute designs
◆   Reviews are positive on the whole
◆   They offer 5% off on their site when you subscribe
◆   They're not free from dyes
◆   Buying from their own site can be confusing
◆   They're not biodegradable
◆   They're pretty expensive
◆   Despite their use of plant-based materials, they'll still end up in landfill
The bottom line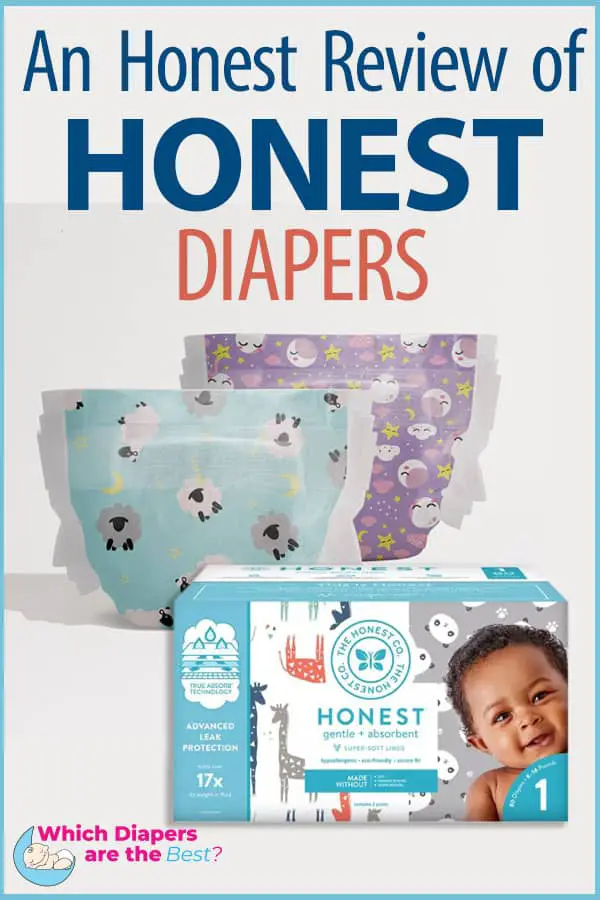 If budget isn't an issue and you're a sucker for a cute diaper design, the Honest Company diapers aren't a bad choice. They're good for babies with sensitive skin, free from potentially-harmful phthalates, made with chlorine-free wood pulp, which is sustainable, and they do have positive reviews on the whole.
Having said that, the Honest Company certainly doesn't lead the pack when it comes to being eco-friendly. They're not biodegradable, which means they'll end up in a landfill like all other disposable, non-compostable diapers, and they'll set you back a pretty penny – up to around 60 cents per diaper. Not that they make this information easy to find!
For alternatives to the Honest Company diapers, check out my top biodegradable and top hypoallergenic diapers articles.
And let's hope Honest diapers move with the times, and find ways to improve their impact on the environment, without clearing our bank balances!
References:
Jaakkola, J. J., & Khinght, T. L. (2008). The role of exposure to phthlates from polyvinyl chloride products in the development of asthma and allergies: a systematic review and metaanalysis. Environ Health Perspect, 116(7), 845-53.
Related Reading