It's hard to keep up with the number of eco-friendly diaper companies popping up on the market right now. Not that I'm complaining! In fact, it's awesome. As Kudos (the newest diaper company on the block) says, if all diaper companies were like them, 500 million pounds of plastic would be substituted with unbleached, natural cotton.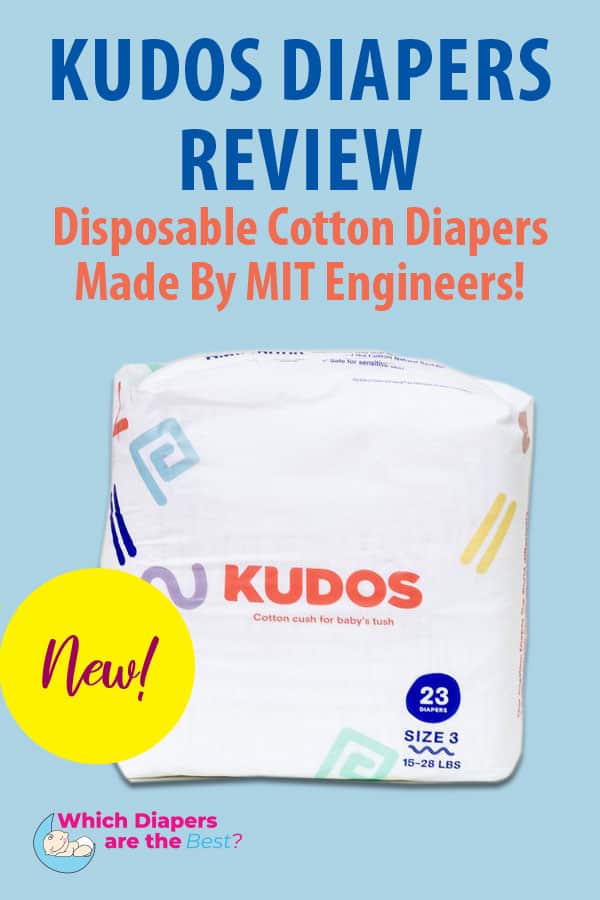 It goes without saying that baby products like regular plastic disposable diapers are terrible for the planet. In America alone, 20 billion disposable diapers are added to landfills every year. Not to mention the added chemicals like chlorine, fragrances, and phthalates, which are released into the atmosphere as they 'decompose'… which takes 500 years or more. 
So companies like Kudos are needed now more than ever. But how do they stack up? Green diapers are great, provided they keep the pee and poop at bay.
Here's everything you need to know about Kudos diapers!
Note: Affiliate links may be used in this post. I may receive a small commission at no extra cost to you if you make a purchase through my affiliate link. Please read my disclosure for more info. All prices and availability are accurate at the time of publishing.
Kudos Diapers Review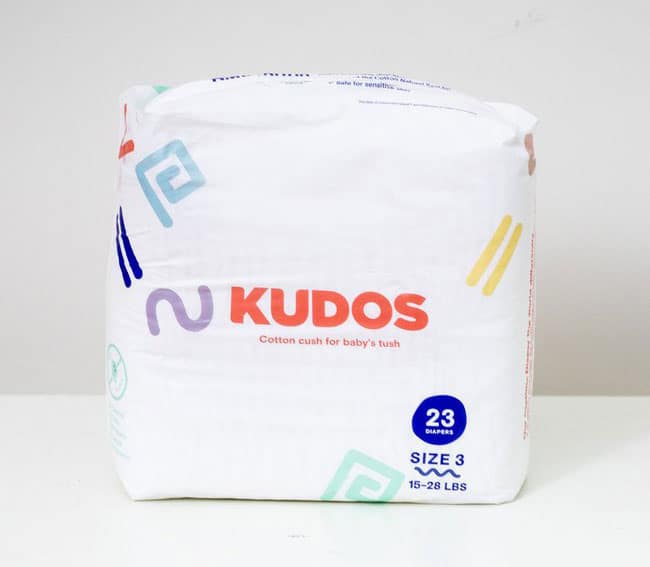 What's in Kudos diapers?
When it comes to choosing the best diapers for your baby and for the planet, what's in them is a great place to start. The vast majority of regular disposable diapers are made mainly with petroleum-based plastics, while some are made with sustainable materials like cotton, bamboo, and wood. 
Kudos diapers are made predominantly with cotton, along with other plant-based ingredients like sugar cane. The top sheet, the part that comes into contact with your baby's skin, is made from 100% cotton. Kudos states that they're the first brand to produce a diaper with a 100% cotton top sheet, in fact. They explain that other 'natural' diapers, like Honest Company and Seventh Generation, have a top sheet that's engineered to feel soft, but they still contain plastics. 
Topsheet – 100% Unbleached Cotton
Backsheet – Green Polyethylene (from sugar cane)
The absorbent core – Fluff Pulp (TCF from sustainably harvested trees) and premium SAP
And the story behind their cotton is very impressive. They explain how their cotton is made with a dry process that uses absolutely no water, chemicals, or process heat. Their cotton is energy self-sustaining and, even better, doesn't contribute to net carbon emissions!
Kudos' 'acquisition' layer is made from corn starch and sugar cane and this layer works to wick away moisture from your baby's skin. This layer is typically made from polyester in other disposable diapers.
Beneath this layer is the absorbent core. Kudos explains how this part of the diaper is made of 3 parts: the core wrap, fast-absorbing fluff pulp, and super absorbent polymer. Most SAP is made of plastic because there isn't a plant-based option available yet. Scientists are working on one though and Kudos explains that, when it becomes available, they'll make the switch!
Beneath the absorbent core is the barrier film. This layer is breathable, but keeps moisture inside the diaper, preventing diaper rash.
Finally, Kudos diapers feature a back sheet, made from sugar cane. This is the super-soft bit you touch when you reach for a diaper, which, on most regular disposables, is made of plastic.
Kudos diapers also feature extra components like leg cuffs, tabs, elastics, and adhesives, which are currently plastic, but they're working on making these plant-based as soon as they can.
What's NOT in Kudos diapers?
If you've read any of my diaper reviews, you'll know that what's not in diapers is just as important as what's in them. When looking for the healthiest diapers for your baby, you want a diaper that's free of potentially harmful chemicals like phthalates, fragrances, and lotions. Many diapers use chlorine bleaching too, so go for chlorine-free when you can. 
Kudos diapers are free of the following toxins:
When buying products for your little one, try to avoid any products containing phthalates, fragrances, and lotions. Diaper brands that do use them won't be quick to display it on the packaging, but brands that avoid them, like Kudos, will usually tell you. 
Lotions and fragrances can irritate your little one's skin and phthalates have been linked to the increase of asthma and eczema rates in young children, along with abnormal genital development in young boys. Suffice to say, they shouldn't be found anywhere near a baby product!
Read more about these hidden toxins and what's in disposable baby diapers here!
Where Kudos Diapers are made?
Kudos diapers are currently made in Germany, using cotton sourced from the USA.
Kudos diapers Size Chart
Kudos diapers are suitable for babies from 8lbs to 35lbs+. It looks like the size 1s might be a little big for smaller newborns.
| | |
| --- | --- |
| Size | Weight |
| 1 | 8-13lbs |
| 2 | 11-17lbs |
| 3 | 15-28lbs |
| 4 | 22-37lbs |
| 5 | 27lbs+ |
| 6 | 35lbs+ |
Where to buy Kudos diapers? 
You can buy Kudos diapers from Kudos' own site. They offer free shipping when you spend over 20 bucks!
How much do Kudos diapers cost?
*Prices were accurate at the time this article was published but may change over time.
A box of size 4 Kudos diapers – 168 diapers in total – will set you back 88 bucks if you buy a one-off box, or 78 dollars if you subscribe. That's about 46 cents per diaper. Or, if you just need a top-up or want to try them out first before you commit to a larger quantity, you can buy a quick box. This includes 28 diapers and will set you back 16 dollars (for size 4 diapers).
The price of Kudos diapers is a little more expensive than budget brands, but, if you have the budget, they're more than worth it! Diaper brands like Kudos are paving the way for a greener, more sustainable diaper market!
Kudos diapers Reviews 
Kudos are pretty new to the market, so they don't have heaps of reviews. But the few they do have rave about them! On the Kudos site, 66/74 reviews offer the diapers 5 stars, with parents saying they're easy to put on, super absorbent, and soft on their babies' skin.
Kudos diapers FAQs
1. Are Kudos diapers good diapers to avoid blowouts? 
Many reviews of Kudos diapers say that the diapers are effective when it comes to preventing blowouts. And, since they're made by MIT engineers, that's no surprise! Their Double Dry tech keeps your baby dry and their stretchy and comfy tab hooks keep the diaper in place. As with all diapers, the key to avoiding blowouts is to get the right size! 
Read Next: The Best Diapers To Prevent Blowouts; Do All Diapers Leak?
2. Are cotton diapers better than bamboo diapers? 
Many plant-based diapers are made with cotton or bamboo. Both kinds of diapers are heaps better than regular plastic disposables, and it's hard to say if one material is 'better' than the other. It all depends if any chemicals are added and how the material is sourced. 
Kudos lets us know that their diapers are made with double the plant-based ingredients than 'leading natural brands', although they don't state which brands. They also say that their cotton is cleaned without the use of harsh chemicals. 
The only problem with Kudos diapers is that they're not, as far as I can see, biodegradable. Essentially, biodegradable disposable diapers can break down back into the soil over a few months or years. Plastic diapers, on the other hand, might never break down. Brands like Ecoriginals offer bamboo diapers that are over 90% biodegradable. It doesn't say anywhere on Kudos' site that their cotton diapers are biodegradable though.
3. Are Kudos diapers compostable?
Kudos diapers aren't biodegradable or compostable. Some diapers, like Little Toes, can be disposed of using commercial composting facilities, depending on where you live. Others can even be disposed of in a compost bin in the backyard. 
No diaper on the market is completely compostable or biodegradable. Ecoriginals diapers do come close though, containing 90% biodegradable materials!
Compostable diapers are great for the planet because they don't have to end their lives in landfills. Biodegradable diapers that can't be composted are still a great option though. Check out my ultimate guide to the best biodegradable diapers for more info!
4. Are Kudos Diapers good for babies with sensitive skin? 
Kudos diapers are great for babies with sensitive skin. Added toxins like fragrances and lotions have the potential to irritate babies' skin and cause diaper rash, so the best diapers are those that avoid these unnecessary chemicals. 
Diapers that avoid them completely will usually make it clear on the packaging or on the brand's site because it's a huge selling point!
Babies with sensitive skin will also fare much better with plant-based diapers as they use more natural ingredients, so Kudos diapers are a great choice! Check out more of my non-toxic diaper picks here.
Kudos diapers alternatives 
Kudos diapers tick lots of boxes – they're free of harsh toxins like fragrances and phthalates and they're made from plant-based materials like cotton and sugar cane. But they're not biodegradable or compostable, like some other brands. So what are the best alternatives?
Ecoriginals, Andy Pandy, and Eco Pea or some of my favorite diaper brands. They contain some of the highest percentages of plant-based materials and are all free of the main toxic culprits: chlorine, phthalates, fragrances, and lotions. In fact, Ecoriginals contain 90% biodegradable materials!
Dyper is another firm favorite. Not only do they offer biodegradable diapers, but they're affordable and they go even further for the planet by purchasing carbon offsets with every pack sold. 
So, Are Kuddos Diapers worth trying?
The Bottom Line
Kudos is the latest eco diaper to enter the market, using natural cotton and sugarcane to create effective, eco-conscious diapers that are great for little ones with sensitive skin. Designed by MIT engineers, Kudos diapers are lined with 100% clean cotton and are free of lotions, fragrances, and phthalates. 
Kudos diapers are without a doubt worth giving a go. They're clearly committed to going fully plant-based as soon as they possibly can, with plans to replace plastic parts with sustainable alternatives as soon as the materials are available. It's a shame that they're not biodegradable, but they're a company that cares – about our babies' precious skin, their impact on the planet, and, importantly, keeping the pee and poop at bay. 
And that's enough for me…
Related Reading