It's never been more important to choose eco-friendly products. And if there's one product that's usually pretty terrible for the planet, it's baby diapers. 
While most disposable diapers are made mostly with plastics and head straight to landfill when they're used, diapers like Nest are changing the game. 'Compostable plant-based diapers and training pants for the eco-minded generation' is what Nest offers the market, and thank the eco Gods they do. 
But what makes them so good for the planet? And are they worth trying? Here's everything you need to know about Nest baby diapers.
Disclaimer: Nest Diapers has not sponsored or endorsed this article in any way. As a mom who's passionate about buying the best for babies, I try really hard to include accurate information in all of my posts. If there are any inaccuracies present, please let me know; I'm more than happy to amend any errors. For more information about Nest Diapers, head over to their main site: nestdiaeprs.com. This review has affiliate links. I may receive a small commission at no extra cost to you if you make a purchase through my affiliate link. Please read my disclosure for more info.
Everything you need to know about  Nest Diapers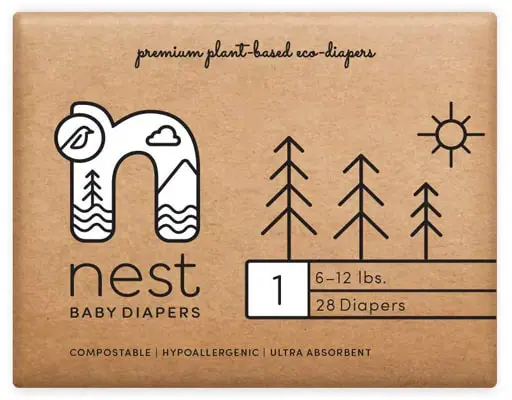 What are Nest Diapers made of?
I love it when diaper companies are completely transparent about what's in their diapers. It makes choosing the best ones for you and your family so much easier! Nest says they don't believe in keeping secrets, so list all of their ingredients super clearly on their site.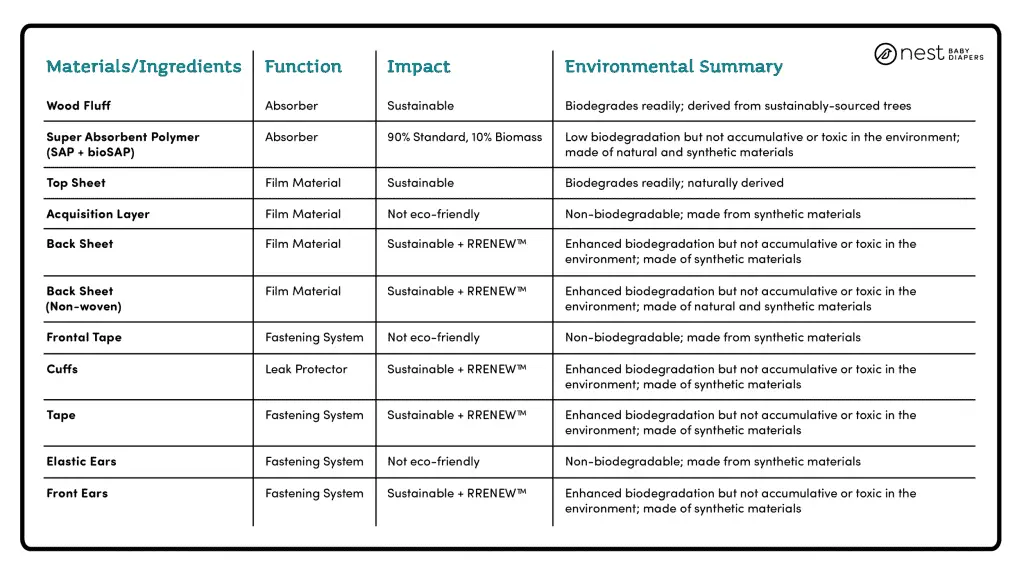 Their materials include wood pulp, bamboo, cane, viscose, starch, elastin, synthetic rubber, spandex, poly-propylene (fastening system) sodium polyacrylate (absorber), and polyactic acid. They even list which ingredients are biodegradable and which aren't. 
The few plastics used in Nest diapers are pretty unavoidable. Even the most eco-conscious diapers have some. In fact, the super absorbent core of diapers has to be made from plastic; there aren't any biodegradable alternatives available right now, but scientists are working on it.
What are they free from? 
It's just as important to know what diapers are free from. In fact, the fewer ingredients present, the better! Here's what you should try to avoid when looking for the healthiest baby diapers for your little one, and for the planet. 
Chlorine


Chlorine is used in diapers to make them more absorbent, but there are eco-friendly ways of doing this. This horrible chemical is terrible for the environment, so it's best to look for diapers labeled totally chlorine-free. You might see that some diapers are elemental chlorine-free. This is better than nothing, but totally chlorine-free is your best bet.
Phthalates


These strange chemicals are used in diapers to improve their durability. Again, they're completely unnecessary. And, given that their use has been linked to eczema and asthma as well as abnormal genital development in little boys, it's best to steer clear altogether. 
Fragrances, lotions, and dyes


Added fragrances, lotions, and dyes are completely unnecessary. There seems to be a theme here.

These terms can cover up a host of nasty chemicals present in diapers and their use makes no difference to a diaper's ability to keep the pee and poop at bay. Look for diapers free of fragrances, lotions, and dyes if you can. That is unless the dyes are water or plant-based. They're usually made with heavy metals, but a company will usually shout about it if they use plant materials instead.
Because they don't contain any harsh chemicals or toxins, they're completely hypoallergenic, so suitable for little ones with sensitive skin.
Where Nest diapers are made?
Nest diapers are made in North America.
Are Nest Diapers better for the environment? 
The majority of disposable diapers are made predominantly with petroleum-based plastics. It's hardly news to say that plastic should be avoided as much as we possibly can because a lot of it can't be recycled. Plus, it'll stick around for a few hundred years in landfills, release toxins and contaminate groundwater. 
Nest diapers, on the other hand, are heaps better for the environment. They do contain plastic – as even the most eco-friendly diapers do – but they're made mostly with chlorine-free wood pulp. This plant-based material is a renewable resource, unlike plastic. 
But even plant-based disposable diapers are still just that – disposable. So what do you do with diapers like Nest when they're dirty? Do they head to the landfill like all the others?
Are Nest diapers biodegradable?
You might have heard about the (relatively) new kid on the block when it comes to eco diapering – biodegradable diapers. This simply means that they can be broken down by the composting process and absorbed back into the soil. Not all plant-based diapers are biodegradable, but Nest diapers certainly are. In fact, 87% of the materials used are compostable, so they don't have to end up in landfills either…
Related Post: Top Picks for the Best Biodegradable Diapers on the Market
How to properly dispose of Nest diapers?
Disposing of poopy diapers should always involve shaking or scraping the poop into the toilet first. I know, right – who knew!
Disposables would normally go straight into the trash or your diaper genie, but it's actually possible to compost Nest diapers if you want to. It's a much better option for the planet because it means fewer diapers in landfills. 
While you can't compost Nest diapers at home, if you have a commercial compost provider near you, they'll do the job for you. Nest have partnered with the composting companies 'Do Good Diapers' and 'Tiny Tots'. Do Good Diapers is available in Saint Paul, Twin Cities Metro, Minnesota, and Wisconsin (all Minneapolis) and Tiny Tots covers San Francisco, Oakland, and San Jose Bay. 
How well do Nest Diapers work?
Some reviews say that Nest diapers are a little wider than some other brands, which helps to keep the pee and poop inside. Because they're so soft, they easily adapt to your baby and they're super comfortable. 
In terms of keeping the baby dry, their soft and absorbent wood material will make light work of it. 
Nest Diapers Size Chart 
What sizes are Nest diapers available in?
| | |
| --- | --- |
| Size | Weight |
| Size 1 | 6-12lbs |
| Size 2 | 10-16lbs |
| Size 3 | 14-26lbs |
| Size 4 | 22-37lbs |
| Size 5 | 26-40lbs |
Where to buy Nest Diapers? 
If you want to try Nest diapers out for yourself – and I definitely recommend that you do – they're available both on their site and on Amazon. Amazon's a great place to get your baby diapers thanks to their Family Program. 
It's completely free for Prime members and, with membership, you'll get exclusive discounts, parenting tips, and up to 20% off baby diaper and food subscriptions. 
Nest diapers work out at about 50-60 cents per diaper. This is more than budget diapers, but, if you do have the budget, they're more than worth the price. 
What do reviews say?
Reviews by real parents are generally super positive – they average 4.3 out of 5 on Nest's own site. Users say that Nest diapers are a lot softer than their usual brands and that they do seem to be a little wider. 
They say that Nest diapers can deal with poop explosions pretty effectively and it's great that they're so much better for the environment than regular disposable diapers. 
Parents with little ones who have sensitive skin say they're perfect because they have no harmful toxins or chemicals. 
FAQ about Nest Diapers:
1. Do they sell Nest training pants?
Don't worry about your baby growing crazy fast, as they all tend to do. Nest provides us with training pants too, making eco-friendly potty training a breeze. 
Nests's natural plant-based training pants are available in size 4 (20-31lbs) and size 5 (26-40lbs). Like Nest regular baby diapers, their training pants are free of allergens and chemicals with leakage barriers and flexible side panels to prevent leaks. 
They even have a wetness indicator to let you know when your little one (who's now probably not so little) needs a change.
Their training pants are made with wood, bamboo, and cane, are hypoallergenic and are easy for your baby to pull up and down.
2. Are Nest Diapers Vegan?
Nest diapers are suitable for vegans. It sounds like a strange thing to say, but it's not necessarily the case that all diapers are suitable for those looking for cruelty-free products. And that's because some materials may be tested on animals or companies might carry out animal testing on other products. Read more about cruelty-free diapers here!
Nest diapers don't contain any animal products and the company is independent, not owned by any other companies that test on animals. They're therefore absolutely suitable for vegans. 
Read Next: Are Diapers Tested On Animals? The Top Cruelty-Free Diapers In 2021
3. Can you compost Nest diapers at home?
Nest diapers can only be composted by a professional service. 'Do Good Diapers' in Minneapolis and 'Tiny Tots' in the San Francisco area are recommended by the company. 
Dyper diapers are a good brand to consider if you don't have one of these services near to you. They'll take your soiled diapers away and compost them for you no matter where you are in the US! 
Read Next: Dyper Diapers Review: Eco-Friendly, Skin-Friendly And Bank Account-Friendly
Nest Diapers alternatives
We're lucky that there are lots of choices when it comes to soft, natural, environmentally-friendly diapers. Nest is certainly one of my favorite companies, but what are the good alternatives?
Again, the best diapers are those which are plant-based, non-toxic, and, ideally, biodegradable. Eco Pea, Eco Boom, Little Toes, and Dyper are some of my other favorite companies, which all provide natural, effective diapers. Dyper and Eco Pea even put their diapers in biodegradable packaging; you can't get much better than that! Check out my Eco Pea review and Dyper review for more information on these amazing products.
Related Post: What Are The Best Organic Diapers On The Market, And Why You Should Look For The Most Natural Ingredients
Another company I love that works out a little less expensive than some biodegradable diapers is Hello Bello. Founded by Kristen Bell and her husband, Hello Bello diapers are non-toxic and plant-based. They're not biodegradable, but they're certainly silver medal winners when it comes to their impact on the planet. And at just over 30 cents per diaper on average, they're pretty budget-friendly too. 
Conclusion
We're all trying to do our bit to protect the planet and we shouldn't underestimate the impact we can have by choosing eco-conscious diapers. 
Nest is just one of the many amazing companies putting the world first and giving us the gift of completely natural, toxic-free, hypoallergenic, and biodegradable products. 
Nest diapers are great for your baby's skin and health, heaps better for the environment and, importantly, they work. Plant-based materials make for a super soft and super absorbent diaper, so you can take care of your little one while taking care of the world.
And I think that's pretty amazing.
Related Reading