We're becoming increasingly aware of the impact our actions and purchases are having on the planet. While this is undoubtedly a brilliant thing, realizing just how terrible some of our everyday items are for our planet is unsettling, to say the least. Diapers in particular have a massive – and detrimental – impact on our environment. With 20 billion diapers disposed of every year in the US alone, and each of those hanging out in landfills for a few hundred years releasing toxins into the atmosphere, it's really time that the industry took action.
Luckily for parents and carers, some diaper brands are taking note and providing us with products that are not only healthy for our babies but healthy for the planet too. The best of these are plant-based and completely free of harmful chemicals. With a name like Pampers Pure Protection, you'd expect this variety of one of the biggest diaper brands out there to tick all the non-toxic boxes. But are Pampers Pure Protection really pure?
Note: Affiliate links may be used in this post. I may receive a small commission at no extra cost to you if you make a purchase through my affiliate link. Please read my disclosure for more info. All prices and availability are accurate at the time of publishing.
Pampers Pure Diapers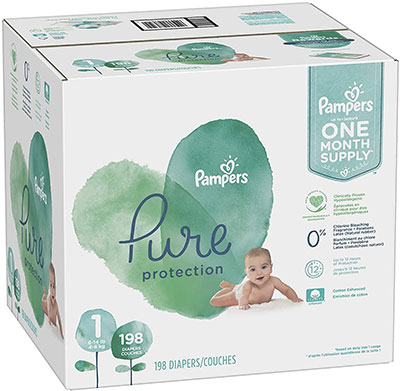 Pampers Pure Diapers Features
Pampers Pure Protection are marketed as their eco and skin-friendly diaper alternative. Their use of some plant-based materials makes them softer than your average diaper and clinically proven to be hypoallergenic.
Pampers says they offer up to 12 hours of dryness protection, so they should be suitable for use overnight too.
They feature a wetness indicator to take the guesswork out of changing, 'adorable' prints, and a liner enriched with shea butter.
Pampers Pure Diapers Ingredients
Plastic vs plant-based
It's probably no surprise to say that most disposable baby diapers are made predominantly with plastic. And we all know that plastic is essentially the earth's arch-nemesis. Switching to plant-based diapers might seem like a small change, but it can make a huge difference. Materials like bamboo and wood fluff pulp can be harvested sustainably, unlike non-renewable resources used to produce plastic, and they produce great quality, soft and absorbent diapers.
Do Pampers Protection diapers use plant-based materials?
Pampers tell us that their Pure Protection variety uses 'premium cotton, soft plant-based, and other thoughtfully selected materials'. Regarding their cotton, they say it's produced in the USA and responsibly sourced, but I can't see much information detailing the other plant-based and 'thoughtfully selected' materials. Their cotton comes from a supplier who's a member of the 'Cotton LEADS' program, which promotes quality cotton and sustainable sourcing.
This is great, but they also don't tell us what percentage of the diaper is plant-based. Greenwashing, giving the impression that something is eco-friendly when, in reality, it isn't, is rife right now in marketing and advertising. It's pretty easy to do really – the terms 'natural', 'environmentally-friendly' and 'plant-based' can be used however diaper companies choose, as they're not regulated by the FDA.
In theory, a diaper can use a very small amount of plant-based ingredients and still label itself as such. Some companies are super transparent and let us know the percentage of plant-based materials used in their diapers, but it doesn't look like Pampers is one of them.
Chemicals and toxins
It's safe to say that diaper companies are often less than transparent when it comes to what's inside their diapers and how, if toxins and chemicals are used, this can impact our babies and our planet. So what do they use, and what should we avoid?
Phthalates
If there's one chemical we should avoid wherever possible in baby and kid's products, it's phthalates. Used in lots of plastic products like toys, vinyl flooring, and diapers to improve durability1, these nasty toxins have been linked to an increased risk of eczema and asthma2, along with abnormal genital development in boys. Exposure to them is widespread among children, but some diaper companies come good for the health of our little ones and avoid them completely. 
Do Pampers Pure Protection contain phthalates?
As a general rule, unless a company states very clearly that their diapers are free of phthalates, it's a lot safer to assume that they're used. This is because being phthalate-free is a big selling point. More often than not, if a diaper avoids phthalates, this will be super clear on the packaging or on the brand's website.
Pampers doesn't mention phthalates at all when it comes to their Pure Protection variety. It's a huge shame, and I hope that they work on making these supposedly natural diapers phthalate free in the not-too-distant future!
Fragrances, lotions, and dyes
Pampers is well-known for added fragrances and perfumes to their diapers, as well as lotions. Neither of these additions is necessary and, actually, the term 'perfumes' often just means a bunch of added chemicals. These, along with lotions, have the potential to irritate your little one's skin and cause diaper rash, as do dyes made with heavy metals. Diapers made with water-based inks are generally considered safe, though.
Do Pampers Pure Protection contain fragrances, lotions, and dyes?
Pampers makes it clear that their Pure Protection diapers contain absolutely no fragrances and lotions, unlike most of their other varieties. This is great news for our babies' skin! They don't mention dyes though, so I have to assume they're used. It's a shame they don't use water-based inks and dyes in their Pure Protection like so many other skin-friendly companies do.
Chlorine
You might have seen chlorine-free diapers and wondered what on earth chlorine was doing in a product for little ones. It's well known for killing bacteria in swimming pools, but its function in diapers is to make them more absorbent. Chlorine bleaching is terrible for the planet, and can be avoided whilst still producing a great quality diaper. Look for totally chlorine-free (TCF) diapers if you can. Elemental chlorine-free (ECF) diapers are better than nothing, but TCF diapers get the gold star.
Do Pampers Pure Protection use chlorine bleaching?
Pampers Pure Protection diapers come through on the chlorine front, and use absolutely no chlorine bleaching at all. This is fantastic, but it does make you wonder why they can't offer the same across all of their diapers.
More on this topic: Disposable Diapers: What Are They Made From, And Are They Safe?
Pampers Pure Size Chart
| | |
| --- | --- |
| Size | Weight |
| Newborn | <10lbs |
| Size 1 | 8-14lbs |
| Size 2 | 12-18lbs |
| Size 3 | 16-28lbs |
| Size 4 | 22-37lbs |
| Size 5 | 37lbs+ |
| Size 6 | 35lbs+ |
Where to buy Pampers Pure Protection
Unlike some smaller brands, which haven't yet made their way onto the shelves of large supermarket chains, you won't have any issues finding Pampers. They're available pretty much everywhere, from big stores like Walmart, CVS, Kroger, Sam's Club, and Target to online retailers like Amazon.
Pampers Pure Price
So if you want to try them out, how much will they set you back? Because they're so widely available, it's easy to compare prices. I'm expecting them to be more expensive than some other Pampers varieties because, annoyingly, using plant-based materials and fewer toxins always adds up to a higher cost.
Let's take a look at some prices to compare:
| | | | | |
| --- | --- | --- | --- | --- |
| Store | Size | Count per pack | Total price | Price per diaper |
| Walmart | 3 | 116 | $39.99 | 34 cents |
| Target | 3 | 116 | $39.99 | 34 cents |
| Amazon | 3 | 168 | $60.34 | 36 cents |
The prices of Pampers Pure Protection are clearly pretty similar across the major retailers, but it's worth looking into the Amazon Family Program if you haven't already. It's completely free for Prime members and gives you up to 30% off baby diaper subscriptions, as well as exclusive discounts and parenting tips.
In terms of how these prices compare to other Pampers varieties, let's look at Pure Protection prices versus the price of another Pampers favorite, Baby Dry.
| | | | | |
| --- | --- | --- | --- | --- |
| | Pure Protection | | Baby Dry | |
| Store | Size | Price per diaper | Size | Price per diaper |
| Walmart | 3 | 34 cents | 3 | 24 cents |
| Target | 3 | 34 cents | 3 | 24 cents |
| Amazon | 3 | 36 cents | 3 | 24 cents |
It's hardly surprising that Baby Dry diapers are a little cheaper than Pure Protection. While both say they offer up to 12 hours of protection, Pure Protection are a better option than Baby Dry due to their use of plant-based materials and avoidance of fragrances.
If you're looking for the best Pampers variety and your budget can stretch to it, Pampers Pure Protection diapers are undoubtedly the better choice.
Pampers Pure Protection Reviews
It doesn't matter how many toxins a diaper avoids or what percentage of the materials used are plant-based if it doesn't keep the pee and poop at bay. So do they work?
Well, according to reviews, they absolutely do. In fact, Pampers Pure Protection reviews on Amazon are nothing less than glowing, averaging 4.8 out of 5 in over 2700 reviews. 90% of users rated them 5 stars and said they're super absorbent, soft and they offer leak protection overnight. Pampers Pure clearly work for the vast majority of parents and carers. I bet little ones don't mind the softer plant-based materials either.
How to trial Pampers Pure Protection diapers
If you want to give Pampers Pure Protection a go without committing to a jumbo pack, you need Diaper Dabbler. This awesome site is perfect for trying out a few different diaper varieties to see which is the best fit for you and your little one. They have lots of different packs full of a range of the best diapers, letting you try a variety of brands.
Diaper Dabbler's 'Natural Choice For New Babies Variety Package' includes Pampers Pure Protection, along with the following brands: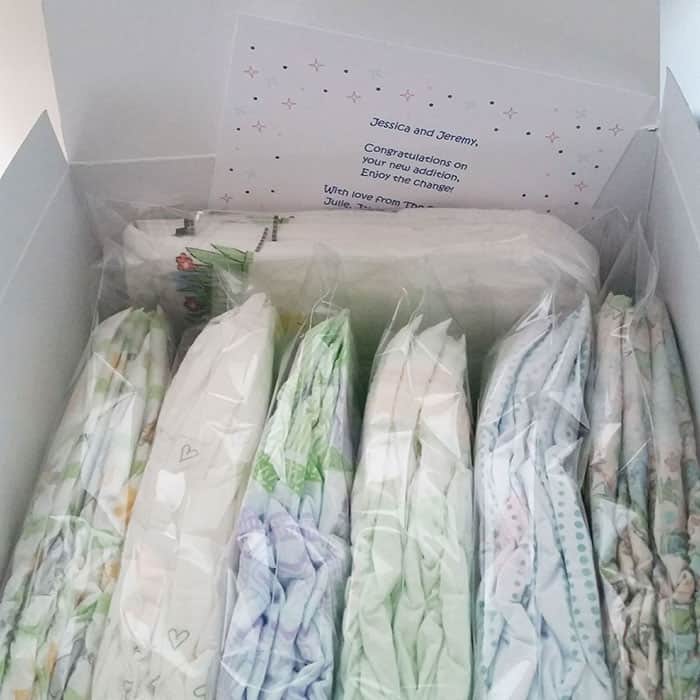 Not only can you try Pampers Pure Protection with this pack, but other (and arguably better) varieties too. Once you've decided which brand suits your baby best, that's when you can commit to a big, budget-friendly pack. The diaper rating card included helps you keep track of which brands you love.
Diaper Dabbler packs also make perfect baby shower gifts!
Pampers Pure Protection Review FAQ:
1. What is the difference between Pampers Swaddlers and Pampers Pure?
| | | |
| --- | --- | --- |
| | Pampers Swaddlers | Pampers Pure Protection |
| Plant-based materials | No | Yes |
| Fragrance and lotion free | No | Yes |
| Up to 12 hours of protection | Yes | Yes |
| Wetness indicator | Yes | Yes |
| Umbilical cord notch (smaller sizes) | Yes | No |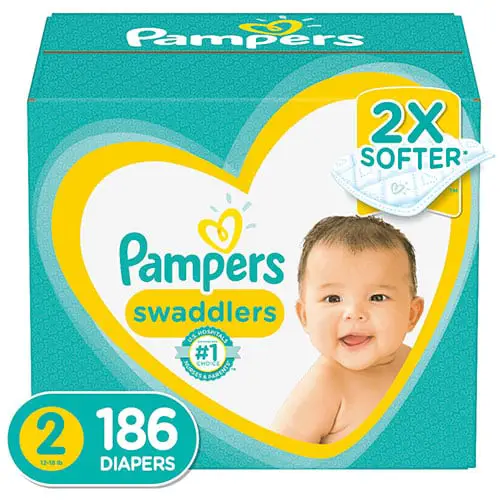 Pampers Swaddlers are one of the most popular diapers out there. The 'number 1' choice for parents, nurses, and hospitals in America, these tried and trusted diapers offer up to 12 hours of protection, feature a wetness indicator and the smaller sizes have an umbilical cord notch, making them a popular choice for newborn babies.
Read Next: Pampers Swaddlers Vs Cruisers: Everything You Need To Know
Pampers Pure Protection don't have an umbilical cord notch, but they do have a wetness indicator and can offer up to 12 hours of dryness protection. And the biggest difference: while Pampers Swaddlers don't use any plant-based materials and have added fragrances and lotions, Pampers Pure do use some plant-based ingredients and stay away from added lotions and fragrances. Given that these unnecessary additions can cause diaper rash – and the pretty huge issue of disposable diapers using non-renewable resources and materials – Pampers Pure Protection diapers are clearly superior.
2. Which kind of Pampers is best?
You've probably noticed that there's a bunch of different Pampers varieties available in stores. And for a first-time parent or carer, choosing the right one can be a bit of a challenge (swiftly followed by learning how to actually put the diaper on the baby). It's great that there are so many to choose from, but which kind of Pampers is best?
Here's an overview of the different varieties of Pampers, and what they're suitable for:
| | |
| --- | --- |
| Age, Stages, and Purposes | Pampers Variety |
| Newborns | Swaddlers |
| Active infants and toddlers | Cruisers |
| Older infants | Baby Dry |
| Potty training | Easy Ups |
| Swimming | Splashers |
| Overnights | Swaddlers Overnights |
| Eco-friendly(er) | Pure Protection |
| Sensitive Skin | Swaddlers Sensitive |
The best diaper is one that is effective, so protects against leaks, kind to babies' skin, containing no unnecessary toxins or chemicals, and as kind as possible to the planet – plant-based and chlorine-free diapers usually achieve this!
Related Post: What Diapers Pampers Offer?
While most varieties of Pampers contain no plant-based materials and also added fragrances and lotions, Pampers Pure Protection stands out from the crowd with its use of at least some plant-based ingredients and its avoidance of chlorine, fragrances, and lotions. This eco-friendlier variety is super soft and has brilliant reviews, so it's undoubtedly the best Pampers variety.
For a similar price though, there are diapers available which use predominantly plant-based materials and steer clear of all toxins, including phthalates. Hello Bello and Abby & Finn are two of my favorites.
3. What are some alternatives to Pampers Pure?
If you're looking for plant-based, non-toxic diapers, there are some great alternatives to Pampers Pure Protection…
Hello Bello Diapers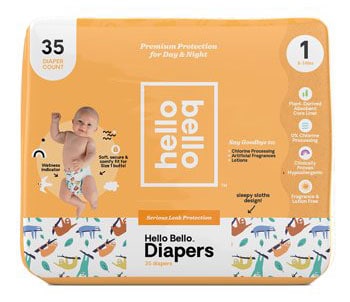 Founded by Kristen Bell and her husband, Hello Bello is a diaper company with a difference. Not only do they offer plant-based, hypoallergenic diapers which avoid all horrible toxins, including phthalates, but they offer this at a reasonable price. A pack of size 3 Hello Bello diapers will set you back 34 cents each, which is essentially the same as Pampers Pure Protection.
Hello Bello offers a subscription service for diapers-straight-to-your-door, with each box offering an added surprise; everyone is a different design, which can be transformed into something fun for your little one. Think rockets, treasure boxes, and pirate ships. I love this company!
Read Next: Hello Bello Diapers Review: A-List Diapers For Your Little One
Abby & Finn Diapers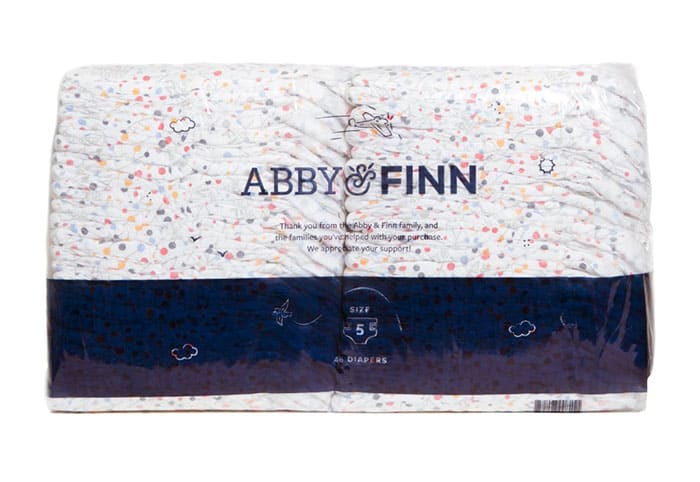 Abby & Finn is another awesome diaper company, offering plant-based diapers which are completely free of chlorine, phthalates, lotions, fragrances and dyes made with heavy metals. And they have an awesome price tag to match – a pack of size 3 diapers will set you back just 28 cents per diaper.
Like Hello Bello, Abby & Finn produces a range of great baby products, including BPA-free bibs, diaper balms, and bubble baths and you can save on the regular price of these products if you subscribe to their diaper service. Plus, Abby & Finn donate 30 diapers to those who need them with every box bought.
Dyper Diapers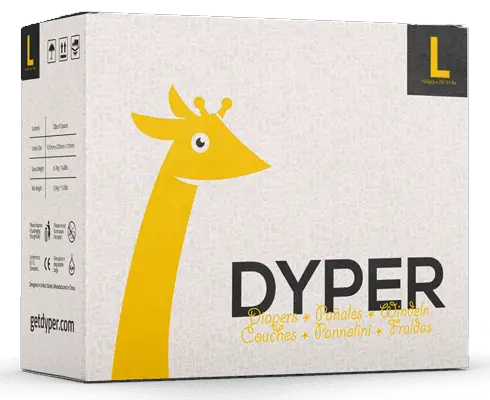 Dyper diapers go one step further in the whole saving-the-planet thing. And I thank them for it. Not only are they made of plant-based materials – super soft bamboo mainly – but they're completely free of toxins and harsh chemicals and also biodegradable.
Biodegradable diapers are the pinnacle of eco-friendly baby products. Whereas regular plastic diapers take hundreds of years to break down in landfills, releasing toxins into the atmosphere as they go, biodegradable diapers break down easily back into the soil. They sometimes manage this in as little as a few months, depending on the conditions.
Dyper is just one of the diaper companies revolutionizing the market with eco-friendly offerings, but what sets them apart is their competitive prices. At about 38 cents per diaper, Dyper diapers are surprisingly reasonable when it comes to price; some biodegradable diapers can set you back as much as 70+ cents each.
Check out my other bamboo diaper picks here!
4. Pampers Pure vs Honest: Which diaper is better?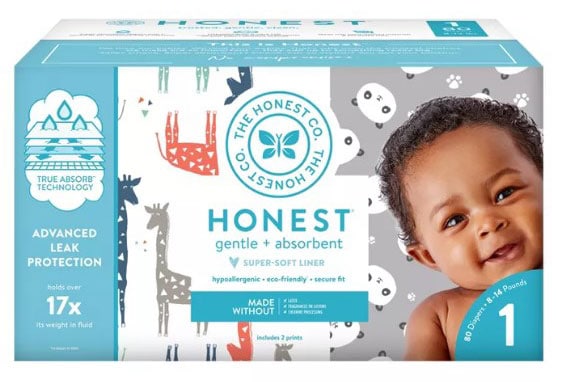 It's clear that Pampers Pure are trying to compete with the incredibly popular Honest Company for eco-conscious customers. On their site, Pampers says their Pure Protection variety is '2X drier and more breathable' than Honest diapers, although it's not too clear what that really means.
Honest diapers, created by none other than the megastar Jessica Alba, have quite the cult following. Not only are their diapers crazy cute (and made with water-based inks, by the way), but they're free of harsh chemicals and toxins and made with chlorine-free wood fluff pulp. They're not biodegradable and they're a little more expensive than Hello Bello diapers, but they're certainly ahead of Pampers Pure Protection in the non-toxic race.
This is because, while Pampers Pure diapers are free of fragrances and lotions, they don't mention phthalates. Honest diapers, on the other hand, are free of these hidden nasties. For that fact alone, I think Honest diapers are way ahead of their Pampers rivals. Plus, you get baby wipes with a subscription to their diapers, and 15% off their other natural baby products. It's a win-win.
5. Do Pampers Pure diapers have chemicals?
Despite the name, Pampers Pure Protection diapers do contain chemicals. Pampers clearly states that they're free of chlorine, lotions, and fragrances, but it doesn't mention dyes and phthalates. If they're going to so much trouble to market this variety as skin and eco-friendly, I'm sure they'd love to shout about being phthalate-free if they were indeed avoided. But because phthalates aren't mentioned, it's safer to assume that they're used.
The other concern is dyes. While some inks and dyes are water-based or plant-based, like the Honest Company's diapers are, it looks like the inks used in Pure Protection diapers could contain heavy metals. These have the potential to cause allergic reactions, as well as skin rashes, so they're best avoided where possible.
More on this topic: Disposable Diapers: What Are They Made From, And Are They Safe?
It's great that Pure Protection diapers are free of chlorine, fragrances and lotions, but Pampers needs to be clear on their use of dyes and phthalates before they really can be considered 'pure'.
Pampers Pure Review: The good, the bad, the bottom line
The Good
The Bad
◆ They use some plant-based materials
◆ They're free of chlorine
◆ They're free of fragrances and lotions
◆ They have a wetness indicator
◆ They're clinically proven to be hypoallergenic
◆ They offer up to 12 hours of dryness protection
◆ They use cotton sourced in the USA
◆ They're not a bad price
◆ They're soft
◆ They have great reviews
◆ They're widely available
◆ It looks like they contain phthalates
◆ It looks like they contain dyes with heavy metals
◆ They're not as skin or eco-friendly as they seem
Pampers Pure Protection: The Bottom Line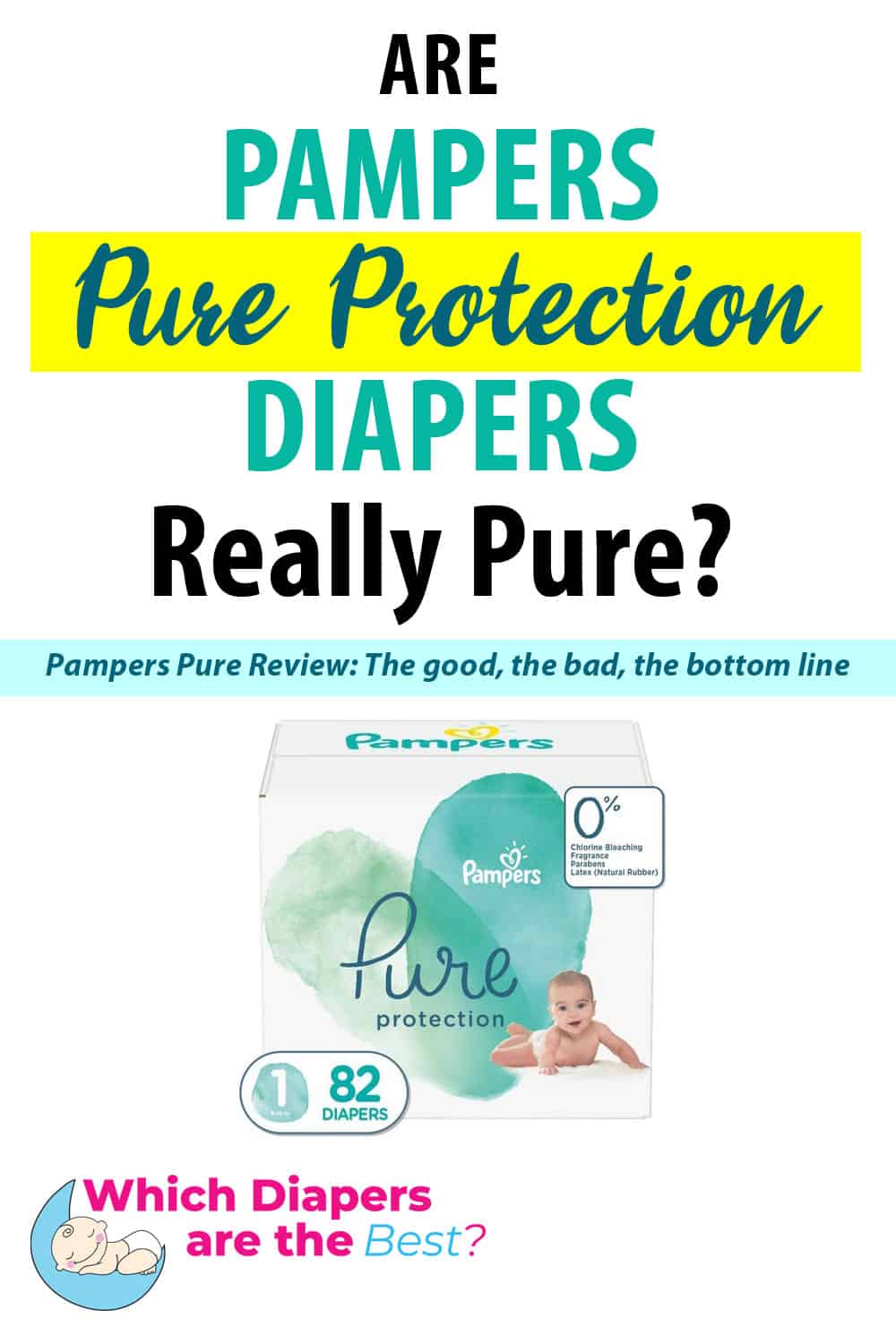 It's great that there are more and more plant-based diapers on the market, for our babies, for their health, and for our planet. But not all plant-based diapers are made equal, and I'm disappointed that Pampers Pure Protection aren't anywhere near as pure as I'd hoped.
Pampers Pure Protection diapers are, without a doubt, the best Pampers has to offer. It's the only Pampers diaper that uses plant-based materials and avoids chlorine, lotions, and fragrances. But the company's lack of clarity on phthalates and dyes is concerning, and the percentage of plant-based materials used is quite low.
Diaper companies have got to be part of the saving-the-planet mission. Some are already on board, making some serious and impressive changes to their processes to be kinder to the environment in which we live. But others, Pampers included, are guilty of greenwashing: appearing to care about the world, but, in practice, not making as much of an effort as they should.
Pampers knows that avoiding toxins and chemicals and using predominantly plant-based materials is kinder for our babies and for the world, so they should do it across all of their diaper varieties. Ultimately, Pampers Pure Protection diapers, despite clever and effective marketing, just aren't pure enough.
References
Hannon, P.R./ & flaws, J.A. (2015). The effects of phthalates on the ovary. Frontiers in endocrinology, 6
Jaakkola, J. J., & Khinght, T. L. (2008). The role of exposure to phthlates from polyvinyl chloride products in the development of asthma and allergies: a systematic review and metaanalysis. Environ Health Perspect, 116(7), 845-53.
Related Reading