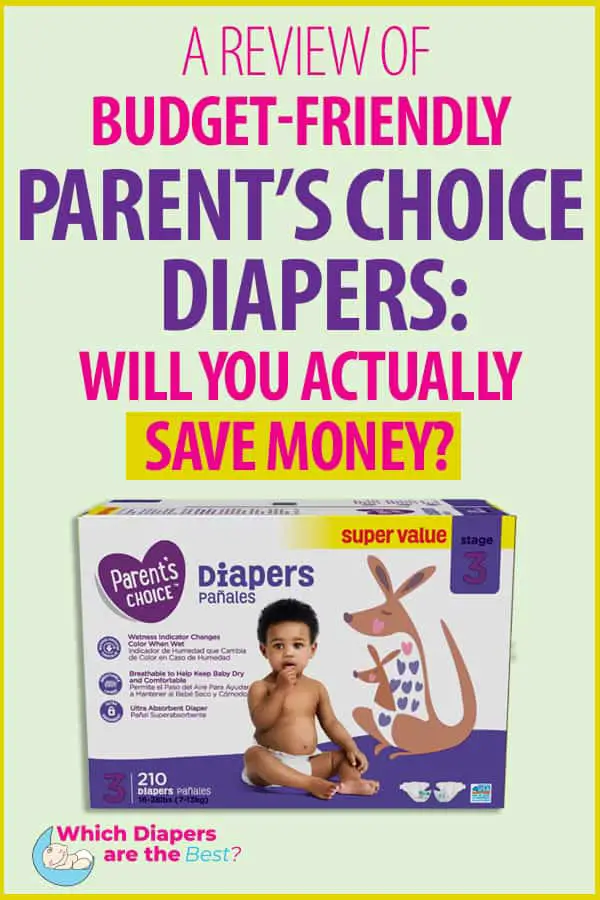 If you're a frequent shopper at Walmart, you'll have probably noticed Parent's Choice diapers on the shelves. These Walmart's own brand diapers are a super convenient option, and you can even find them on Amazon – perfect for top-ups without leaving the house!
Parent's Choice diapers claim to be budget-friendly, hypoallergenic, and super absorbent, so they seem like a great choice for parents, and for babies with sensitive skin. But do they live up to the hype? With so many varieties of diapers available, both in-store and online, parents have more choices than ever. So why Parent's Choice?
Disclaimer: Parent's Choice has not sponsored or endorsed this article in any way. As a mom who's passionate about buying the best for babies, I try really hard to include accurate information in all of my posts. If there are any inaccuracies present, please let me know; I'm more than happy to amend any errors. For more information about Parent's Choice Diapers, head over to their main site: walmart.com. This review has affiliate links. I may receive a small commission at no extra cost to you if you make a purchase through my affiliate link. Please read my disclosure for more info.
Everything you need to know about Parent's Choice Diapers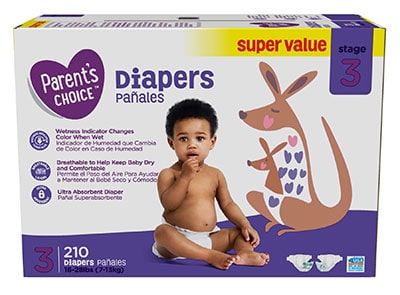 What are Parent's Choice diapers made from?
It's more important than ever to make sure the diapers you're putting on your baby are safe, both for them and, preferably, for the environment too. Many diaper brands are realizing that parents and carers want transparency when it comes to the materials they use, and so many offer a full ingredients list, so it's easy to make an informed choice. 
Unfortunately, Walmart doesn't seem to display the materials they use on their site, which means that it's tricky to work out what's actually in them without contacting them directly. I'd always suggest buying diapers from brands that list ingredients readily. There can be so many hidden, nasty chemicals in diapers, so it's good to know what exactly we're putting on a baby's skin. All Walmart really reveals about their diapers is that they're latex-free, perfume-free and hypoallergenic. 
It might seem promising that they're hypoallergenic, but this isn't actually regulated by the FDA, so it's actually pretty easy for brands to claim this. 
Because parents and carers have more choice than ever, and more and more of us want not only what's best for baby, but best for the planet too, many diaper brands are shouting loudly and proudly about their natural ingredients, avoidance of phthalates, and avoidance of latex, perfumes, dyes, and fragrances. Walmart doesn't state that their diapers are free from dyes, fragrances or phthalates, so it's difficult to determine exactly what's used in their production and whether they're doing any kind of good for the environment. 
Are Parent's Choice diapers eco-friendly?
If it's important for you to find eco-friendly diapers, Parent's Choice is not the best fit. Loads of diaper brands, like Ecoriginals, Dyper Diapers, and Eco Pea Diapers can boast that their diapers are made from sustainably-resourced plant-based materials and their diapers are partly biodegradable. This means fewer diapers heading straight to landfill. 
Related Post: Dyper Diapers Review: Eco-Friendly, Skin-Friendly And Bank Account-Friendly
Aside from biodegradable diapers, some companies, while not producing diapers that can be composted, are doing their best to minimize waste during production. Mama Bear Gentle Touch diapers, an Amazon brand, reuse or recycle all of their production waste, therefore minimizing their impact on the world around us. 
Related Post: Top Picks for the Best Biodegradable Diapers on the Market
The same can't be said for Parent's Choice diapers, which don't list any kind of eco-credentials in their description. It doesn't look like Walmart are committed to reducing their impact on the environment when it comes to the production of Parent's Choice diapers, they're not biodegradable, and it doesn't seem that any plant-based materials are used. 
The other glaring issue is the lack of comment on chlorine bleaching. This is more of an environmental issue than a safety issue, but chlorine-bleaching really does have a terribly negative effect on the environment, which is why so many brands avoid it. It's certainly something that other diaper brands will boast about (they may say that they're elementally chlorine-free or totally chlorine-free), and so the lack of information on this issue when it comes to Parent's Choice diapers leads me to believe that they may be made with chlorine bleaching.
On the other hand, Parent's Choice diapers are very budget-friendly, which can't be said for certain 'eco-friendly' brands. However, even brands like Mama Bear Gentle Touch diapers, which are incredibly budget-friendly, are doing their bit.
How well do Parent's Choice Diapers work?
One of the most important factors when choosing the right diaper for you and your baby is, of course, how well it works! A diaper might be the most eco-friendly out there, or the most 'natural', but if your baby's diaper is leaking and they're experiencing blowouts on the regular, it's probably time to switch. Parent's Choice might not tick the box when it comes to the environment, but what about their effectiveness?
Parent's Choice say that their diapers are soft, breathable, and help to keep your little one dry. They offer a comfy, snug fit and even have a wetness indicator, which tells you exactly when the baby needs changing. They say that they're super absorbent and so great both for daytime wear and nighttime wear. 
If they are true as absorbent as they claim, this should help prevent leaks, although they don't feature any kind of leg cuffs or barriers, which is often the case with certain brands. 
Where can I buy Parent's Choice diapers?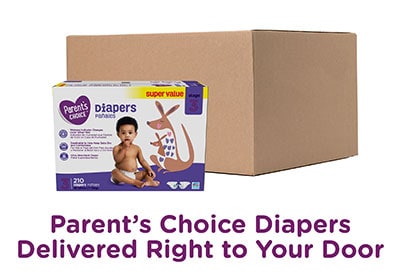 A great thing about Parent's Choice baby diapers is that they're a Walmart brand, so available nationwide. You can even purchase them online on Walmart's website, as well as on Amazon. It's handy to have the option of picking them up in-store when you need to, or having them delivered to your front door! 
Which sizes are available?
There's a wide range of Parent's Choice diapers available: from newborn (up to 10lbs) all the way to size 7 (41+ lbs), so they'll see you right through all of the diaper stages if you decide they're the right brand for you.
| | | | | | | | | |
| --- | --- | --- | --- | --- | --- | --- | --- | --- |
| | Newborn | Size 1 | Size 2 | Size 3 | Size 4 | Size 5 | Size 6 | Size 7 |
| Weight | up to 10 lbs | 8-14 lbs | 12-18 lbs | 16-28 lbs | 22-37 lbs | 27 lbs & over | 35 lbs & over | 41 lbs & over |
How much do they cost?
With them being available both at Walmart and at Amazon, it's worth comparing prices before buying. The price will depend on the size of the diaper and the number included in the pack, of course, but there's no denying that Parent's Choice diapers are incredibly budget-friendly. A pack of newborn diapers on the Walmart website will set you back just 10 cents per diaper, which is just about the lowest I've seen so far! 
Many sizes work out at a similar price on the Walmart site, although size 6 and 7 are a little more pricey – 17 cents and 23 cents per diaper respectively. Although considering that some brands charge up to 60 cents per diaper, we're still talking about budget prices!
When it comes to Amazon's pricing, they're relatively comparable to Walmart on certain sizes, with size 3 diapers costing 14 cents per diaper. The great thing about using Amazon when it comes to diapers is that they offer the Amazon Family Program on many brands of diapers and other baby essentials, which can save you up to 20% if you subscribe. While Amazon doesn't offer this discount on Parent's Choice diapers, they do on other brands, like their own Mama Bear Gentle Touch diapers.
It certainly seems like Walmart has slightly better pricing and availability when it comes to Parent's Choice diapers, and they currently offer free delivery on orders of $35 dollars and above!
Read Next: What Are The Best Store Brand Diapers And Are They As Good As Brand Name Diapers?
What do the reviews say?
With a whopping 5600+ reviews on the Walmart website of their Parent's Choice diapers, they've clearly been tried and tested by parents and carers. But are they recommended? They average 4.2 out of 5 in these reviews, which isn't the best, but it's not bad either, considering the number of reviewers…
While the majority of reviews are positive, the diapers do have a significant number of 1-star reviews, so it's safe to say it's pretty mixed. A really helpful feature of Walmart's reviewing system is that it tells you when different aspects of the diaper's effectiveness have been mentioned in a positive manner, alongside their review. So elements like price (97%), absorbency (91%), and quality (74%) stand out. In terms of positive reviews, some users say that they hold their own in terms of absorbency, even against the top-selling (and more expensive!) brands. 
Other users say that they're great for overnights, given their ability to absorb large amounts of liquid. And, of course, the main advantage to Parent's Choice diapers detailed in the reviews is how incredibly budget-friendly they are.
If a price is a super important factor, they really are hard to beat.
While there are many positives to Parent's Choice diapers, their many 1-star reviews are a little concerning. Some of the positive reviews mentioned how absorbent they are, but this, unfortunately, isn't the case for all users, as many describe their lack of efficiency when it comes to keeping the baby dry. Some even describe how this has caused their little one to develop a diaper rash. There's a lot of talk in the reviews of soaked baby clothes due to their inability to hold wetness, so it's safe to say that their ability to prevent leaks has mixed opinions!
In terms of Amazon reviews, it's also a bit of a mixed bunch. There are far fewer user reviews here, with only around 70, averaging 4.3 out of 5. Again, the majority of reviews are positive, with users saying they're really effective considering the price you pay, which is about the cheapest on the market, but others believe they're cheaply made and don't fit their little ones securely.
Frequently Asked Questions about Parent's Choice Diapers:
1.What company makes Parent's Choice diapers?
Parent's Choice diapers are a Walmart brand, available online and in-store. They're also available on Amazon, so in terms of buying options, they're pretty convenient!
2. Is there a recall on Parent's Choice diapers?
You may have seen some pretty negative press in the last couple of years when it comes to Parent's Choice as a brand. In 2018 in particular, there were reports from parents and carers that Walmart's own brand of diapers was causing chemicals burns in their children. However, there were no recalls at the time of the diapers. 
But Walmart's Parent's Choice brand doesn't just produce diapers; they also produce a wide range of baby products, like training pants, inflatable bathtubs, formula, crib sheets, and baby wash, and it turns out that, in 2019, a particular type of their formula was indeed recalled. Shockingly, this was because it may have contained metal. The company was, quite rightly, offering full refunds for purchases at the time.
3. Do Parent's Choice diapers have a wetness indicator?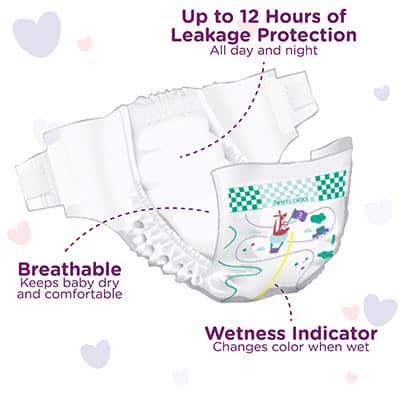 Parent's Choice diapers do have a wetness indicator, which makes it easy to see when your baby needs to be changed. Regular changing is so crucial because it can prevent diaper rash, although some reviewers say that they're not great in terms of their absorbency.
4. Are Parents Choice diapers hypoallergenic?
While Parent's Choice diapers state that they are hypoallergenic, this claim isn't regulated by the FDA. In theory, every brand could claim that their diapers are hypoallergenic, without necessarily being good for babies with sensitive skin. This is why, where possible, you should look for brands who list everything that they include in the production of their diapers, to ensure there are no harsh chemicals or unnecessary dyes, lotions or fragrances added that could cause your little one to rash.
Parent's Choice diapers state that they are perfume-free and latex-free, but they don't mention lotions or dyes. 
---
Related Article: Best Hypoallergenic Diapers For Babies With Sensitive Skin
5. What chemicals are in Parents choice Diapers?
Good question! It's pretty frustrating when brands aren't transparent about what they put into their diapers when we're putting them on our babies' delicate skin every single day! It's more important than ever to know exactly what goes into them, and what effects these may have on your little one. Unfortunately, Walmart, the brand that make Parent's Choice baby diapers, doesn't offer an ingredients list, making it difficult to determine whether they're 100% safe. 
One big concern is the lack of information regarding phthalates. If you've read any of my other reviews, you'll know that phthalates are something I talk about… a lot. But for good reason! If you've never heard of them before, you're certainly not alone. Before researching the production diapers, I had no idea what these chemicals were, but it turns out that they can be pretty dangerous, and should be avoided whenever possible!
Given that phthalates are used in all sorts of everyday items like cosmetics and children's toys (yes, unfortunately, this is true!), researchers have found that, if children are exposed to phthalates in the long term, this can increase their risk of developing asthma and eczema (1). And it doesn't stop there. Studies have even found that exposure can result in abnormal genital development in boys. Even though several campaigns have fought for diaper companies who use phthalates to prove that they're safe for little ones, the use of them still isn't regulated by the FDA. 
This is why, as parents, we should be super vigilant with diaper brands and look for those who either list full ingredients (ideally), or at least state that they're free from these potentially harmful chemicals.
Unfortunately, Walmart does not state that its Parent's Choice diapers are phthalate-free. But don't panic; if you're looking for a budget-friendly brand that's completely free from these chemicals, take a look at Mama Bear Gentle Touch, an Amazon brand of diapers. Mama Bear Gentle Touch diapers are free from chlorine, perfumes, lotions, parabens, and phthalates, and so live up to their name when it comes to being safe for our little ones' skin. If you are ready to spend some more on an eco-friendly toxic-free brand of diapers, I highly recommend Eco Pea or Dyper brands. Both are biodegradable and free of phthalates, chlorine, perfumes, and lotions.
Related Post: Eco Pea Diapers Review: Super Soft, Sustainable And Saving The Planet
The good, the bad and the bottom line
As with all diaper brands, there are some great things about Parent's Choice diapers, along with some not-so-great aspects that might put you off of purchasing. So what's the bottom line?
The Good
The Bad
◆  Incredibly budget-friendly
◆  Available in a wide range of size
◆  Hypoallergenic (according to Walmart)
◆  Super absorbent (according to some reviewers)
◆  Good for overnight wear
◆  They have a wetness indicator to take the guesswork out of changing
◆  Available both in-store and online
◆  Latex-free
◆  Perfume-free
◆  Probably not dye, lotion or phthalate-free
◆  No eco-credentials
◆  Some reviewers question their absorbency
◆  Some reviewers have mentioned diaper rash
◆  Some users say they don't fit baby well
◆  They may use chlorine bleaching
◆  No ingredients list offered
The bottom line
Ultimately, a diaper that works for one family may not work for another. Reviews of Parent's Choice diapers are incredibly mixed, with some praising their effectiveness and saying they're even great overnight, and others talking of soaked clothes and diaper rash. 
Despite these diapers having no eco-credentials, so definitely stay away if this is an important factor to you, you can't deny that they're incredibly budget-friendly, the smaller sizes in particular. Having said that, while it's great to find such cheap options, especially when some diapers can cost upwards of 50 or 60 cents per diaper, it's counterproductive to buy cheap diapers if they're not going to be effective. Plus, the lack of ingredients and materials list is a concern, and it doesn't state anywhere that the diapers are phthalate-free. These should be avoided wherever you can!
The bottom line is that, while they're cheap, there are many other budget-friendly brands out there that offer more consistency in terms of their effectiveness, as well as assurances that the materials they use are safe for baby's skin. And, ultimately, that's all that matters!
Plus that they prevent blowouts, because… 
I don't need to tell you why.
References:
Jaakkola, J. J., & Khinght, T. L. (2008). The role of exposure to phthlates from polyvinyl chloride products in the development of asthma and allergies: a systematic review and metaanalysis. Environ Health Perspect, 116(7), 845-53.
Related Reading