So, you've got a little bundle of baby boy joy – congratulations! While he might be little, you're gonna need plenty of diapers. But which are the best for baby boys?
Nearly all diapers are unisex, but there are things to consider when choosing the best diaper for your little boy; that's because, for very obvious reasons, the pee is concentrated upfront. Some parents find that, when little boys sleep longer at night, their diapers leak as a result. 
But with a super effective, absorbent diaper, your little boy will be leak-free and sleeping soundly.
Hopefully. 
Here's everything you need to know about the best diapers for baby boys, including the best overnight diapers, the best diapers for newborn boys, and which hidden toxins in diapers you should always avoid…
Is it true that disposable diapers may cause infertility in boys? 
You might have heard about a possible link between plastics in disposable diapers and infertility in boys. But is it true?
Some researchers have linked the use of some disposable diapers with possible problems with fertility in boys in later life. A study published in the Archives of Disease in Childhood found that wearing plastic diapers increased scrotum temperature in baby boys, which could cause fertility issues later on.
Experts in urology say that an increase in temperature of the testes can harm sperm development, so it would be safe to say that, if you can avoid diapers made predominantly with plastics, it's probably safer for your baby boy.
But don't panic. There are so many amazing plant-based, phthalate-free diapers on the market which are great for your little one's skin!
Note: Affiliate links may be used in this post. I may receive a small commission at no extra cost to you if you make a purchase through my affiliate link. Please read my disclosure for more info.
Which diaper is best for a baby boy? 
1. Best Newborn Diapers for baby boy — Eco Boom Diapers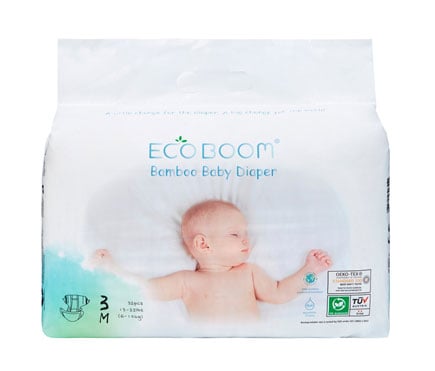 All babies have delicate skin, but newborn babies in particular need products that are completely free of toxins and harsh chemicals. You'd be forgiven for not knowing that many disposable diapers contain a smorgasbord of completely unnecessary added toxins. Check out everything you need to look for – and what you need to avoid – here! (Link to what's in disposable diapers article)
So how do Eco Boom diapers stack up?
Well, they're completely free of harsh toxins and they're even great for the planet too – they're plant-based, biodegradable, and compostable (link to biodegradable article). Because they avoid chemicals, they're great for sensitive newborn skin and reviews say Eco Boom diapers are super soft and comfortable for little ones.
Why they're great
The bottom line
Eco Boom diapers are perfect for newborn baby boys. They avoid chemicals and they're soft against our little ones' super sensitive skin.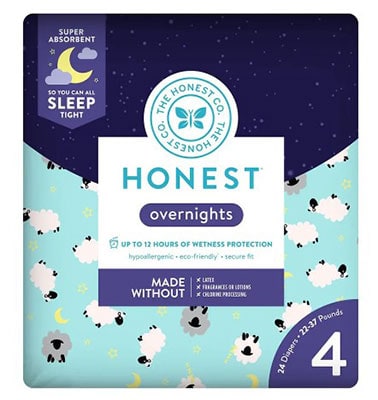 With up to 12 hours of protection, Honest Overnight diapers are a great option for baby boys at nighttime. Founded by none other than Jessica Alba, Honest's Overnight diapers are made from sustainably harvested fluff pulp and other plant-based materials. 
They have a night absorb core made from plant materials that don't irritate the skin and they're designed to be super comfy for your little one. 
Why they're great
The bottom line
These chemical-free diapers are designed for nighttime in mind. They'll be sleeping like a little angel in no time! 
3. Best Diapers for Sensitive Skin—Bambo Nature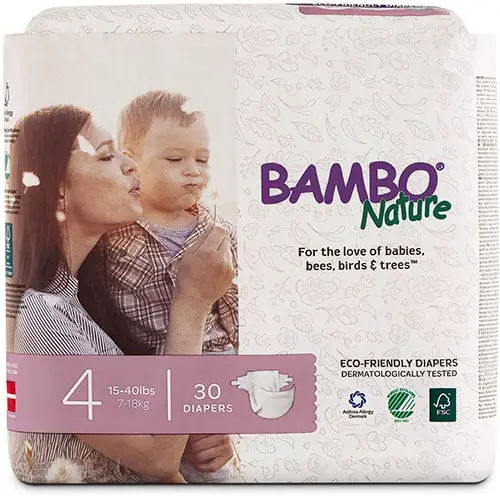 Bambo Nature diapers are one of the more popular eco diapers on the market. And, if you consider that they use raw materials with no chemicals added and they're dermatologically tested, it's no surprise.
They even carry the Nordic Swan Eco Label. That means they're officially better for the environment and the health of our little ones, so they're perfect for baby boys with sensitive skin.
Why they're great
The bottom line
To be suitable for little ones with sensitive skin, a diaper should use soft, plant-based materials with no toxins added. Tick!
4. Best Organic Diapers—Andy Pandy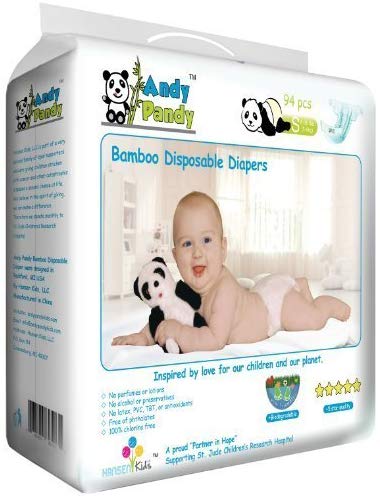 It's easy for diaper companies to talk the talk. Walking the walk is a tough bit. While some brands use all the right buzzwords, like 'organic', 'natural', and 'healthy' with no backup, Andy Pandy comes through for us with truly organic diapers with no nasties added.
They're free of lotions, fragrances, phthalates, chlorine, and dyes made with heavy metals. So you're good to go.
Why they're great
The bottom line
Andy Pandy diapers are some of my all-time favorites. This family-run company knows a thing or two about organic diapers!
5. Best non-toxic diapers—Healthynest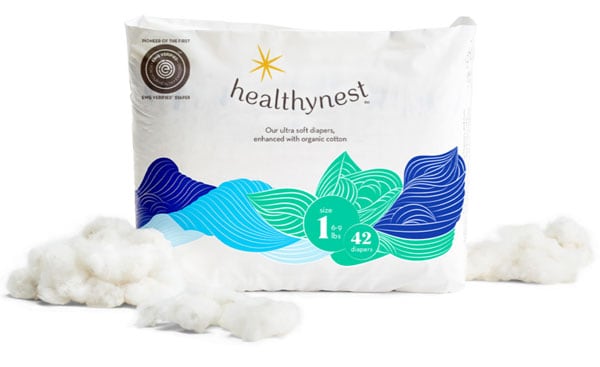 When it comes to being certified non-toxic, Healthynest comes out on top. They're the first diaper brand to be Environmental Working Group (EWG) verified. The EWG is a group that shines a light on industry practices that are potentially harmful and recently published a guide to safe diapers. Healthynest ticked all the boxes, despite the rigorous criteria!
If you're looking for non-toxic, safe-for-your-baby diapers, you've found them.
Why they're great
The bottom line
You can't argue with EWG-verified diapers. Healthynest diapers are perfect if you're looking to avoid harmful toxins.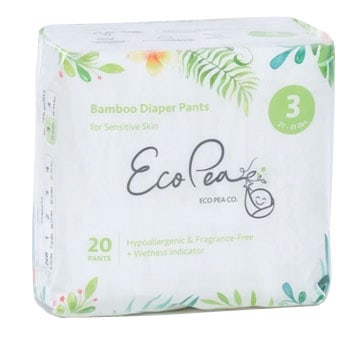 Made with an impressive 85% biodegradable materials, if you're looking for diapers that are kinder to the environment, look no further than Eco Pea.
These bamboo diapers are about as good for the planet as disposable diapers get, taking months to break down rather than the hundreds of years it takes for plastic diapers to do the same (if they ever do).
They're free of toxins, completely vegan and their shipping process is carbon neutral. I love them.
Why they're great
The bottom line
For diapers as kind to the environment, as they are to your baby boy's skin, Eco Pea has got your back.
7. Best Diaper Subscription—Dyper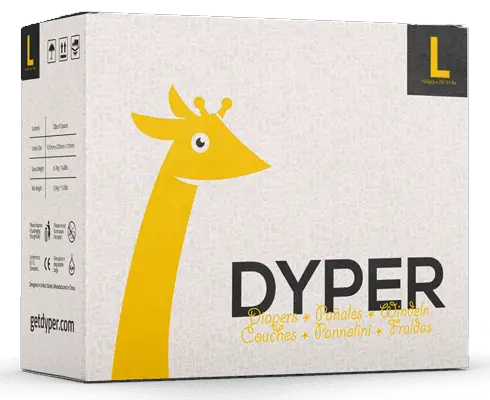 The last thing you want in the middle of a baby change is to discover you're straight outta diapers. Subscription services offer diapers straight to your door every month, so you'll never have to worry about picking them up at the store or, more importantly, running out!
Dyper diapers are the star of the baby world, offering biodegradable, compostable diapers which are free of nasties and great for your baby boy. Their subscription service is flexible and they even offer a free trial of the diapers so you can give 'em a go before committing. You'll save money if you subscribe (compared to one-off packs) and you can cancel whenever you want to.
Why they're great
The bottom line
Subscription services are perfect for busy parents and Dyper offers the creme de la creme of safe-for-your-baby products.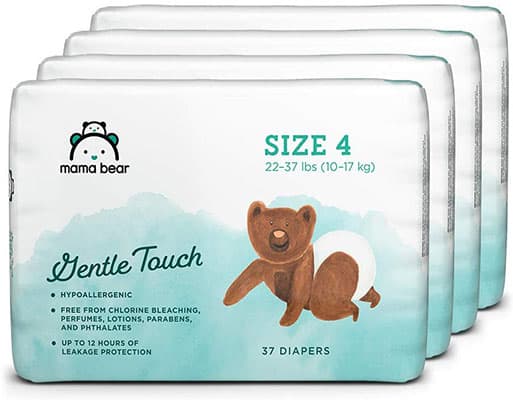 Budget always plays a part when deciding which diapers are the best for you and your family. If you're looking for a super bank-account-friendly option, look no further than Mama Bear Gentle Touch diapers, made by Amazon. 
While they're not the gold standard of diapers – they're not biodegradable or compostable – they do avoid toxins like phthalates, fragrances, and lotions, and they offer up to 12 hours of leakage protection. It's a shame that they don't use plant-based materials, but waste produced from the manufacturing process is reused or recycled. Plus, they're about 18 cents per diaper on average, so perfect for those on a budget!
If you sign up for the free Amazon Family Program (for Prime members), you could save even more…
Why they're great
The Bottom Line
Mama Bear Gentle Touch diapers aren't the best when it comes to environmental concerns, but if you're on a budget and looking for a toxin-free diaper, they're pretty great.
How can I leave my baby boy without diapers?
Giving your little one some diaper-free time is great for their skin – it gives it a chance to breathe – and it gives your baby real freedom of movement! 
But the last thing you want is rogue pee or, even worse, rogue poop. So how do you let your baby boy roam free without following him around with carpet cleaner and a damp cloth? Here are a few tips…
Leave him without diapers straight after a pee or poop



This might sound obvious, but once you've cleaned him after a change, this is probably the best time to give your little boy without a diaper. It's not a foolproof plan, but he's much less likely to have an 'accident'. 
Find easy-to-clean floors!



Vinyl or wood flooring is a lot easier to clean than carpet, so it might be better to let your baby boy go diaper-free on these surfaces if you have them in your home. Just be aware that the floor might be a little cold for your baby, depending on the weather, and take extra safety precautions on hard surfaces. We all know how much babies like to think they're Olympic gymnasts. 
Keep an eye on their facial expressions



You can often tell if a baby's about to pee or poop. Each baby's different, of course, but stopping mid-play, looks of concentration, or straining are common signs of needing to go potty. 

Have a diaper ready while your little boy's without one and if you think he's about to pee or poop, just pop one on!
FAQ: 
1. Do diapers expire? 
It's a commonly asked question – do diapers expire? Diapers don't have a specific expiry date, but that doesn't mean they'll be effective in the long term. In fact, it's best to use them within a couple of years of purchasing. 
Over time, a diaper's elasticity and absorption can weaken, so using them sooner rather than later will mean they're more effective.
Read Next: Do Diapers Expire? How Long Diapers Last And How To Store Them
2. Can my baby wear diapers all night?
Yes! Diapers can definitely be worn all night, although you need to make sure your diapers are suitable for overnight, ideally. Diapers designed to last your baby through the night will usually boast up to 12 hours of protection. 
Newborn and very young babies might need to be changed at some stage through the night, but older babies should be fine in good quality, absorbent diapers overnight. Booster pads like Sposie pads are great for ensuring your baby stays comfortable in their diaper at night.
Check out my roundup of the best overnight diapers for the best brands to keep your little ones happy and dry while they're sleeping!
3. Are Pampers bad for a baby boy?
Pampers might be one of the best-selling diaper brands, but it's far from perfect. In fact, other brands are lightyears ahead when it comes to producing diapers that are safe for your baby and safe for the planet. 
So what's the problem?
Aside from being made from petroleum-based plastics (apart from Pampers Pure Protection, which uses some plant-based materials), the main issue for baby boys is Pampers' use of phthalates.
These odd-sounding toxins are routinely used in diapers, as well as vinyl flooring and children's toys1. But they really shouldn't be. 
Exposure to phthalates has been linked to increased rates of asthma and eczema2 as well as, shockingly, abnormal genital development in boys. And if you consider that a study in the Journal of the American Academy of Pediatrics found that children's exposure to phthalates is rife, it's safe to say that phthalates should be avoided. 
Related Post: Huggies Vs. Pampers: Which Is The Best Diaper Brand For Your Baby?
If a diaper company avoids phthalates, they should make it pretty clear. After all, it's a pretty significant selling point. 
Some of my favorite phthalate-free diapers include Hello Bello, Dyper, and Eco Pea diapers. Check out my other favorite non-toxic diapers in my roundup of the best!
Conclusion
When it comes to safe diapers for your baby boy, there's a whole world of brilliant options, designed to be gentle on their skin and to keep him comfortable, even overnight.
The best diapers for baby boys are those which are plant-based and free of harsh toxins like phthalates. My favorites include the biodegradable Eco Pea diapers and the super-soft Bambo Nature diapers. They know a thing or two about making products for babies sensitive skin and looking after the planet too.
Now if all companies could follow suit, that would be great.
References
Hannon, P.R./ & flaws, J.A. (2015). The effects of phthalates on the ovary. Frontiers in endocrinology, 6
Jaakkola, J. J., & Khinght, T. L. (2008). The role of exposure to phthlates from polyvinyl chloride products in the development of asthma and allergies: a systematic review and metaanalysis. Environ Health Perspect, 116(7), 845-53.
Related Reading