Diaper rash creams are a staple in baby bags across the country. And that's hardly a surprise when you consider that up to 35% of under 2s are affected by diaper rash. 
To avoid diaper rash in the first place, one of the best things you can do is find a brand that offers non-toxic diapers. But if your little one is already suffering from diaper rash, you might want to try a good quality rash cream – a rash cream that isn't packed with unnecessary chemicals, as so many are.
Note: Affiliate links may be used in this post. I may receive a small commission at no extra cost to you if you make a purchase through my affiliate link. Please read my disclosure for more info. All prices and availability are accurate at the time of publishing.
Best Natural Diaper Rash Treatments
Now we've examined which chemicals to avoid, let's take a look at which diaper creams pass the healthy test. 
And luckily for parents, carers and little bums everywhere, there are plenty of brands out there providing the best of the best natural rash treatments. 
Healthybaby diapers are some of the safest diapers on the market right now, so it's no surprise that their diaper cream is amazing too. It's enriched with organic ingredients, easy to apply and made with some plant-derived ingredients. 
And it has great reviews, of course…
The only potential issue is the price. At 19 bucks a tube, it's not exactly budget-friendly. But it's worth it if your budget can stretch to it.
What's inside? Healthybaby offers a full list of ingredients used in their diaper cream. Let's take a look…
It looks like Healthybaby diaper cream steer clear of nasty ingredients, like parabens, fragrances and BHA.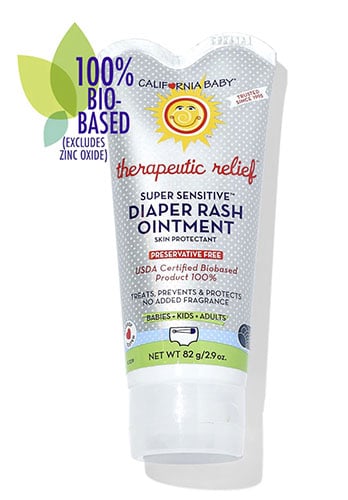 California Baby has been trusted by parents and carers since 1995. Their diaper rash cream is free of fragrances, chemicals and allergens, so it's great for super sensitive skin. 
California Baby offers a full list of ingredients for their diaper rash cream.
The formula is completely free of preservatives, and uses vitamin-grade oxide and purified lanolin to protect the skin. Licorice and coconut oil help to soothe our little ones' bums!
While the vast majority of ingredients used in the cream are plant-based, the presence of lanolin – made from sheep's skin – means it's not a vegan formula.
It is free of preservatives, mineral oils, fragrances and petroleum-based ingredients.
Like the Healthybaby cream, it has great reviews. And at just under 13 bucks, the price isn't too bad either.
Formulated with 81% organic ingredients, Made Of diaper rash cream is a great choice for sensitive skin. It includes vitamin E, avocado and argan oil, antioxidants and non-nano zinc oxide, to soothe the skin and create a breathable barrier.
The formula is completely vegan and free of parabens, GMOs and sulfates.
It has great reviews over on Amazon and on the brand's site, and it'll set you back 16 bucks a tube.
Made Of offers a full ingredients list. So what's in their diaper rash cream?
It's clear that Made Of diaper cream steers clear of nasties like parabens, fragrances and mineral oils.
This multi-purpose organic and cruelty-free balm is a staple for every parent and carer. Made with tea tree oil, lavender oil and herbs like calendula and St John's Wort, it's great for everything from bums to bumps.
Completely free of preservatives and petroleum-based ingredients, it's USDA-certified, and EWG-verified. The Environmental Working Group is a not-for-profit organization that shines a light on harmful industry practices. It aims to help consumers make healthier choices, so if a product is EWG-verified, you know it's safe!
It has glowing reviews – an average of 4.8 out of 5 stars in over 10,000 reviews on Amazon. And it'll set you back about 11 bucks, which is amazing price.
What's in it?
Again, it's clear that Earth Mama diaper balm is completely free of harsh chemicals like preservatives, parabens and mineral oils, which is great news for our little ones' delicate skin.
Matys baby balm soothes and protects your little one's bottom, chapped lips and dry skin. It's completely free of gluten and made without animal testing.
The balm is completely free of artificial fragrances, mineral oils, petroleum-based ingredients and hydrogenated oils.
With an average of 4.6 out of 5 stars on Amazon, it's clear the cream works! And at just under 13 bucks, the price is great too.
What's in it? Here's a full list of what's inside Matys baby diaper rash ointment:
Matys steers clear of nasties like mineral oils, parabens and preservatives, which is great news for our little ones.
Completely zinc and petroleum free, this natural diaper balm is a great choice for your baby's sensitive skin. With extra virgin olive oil, oregon grape root, calendula, its organic ingredients are soft and effective. It creates a breathable barrier to help tackle skin irritation. 
What's in it? Here's what you'll find in Motherlove's diaper cream:
It's certified cruelty free and even manufactured in a zero-waste facility! A tub of 1fl oz will set you back about 13 bucks, a 4 fl oz container is $24.99, which is quite high. But Motherlove diaper cream gets excellent reviews on Amazon. Obviously, it works. One of the reviews calls it "a very little pot of gold".
Green Goo's diaper baby balm is free of lanolin, made with plant-based ingredients and gentle on baby's skin. Oh, and their name is pretty out-there too!
Their multi-purpose balm is great for rashes, chapped and cracked skin, cradle cap, psoriasis, eczema and baby acne. The only issue is the price. At about 33 bucks, it's safe to say it's not the most budget-friendly cream on the market. 
Green Goo offers a full list of exactly what's in their diaper balm. Let's take a closer look.
It looks like Green Goo avoids harsh toxins like parabens, fragrances and mineral oils.
Harmful ingredients in diaper rash cream 
It makes no sense for diaper rash creams to contain chemicals… and sometimes, these are the same chemicals found in diapers that caused the rash in the first place!
So it's crucial to find a truly organic, non-toxic diaper rash cream that'll tackle the problem, and not make it worse!
These are the chemicals you need to avoid:
Parabens can be found in diaper rash cream, in diapers, and in a bunch of cosmetics. They're preservatives, used to prevent bacteria. They can irritate the skin, but, because they mimic estrogen, they can also affect hormones .This could affect a baby's endocrine system, which coordinates the body's energy levels, growth and development. (Source)
Suffice to say, we should avoid them at all costs.
It sounds pretty shocking, but formaldehyde can be found in trace amounts in certain baby products – diaper rash cream, for example. 
This human carcinogen is often used as a preservative. It can cause coughing, skin irritation, a burning feeling in the eyes and nausea, and that's just in the short term. Long-term exposure has been linked to cancer. (Source)
Non-Nano Zinc vs Nano Zinc: what is the difference and which one to avoid?
Zinc Oxide is a mineral used in food, cosmetics, personal care products and even sunscreen. And also, of course, in diaper rash creams. 
You might see the terms non-nano zinc and nano zinc used, especially when it comes to diaper creams. Non-nano zinc is generally considered safer than nano zinc. That's because tiny nano particles can penetrate the skin and even enter your bloodstream. 
You'll find the term 'fragrances' used in relation to a bunch of baby products and cosmetics, including diapers and diaper creams. And because the term isn't regulated by the FDA, it can be used to cover a bunch of chemicals and toxins. It's much safer to steer clear of any baby products especially that contain 'fragrances'.
Whie it sounds more innocent than the other chemicals on the list, mineral oil is made with processed petroleum and can cause digestive problems, clogged skin and the increased risk of a yeast infection. 
Petroleum jelly is used for everything from diaper rash to itchy, flaky skin. But is it really safe? 
A byproduct of the oil industry, petroleum jelly's components can be carcinogenic. With so many varieties on the market, all of different purity, we can't be sure that all varieties are safe.
Talcum powder, or talc for short, is used to absorb moisture. Whilst you won't find it in as many diaper-changing stations as you would have years ago, it's still a staple for many. 
But it's important to avoid it, as well as any kind of diaper rash treatment that might include it. It's been linked to cancer, and it's been found to sometimes contain asbestos. 
DMDM Hydantoin is yet another preservative. This unnecessary chemical prevents bacteria growth, but, shockingly, it also releases formaldehyde as it breaks down. 
BUTYLATED HYDROXYANISOLE, BHA 
Another preservative sometimes used in diaper rash cream is the ridiculously-hard-to-pronounce butylated hydroxyanisole, or BHA for short. 
This chemical prevents oil from becoming rancid. But it can also disrupt hormone function, and has been linked to behavioral issues, as well as asthma. 
How do I prevent diaper rash naturally?
There are lots of things you can do to prevent diaper rash naturally, aside from the adding the best natural diaper cream to your baby's routine, including:
Change your baby's diaper regularly
It sounds like an obvious point, but changing a baby's diaper regularly is a great preventative measure. The more a baby's skin is exposed to moisture and bacteria, the more likely it is that a rash will develop. 
Let your little one go diaper free
Giving the skin time to breathe and dry between changes is a great way to prevent a rash.
Like diaper rash cream, diapers can be jam-packed with nasty chemicals that are no good for our little ones' sensitive skin. Chemicals like phthalates, fragrances and lotions are some of the most common culprits, known to irritate the skin and, in the case of phthalates, even disrupt hormones and affect genital development. 
There are heaps of amazing non-toxic diapers on the market right now – Dyper, Ecoriginals and Andy Pandy are just some of my favorites. 
Read More: The Best Non-Toxic Diapers For Your Baby: Chemical-Free, Hypoallergenic, And Environmentally Friendly
Does organic coconut oil help with diaper cream?
You can use organic coconut oil to help with diaper rash cream. It has natural, skin-soothing properties and is praised by dermatologists for its ability to revive the skin. But it might not be strong enough for diaper rash…
If you're using it to treat diaper rash and it doesn't get better in a day or two, it might be time to try one of the diaper creams listed in my round up. 
These creams contain stronger ingredients like non-nano zinc oxide, which are sometimes effective at clearing up rashes. 
If you're ever concerned about a rash, it's important to consult your pediatrician.
Conclusion: the best organic diaper rash treatment on the market
Diaper rash creams are a baby bag staple, with more than a third of under 2s suffering from diaper rash. There are lots of diaper creams on the market claiming to treat rashes, but many contain horrible chemicals that are likely to make it worse, not better.
Chemicals like parabens, fragrances and mineral oils should be avoided. Instead, go for natural, organic ingredients, like those found in my top picks for the best diaper rash cream, Matys baby balm, for example.
With jojoba oil, lavender oil and aloe extract, this budget-friendly baby balm is a must for your diaper bag.
Couple a healthy diaper rash cream like Matys with a non-toxic diaper, and you've got a recipe for healthy skin, and a healthy baby.
Related Reading