It's tough to keep up with the diaper market these days. New and innovative brands are popping up all the time, offering parents and carers more choice than ever before when it comes to all things diapering. 
Offspring diapers, an Australian brand, are one of the newer offerings. And, luckily for us, they're following the trend for non-toxic and cruelty-free diapers that are heaps better for the planet and for your baby. 
But with so many healthy diaper options available, how do Offspring diapers stand out? Are they worth trying? 
Here's everything you need to know about Offspring baby diapers!
Disclaimer: Offspring Diapers has not sponsored or endorsed this article in any way. As a mom who's passionate about buying the best for babies, I try really hard to include accurate information in all of my posts. If there are any inaccuracies present, please let me know; I'm more than happy to amend any errors. For more information about Offspring Diapers, head over to their main site: offspringinc.com. This review has affiliate links. I may receive a small commission at no extra cost to you if you make a purchase through my affiliate link. Please read my disclosure for more info.
Offspring Diapers Review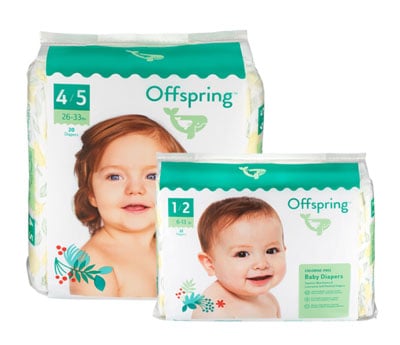 what are Offspring diapers made of?
We put our little ones in diapers 24/7 for the first few years of their lives, so the ingredients used are pretty important!
Offspring makes their ingredients list super clear on the site. They contain elemental chlorine-free wood pulp, polypropylene, super absorbent polymer (the bit that soaks up the wetness), non-toxic adhesive, polymer spandex, and heavy metal-free inks. 
Apart from the wood pulp, most of these complex terms are other words for plastic.
Top sheet and back sheet – Super absorbent polymer, polypropylene 
The absorbent core – Elemental chlorine-free wood pulp and traditional SAP
What's NOT in Offspring diapers?
Offspring diapers are free of:
But why is this important? Fragrances and lotions might sound like a great idea, but these terms can hide a bunch of nasty and completely unnecessary chemicals that could harm your baby's delicate skin. Look for diapers that are free of fragrances, lotions and inks, and dyes made with heavy metals. 
Chlorine isn't necessarily a bad thing for your baby, but it's terrible for the environment. Offspring claims that their diapers are chlorine-free, but, actually, it looks like they're just free of elemental chlorine. Totally chlorine-free diapers are much better for the environment than elemental chlorine-free diapers, so, if you're looking for the best eco diapers, check the pack for 'totally chlorine-free' or TCF to be sure.
More on this topic: Disposable Diapers: What Are They Made From, And Are They Safe?
The other thing you won't find anywhere near an Offspring diaper is animal testing. We're unfortunately used to the idea of beauty and cleaning products being tested on animals, but not many of us have thought about whether our baby products are cruelty-free. 
Luckily, Offspring diapers are certified cruelty-free by PETA, which means no ingredients used to make them were tested on animals. Read more about cruelty-free and vegan diapers in my ultimate guide!
Are offspring diapers biodegradable?
It's great that Offspring diapers use chlorine-free wood pulp to make their diapers. Using some plant-based materials is way better than using all plastic as many diaper brands do. 
While there isn't a 100% biodegradable diaper on the market yet, partly biodegradable diapers are the best diapers for the environment, as they can be broken down back into the soil in a matter of months. Plastic diapers, on the other hand, will sit around in landfills for hundreds of years, releasing toxins as they go. So what about Offspring?
Unfortunately, they're not biodegradable. 
If a diaper company produces biodegradable products, they'll shout about it in their marketing – it's a huge selling point!
Companies like Ecoriginals, Dyper, and Eco Pea offer biodegradable, plant-based diapers, which makes them heaps better for the earth and for your baby.
Want to learn more about biodegradable and compostable diapers? Here's everything you need to know!
What certifications do they have?
A lot. 
In fact, Offspring diapers are certified cruelty-free by PETA, and carry FSC (Forest Stewardship Council), EWG (Environmental Working Group) and Eco Cert certifications too. These assure parents that Offspring is doing just about as much as it can when it comes to sourcing eco-friendly materials for their diapers. It's just a shame they're not biodegradable…
In terms of skin health, they're also certified by Dermatest and Australian Allergy. You can be sure that there's nothing in Offspring diapers that's likely to cause a rash and they're perfectly suitable for sensitive skin.
Offspring diapers origin? Where are they made?
Offspring uses materials sourced all around the world but manufactured in Australia.
In fact, their disposable tape comes from Minnesota, heavy metal-free inks from California and adhesives from Dusseldorf, Germany. They source their latex-free spandex from Seoul, South Korea, the superabsorbent polymer from Japan and FSC-certified chlorine-free wood pulp from right here in the US.
Offspring diapers Size Chart
Offspring's sizing is pretty different from most other diaper companies in the US. While the majority are available in sizes newborn through 7, Offspring offers 'in-between' sizing. Here's a summary:
| | |
| --- | --- |
| Size | Weight |
| NB/1 | Up to 9lbs |
| 1/2 | 6-13lbs |
| 2/3 | 13-22lbs |
| 3/4 | 19-28lbs |
| 4/5 | 26-33lbs |
Where to buy Offspring diapers? 
So if you want to try them, where can you buy them? 
Offspring diapers are available directly from their site, where they offer a flexible subscription service. Subscription services are great because they save you buying them at the store, they're delivered directly to you and you're much less likely to run out!
The subscription also includes wipes, so you'll never be without the right tools for the job!
You can also buy Offspring diapers on Amazon. Amazon's a great place to get your baby diapers because they offer up to 20% off diaper and baby food subscriptions with their Amazon Family Program. It's free for Prime members and you'll also get exclusive discounts and tips.
How much are Offspring diapers?
Looking on Amazon, a pack of newborn/1 size Offspring diapers will set you back about 32 cents per diaper. That increases to 56 cents per diaper when you're looking at the biggest size. The larger diapers are a little more expensive than similar brands, but 30-40 cents is pretty in-line with other non-toxic diapers. 
Signing up to the Amazon Family Program could make them even cheaper!
Offspring diapers Reviews
You won't find heaps of reviews online for Offspring diapers. They're a pretty new brand, so this isn't a surprise! But the few reviews you will find are great. 
In fact, the diapers average 4.5 out of 5 on Amazon, with users loving how soft they are on their babies' skin. It seems their diapers are effective too, with many parents and carers saying they're great at preventing leaks.
Frequently Asked Questions about Offspring Diapers:
1. Do Offspring diapers have a diaper trial?
If you want to trial Offspring diapers before subscribing, you can! The company offers a diaper trial pack, which includes 3 diapers and a 20-pack of baby wipes. This will set you back just 7 bucks, so it's the perfect way to try them out.
2. What other baby products do they offer? 
Like many similar baby brands, Offspring doesn't just offer diapers. In fact, they produce diaper pants, in sizes M, L, XL, and XXL, along with plant-based and biodegradable baby wipes. And if you're in need of your baby essentials – diaper balm, baby lotion, and body wash – they've got you covered with those too! 
All their baby essentials are organically farmed and sourced, non-toxic and cruelty-free.
3. Do Offspring offer any coupons?
Yes! And who doesn't love a coupon?
Use the coupon code BEST227 to get $10 off your order on Offspring website. Just add it to the shopping cart when you're ready to go.
Offspring diapers alternatives
If it wasn't obvious already, my favorite brands are those which avoid harsh chemicals and do their bit for the world. 
Offspring diapers avoid the main nasties phthalates, fragrances, and lotions, but they're not biodegradable. They're also slightly more expensive than some similar brands. So let's take a look at some alternatives!
| | | | | | |
| --- | --- | --- | --- | --- | --- |
| Diaper | Offspring | Abby & Finn | Hello Bello | Dyper | Eco Pea |
| Free of chlorine? | Yes | Yes | Yes | Yes | Yes |
| Free of phthalates? | Yes | Yes | Yes | Yes | Yes |
| Free of fragrances and lotions? | Yes | Yes | Yes | Yes | Yes |
| Made with plant-based materials? | Core only | Core only | Core only | Yes | Yes |
| Biodegradable? | No | No | No | Yes | Yes |
| Approx price per diaper (size 3) | $0.40 | $0.28 | $0.35 | $0.41 | $0.62 |
*Prices were accurate at the time this article was published but may change over time.
Offspring diapers at a glance
Conclusion
It's amazing to see so many non-toxic diapers popping up on the market. It's certainly the way the diapering world is moving, so it's time for the big brands to step up, and keep up.
Offspring diapers are certainly worth trying. They tick all the non-toxic boxes, are certified cruelty-free, and have great reviews. It's a shame that they're not biodegradable, though, and they do appear to be slightly more expensive than similar brands like Abby & Finn and Hello Bello. 
If you have the budget to play with, biodegradable diapers are the gold standard of eco diapering. Check out my roundup of the best and help save the planet, one diaper at a time!
Related Reading