Are Merries diapers good?
Merries is a Japanese diaper brand with a cult following. In fact, they were the number 1 selling brand in the country from 2007-2017. Their baby diapers are loved by parents all over the world, for their premium absorbency, softness on baby's skin, and leak-proof design.
There are more brands than ever on offer in the diaper market, so there's no need to stick with Pampers and Huggies. But how do they compare? And, importantly, does the company make an effort to minimize its impact on the planet?
Here's everything you need to know about Merries diapers!
Disclaimer: Merries Diapers has not sponsored or endorsed this article in any way. As a mom who's passionate about buying the best for babies, I try really hard to include accurate information in all of my posts. If there are any inaccuracies present, please let me know; I'm more than happy to amend any errors. For more information about Merries Diapers, head over to their main site: web.kao.com. This review has affiliate links. I may receive a small commission at no extra cost to you if you make a purchase through my affiliate link. Please read my disclosure for more info.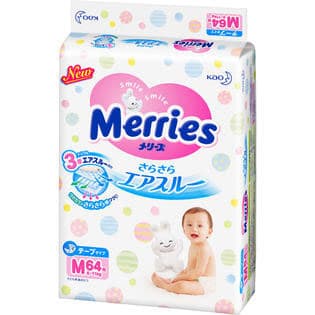 What's in Merries diapers?
Finding the ingredients used in Merries diapers is like keeping your baby's outfit clean for the whole day – without a whole heap of time and effort, it ain't happening. 
After searching online for what felt like hours, I had to contact the company directly to find an ingredients list for Merries diapers. 
Unsurprisingly, it looks like they're not made with any plant-based materials and, instead, are made mainly with plastics. Unless a diaper company states (very clearly) that they're plant-based, it's safe to assume they're plastic. 
In Merries diapers, you'll find 
Most of these terms are technical terms for plastic. While you find a bit of plastic in even the most eco-friendly diapers, those made predominantly with plant-based materials are, of course, heaps better for the environment. 
It's frustrating when diapers companies don't make their ingredients clear for customers. We put our little ones in diapers 24/7 for the first years of their lives, so it's important to know what's in them!
What's NOT in Merries diapers?
If you've read any of my other reviews, you'll know that the ingredients avoided are just as important as the ingredients used. 
Toxins like phthalates, heavy metal dyes, fragrances, and lotions can have a negative impact on the health of your baby's skin, as well as their overall health. Chlorine's another chemical often used in diaper production. While it's not thought to be harmful to our little ones' health, it's terrible for the environment. 
It looks like Merries diapers avoid fragrances, lotions, and chlorine. This information isn't on the official site though, which focuses more on their features than their ingredients. It's a shame they don't make their materials clearer – when we're putting our babies in diapers 24/7 for the first few years, it's so important to know what they include, and what they avoid!
Merries diapers are free from:
Read more about what's in disposable diapers, and what you should always avoid, here!
What features do Merries diapers have?
Merries diapers were the number 1 selling diaper in Japan for 10 years for a reason. They feature super fancy technology that makes them incredibly absorbent and leakproof. They're gentle on your baby's skin and give it room to breathe.
Their dual-channel super absorbent core wicks away fluids and soft poop instantly and their raised side prevents leaks. Merries diapers have a Flexi-fit W shape at the crotch area, along with a snug Comfort-Fit waistband so they're extra comfy for your baby. They're great for when your little one's on the move!
Where are Merries diapers made? 
Merries diapers are made in Japan. They have 3 manufacturing sites in the country and ship to different areas all over the world. 
They focus their efforts on producing diapers that are gentle on your baby's skin. In fact, they describe how they've studied babies' skin with dermatologists for more than 30 years, and are always finding new and innovative ways to improve their quality. 
Merries diapers Size Chart
Merries diapers sizing is very different from your typical US diaper. While most diapers feature tapes, every Merries size apart from the newborn is a pull-up. They're available for babies from newborn to 22kg.
| | |
| --- | --- |
| Size | Weight |
| Tape Newborn | Up to 5kg |
| Pants S size | 4-8kg |
| Pants M size | 6-10kg |
| Pants L size | 9-14kg |
| Pants XL size | 12-22kg |
Where to buy Merries diapers?
You won't find Merries diapers in your local grocery store, but they're available online. Amazon, Walmart, and Ebay are your best bets for finding these Japanese imports but bear in mind that they might not always be available. 
How much are Merries diapers?
Merries diapers might be of excellent quality and very effective, but it comes at a price. Budget diapers will set you back as little as 15-20 cents per diaper and some super eco-friendly brands could cost you up to 60 cents each. 
So what about Merries? To be honest, they're on the more expensive side. Their small size work out at about 54 cents per diaper, with their medium setting you back 58 cents each. You'll pay about 74 cents each for their large size and their pull-up diaper pants are, unsurprisingly, more expensive still. You'll pay about $1.10 each for their XL pull ups. 
At the time of writing this review, a 44 pack of L Merries diapers is listed at 42 bucks on Amazon – just under a dollar per diaper. Yeah.
You're paying more because it's an import and not widely available. While they're undoubtedly effective, they're certainly very expensive, especially considering the lack of eco-credentials. 
If you can afford premium prices, brands like Eco Pea are the way to go. They offer eco diapers made from soft and sustainable bamboo, they're made from 85% biodegradable materials and they have wonderful reviews. They're more expensive than some budget-friendly diapers, at between about 44 and 62 cents per diaper, depending on the size. But, you're getting a completely non-toxic, luxury diaper, that's kind to the planet.
It's a no-brainer.
Related Post: Eco Pea Diapers Review: Super Soft, Sustainable And Saving The Planet
Merries diapers Reviews: Why do moms love Merries diapers? 
Putting the price aside for a second, considering Merries diapers were the number 1 seller in Japan for 10 years, they have to be loved for a reason. Reviews of these diapers are glowing, with moms loving how absorbent they are and how effective they are at preventing leaks.
One user on Amazon says they're much better than Pampers and Huggies, and they won't break the bank. In fact, they average 4.8 out of 5 on Amazon in about 70 reviews.
Some parents have said that the elastic on the newborn size isn't the best quality, though.
Frequently Asked Questions about Merries Diapers:
1. How long can Merries diapers last?
Merries states that their diapers should be used within three years from the manufacture date. This is the case with most diapers, even though they don't normally include a specific expiry date.
Diapers can lose their effectiveness if they're left unused for too long, especially if they're exposed to direct sunlight, moisture, or dust, so it's always a good idea to use them as soon as possible.
It's also better to store them away from direct sunlight, in a cool, dry place. 
Read Next: Do Diapers Expire? How Long Diapers Last And How To Store Them
2. How do I know when my Merries diaper expires?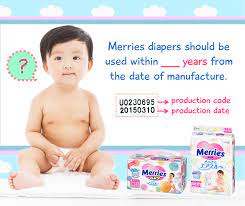 To check when the 3 years will be up, look at the production date in the black font at the bottom of the pack. The numbers are arranged in order, Year, Month, Date. The diapers will be at their most effective for three years from that date. 
3. Are Merries diapers chlorine-free?
It looks like Merries diapers are chlorine-free. Chlorine bleaching is often used in the manufacturing process of diapers, but there are eco-friendly alternatives. Luckily, you won't find chlorine in this Japanese diaper brand!
Read More: The Best Non-Toxic Diapers For Your Baby: Chemical-Free, Hypoallergenic, And Environmentally Friendly
4. What is the best brand of diapers?
Every baby is unique. That's why the best brand for each little one will vary, from baby to baby. But when looking for the best brand of diapers for your family, what should you look for?
Non-toxic diapers
One of the most important parts of a diaper is what toxins and chemicals it avoids. 
The best diapers for your baby steer clear of potentially harmful chemicals like phthalates, fragrances, lotions, and dyes made with heavy metals. 
Brands will make it super clear if they avoid these – it's a huge selling point, after all.
Brands like Dyper, Healthynest, and Hello Bello are all brilliant when it comes to avoiding a toxin!
Read More: The Best Non-Toxic Diapers For Your Baby: Chemical-Free, Hypoallergenic, And Environmentally Friendly
Eco-conscious diapers
It's never been more important to look after the planet. And with 20 billion disposable diapers heading to landfills every year in the US alone, choosing eco-friendly diapers is the perfect way to make a difference. 
There are so many plant-based diapers on the market, which is great news for parents, and for your baby's skin. Diapers like Dyper and Kudos use plant ingredients, like bamboo, wood or cane – all heaps more sustainable and better for the planet.
The gold standard of eco-friendly diapers has to be biodegradable offerings. Ecoriginals, Andy Pandy and Eco Pea offers diapers that can be broken back down into the soil in a matter of months. Some biodegradable diapers can even be composted, either at home or using a professional service. 
Get the lowdown on biodegradable and compostable diapers in my guide to the best!
Effective diapers
Of course, if a diaper doesn't keep the pee and poop at bay, you're gonna have a problem. The best way to check that a diaper works is to look at the reviews. They'll tell you how absorbent they are, how good they really are at keeping leaks in check, and if there are any sizing issues. 
Sometimes, diapers can run big or small compared to similar brands.
5. Are Merries diapers biodegradable?
Biodegradable diapers are the future. If we want to look after the planet for future generations, at least. 
Most plastic diapers will hang around in landfills for a few hundred years before they start to break down, if at all. Biodegradable diapers, though, will break down in a few months or years, which makes them heaps better for the planet. 
Merries diapers aren't biodegradable, but there are plenty of diapers that are. 
Brands like Eco Pea, Eco Boom and Dyper offer amazing biodegradable diapers, made from plant-based materials. Check out my guide to the best biodegradable diapers for everything you need to know!
Merries diapers alternatives
If it wasn't obvious already, my favorite brands are those which avoid harsh chemicals and do their bit for the world. 
Merries diapers might avoid chlorine, fragrances, and phthalates, and they're not the best product for the environment. Plus, unless you live in Japan, you're gonna be paying big bucks for these imported baby diapers.
Here's a summary of the best alternatives!
| | | | | | |
| --- | --- | --- | --- | --- | --- |
| Diaper | Merries | Abby & Finn | Hello Bello | Dyper | Eco Pea |
| Free of chlorine? | Yes | Yes | Yes | Yes | Yes |
| Free of phthalates? | Unsure | Yes | Yes | Yes | Yes |
| Free of fragrances and lotions? | Yes | Yes | Yes | Yes | Yes |
| Made with plant-based materials? | No | Yes | Yes | Yes | Yes |
| Biodegradable? | No | No | No | Yes | Yes |
| Approx price per diaper (size 3) | $1 | $0.28 | $0.35 | $0.41 | $0.62 |
*Prices were accurate at the time this article was published but may change over time.
The good, the bad table and The Bottom Line
Conclusion
It's not surprising that Merries diapers have a cult following; they're great at keeping leaks at bay, with their premium absorbency and flexible design. 
But when it comes to diapers, it's about more than pee. It's about what diaper companies are doing to protect the planet and its resources for our babies. 
Merries might not be stepping up to the eco-conscious plate, but there are plenty of companies that are. 
Check out my guide to the best biodegradable, non-toxic, and cruelty-free diapers for companies doing amazing things.
Related Reading