You may have already heard of Seventh Generation, but that might not be because of their baby diapers! Seventh Generation is a company specializing in household products; in fact, everything from household cleaners to period care to hand washes. And of course, baby products…
Seventh Generation's mission is to
'transform the world into a healthy, sustainable & equitable place for the next seven generations',
hence the name! With such a bold mission statement, and a focus on renewable, plant-based ingredients, I'm expecting big things from the company's diapers, both in terms of their healthiness for baby and care for the environment.
Disclaimer: Seventh Generation Diapers has not sponsored or endorsed this article in any way. As a mom who's passionate about buying the best for babies, I try really hard to include accurate information in all of my posts. If there are any inaccuracies present, please let me know; I'm more than happy to amend any errors. For more information about Seventh Generation Diapers, head over to their main site: seventhgeneration.com This review has affiliate links. I may receive a small commission at no extra cost to you if you make a purchase through my affiliate link. Please read my disclosure for more info.
So what's the deal with Seventh Generation diapers? What are they made from, where can you get them, and are they worth trying?
Everything you need to know about Seventh Generation Diapers
Seventh Generation offers five different types of diapers, including: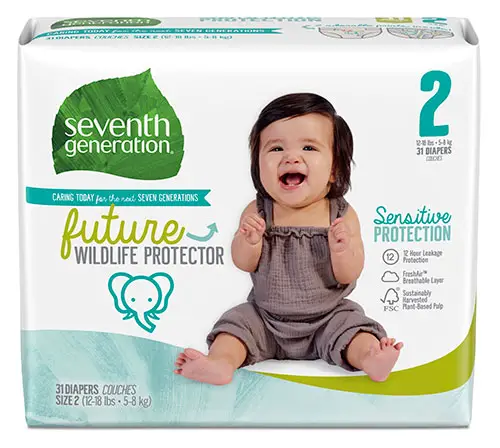 ---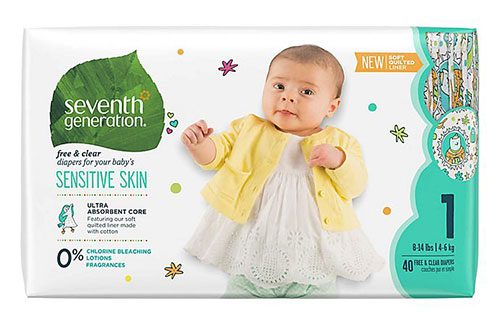 ---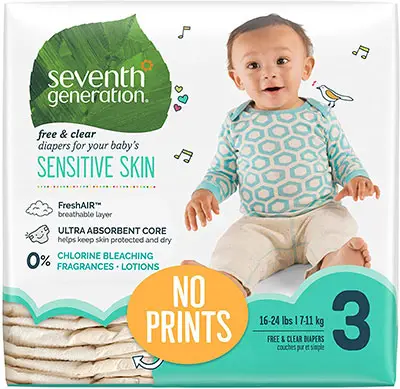 ---
---
---
I'll focus on the first three types of Seventh Generation diapers in the review, but will take a closer look at their overnight diapers and training pants later on.
What are Seventh Generation Diapers made from?
If you've read any of my other diaper reviews, you'll know that the materials and ingredients used in diapers are super important, both for baby's health and the health of the planet. Ideally, we want diapers to use as many non-toxic, plant-based materials as possible, and steer well clear of anything that might irritate the baby's skin or cause them harm: fragrances, lotions, dyes, and phthalates, or example. 
Phthalates are chemicals used in loads of everyday household items, like flooring, toys, and, you've guessed it, baby diapers(1). The problem is, they're not innocent additions; in fact, phthalates are known to increase the risk of asthma and eczema in children (2), and some studies have even linked them with genital abnormalities in little boys. Suffice to say, if you can buy diapers without them, it's probably best!
Not only should we be avoiding phthalates, but the use of chlorine too. While the use of chlorine in diaper bleaching isn't a health issue for baby as such, the use of it in the bleaching process is super harmful to the environment, which is why many diaper companies who focus on natural ingredients will state explicitly that they're totally chlorine-free. 
So how do Seventh Generation diapers stack up?
Considering their mission to provide a healthy environment for generations to come, I'd expect them to be free of both phthalates and chlorine bleaching…
Straight away, Seventh Generation tells us that their Free & Clear animal print diapers contain no fragrances, dyes, lotions, or chlorine bleaching: tick!
Not only that, but Seventh Generation are super transparent when it comes to what they do use in their diapers, will a full ingredients list on the back of the box. Many companies shy away from declaring exactly what's in their diapers, which is kinda crazy considering we're using them every day on our little ones, so it's great that Seventh Generation are so open and honest. 

They state that their diapers are composed of totally chlorine-free wood fluff pulp, a plant-based ingredient, sodium polyacrylate, polypropylene, adhesives, polymer spandex, polyurethane, and inks. Their Free & Clear diapers, because they're free from irritants like lotions and fragrances, are suitable for babies with sensitive skin, or hypoallergenic, if you want to be fancy about it. 
Seventh Generation's brand new Sensitive Protection diapers with 'Futures' prints are similarly free from some nasties found in other diaper brands, like lotions, fragrances, and chlorine. Like their other diaper varieties, they're made with FSC-certified, sustainably harvested plant-based pulp, and this new diaper also boasts '30% biobased ingredients'. While I like to think I'm an eco-conscious parent, I admit I had to look up what 'biobased' means – there's no explanation from Seventh Generation! The term is defined as 'relating to or made from renewable, carbon-based biological resources', including 'agricultural or forest materials'. So, renewable, plant-based materials, in a nutshell. The only issue is what the remaining 70% is made from!
The problem is, their transparency leads me to discover that some of the ingredients Seventh Generation use in their diapers are, unfortunately, petroleum-based, which is no good for baby, nor for the environment.
Bizarrely, they also dye their diapers a brown color, so that they appear more natural, and more appealing to parents who are looking for natural brands. Not only is this a strange practice, but it's also completely unnecessary, and just adds to the list of ingredients!
And what about phthalates? While there's no mention of their diapers being phthalate free on the box, Seventh Generation does mention these nasties in a blog post on their website about chemicals of concern, which might lead you to assume that their diapers don't include them. However, they make it very clear when discussing their hand wash that its plant-based formula doesn't contain phthalates, so it's a huge shame that they haven't made this clear for their diapers. Ultimately, if a product is free from these chemicals, it's a massive selling point, so why not shout about it?
Their Free & Clear unprinted diapers are nearly identical in terms of the ingredients used, just without inks. Again, they, unfortunately, don't state that they're free from phthalates, which really surprises me. While I want to assume that, considering the company's ethos, they don't use them, I prefer to stick to brands that make it clear. It's a big deal, after all!
Are Seventh Generation Diapers eco-friendly?
There are a few elements to consider when determining whether a diaper is eco-friendly.
The first is its main ingredients: are they plant-based and sustainable? Seventh Generation diapers use chlorine-free wood pulp, which is a good start. Another positive in terms of their eco-credentials is that their wood pulp is sustainably sourced and FSC (Forest Stewardship Council) certified, which helps to protect forests and their animal inhabitants. In fact, Seventh Generation says that the animals printed on their themed diapers are the ones who rely on forests to live!
The second thing to consider, and perhaps the most significant, is whether a brand of diapers is biodegradable. This means that they can be composted, rather than sent to landfills with the rest of the disposable diaper world. Unfortunately, Seventh Generation Diapers aren't biodegradable,  even their new Future prints diapers, their top sheet and back sheet are made from oil-derived plastic material- Polypropylene. So, despite their use of sustainable wood pulp, they're headed straight to landfill. It's hoped that the company might make some changes in the future to enable parents and carers to compost them when they can!
The third thing to look for when deciding if diapers are eco-friendly is to consider their production. Amazon's Mama Bear Gentle Touch diapers have a zero-waste policy, which means that all waste produced from the manufacture of their diapers is either reused or recycled. Some companies even package their diapers in recyclable or biodegradable materials. Again, unfortunately, it doesn't look like Seventh Generation have any similar policies in place, although their diaper box packaging is made from 85% recycled materials. 
Ultimately, despite their mission to provide a safe environment for generations to come, they don't care too great in the eco-friendly stakes when compared with similar brands.  
How well do Seventh Generation Diapers work?
It's also crucial to know how effective diapers are at their most basic level, of course. To put it in crude terms, are they comfortable for baby, and how well do they keep in the pee and poop? Sorry…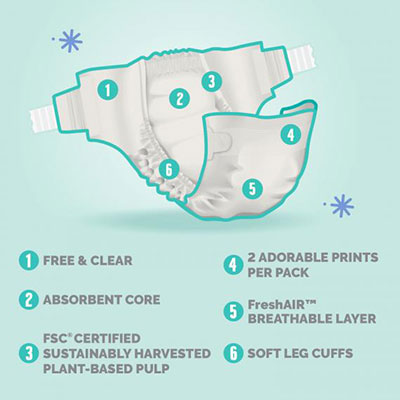 Seventh Generation Free & Clear diapers claim to be ultra-absorbent, to help keep your little one's skin dry and protected and prevent leaks. They have a new fresh air breathable layer to keep baby comfortable, prevent leaks, and release humidity. Their wicking later pulls away moisture from your baby's skin, so that they can carry on crawling and wriggling, without getting too uncomfortable before their next change. 
Seventh Generation says that their diapers are clinically proven to be gentle on your little one's skin (hypoallergenic), thanks to no chlorine bleaching, their absorbent core, their lack of fragrances and their avoidance of lotions. They also say that their diapers are gentler than ever and super soft on baby's skin. 
Where can I buy Seventh Generation Diapers?
Seventh Generation diapers are easily available online. Amazon stock all varieties, as well as their various sizes, making it super easy to get hold of them, especially for Prime Members!
Amazon stocks most varieties, although it seems to be tricky to get hold of the Free and Clear variety. It looks like they may be slowly starting to replace them with the brand new future prints diapers.
But you can still find their diapers on Amazon, so it's super easy to get them delivered straight to your door, especially for Prime Members!
If you've never accessed the Amazon Family Program, you need to get on the case; the program offers Prime members 20% off the diaper and baby food subscriptions, as well offers and coupons for family products!
Seventh Generation diapers are also available directly from their website, as well as in a variety of grocery stores, like Walmart, Target, Walgreens, and BuyBuy Baby. So whether you prefer buying your diapers in-store or online, or indeed, a mix of both, they've got you covered! 
Seventh Generation Diapers Size Chart
| | | | | | | | |
| --- | --- | --- | --- | --- | --- | --- | --- |
| | Newborn | Size 1 | Size 2 | Size 3 | Size 4 | Size 5 | Size 6 |
| Weight | Up to 10 lbs | 8-14 lbs | 12-18 lbs | 16-21 lbs | 20-32 lbs | 27-35 lbs | 35+ lbs |
How much do Seventh Generation Diapers cost?
*Prices were accurate at the time this article was published but may change over time.
The cost of diapers varies wildly, but, unsurprisingly, the better a diaper appears to be for baby and for the environment, the more you're probably gonna have to pay for it. This isn't always the case, of course, but more of a general rule.
The cheapest diapers can set you back as little as 16 or 17 cents per diaper, such as Aldi's Little Journey diapers or Amazon's Mama Bear Gentle Touch diapers, with other brands costing anything up to 60, 70 or 80 cents per diaper. The difference is staggering! But what about Seventh Generation?
Amazon makes it very clear how much you're paying per diaper. A pack of size 5 Fresh & Clear diapers with animal prints works out as 42 cents per diaper, whereas a pack of size 2 diapers is a very reasonable 28 cents per diaper. Larger sizes tend to be more expensive, for obvious reasons!
You can now also buy Seventh Generation's new diaper variety – Sensitive Protection future prints – online. A pack of 80 size 1 diapers works out at around 25 dollars, so 31 cents per diaper. Larger sizes work out significantly more, with their size 6 coming in at 54 cents per diaper.
What do the reviews say?
I'll point out straight away that there are a lot of reviews of Seventh Generation diapers online. On Amazon alone, there are over 1700 reviews of their Free & Clear animal print diapers and 1800 reviews of their unprinted Free & Clear diapers. Unfortunately, users have spoken, and the reviews are incredibly mixed, with their printed diapers averaging 3.9 out of 5, and their unprinted diapers managing a measly 3.8. 
While both diaper varieties have mainly positive reviews, they also have a significant number of 1-star reviews. Some users swear by them, with one parent saying they've used the brand on 4 children, and they protect against leaks and are gentle on baby's skin. Other users say they're pretty good value for money considering they use plant-based materials. 
However, other users say that the quality of Seventh Generation diapers has dipped in recent years compared to how effective they used to be, and one reviewer said that they're so ineffective when it comes to preventing leaks that they had to wash their baby at every diaper change when using Seventh Generation. 
Given that the company have just launched their brand new diapers – Sensitive Protection future prints – they don't have too many reviews as yet. On Amazon, they average 4.1 out of 5 in just over 150 reviews, so they seem to be doing a little better than Seventh Generation's original varieties. One user loves the quality, but says they're not quite as soft as similar brands and another loves that they really helped with diaper rash.
Suffice to say, it's a mixed bag!
Frequently Asked Questions About Seventh Generation Diapers
1. Are Seventh Generation diapers good?
Having read a lot of diaper reviews or various brands on the US market, it seems like Seventh Generation diapers don't fare as well in the 'effective' stakes as other brands. Of course, what works perfectly for one parent might be completely wrong for another, but, generally, the reviews aren't fantastic. 
Some users have said that they've trusted them for years, while others say that they're really not very effective when it comes to absorbency. And as parents and carers know, you have enough on your plate without having to bathe baby every time they fill a diaper! Ain't nobody got time for that…. literally.
2. Are Seventh Generation diapers organic?
There's nothing on the Seventh Generation site to suggest that any materials they use in their diapers are organic, unfortunately. If natural, biodegradable and organic diapers are what you're looking for, check out my ultimate guide to the top natural baby diapers!
---
Related Post: What Are The Best Organic Diapers On The Market, And Why You Should Look For The Most Natural Ingredients
3. What are Seventh Generation diapers made of?
The absorbent core material used in Seventh Generation diapers is chlorine-free wood pulp, taken from sustainably managed forests. The top and back sheet material is polypropylene, an oil-derived plastic. The company is very transparent when it comes to the ingredients used, with every material listed on the reverse of the packaging, including plastics and inks – in the printed diapers, at least.
Top sheet and back sheet – Polypropylene
The absorbent core – TCF free wood fluff pulp and traditional SAP
Most diapers, even those that claim to be natural, will use some kind of plastic in their diapers for some elements of it. These parts won't be biodegradable.
4. Where are Seventh Generation diapers made?
Seventh Generation are based in Burlington, and their diapers are produced in Ohio, so they're certainly an all-American company! They source ingredients for their diapers both from the USA and globally.
5. Does Walmart sell Seventh Generation diapers?
Yes! A great thing about Seventh Generation diapers is that they're very easily accessed. You can purchase them on Amazon, on their own site, and in grocery stores all over the country like Walmart and Walgreens. 
Because they're so widely available, it's worth comparing prices. 
6. What are the safest diapers for babies?
The safest diapers for babies are ones that use as many plant-based, natural ingredients as possible, stay well away from unnecessary additions like fragrances, lotions, and perfumes and, perhaps most importantly, are free from phthalates: those pesky chemicals that can damage baby's health.
It's frustrating that Seventh Generation appear to be 'against' the use of phthalates, but don't explicitly state on their site that their diapers are free of them. Luckily, there are so many brands that produce organic, natural, and biodegradable diapers that make it very clear that they do not use these horrible chemicals. Check out my top picks here!
---
Related Post: What Are The Best Organic Diapers On The Market, And Why You Should Look For The Most Natural Ingredients
7. Do Seventh Generation produce overnight diapers or training pants?
Yes, and yes! As I mentioned earlier, Seventh Generation produces 4 kinds of diapers: Free & Clear with animal prints, Free & Clear with no prints, overnight diapers, and training diapers.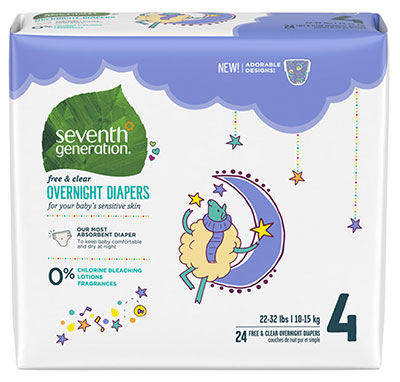 Like their Free & Clear diapers, their overnight diapers are completely free of chlorine bleaching, lotions, and fragrances and claim to be their most absorbent diapers. They contain similar materials to their Free & Clear diapers but actually have much more positive reviews. On the Seventh Generation site, they average 4.7 out of 5 in nearly 300 reviews and are available in sizes 4, 5, and 6. However, like their Free & Clear diapers, there's no mention of phthalates.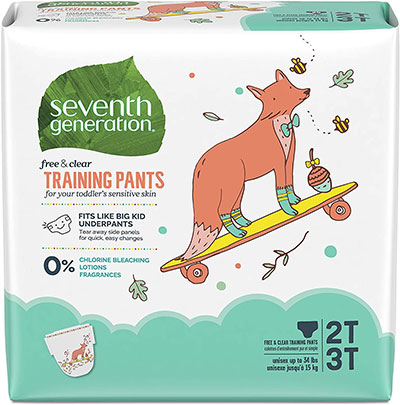 What about their training pants? As we'd expect, there's no chlorine bleaching, fragrances or lotions to be seen with Seventh Generation training pants. They say that they're designed to ease your little one into potty training by offering them the experience of pull-on pants, but they're still protected with an absorbent core. Again, reviews of their training pants are much more positive, with an average of 4.5 out of 5 in over 230 reviews!
8. Are Seventh Generation diapers "greenwashed"? 
What on earth is 'greenwashed', I hear you cry! Essentially, the term greenwashed is when something claims to be eco-friendly, but, on closer inspection, it's really not. Buzzwords like 'natural', 'environmentally-friendly', and 'plant-based' certainly catch our attention and make us feel good about purchasing products that are kinder, seemingly at least, to the world around us. 
The problem is, the use of terms like these isn't regulated by the FDA and, shockingly, neither is hypoallergenic. While Seventh Generation diapers are clinically certificated hypoallergenic, when you take a closer look at their eco-credentials, they're not quite as impressive as you might expect.
They do avoid chlorine bleaching, which is much better for the planet, as the use of chlorine can release toxic chemicals into the environment, and they use FSC wood pulp. These are two great pros, and I wish all diaper companies would follow suit!
The problem with Seventh Generation diapers is that they're not even partly biodegradable, unlike similar brands like Andy Pandy diapers, nor do they employ any zero waste policies like Mama Bear Gentle Touch diapers. So it's great that some of the ingredients used are natural and plant-based, but, ultimately, where are used Seventh Generation diapers gonna end up? In the landfill, with every other non-biodegradable diaper!
It seems that Seventh Generation, despite their efforts, could be described as being greenwashed. I hope that they introduce more policies to protect the planet, for those generations to come.
Read Next: Andy Pandy Diapers Review: The Best All-Around Diapers For Baby And For The Planet?
The Good, The Bad and The Bottom Line
Now that we've looked at Seventh Generation diapers in a lot of detail, what's the bottom line? Are they worth trying?
The Good
The Bad
◆ Totally chlorine-free
◆ Free from lotions and fragrances
◆ Clinically proven to be hypoallergenic, so good for little ones with sensitive skin
◆ They use FSC certified wood pulp
◆ They're transparent about the ingredients they use
◆ They're widely available, online and in stores
◆ They're not too expensive
◆ Their packaging is composed of 85% recycled materials
◆ Their overnight diapers and training pants have good reviews
◆ It's not clear whether they use phthalates
◆ They're not biodegradable
◆ There are no zero waste policies in place regarding their manufacture
◆ The reviews for their Free & Clear diapers aren't great
◆ They dye their diapers brown so that they appear more natural
◆ They use petroleum-based ingredients
The bottom line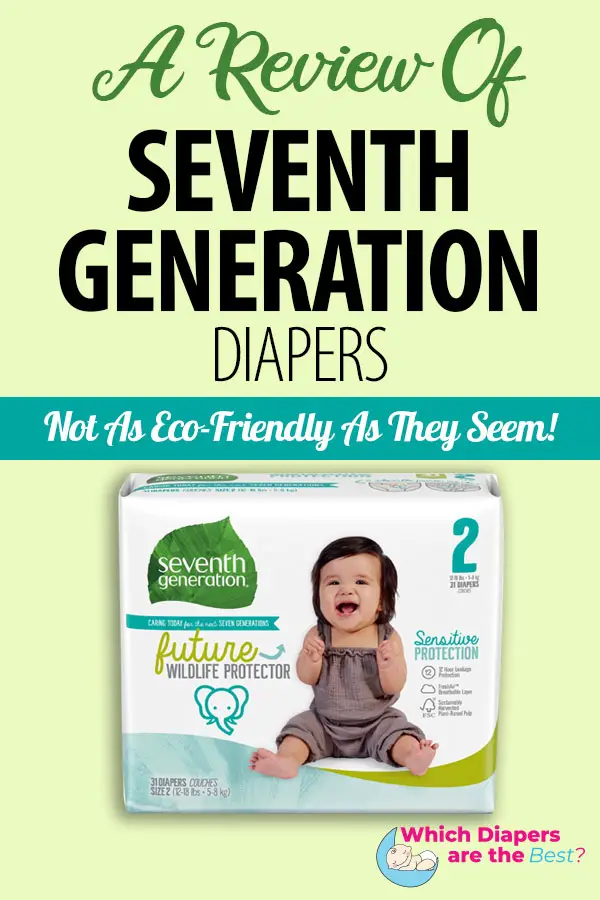 It feels harsh to say, but Seventh Generation diapers don't seem to be living up to the company's mission statement: to provide a safe planet for future generations. While there are big positives in terms of their eco-credentials, like the use of FSC-certified wood pulp, packaging made from recycled materials, and the avoidance of chlorine bleaching, the fact that they're not biodegradable really lets them down. Plus, users seem less than enamored with their ability to prevent leaks!
They certainly seem great for little ones with sensitive skin, especially the Free & Clear variety with no designs, but their lack of transparency when it comes to harmful phthalates is a concern. They're widely available, which is super convenient, and the prices aren't bad compared to similar brands, but, unfortunately, it's not quite enough. Check out my biodegradable diapers round-up and my organic diapers round-up of brands who go the extra mile for baby and for the planet!
---
Related Post: Top Picks for the Best Biodegradable Diapers on the Market
Related Post: What Are The Best Organic Diapers On The Market, And Why You Should Look For The Most Natural Ingredients
References
Hannon, P.R./ & flaws, J.A. (2015). The effects of phthalates on the ovary. Frontiers in endocrinology, 6
Jaakkola, J. J., & Khinght, T. L. (2008). The role of exposure to phthlates from polyvinyl chloride products in the development of asthma and allergies: a systematic review and metaanalysis. Environ Health Perspect, 116(7), 845-53.
Related Reading