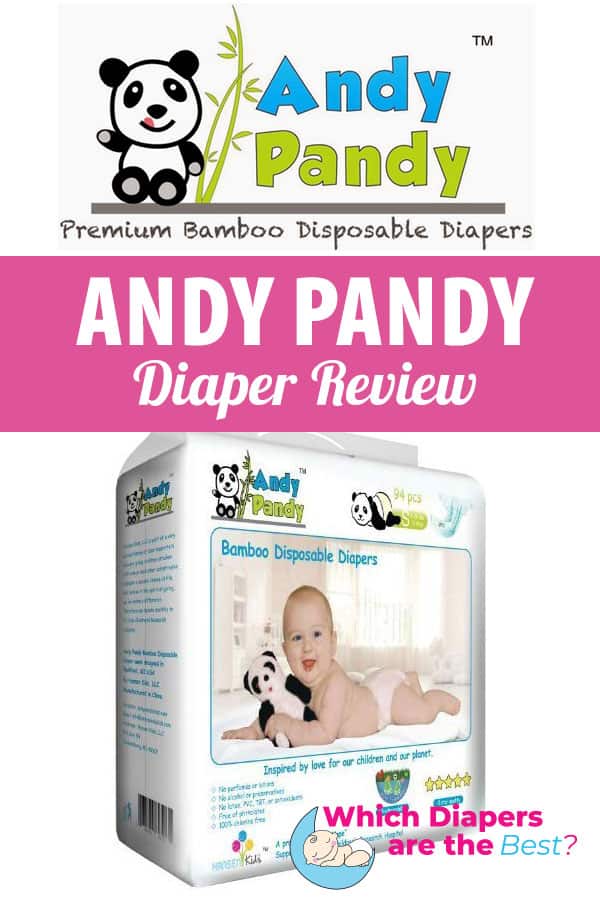 All moms want the best for their baby. And if the best means kind to the skin, to the environment and to your wallet, it seems we've hit the jackpot! If there's one thing we can't live without when it comes to babies, it's diapers, and good quality ones at that. But with such a saturated market and hundreds of varieties available, how do we know what's best for us and our babies? 
It's no secret that the environment is suffering, and needs our protection. And with our little ones getting through as many as 4000+ diapers a year, it's fair to say that the disposable variety aren't doing much for our planet. Balancing this with the fact that disposable diapers are super easy to use, and can make living our best mom lives a heck of a lot easier, is there a compromise to be made? With the convenience of a disposable diaper and the use of environmentally-friendly bamboo, Andy Pandy Diapers may just be the answer to our prayers… 
Read our complete Andy Pandy diaper review below.
Note: Affiliate links may be used in this post. I may receive a small commission at no extra cost to you if you make a purchase through my affiliate link. Please read my disclosure for more info. All prices and availability are accurate at the time of publishing.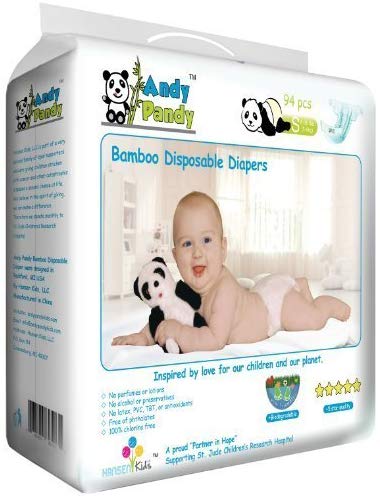 Who makes Andy Pandy diapers? 
Hansen Kids is a small family business offering various baby products that aren't just great for our little ones, but which are kind to the planet our little ones are growing up on. Based in Michigan, they make both Andy Pandy disposable diapers and Andy Pandy Organics Bath and Body Products. None of their products contain harmful chemicals, which unfortunately can't be said for a lot of baby products on the market, and all are designed to be kind to the environment. 
Are Andy Pandy diapers biodegradable?
Unlike many diapers on the market, which are made from plastics, dyes, artificial scents and other chemicals, Andy Pandy diapers are free from alcohol, preservatives, perfumes, lotions, antioxidants, latex and PVC and are made from eco-friendly premium bamboo. While they're not 100% biodegradable, as they do use some non-biodegradable parts like the SAP, adhesives and elastics, they are 86.5-87% biodegradable. So, unlike disposable diapers which need to be disposed of in the garbage, biodegradable diapers can be composted. Yep – composted! Definitely not the poopy ones though. You wouldn't want those ending up in your veggie garden…
How to compost Andy Pandy diapers
So how do you go about composting them? 
For wee-filled diapers, all you need to do is add a mix of grass or fruit and veggie scraps and dried leaves to your composter, along with the diapers, of course. In order to oxygenate the waste, turn it every 2 or 3 weeks.
Depending on the conditions of your composting, the diaper should be more than 50% biodegraded in 75 days. And when the process is complete, you can use the compost for non-edible plants. Again, not in your veggie garden, for pretty obvious ew reasons. 
What are Andy Pandy diapers made of? 
It's more important than ever to know exactly what you're putting on baby's skin. Unlike many standard diapers which are made from upwards of 10-20 potentially-toxic ingredients, Andy Pandy diapers go back to basics.
They list exactly what the diapers are made of on their website, which includes 100% non-woven bamboo fiber, chlorine free fluff pulp, pure aloe essence, elastic in the waistband and around the legs, velcro tape, adhesive, a PH strip and sumitomo SAP (super absorbent polymer). 
What are the advantages of Andy Pandy bamboo diapers?
1.Made from natural materials
Bamboo is a natural material, which is naturally grown and harvested, making it great for the environment and great for babies. Many standard diapers include various forms of plastic, which aren't the best for babies. 
2. Eco-friendly
Not only are Andy Pandy bamboo diapers much better for baby with their natural 'ingredients', but they're a big hug for the planet. The company explains how bamboo is 'one of the fastest-growing sustainable resources on the planet', and it's also grown without pesticides or chemical fertilizers. Because the majority of the diaper is biodegradable, they can be composted relatively easily, which is, of course, much better than throwing it straight in the garbage can to end up in landfill! 
3. Very absorbent
Think a bamboo diaper won't cope with the task at hand? Bamboo is actually super soft, strong and absorbent. The bamboo top sheet in the diaper handles moisture and wicks it away from baby's skin, so they aren't woken up by a wet diaper. 
4. Great for sensitive skin
Because Andy Pandy diapers are naturally antibacterial and hypoallergenic, they're a great option if your little one has sensitive skin. Unlike many other disposable diapers on the market, they're free from chlorine, alcohol, latex, antioxidants and PVC, meaning all babies, even those with sensitive skin, stay dry and happy!
5. They feature a wetness indicator
Just because they're natural doesn't mean they're less effective! The Andy Pandy diapers feature a wetness indicator line on the back of their diapers, letting parents know when it needs to be changed. 
6. They're available in different sizes
You're sure to find an Andy Pandy diaper size to suit your little one, with diapers available in various sizes, from newborn to XL. 
7. Tried, tested and loved
Don't just take their word for it. Andy Pandy bamboo diapers have over 1,299 5-star reviews and they were even voted 'Best Infant Diapers' by The Bump. Users love their softness, how eco-friendly they are and their value for money. 
What is SAP? Is it safe for my baby?
You may have noticed that Andy Pandy diapers contain SAP, and you may have wondered what on earth SAP stands for – I certainly did! SAP, or super absorbent polymer, is used in various products to absorb liquids, including feminine hygiene products and diapers. It's used because it can absorb and retain a large volume of liquid in relation to its size (between 50 and 500 times its own weight), making it perfect for these products. 
But is it necessary? 
If diapers didn't feature SAP, they'd be significantly bulkier, which would mean more waste in landfill. Not only that, but SAP helps to keep baby's bottom dry, which means less chance of your little one developing nappy rash, and fewer changes. 
And is it safe for your baby?
While the name doesn't exactly sound natural, SAPs are considered non-toxic, and so fine for your baby's skin. The FDA even allows SAPs to be included in food products, so it's pretty safe to say that they're… well, safe.
Andy Pandy diapers are a fantastic choice for you and your baby. You might assume that environmentally-friendly means mom unfriendly, but that couldn't be further from the truth. Bamboo is super absorbent and, because Andy Pandy diapers do contain super absorbent polymers, they're sure to keep your baby dry and happy. 
They come in various sizes, so you're sure to find the right fit for your little one, and they even have a wetness indicator, so there's no guessing when it comes to changing time. 
Andy Pandy Diapers Sizing Chart
| | | |
| --- | --- | --- |
| Size | Count | Weight |
| Newborn | 50 | 5-10 lbs (2-4 kg) |
| Small | 94 | 6-16 lbs (3-8 kg) |
| Medium | 80 | 13-22 lbs (6-10 kg) |
| Large | 70 | 20-31 lbs (9-14 kg) |
| XL | 62 | 26+ lbs (12 kg above) |
Where to buy Andy Pandy diapers
So now you want to give them a go, where can you buy them? 
Amazon stock all sizes of Andy Pandy reusable diapers, which are available in Newborn (pack of 50), Small (pack of 94), Medium (pack of 80), Large (pack of 70) and X-large (pack of 62). 
What do reviews say?
So it all sounds good, but what do moms and dads think? Andy Pandy diapers are tried and tested, and they have some seriously glowing reviews. With over 1,200 5 star reviews, it's obvious that they're loved by parents across the country.
One reviewer has said they're an all-around great diaper: there are no strong smells when using them, they're soft, they prevent rashes and they hold lots of liquid. Another comments how they're the best diapers for sensitive skin. They write how Andy Pandy diapers are the only brand that doesn't cause nappy rash in their experience. 
Another reviewer, who gave the diapers 5 stars, said that the diapers are silky soft on the outside and on the inside, the side tabs and pack panel are very stretchy and is great at preventing leaks. 
Andy Pandy Alternatives
How about the cost of Andy Pandy diapers? And what are the alternatives?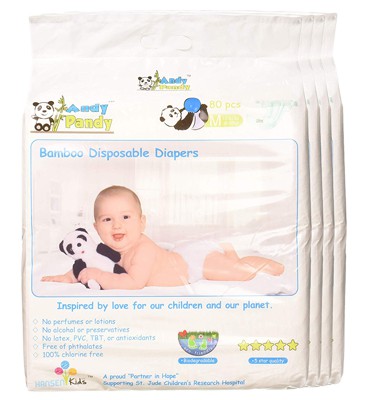 Andy Pandy diapers are available on Amazon, for around $40 dollars per pack. There are different numbers of diapers in packs depending on the size you need, but they work out at around 40-50 cents per diaper.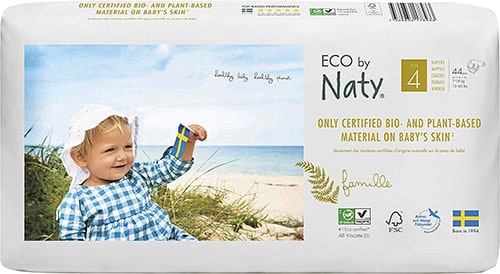 Eco by Naty Disposable Diapers for sensitive skin aren't made from bamboo, but are made from plant-based fibers, so are incredibly eco-friendly. With no plastic or nasty chemicals, they're also great for baby's skin. On Amazon, this brand will set you back somewhere between 30-60 cents a diaper, depending on the pack size.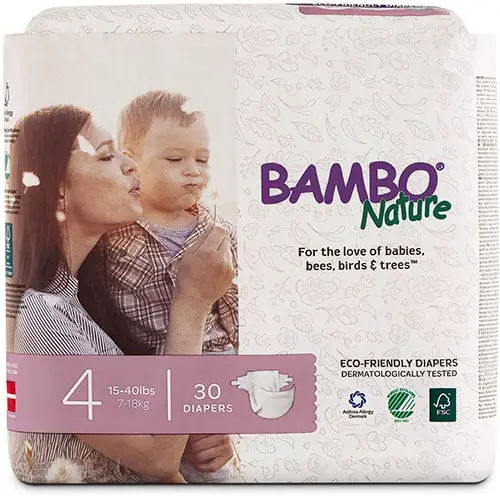 Bambo Nature Eco Friendly Diapers for Sensitive Skin claim that blowouts and leaks are no match for their eco-friendly, absorbent diapers. Like Andy Pandy diapers, they're great for sensitive skin and free from harmful chemicals. And how about the price? At just under 12 dollars for a pack of 33 size 3 diapers, that's a very decent 35 cents per diaper. There are loads of different sizes available at different prices, and some packs do work out at over 50 cents per diaper.
It's clear that, when comparing Andy Pandy diapers to similar products on the market, they're a very fair price, so a great option if you're not looking to break the diaper bank.
Conclusion
All in all, are Andy Pandy diapers worth buying? 
The Good
The Bad
◆  Andy Pandy diapers are largely biodegradable, unlike the majority of other disposable diapers
◆  They use bamboo, which is a natural material, and great for baby's skin
◆  They're hypoallergenic, so brilliant for babies with sensitive skin
◆  They're silky smooth
◆  They include super absorbent polymers, which are safe for baby and make them very absorbent
◆  They come in various sizes, so there's a fit for every baby
◆  They're free from chlorine, alcohol, phthalates, latex, PVC, TBT and antioxidants, so they're a great natural choice for your little one
◆  They feature a wetness indicator to prevent unnecessary diapers changes
◆  They're a similar price to other eco-friendly diapers on the market
◆  They're not 100% biodegradable only 86.5-87%
◆  They are expensive (if compared to regular disposable diapers)
The bottom line
So it's pretty clear that Andy Pandy diapers are a fantastic option for moms, dads and carers who want a natural product for their baby and who want to look after the world around them. Unlike most disposable diapers on the market, Andy Pandy diapers are made from eco-friendly materials, are largely biodegradable and don't contain any harmful chemicals or toxins. 
They're available on Amazon in various sizes, and you'll be supporting an American family business with every purchase! 
Related Reading