Our babies' skin is delicate, so you'd expect all disposable diapers to be pretty skin-healthy. Unfortunately, that's just not the case. Most baby diapers have a whole bunch of chemicals and toxins added, which isn't just terrible for skin, but for the planet too. 
You've probably noticed more and more companies shouting about their efforts to steer clear of some of these chemicals, including fragrances and lotions. This is great news for parents everywhere.
Cuties diapers are a lesser-known brand but pretty popular with parents who have tried them. So where do they stand when it comes to added chemicals? And are they worth trying? Here's everything you need to know about Cuties diapers!
Disclaimer: Cuties has not sponsored or endorsed this article in any way. As a mom who's passionate about buying the best for babies, I try really hard to include accurate information in all of my posts. If there are any inaccuracies present, please let me know; I'm more than happy to amend any errors. This review has affiliate links. I may receive a small commission at no extra cost to you if you make a purchase through my affiliate link. Please read my disclosure for more info.
Everything you need to know about Cuties Diapers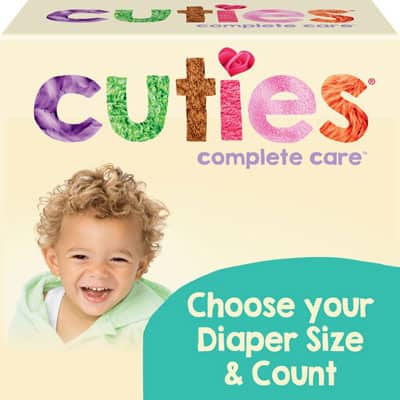 What are Cuties Diapers made of?
I love it when diaper companies make their ingredients list transparent. Cuties list its materials, which include sustainably sourced fluff (elemental chlorine-free), various plastics, chlorine-free cotton enhanced nonwoven dryness layer, non-latex elastics, no-heavy-metal dyes, safe adhesives, and a breathable moisture barrier. 
All diapers feature some plastics, even the most eco-friendly ones. Every diaper has something called super absorbent polymer (SAP), which is the bit that soaks up all the moisture. There isn't a plant-based version of this just yet, although scientists are working to produce one!
What are they free from?
So why is it important that our diapers are free of these ingredients? 
Chlorine

You'll often find chlorine in diapers; it's used to make them more absorbent. But there are more eco-friendly ways to do this, so it's completely unnecessary. It's best to look for diapers that are elemental chlorine-free or, ideally, totally chlorine-free.
Fragrances, lotions, and dyes

You'll often find fragrances, lotions, and dyes added to disposable diapers. But they could irritate your baby's skin, so they're best avoided if possible. Dyes made with water are absolutely fine, so look for these if possible. Most diaper inks are made with heavy metals, which, again could irritate the skin.
But…
Phthalates

Cuties don't tell us whether they use phthalates. Here's why phthalates are bad news for baby diapers. Phthalates are chemicals used in diapers to improve durability. Again, they're completely unnecessary and could even be harmful. They've been linked to abnormal genital development in boys, as well as asthma and eczema. 

It's a shame that Cuties doesn't make its use of phthalates clear, especially when they avoid fragrances, lotions, and dyes with heavy metals. It's much safer to assume that these horrible toxins are used in diapers unless it's explicitly stated that they're avoided. 
Are Cuties Diapers organic?
Cuties diapers are great in lots of ways, but they're not organic. They do use sustainably sourced fluff pulp, but the company doesn't say anything about using organic ingredients and materials.
How well do Cuties Diapers work?
In terms of protecting your little one's skin, Cuties diapers really have got it in the bag. They're hypoallergenic, so free of irritants like fragrances and lotions. This is great news for your baby's skin and means that diaper rash is much less likely. They even offer a SkinSmart Promise, which means 'every decision the company makes when it comes to their diapers helps to protect their soft and delicate skin.
They offer up to 12 hours of leakage protection, which isn't a surprise considering they have five layers, so they'd be suitable for overnights and their pH-balanced absorbent core wicks away moisture, keeping your baby dry.
Cuties Diapers Size Chart 
Cuties diapers are available in the full range of sizes, from newborn (up to 10lbs) to size 7 (4lbs+).
| | |
| --- | --- |
| Size | Weight |
| Newborn | Up to 10lbs |
| Size 1 | 8-14lbs |
| Size 2 | 12-18lbs |
| Size 3 | 16-28lbs |
| Size 4 | 22-37lbs |
| Size 5 | 27lbs+ |
| Size 6 | 35lbs+ |
| Size 7 | 41lbs+ |
Where to buy Cuties Diapers?
You might not find Cuties diapers at every grocery store, but you'll find them at Walmart and also at Amazon. Amazon's a great place to buy your diapers; if you sign up to the Amazon Family Program – it's free for Prime members and you can get up to 20% off baby diaper subscriptions.
How much do Cuties diapers cost?
*Prices were accurate at the time this article was published but may change over time.
What puts a lot of people off when it comes to non-toxic, healthy diapers is the cost. While some biodegradable, plant-based diapers do cost a little more, if you can afford it, it's totally worth it. There are some more budget-friendly options though and Cuties definitely falls into that category. 
Of course, they're not plant-based or biodegradable, but for a diaper that avoids fragrances, lotions, and dyes, it's not bad at all – size 1 diapers at Walmart will set you back just 14 cents each if you buy a pack of 176. This does rise quite a bit when you're looking at larger sizes though. You'll pay about 41 cents each for 80 size 7 Cuties diapers. 
The smaller sizes really are great for the purse strings if you're looking for hypoallergenic diapers.
What do reviews say?
Cuties diapers have pretty great reviews. In fact, they average 4.4 out of 5 stars in over 860 reviews on Walmart's site. 89% of reviewers would recommend them and some users say they find them better than Huggies and Pampers. Another reviewer describes them as 'cute, functional and affordable'. 
Cuties diapers FAQ
1. Do they sell Cuties training pants?
Cuties produce training pants as well as diapers, so you're covered for every stage of your little one's diaper-wearing journey! Cuties training pants come in the following sizes:
| | |
| --- | --- |
| Size | Weight |
| 2T-3T | Up to 34lbs |
| 3T-4T | 32-40lbs |
| 4T-5T | 38lbs+ |
These training pants are dermatologically tested, not tested on animals, have a hypoallergenic liner with added aloe and vitamin E, and feature soft, stretchy refastenable sides.
2. Who makes Cuties diapers?
Cuties isn't a store brand. Their diapers are made by a company called First Quality and this is the only diaper they produce. Interestingly, they also make products to help with incontinence! 
First Quality sponsors the charity Cradles to Crayons and donates a portion of their proceeds from Cuties diapers.
Cuties Diapers alternatives
While Cuties diapers have lots going for them, there's plenty of alternatives on the market that match the pros of Cuties and go a few steps further. 
When it comes to looking after our little ones' skin and the planet, we want to look for non-toxic diapers. If they're biodegradable too, even better. Some of my favorite non-toxic, biodegradable diaper companies include Andy Pandy, Dyper, and Eco Boom. All of these diapers completely avoid phthalates, with Dyper holding up as the true MVP, putting their products in biodegradable packaging.
Read Other Reviews:
They might not be biodegradable, but another one of my favorite diaper companies is Hello Bello. At about 30 cents a diaper and free of toxins, including phthalates, they're a great choice for your baby. They're even delivered in boxes that convert into toys for your little one!
Cuties Diapers At a Glance
The good
The bad
Conclusion
Not all diapers are great for our babies' skin. And not all diapers avoid harmful toxins. 
On the surface, Cuties diapers look like a great product. They're cruelty-free, hypoallergenic, effective, and have great reviews. The strange thing is that they don't mention their use of phthalates. These horrible toxins have been linked to asthma and eczema, so it's safe to say that they're best avoided. And, if a brand doesn't mention them, I always assume they're used.
Cuties need to make their use of phthalates clear and, if they're avoided, they'll be a great option for parents looking for non-toxic diapers. 
Related Post: What Are The Best Organic Diapers On The Market, And Why You Should Look For The Most Natural Ingredients
Related Reading