Coterie describes their diapers as 'the right decision'. If that doesn't inspire confidence in your purchase, nothing will! These diapers are the ultimate in luxury while promising to keep your baby dry.
But it's not just important that our babies' diapers can deal with wetness. With the planet in crisis, we need to make as many eco-friendly purchases as we possibly can; diapers are a great place to start.
So are Coterie diapers the right decision for the planet too?
Let's take a closer look at these award-winning diapers – what they're made of, the chemicals they avoid, and if they're as good for the planet as they seem…
Disclaimer: Coterie Diapers has not sponsored or endorsed this article in any way. As a mom who's passionate about buying the best for babies, I try really hard to include accurate information in all of my posts. If there are any inaccuracies present, please let me know; I'm more than happy to amend any errors. For more information about Coterie Diapers, head over to their main site: coterie.com. This review has affiliate links. I may receive a small commission at no extra cost to you if you make a purchase through my affiliate link. Please read my disclosure for more info.
What do you need to know about  Coterie diapers? 
What are  Coterie diapers made of? 
The best diaper companies are those which are transparent. Most diaper brands now understand the importance of letting parents know (very clearly) what their diapers are made from. Not all, but most.  And Coterie is no exception.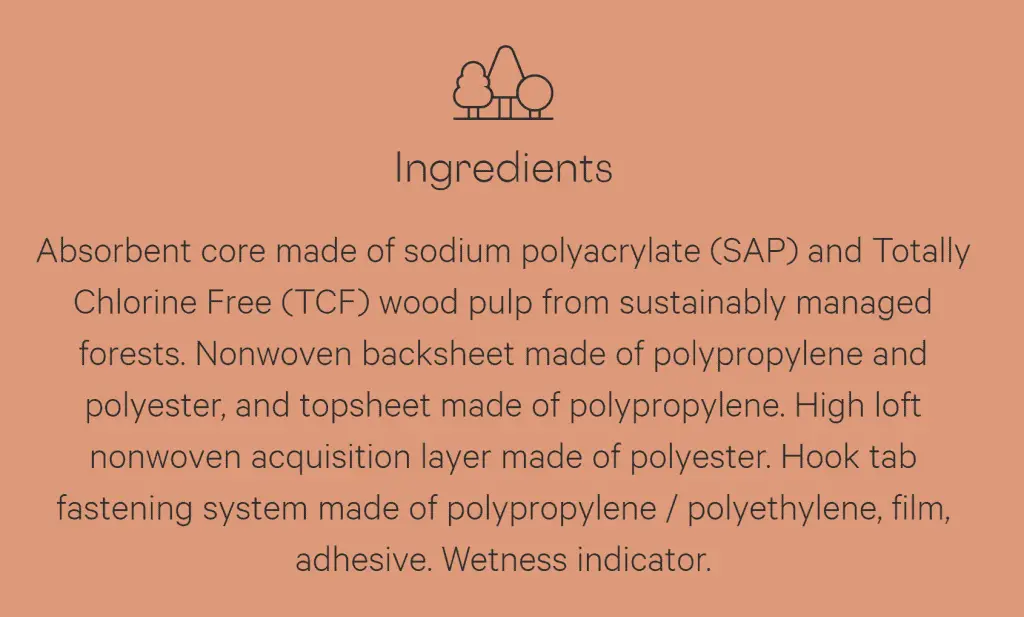 The ingredients in these luxury diapers are displayed prominently on their site and include totally chlorine-free wood pulp from sustainably managed forests, a nonwoven back sheet and top sheet with plastics, super absorbent polymer (SAP – the bit that wicks away the moisture), and a wetness indicator. Their hook tab fastening system also, unsurprisingly, contains plastic. 
Backsheet – Polypropylene and polyester
Topsheet – Polypropylene
The absorbent core – Totally chlorine-free wood pulp and traditional SAP
While Coterie diapers do contain some totally chlorine-free wood pulp in the absorbent core, Coterie diapers are mostly made from petroleum-based plastics. Their top and back sheets aren't made from plant-based materials, unlike companies like Andy Pandy or Ecoriginals.
This is quite disappointing for a company that claims to be eco-friendly!
What are they free from? 
It's important to know that what a diaper is free of is just as important as what it's made with. That's because you'll probably find some hidden toxins and chemicals in most diapers, especially the big brands like Pampers and Huggies. 
Related Post: Huggies Vs. Pampers 2022: Which Is The Best Diaper Brand For Your Baby?
Unsurprisingly, diaper brands that do use harsh chemicals don't like to shout about it, for pretty obvious reasons. While there should be clear warnings on products that use these chemicals, many of them aren't regulated by the FDA. This means that, unless a diaper company clearly tells us that they don't use a certain toxin, it's safer to assume that they do.
So how do Coterie diapers fare with the main culprits?
But why does this matter?
Chlorine

You've probably heard about the use of chlorine in swimming pools; it's used to kill bacteria. But chlorine also makes its way into many baby diapers too, and it's completely unnecessary, not to mention horrendous for the planet.

It's often included to make diapers more absorbent, but there are much more environmentally-friendly ways of doing this. So, if you can, look for diapers that are totally chlorine-free. You might see diaper brands describe their products as 'elemental chlorine free'. This is better than nothing but totally chlorine-free (TCF) is preferable.

👍Coterie diapers steer clear of chlorine altogether.
Phthalates

These strange-sounding chemicals should be avoided as much as possible. They can be found in all sorts of everyday products, like vinyl flooring, baby toys, and baby diapers. And it's no surprise that brands are often less than transparent about their use when you consider the potential health implications…

In fact, exposure to these toxins has been linked to eczema and asthma in children, along with abnormal genital development in boys. A study in the Journal of the American Academy of Pediatrics concludes that children's exposure to phthalates is rife, which means they could be more vulnerable to their toxicity. 

It's safe to say that phthalates should be avoided. 

👍Luckily, Coterie doesn't use these horrible chemicals.
Fragrances

While fragrances in baby diapers might seem like a great idea, they're yet another completely unnecessary addition. 'Fragrances' as an ingredient are used by some companies to hide a bunch of added chemicals that could be pretty terrible for your baby's skin. There's a reason why diaper rash is such a common issue!

It's no shock to say that 'fragrances' isn't a term that's regulated by the FDA, so it makes sense that parents are normally kept in the dark about their potential effects. Worryingly, they could even cause respiratory problems. 

👍 Coterie diapers are completely free of fragrances, which is great news for our little ones!
Latex

Latex allergies are common in children, so it's best to look for diapers that avoid it if you can. 👍Coterie diapers contain no latex at all.
Heavy metal inks

Cute designs on diapers might be just that – cute – but they're completely unnecessary and potentially even harmful. So many inks and dyes used on diapers contain heavy metals, which can irritate your baby's skin and even cause allergic reactions. If you can, look for companies that avoid them completely or use water-based inks. 👍Coterie diapers are completely heavy metal-free.
Are  Coterie diapers biodegradable?
The best diapers for the planet are those which are plant-based, non-toxic, and biodegradable. Biodegradable diapers can be broken down back into the soil far easier than plastic ones. In fact, plastic diapers can take 500 years or more to break down, if they ever do!
Not all plant-based diapers are biodegradable, but many are. If a diaper is biodegradable, it'll be made super clear by the brand – it's a huge selling point! And, just to make matters a little more complicated, not all biodegradable diapers are compostable, so many still end up in landfills, although this is still much better than regular plastic diapers are for the environment. 
Biodegradable diapers which can be composted, like Ecoriginals, Dyper and Andy Pandy, are the best of the best when it comes to planet-friendly diapers. It might be suitable to compost them in a compost bin at home, but many compostable diapers have to be disposed of using a commercial service.  Check out my ultimate guide to biodegradable diapers for more info!
Read Next: Ecoriginals Diapers Review, 2023: The Greenest Diaper On The Market?
Related Post: Dyper Diapers Review: Eco-Friendly, Skin-Friendly And Bank Account-Friendly
Unfortunately, it doesn't look like Coterie diapers are biodegradable or compostable. It's also a shame that their top and back sheets are made with petroleum-based plastics and not plant-based materials.
It's great that the company offsets the carbon footprint of every purchase. And they even donate 1% of each order to their global recycling partner, Recycling Technology. But the best change to make – for the planet's resources and for our little ones' skin – would be to use more plant-based materials!
Coterie says they're working on a solution to the diaper recycling problem by working with Recycling Technology to pioneer tech that will recover 'up to 95% of the raw materials of a soiled diaper'. Again, this is great news, and clearly needed in an industry that has such a detrimental impact on the environment. But Coterie needs to go back to basics, and assess its ingredients first.
Where are Coterie diapers made?
Coterie diapers are actually made in Canada, although they source their materials from Israel, Finland, Japan and the US.
How well do  Coterie diapers work?
Very well, if their fancy features are anything to go by.
Coterie diapers have a breathable topsheet, to keep baby's skin protected, a secure leakage barrier to stop pesky pee from seeping out at the sides and an 'acquisition layer', wicking away liquid from the skin up to 4 times faster than other brands.
 Coterie diapers Size Chart 
| | |
| --- | --- |
| Size | Weight |
| Newborn | <10lbs |
| 1 | 8-12lbs |
| 2 | 10-16lbs |
| 3 | 14-24lbs |
| 4 | 20-32lbs |
| 5 | 27lbs+ |
| 6 | 35lbs+ |
Where to buy Coterie diapers?
Coterie diapers can only be found in one place – the Coterie website. 
Each order of their diapers includes 6 packs, which should last about 4 weeks. If you choose to auto-renew your order, you can save 10%!
How much are Coterie diapers?
*Prices were accurate at the time this article was published but may change over time.
A one-time purchase of Coterie diapers – 6 packs – will set you back about $90, or 15 bucks per pack. This should cover you for about 4 weeks. But you can save 10% if you choose to automatically renew your order, so you'll pay $81, or $13.50 per pack.
A pack of size 2 Coterie diapers contains 31 diapers, so that's about 44 cents per diaper if you choose to auto-renew. It's on the more expensive side, especially considering Coterie diapers aren't biodegradable.
Shipping is free on all orders over $49.
What do reviews say?
Reviews for Coterie diapers couldn't shine any brighter if they tried. One parent even describes them as the 'Nike' of the diaper market, which kinda tells you everything about their quality.
Users love how soft they are on their babies' skin, with one describing how other brands feel like sandpaper in comparison! 
They say they're great when it comes to absorbency, even overnight, and they love that they're free of toxins. 
FAQ about Coterie Diapers:
1. Are Coterie diapers Vegan?
It might surprise you to hear that not all diapers are vegan or cruelty-free. That's because some diaper companies test their materials on animals or they might be owned by larger corporations who carry out animal testing. 
Luckily, Coterie diapers avoid animal testing completely, so it looks like they're suitable for vegans. 
Read my top cruelty-free diaper picks for more inspiration.
2. Are Coterie Baby Wipes any good?
Coterie also offers baby wipes along with its diapers. These hypoallergenic, super soft wipes are made from premium cotton, so they're super gentle on your little one's skin. They gently cleanse, are made from plant-based materials from sustainably managed forests and they're even 26% larger than leading wipe brands. Like Coterie diapers, Coterie wipes are free of fragrances and hypoallergenic, so they're suitable for newborn skin.
Suffice to say, it looks like Coterie's wipes are just as impressive as their diapers!
3. Are Coterie diapers non-toxic?
Coterie diapers are a great non-toxic diaper. They're completely free of the main toxins that could harm your baby's skin or health, like phthalates, fragrances, lotions, dyes with heavy metals, and latex. 
Check out my other top non-toxic diaper picks here!
Coterie diapers alternatives
It's great that it's so easy to find plant-based, non-toxic diapers now. Whether you prefer to shop in-store or online, there's an abundance of choices. While the market is still dominated by big brands, like Pampers and Huggies, companies that are trying to make a positive impact on the market, like Coterie, are slowly but surely catching up. 
There are plenty of alternatives to Coterie when it comes to diapers that are kind to your little one's skin. One of my favorites, which is a little cheaper than Coterie, is Hello Bello. Founded by none other than the megastar Kristen Bell, these diapers are completely non-toxic, average around 33 cents per diaper, and are available online. They even come in boxes that can be transformed into playthings for kids. Is there anything she can't do?
Read Next: Hello Bello Diapers Review: A-List Diapers For Your Little One
If you want to go a step further and look for biodegradable diapers, there are plenty of choices. Some of my favorite biodegradable diapers include Ecoriginals, Andy Pandy, and Dyper. Not only is 'Dyper' a great brand name, but they also offer diapers that can be composted (by a professional service) and they purchase carbon offsets with every pack they sell.
Coterie Diapers: The good, The Bad and the bottom line
The bad
Conclusion: Are Coterie Diapers worth it?
Coterie describes their diapers as 'the right decision'. While they have big plans to change the way diaper waste is recycled, they don't use as many plant-based materials as some similar brands. And they're more expensive than comparable diapers like Hello Bello and Honest. 
Coterie should go back to basics and reassess the materials used in their diapers, replacing plastics with plant-based ingredients like bamboo. It's hard to justify the expense of Coterie diapers when they're not made with a high percentage of plant-based materials or biodegradable.
Producing 'luxury' diapers that are genuinely good for the planet is always the right decision.
Related Reading