Head over to the Eco By Naty site and you'll find 'No. 1 Eco Diaper' displayed across the page. No biggie. Suffice to say, I have big expectations! Considering how many eco-friendly diaper brands have flooded the market recently (and for good reason!), I'm expecting Eco By Naty diapers to come good with their eco-credentials and provide a disposable diaper that does awesome things for your little one, and awesome things for the planet. 
Naty has become a big name in the natural diaper world, and they're one of the most readily available brands on the market, unlike some more niche diapers, only found at independent health stores. So what makes Eco By Naty not only stand out but name themselves the number 1 eco diaper? Here is my honest Eco by Naty diapers review.
Disclaimer: Eco by Naty Diapers has not sponsored or endorsed this article in any way. As a mom who's passionate about buying the best for babies, I try really hard to include accurate information in all of my posts. If there are any inaccuracies present, please let me know; I'm more than happy to amend any errors. For more information about Eco by Naty Diapers, head over to their main site: naty.com. This review has affiliate links. I may receive a small commission at no extra cost to you if you make a purchase through my affiliate link. Please read my disclosure for more info.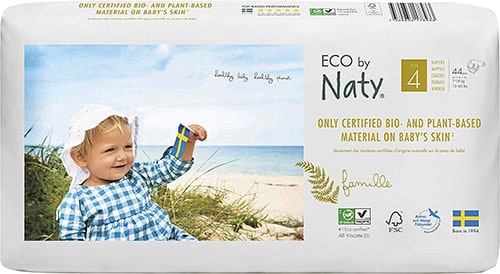 Everything you need to know about Naty Diapers
What are Eco By Naty Diapers made from?
You might not have paid much thought to it before, but it's so important to know what materials are used in the diapers you're putting on your little one's delicate skin. Many diaper brands, especially some of the most popular ones, use all sorts of pretty nasty ingredients that you probably wanna keep away from your baby: petroleum-based plastics, artificial dyes, and latex to name just a few. 
Eco By Naty appears (on the surface) to buck this trend with the use of 100% Forest Steward Council certified wood pulp, which is super absorbent, no oil-based plastic 'on skin', and absolutely no chemicals. Seems pretty good so far, right? But Eco by Naty says that they use plant-based plastics 'where possible', which means that oil-based plastics must be used somewhere in the diaper. Their marketing department is very clever indeed.
The ultimate test of a brand when it comes to skin and environment-friendly products is its transparency. Many eco-friendly brands display full lists of ingredients used in their diapers, letting parents and carers make their diaper decisions easily. Despite searching, I, unfortunately, couldn't find any kind of full materials list. It highlights how important it is to thoroughly investigate the materials used in your diaper of choice; many brands aren't quick to make it clear, including Naty. I really hope that the company is looking to move towards 100% plant-based ingredients, especially if they're to live up to their 'no. 1 eco-friendly diaper' name!
Like the Honest company, Eco by Naty diapers have all the right buzzwords: eco, plant-based, natural. But unfortunately, Eco by Naty diapers are not biodegradable. They're made from around 55% bio/plant-based materials, but the company says that this, unfortunately 'doesn't mean they can be composted'. They say that they're now starting to focus on renewable materials rather than compostable materials. So if you're looking for a diaper that can be at least party composted, Eco by Naty might not be the best choice.
Related Post: Honest Diapers Review: Honestly? They Don't Live Up To The Hype
Eco by Naty Diapers are free from:
Are they eco-friendly?
Given that Eco by Naty describes their diapers as the no. 1 eco diaper, this should be an easy question to answer. But while they – thankfully – steer clear of harsh chemicals, the fact that their diapers contain oil-based plastics, plus the fact that they aren't biodegradable, suggests otherwise. They certainly have all the right buzzwords to suggest that they're a great choice for the eco-conscious parent or carer: eco, plant-based, natural. But, by their own admission, they cannot be composted. This means that their diapers will end up in the same landfill sites as most other disposable diaper brands. 
That's not to say that choosing plant-based diapers isn't better for the environment and for babies, of course. They're made primarily with chlorine-free wood pulp, which is a much more sustainable resource than plastics, and they're packaged in renewable materials too. This packaging unfortunately isn't compostable either, so 'no. 1 eco diaper' is a big claim to make when they can't be composted like many other brands can!
Related Post: Top Picks for the Best Biodegradable Diapers on the Market
How well do Eco by Naty diapers work?
Wood pulp is actually super absorbent, soft and breathable and Eco by Naty diapers have won awards for their performance. And when it comes to a great choice for little ones with sensitive skin, Eco by Naty is certainly a good choice. Their avoidance of harsh chemicals and focus on plant-based materials combats nappy rash, and they promise that their diapers will keep your baby dry! This is partly due to the use of superabsorbents in Naty diapers (polymer), which the company says have been 'thoroughly tested' regarding allergic reactions and toxicity. 
Of course, each little one is unique, so a diaper that works for one family might not work for another, but if skin-friendliness is your priority over biodegradability, they might be a good choice for you and your baby.
Eco by Naty Diapers Sizes Chart
| | | | | | | | |
| --- | --- | --- | --- | --- | --- | --- | --- |
| | Newborn | Size 1 | Size 2 | Size 3 | Size 4 | Size 5 | Size 6 |
| Weight | 4-11 lbs | 4-11 lbs | 6-13 lbs | 9-20 lbs | 15-40 lbs | 24-55 lbs | 35+ lbs |
| Units/ Bag | 25 | 25 | 33 | 30 | 26 | 22 | 17 |
Where can I buy Eco by Naty diapers? 
Unlike some eco-friendly diaper brands which are a little trickier to get your hands on, Eco by Naty diapers are available online and in big grocery stores like Walgreens and Walmart. You can purchase the diapers on their website and they're also featured on Amazon. 
Amazon's a great choice for diaper purchases. Not only because you have so much choice, but because they have what's called the Amazon Family Program. All you have to do to sign up is be a Prime member, and you'll get access to parenting tips, exclusive discounts, up to 20% off baby food and diapers, 15% off your baby registry, and a baby registry welcome box. 
How much do Eco by Naty diapers cost?
*Prices were accurate at the time this article was published but may change over time.
Because Eco by Naty diapers are available so widely, the cost will vary. Heading over to Amazon, a pack of 100 newborn diapers will set you back around 30 dollars, so about 30 cents per diaper. As with most brands, larger sizes are more expensive, with 132 size 5 diapers costing around 75 dollars, so nearly double the cost of newborn diapers, at about 56 cents each. If you sign up for the Amazon Family Program and subscribe, you should save about 5%!
Looking at the Eco by Naty site, you can subscribe to their diaper delivery service and get them delivered regularly straight to your door! The service is really flexible; simply choose how many packs you need, the size, and if you'd like them to be delivered every 3, 4, or 5 weeks. If you're subscribing to sizes 3-6, it'll set you back about 70 dollars a month, and there's free shipping if you spend over $69.
What do the reviews say about Eco by Naty Diapers?
There are plenty of reviews of Eco by Naty on Amazon by parents and carers who have tried and tested their diapers. Compared to most brands I've looked at, the reviews aren't that great. Just 60% of reviews are 4 or 5 stars and nearly a fifth of reviewers have rated them just 1 star. While some users aren't happy with the fit and absorbency, there are some positive comments, with parents and carers loving how eco-friendly they are. 
Frequently Asked Questions about Eco by Naty diapers
1. Are Naty Diapers compostable?
While there are some biodegradable materials used in Eco by Naty diapers, they're unfortunately not compostable. Let's hope that the company if they want to live up to their 'no. 1 eco diaper' name, start moving towards a biodegradable product. 
There are loads of compostable diapers on the market. Check out my reviews of the best!
Related Post: Top Picks for the Best Biodegradable Diapers on the Market
2. What other products does Eco by Naty have?
Eco by Naty don't just produce diapers; they sell a whole range of baby products, like wipes, potty liners, and bath care. Their baby shampoo is, very impressively, free from parabens, phthalates, synthetic color, and animal ingredients, among other nasties, and the bottle it comes in is even made from renewable materials. Like their diapers, Eco by Naty try to be as skin-friendly as possible across their range, and offer some pretty cool eco-friendly options for your little one!
3. Which diapers are the best?
While some diapers might be more eco-friendly, skin-friendly, value for money or absorbent than others, each little one is unique, so there's no guarantee that a particular brand will be perfect for your baby. 
The best diaper for you and your little one really depends on your priorities. If you're looking for an eco-friendly brand, diapers like Andy Pandy and Dyper are perfect options. They're biodegradable, free from harsh chemicals, and good value for money. If budget-friendly is important, Mama Bear diapers, Amazon's own brand, is a great choice. Their Gentle Touch variety is super affordable and they're even produced in a no-waste facility – all 'waste' from production is either reused or recycled. 
Read Next: Andy Pandy Diapers Review: The Best All-Around Diapers For Baby And For The Planet?
If your baby has particularly sensitive skin, hypoallergenic diapers are the way forward. Bambo Nature diapers are one of my top choices when it comes to skin-friendly diapers. They've been dermatologically tested and even awarded the Nordic Swan Eco-Label accreditation for their focus on environmentally-friendly practices. 
4. What is the most eco-friendly diaper?
While Eco by Naty claims to be the number 1 eco diaper (Perhaps in terms of sales? They don't make it clear!), diapers that are compostable are the gold medal winners when it comes to eco-friendly-ness. Unfortunately, Naty diapers aren't, although their focus on plant-based materials is obviously preferable to diapers that contain a high percentage of plastic. Having said that, they do still contain both plant-based and oil-based plastics! There are so many biodegradable diapers on the market now that it's easy to find the perfect brand for you and your little one.
Related Post: Top Picks for the Best Biodegradable Diapers on the Market
5. Are bamboo diapers better for the environment?
Diapers made from plant-based materials like bamboo and wood pulp are undoubtedly better for the environment than diapers made predominantly with plastic, for obvious reasons. Bamboo's a super popular choice for eco-friendly diapers because it can be sustainably sourced, it's super soft and it's great at absorbing liquid. Lots of brands, including Andy Pandy and Bambo Nature, use bamboo as their primary material. It's also way better for baby's skin, with (usually!) no chemicals in sight in bamboo diapers. 
Read Next: The Best Bamboo Diapers: Join The Eco-Friendly Diaper Revolution!
6. What certifications does ECO by Naty diapers have?
Naty diapers have loads of fancy certifications (the show-offs!), including the Forest Steward Council, Swedish Society For Nature Conservation, and the European Vegetarian Union. These certifications show that their diapers are doing good things for the world around us, and they're suitable for vegans. 
7. Do they have a diaper subscription?
Eco by Naty has a flexible, easy-to-use subscription service. Why worry about buying diapers at the store when you can have them delivered straight to your door, as frequently as you need them? 
Just select how many packs you need, whether you need them to be delivered every 3, 4 or 5 weeks, et voila!
The Good
The Bad
◆ Sustainably sourced materials
◆ Smaller sizes are reasonably priced
◆ No harsh chemicals
◆ Made from plant-based materials
◆ Available online and in stores
◆ The brand offers a flexible subscription service
◆ Suitable for vegans
◆ Certified by the FSC, European Vegetarian Union and Swedish Society For Nature Conservation
◆ They produce a range of chemical-free household and baby products
◆ Their packaging is plant-based (but not compostable)
◆ Not biodegradable
◆ They must use oil-based plastics somewhere in the diaper
◆ It's tough to find a full materials list
◆ The reviews aren't great compared to similar brands
The bottom line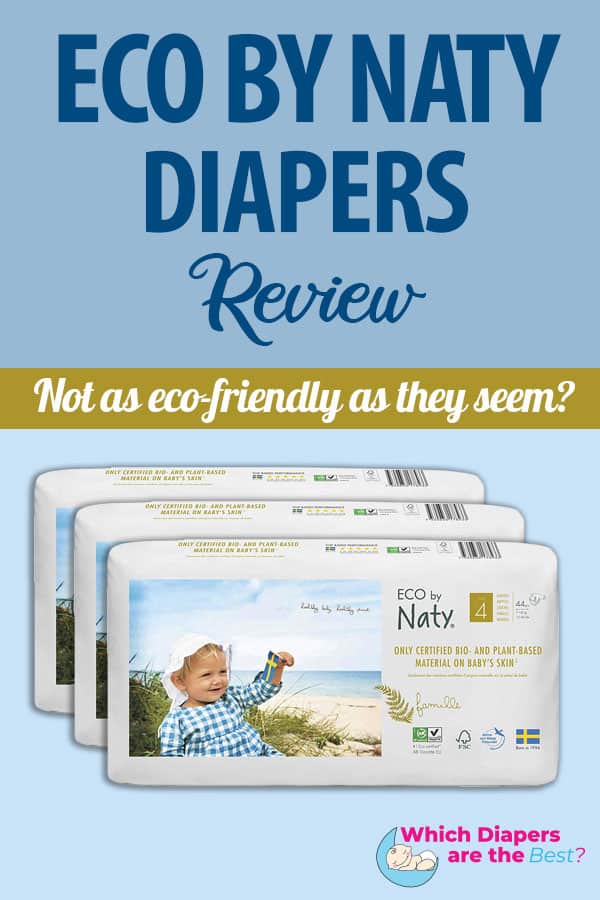 There's no doubt that Eco by Naty diapers are a good choice for parents and carers looking to make eco-friendly(er) purchases. Considering around 20 billion disposable diapers are dumped in landfill sites in the US every year – seriously – it'd be much better if all of those diapers were made from plant-based materials like bamboo and wood pulp. They're much more sustainable than diapers made predominantly with plastic, of course, and they wouldn't stick around for quite as long, polluting the world around us as plastic does. 
But the eco-friendly diaper market has come a long way in recent years. Not only are plant-based diapers readily available, but there are also loads of compostable options at decent prices. I hope that Eco by Naty builds on the incredible work they've done so far in transforming the diaper landscape into something much more environmentally-kind, but it'd be great to see them produce a compostable diaper, like so many of their competitors… especially if they want to live up to their 'no. 1 eco diaper' name!
Related Reading