We all want to do our bit for the planet. And thinking about the diapers we're using for our little ones is the perfect way to start.
In fact, choosing diapers that are better for the environment happens to be better for our baby's health too. It's a win-win, really. And there are plenty of diaper companies lining up to help us choose greener diapers, with brand new company Healthybaby the latest to do their bit.
This new kid on the block is certainly putting their stamp on the eco diaper market, offering the first-ever baby diapers verified by the Environmental Working Group.
But what does this mean and is it worth trying Healthybaby diapers? Here's everything you need to know about this new and seriously innovative brand!
Disclaimer: Healthybaby Diapers has not sponsored or endorsed this article in any way. As a mom who's passionate about buying the best for babies, I try really hard to include accurate information in all of my posts. If there are any inaccuracies present, please let me know; I'm more than happy to amend any errors. For more information about Healthybaby Diapers, head over to their main site: healthybaby.com. This review has affiliate links. I may receive a small commission at no extra cost to you if you make a purchase through my affiliate link. Please read my disclosure for more info.
Healthybaby Diapers Review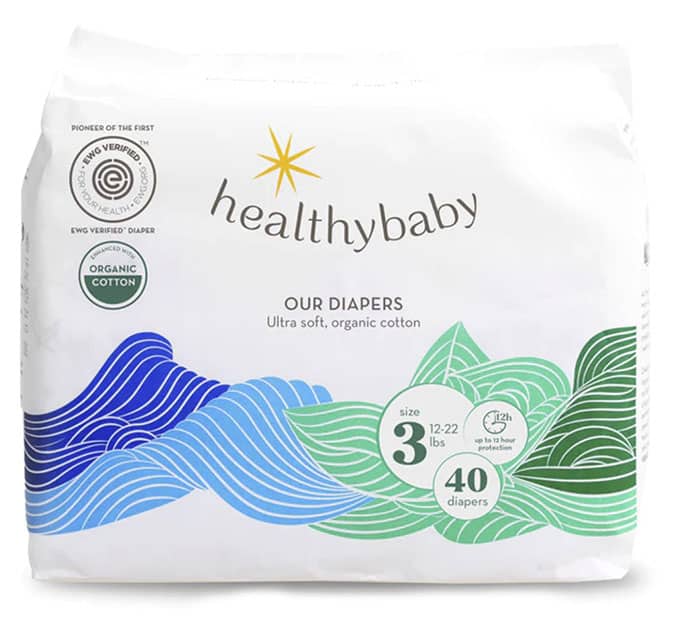 What does EWG Verified Diaper mean? 
Healthybaby diapers tell us that they're Environmental Working Group (EWG) verified, but what does this actually mean?
The Environmental Working Group was founded in 1993. It's a nonprofit environmental group that believes we should be well informed about public health so that we can make 'smart, healthy' choices. The group shines a light on harmful industry practices and carries out breakthrough research. Suffice to say, if a diaper is endorsed by the Environmental Working Group, it's gotta be a good one. 
They recently published a guide to safer diapers, including an analysis of the chemicals often used. Healthybaby diapers are the first to meet their 'rigorous' criteria and become EWG verified. The group was shocked that companies aren't forced to disclose potentially harmful ingredients in diapers, so they decided to do something about it! 
This is great news for parents, babies, and the industry as a whole. Hopefully, we'll see more and more companies striving to meet EWG standards and make diapers safer for our little ones and the planet. 
What are Healthybaby diapers made of? 
Healthybaby is part of a recent wave of companies striving to make their ingredients lists super transparent and readily available for parents. The company lists their ingredients on their site for every potential customer to see.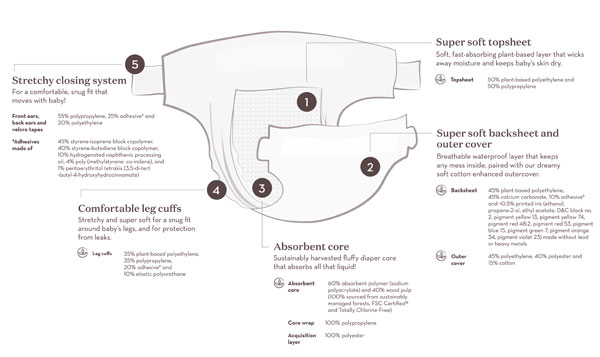 They contain a plant-based absorbent core with sustainably harvested fluff pulp. This does contain some plastic as all diapers do. Even the most eco-friendly diapers still contain at least some plastic because there isn't a fully plant-based alternative to the super absorbent bit. Scientists are trying to make one though…
They also feature a breathable waterproof layer with soft cotton, a back sheet with plant-based polyethylene, dyes without lead or heavy metals, a plant-based top sheet, and plant-based legcuffs. Healthybaby diapers have velcro tabs and adhesives – crucial parts of the diaper that make it fit!
It's clear that Healthybaby uses as much plant-based material as they possibly can. While there's no 100% plant-based disposable diaper right now, I'm sure Healthybaby will be one of the first companies to bring one to market when the science catches up with demand!
What are they free from? 
It's just as important to know what a diaper's free from as the ingredients it contains. That's because diapers often contain pretty nasty chemicals. Not that you'd know it – it's not like these brands shout about their use of toxins. 
So what should you try to avoid, and how do Healthybaby diapers fare?
Chlorine

You'll probably know that chlorine's used in swimming pools to kill bacteria. But, bizarrely, it's used in diapers too. Its function is to make diapers more absorbent, but chlorine is terrible for the environment and there are many more eco-friendly ways of doing this. 

If you can, it's best to avoid chlorine altogether, so look for diapers that are totally chlorine-free. Healthybaby diapers don't use chlorine at all.
Phthalates

These strange-sounding chemicals somehow find their way into lots of diapers. Considering the potential effects on our children's health as a result, it's pretty shocking that they do. 

Studies have shown that exposure to phthalates in early life can increase the risk of developing asthma and eczema. Not only that, but they've been linked to 'alterations in infant/toddler physical development'. Exposure to harmful chemicals like these can lead to irreversible damage, so it's super important to choose diapers that don't use them if you can. But how can you be sure?

While diaper companies rarely include 'phthalates' in their list of ingredients if they are used, if they're avoided, it's likely to be made very clear. After all, it's a huge selling point. Take a look on a company's site at their FAQ section or, sometimes, it'll be made clear on the packaging that phthalates are avoided. If you have a favorite brand that isn't transparent about their use of phthalates, it's a good idea to contact them directly. We need to hold brands accountable for their use of these nasty chemicals, even if the FDA won't.

It's super important to choose phthalate-free diapers if you can. And if you've never heard of these nasty chemicals before, I'm not at all surprised. Diaper companies do a great job of keeping schtum about their use of phthalates, and their potentially harmful effects. 

Healthybaby comes through for us with completely phthalate-free diapers. And I'd expect nothing less!
Fragrances and lotions

While the addition of fragrances and lotions might initially seem like a great idea, these terms, like phthalates, aren't regulated by the FDA. That means that companies can use them to cover up a whole host of horrible toxins, which are no good for your baby's skin. There's a reason why heavily 'perfumed' diapers are often well-known for causing diaper rash. 

Stick to fragrance and lotion-free diapers where possible. Brands will make it clear if they're avoided because, again, it's a huge selling point! Healthybaby diapers steer clear of any added fragrances and lotions. 
Dyes made with heavy metals

You'll often see 'cute prints' touted as a reason to choose a particular diaper brand. While many of the designs are indeed 'cute', dyes made with heavy metals certainly aren't. Like fragrances and lotions, they can cause skin rashes, so they're best avoided. 

Some prints are perfectly safe though if they're plant or water-based. The dyes in Healthybaby diapers stay away from heavy metals completely. 
More on this topic: Disposable Diapers: What Are They Made From, And Are They Safe?
Are Healthybaby diapers biodegradable?
You might have seen a few biodegradable diapers pop up on the market in recent years. These diapers are great because they're plant-based (as much as possible, at least), non-toxic and can be disposed of in very plant-friendly ways. If a diaper is biodegradable, it means it can be broken back down into the soil and will often take months rather than the 500 years it takes to break down plastic diapers. And that's if they break down at all…
All biodegradable diapers are plant-based, but not all plant-based diapers are biodegradable. While it doesn't look like Healthybaby diapers are biodegradable, that doesn't mean they don't carry a bunch of eco-credentials. They'll still break down much easier than their plastic counterparts, but you won't be able to dispose of them with a professional diaper composting service like you can with brands like Dyper. 
But, Healthybaby diapers are Environmental Working Group certified and their standards are very high. Not only that, but their packaging is plant-based, and the production of Healthybaby diapers is carbon neutral. So if you're looking for a diaper that does as much for the planet as it does for your baby, look no further.
Related Post: Top Picks for the Best Biodegradable Diapers on the Market
Where are Healthybaby diapers made?
Healthybaby diapers are made in the Czech Republic in Europe. The company states that they chose this location because European quality standards are so high. It makes sense, considering they're the first brand to be Environmental Working Group verified!
How well do Healthybaby diapers work?
Of course, we not only need our diapers to be safe for the baby's skin and kind to the environment, but we need them to work too. Healthybaby have got us covered with their absorbent core, breathable sheets, and sticky tabs to keep the diapers in place. 
Reviews say they work just as well as the big brands. The softness is perfect for our little ones' delicate skin and they offer up to 12 hours of protection.
Healthybaby diapers Size Chart 
Healthybaby's regular diapers are available in sizes 1 through 6. 
| | |
| --- | --- |
| Size | Weight |
| 1 | 6-9lbs |
| 2 | 8-14lbs |
| 3 | 12-18lbs |
| 4 | 16-28lbs |
| 5 | 22-37lbs |
| 6 | 27lbs+ |
They also offer cotton training pants in sizes 3 through 6.
| | |
| --- | --- |
| Size | Weight |
| 3 | 12-18lbs |
| 4 | 16-28lbs |
| 5 | 22-37lbs |
| 6 | 37lbs+ |
Where to buy Healthybaby diapers? 
Currently, you can only buy Healthybaby diapers on the brand's site. It's possible that they'll roll out into other areas in the future, and I hope that they do! 
What does Healthybaby diapering program include?
They offer a diapering program, a monthly box that includes everything you need to make your baby's diaper journey the healthiest one: a month's supply of diapers, access to stage-specific videos to support you and your little one, a month's supply of Healthybaby wipes and 5 enrichment activity cards. 
It's super easy to order from their site. You can choose to subscribe to a monthly box – and you'll save money if you do – or you can choose a one-off box. If you subscribe, it's easy to pause or change your subscription.
How much do Healthybaby diapers cost?*
A box containing a month's supply of diapers, a month's supply of wipes, 5 enrichment activity cards, and access to supportive videos costs $140 as a one-off, or $130 if you subscribe. 
It's more than budget diapers will set you back, but if your budget can stretch to it, it's more than worth it!
*Prices were accurate at the time this article was published but may change over time.
What do reviews say?
Because Healthybaby diapers are so new to the market, you won't find many reviews. But the few reviews available are pretty glowing. Users say they love how soft they are on baby's skin, are effective when it comes to stopping leaks and, of course, parents say it's nice to know you're doing your bit for the planet with every purchase.
Can I get a trial of Healthybaby diapers?
Yes! Diaper trials are great if you don't want to commit to a month's supply. The company offers a trial of their diapers in sizes 1 through 6 for 30 bucks without wipes, 37 bucks with wet wipes, or 38 dollars with dry wipes. 
Healthybaby diapers alternatives
There are more options when it comes to non-toxic, planet-healthy diapers than ever before. When Healthybaby says they're 'changing' diapers, they certainly are. They're the only diaper (as of April 2021) to be EWG certified, but there are plenty of alternatives.
When looking for the healthiest diapers, my main piece of advice is to steer clear of the 'main' brands – Pampers, Huggies, and Luvs to name a few. Considering how much profit these companies make, they make little effort to minimize their impact on the environment and these diapers often contain chemicals like phthalates, which we now know are potentially harmful to our little ones' health.
Like Healthybaby, diapers like Hello Bello, Dyper, and Coterie – some of my favorite brands – are pioneers in the healthy diaper industry. 
Coterie diapers are the ultimate in luxury diapering. Completely non-toxic, vegan, and plant-based, these diapers are a great choice for your baby. The brand even offsets the carbon footprint of every purchase and donates 1% of every order to a global recycling partner.
Hello Bello is another of my favorites. Created by the A-list star Kristen Bell, these non-toxic, plant-based diapers are a lot more budget-friendly than some other eco brands. They're even delivered in boxes that transform into playthings for your baby! 
Finally, Dyper is one of my all-time favorite companies. These biodegradable diapers have amazing reviews, won't blow your budget, and can be composted. 
Are Healthybaby diapers worth it?
The good
The not so good
The bottom line
Healthybaby diapers might be the new kids on the baby block, but they're ready to shake up the industry with their non-toxic, super soft, and eco-friendly diapers. With a smorgasbord of eco certifications, these EWG (Environmental Working Group) diapers are a wonderfully healthy choice, for your baby and for the world around you.
If it's not obvious by now, I'm a little bit in love with Healthybaby diapers. 
It's amazing that so many companies are disrupting the industry and the harmful practices that have gone on for way, way too long. 
We all want to do our bit to change the world and improve the way we treat it, and choosing Healthybaby diapers is a great way to start. Buying these non-toxic diapers instead of those made mostly with plastics that contain a bunch of added chemicals isn't just great for the planet – it's a great choice for your baby too.
The first company to be verified by the Environmental Working Group, it's clear that the new kid on the diaper block is putting their stamp on the industry (with plant-based, heavy metal-free ink!). 
Are Healthybaby diapers worth it?
For the planet, for your baby, and for our future, yes.
Absolutely.
Related Reading