If you're looking for a diaper that's as good for the environment as it is for your little one, look no further than Bambo Nature diapers. The brand cares as much about protecting the world around us as they do perfecting a diaper that's gentle on your baby's skin, comfortable and will protect them no matter what. And with various sizes available, from birth to toilet training, these multi award winning diapers will grow with your little one, while minimizing the impact disposable diapers have on our world.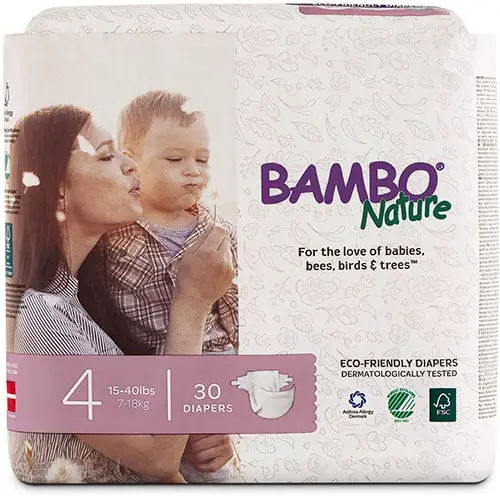 The pros and cons of Bambo Nature Diapers
So what makes Bambo Nature diapers so great? Their site lists a whole host of reasons to try them that include both benefits to your baby and to the environment.
Pros
Cons
◆   They use raw materials which are certified free from harmful chemicals
◆   They're dermatologically tested, so great for little ones with sensitive skin
◆   They're super absorbent, so will keep your baby protected
◆   They carry the Nordic Swan Eco Label, which means they're great for the environment and human health
◆   They've won multiple awards for being environmentally-friendly
◆   They come in fully recyclable packaging
◆   They're 100% chlorine free
◆   They don't use any perfumes
◆   They don't use any lotions
◆   They're free from phthalates
◆   They're BpA free
◆   They're TBT, PVC, antioxidant and latex free
◆   They use FSC certified wood pulp
◆   95% of production waste is recycled in their production facility
◆   Mostly biodegradable, apart from the SAP used
◆   They have great user reviews
◆   As with all disposable diapers, they have to be composted or recycled professionally to avoid landfill
◆   They are only 75% biodegradable because they contain plastic details: a polypropylene top-sheet and a polypropylene/polyethylene back-sheet.
What materials are used to make Bambo Nature diapers?
It's always best to choose a brand who are open and transparent about the ingredients they use in their diapers. Some brands offer no information about the materials they use, and some, like phthalates and perfumes, can be pretty harmful to baby's skin and general health. 
Luckily, Bambo Nature has their ingredients list displayed prominently on their site, so you can see exactly what you're putting on your little one's skin.
You might be thinking that some of those ingredients sound a little scary, but Bambo Nature has even provided a guide to each ingredient they use in their baby products.
Cellulose (ECF fluff) are plant-based fibers which make the diapers soft
Polyethylene is, globally, the most commonly used plastic. But Bambo Diapers stress that theirs is made with biodegradable raw materials from renewable sources, rather than the usual natural gas or petroleum.
Polyacrylate, or super absorbent polymer, is used to absorb the moisture in diapers. In fact, it can absorb as much as 300 times its mass in liquid, making it essential for an effective diaper!
What are Bambo Nature Diapers free from? 
Bambo Nature describes on their site how they always use the best raw materials for their baby products.
Are Bambo Nature Diapers better for the environment? 

So they might be great for your baby's skin, even if it's particularly sensitive, but what about their impact on the environment? Bambo Nature diapers have actually been awarded the Nordic Swan Eco-Label accreditation. In order for brands to obtain this, their products must adhere to a super strict criteria in terms of their environmental focus, so it's pretty safe to say that they're much better for the world around us than most disposable diapers! They're among the most eco-friendly diapers available as 95% of all waste produced in their manufacture is recycled. They also arrive at your door in fully recyclable packaging.
Are they biodegradable?
But what about when they've been used? As with many eco-friendly disposable diapers, Bambo Nature diapers are partly compostable – 75% of the materials they use are biodegradable. The company says that they're commercially compostable, and advise contacting an approved facility or compostable diapering service where you live.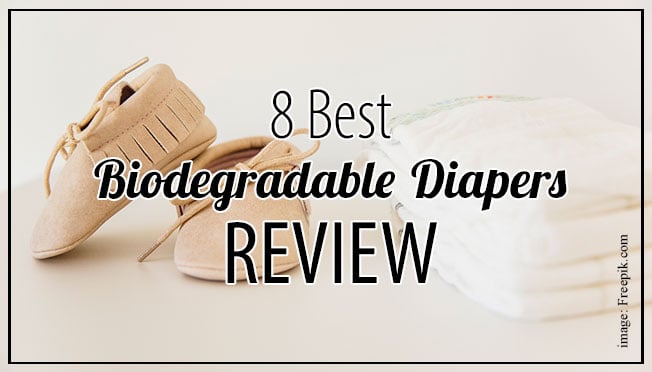 For alternatives to Bambo Nature which are also biodegradable and great for the environment, check out my 8 Best Biodegradable Diapers Review, for the lowdown on the pros and cons of some of the best known biodegradable diapers on the market!
How effective are Bambo Nature Diapers?
It's all well and good buying diapers for their eco credentials, but we still need them to be there for us when it comes to protecting babies and preventing leaks. We need a diaper that can handle the worst of the worst poop explosions, in the most awkward of circumstances. On a plane, for example. Yes, this has happened to me. 
So how effective are they? With a layer of super absorbent polymer, which can absorb up to 300 times its mass in liquid, they're sure to keep the leakiest of leaks in tact. They're designed to fit your little one perfectly, which means a comfortable fit for your baby, and no leaks, no matter how much they're on the move!
They're made with very soft sheets that they say make the diaper feel like clothing. We've all used diapers that feel more like a sheet of tarpaulin than something you should be putting on your baby's skin! 
Finally, the Love variety of Bambo Nature diaper includes a wetness indicator, taking the guesswork out of changing your little one. This also helps to reduce waste. The Classic variety doesn't feature this.
Bambo Diaper Size Chart
| | | | | | | |
| --- | --- | --- | --- | --- | --- | --- |
| | Size 1 | Size 2 | Size 3 | Size 4 | Size 5 | Size 6 |
| Weight | 4-11 lbs | 7-13 lbs | 9-20 lbs | 15-40 lbs | 24-55 lbs | 33-66 lbs |
| Units/Bag | 28 | 30 | 33 | 30 | 27 | 22 |
Types of Bambo Nature Diapers
There are actually two types of diapers made by Bambo Nature: classic and love. These varieties of Bambo Nature diapers don't differ too greatly, but there are some differences between them.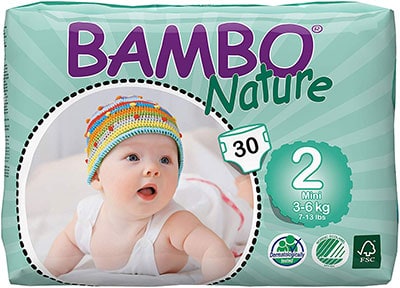 The Classic collection of diapers features diapers that are fully breathable, perfume-free, chemical-free, dye-free, allergen-free, have a classic thicker core design and offer leakage protection. However, they don't have a wetness indicator, or a flexible thinner core design. They're certified by the Nordic Ecolabel, Forest Stewardship Council and Dermatologically tested, but not certified by Asthma Allergy Denmark.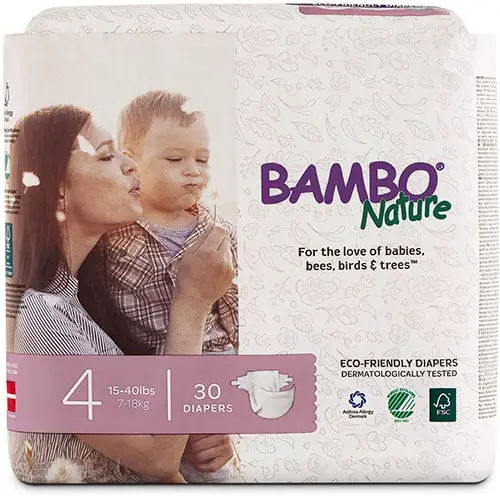 The Love collection, which starts at the same price as Classic, are fully breathable, perfume-free, dye-free, chemical-free, allergen-free, protect against leaks and have a flexible thinner core design. This is different from the Classic diapers, which have a classic thicker core design. The Love diapers also have a wetness indicator, which the Classic variety doesn't have. They're also Nordic Ecolabel, Forest Stewardship Council and Asthma Allergy Denmark approved, as well as dermatologically tested. 
So, even though both diapers contain no allergens, dyes or lotions, if your baby has particularly sensitive skin, it might be better to try the Love diapers, which are certified by Asthma Allergy Denmark. They also feature a wetness indicator, which makes it a lot easier to know when your little one needs a change. 
What do the reviews say?
Don't just take my word for it. With an average of 4.2 out of 5 in over 3,500 reviews for the Classic variety of Bambo Nature diapers, it's safe to say that users are pretty pleased with their performance! Many reviewers comment on how they're just as effective as the well known disposable diaper brands, but, of course, much better for the environment. 
Other users talk about how fantastic they are for little ones with sensitive skin, as they contain no harsh chemicals, dyes, fragrances or lotions, whilst being soft on baby's skin. They're also commended for how they don't leak.
The reviews for the Love variety of diapers are pretty good as well. They average 4.1 out of 5 stars in over 800 reviews. Many reviewers love these diapers because they're great for babies with very sensitive skin. They state how diaper rash is a thing of the past when using these diapers. 
Many users rave about how eco-friendly they are, of course, and others say that they're the only brand they've tried that keep their babies fully dry. No leaks are the best kind!
Where can I buy Bambo Nature Diapers? 
Bambo Nature diapers are great for little ones with sensitive skin, effective when it comes to leak protection, and much better for the environment than most disposable diaper brands. Fancy trying them for yourself? There are a couple of options when it comes to purchasing Bambo Nature diapers, including buying straight from their website, as well as purchasing on Amazon. 
It's easy and simple to buy diapers of all sizes in both the Classic range and Love range from the Bambo Nature website. They also sell bundles of diapers, which work out cheaper than singular packs. And to make things even easier, they offer a subscribe and save scheme, which means they'll deliver the diapers you need every month to your door. Simply choose the products you need and the delivery schedule that works for you, and they'll sort the rest. You can even modify or cancel your subscription at any time, so you're not tied in to any kind of contract and it's simple to alter the number of diapers being delivered to you.


You can also buy in bulk and sign up to the subscribe and save program through Amazon. For example, 6 packs of 30 size 4 diapers as part of the subscription service will cost around 72 dollars, which works out at around 41 cents per diaper, whereas buying a one off purchase will set you back nearly 77 dollars, around 43 cents per diaper. And you can choose to have these delivered at your pace. 
Not only can you save money on the subscription service with Amazon, but they offer what they call the Amazon Family program, which is a great way to get the most out of your money. The Amazon Family Program provides Prime members with offers and coupons for baby, child and family products, as well as up to 20% off diapers and baby food subscriptions. No matter what your budget, savings on top of savings sounds pretty good to me! Plus, you won't need to worry about buying diapers with your other groceries. Sold!
FAQs about Bambo Nature Diapers
1.Do Bambo Nature make nighttime diapers?
While Bambo Nature diapers don't sell diapers specifically made for nighttime, many reviewers have commented on how they're super effective at night, keeping their babies dry and preventing leaks. We all know how important it is to keep a baby comfortable overnight, especially if you're wanting to get at least a couple of hours of sleep, so this is a huge positive! 
2. Do Bambo Nature make training pants?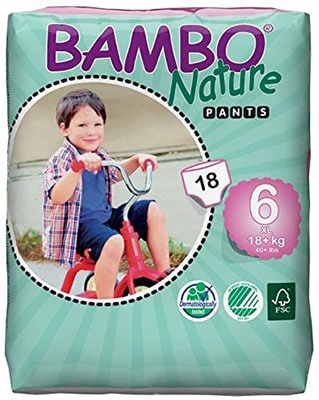 Classic Training Pants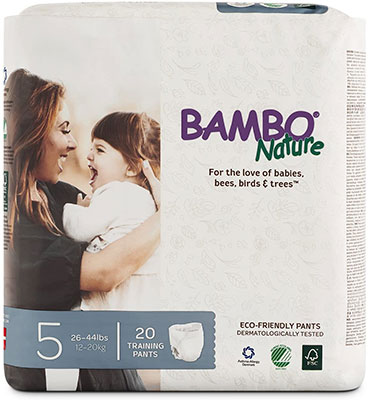 Love Training Pants
Bambo Nature produces Classic training pants and Love training pants, to make potty training a doddle. Well, easier, at least. Both the Love and Classic varieties of training pants are available as one time purchases or can be bought as part of the subscribe and save program. Like with their diapers, Bambo Nature's training pants are free from harmful chemicals and allergens, and feature a thin, flexible and easy to pull up and down design. Their training pants can deal with multiple wettings, even overnight, with their three-layer design and super absorbent core, whilst keeping your little one comfortable and dry with their fully breathable backsheet. 
Again, like with Bambo Nature diapers, their training pants are Nordic Swan Ecolabel certified, FSC certified and dermatologically tested. And they have the same eco-friendly policy when it comes to production, with 95% of all waste being recycled. 
Their Love variety of training pants are just as loved as their diapers, with 4.9 out of 5 on average in over 500 reviews. Users love how super soft they are, and one reviewer has said she's been using this brand of diapers and training pants for 5 years with no complaints at all! Other reviewers love how effective the training pants are, even at night, with no worries about leaks. 
3. Do Bambo Nature sell other baby products?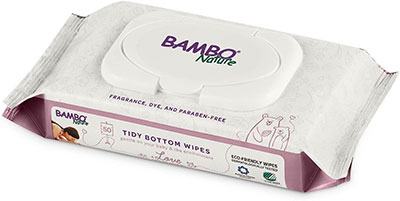 Bambo Nature doesn't just sell diapers and training pants, but a whole host of other products for a baby and mom. Their baby wipes have great reviews and are great for baby's skin as they're free from perfumes, parabens, dyes and brighteners. They're hypoallergenic which is fab for little ones with sensitive skin, and claim to make 'short work' of even the biggest messes!
In terms of products for little ones, they also produce a range of skincare options, from soothing cream to body wash, as well as products for moms, including maternity pads and mineral sunscreen. 
Bambo Nature Diapers alternatives
Luckily for parents and carers, there are so many diapers that are great for baby's skin and equally great for the environment on the market at the moment, with more and more popping up all the time!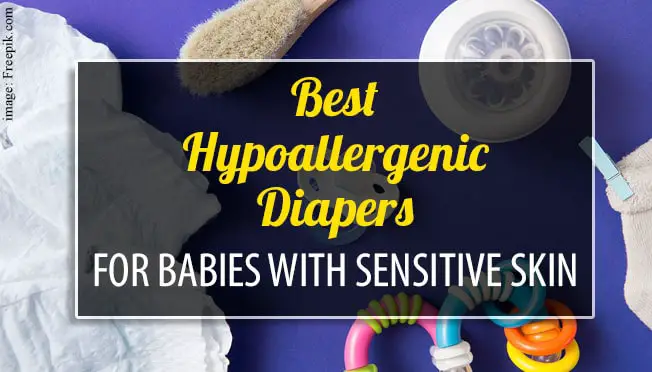 Bambo Nature diapers, given that they're free from chemicals, dyes, lotions and other nasties, are great for little ones with sensitive skin. Check out my article on the best hypoallergenic diapers for sensitive skin for the lowdown on the best of the best, including reviews of Andy Pandy diapers, Dyper and Little Toes.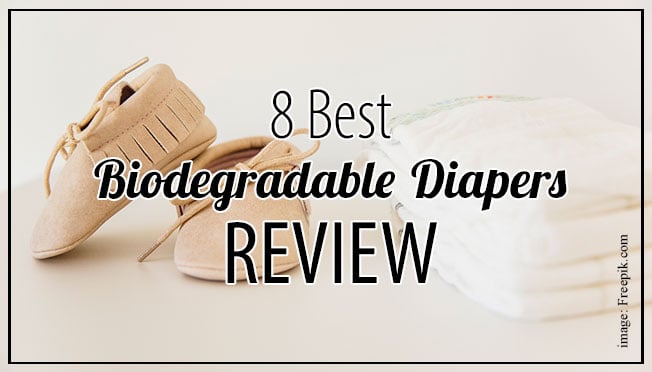 If biodegradable diapers are on your radar, my article on the top eight biodegradable diapers available is all you'll need. I explain what exactly biodegradable diapers are, how to compost them and take a closer look at some of the top selling biodegradable options, including Nest Baby, Eco Boom and Dewor Baby. 
Are Bambo Nature Diapers Worth Trying?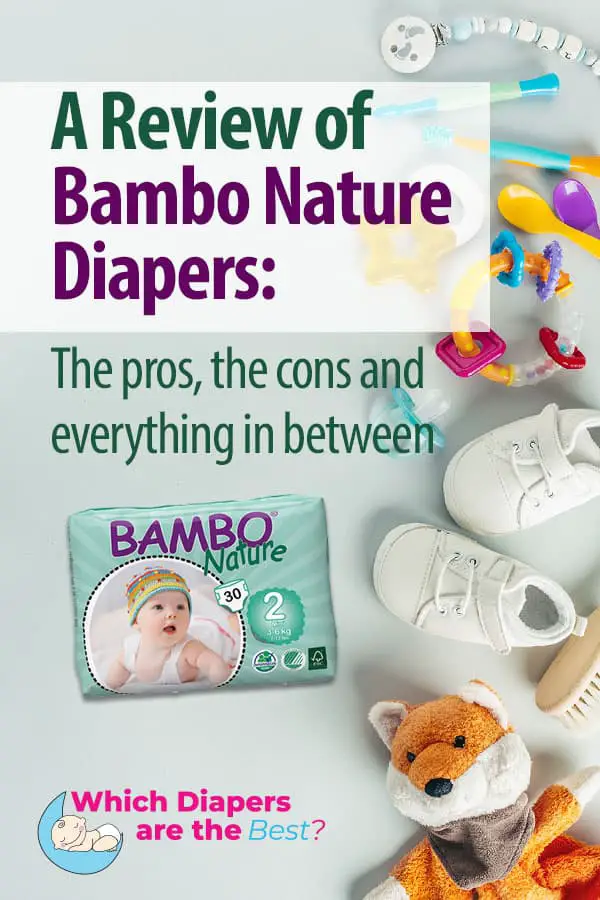 It's fair to say that there's a lot going for Bambo Nature diapers and training pants. When it comes to your baby's skin and making a positive impact on the world around us, Bambo Nature receives two (very) big ticks. 
Not only do they commit to sourcing certified raw materials, stay away from harmful chemicals and other irritants that may harm baby's skin and feature many ingredients which can be composted, but they recycle 95% of the waste that comes from production of the diapers. Kinda seems like they're bragging a little, but you can see why!
They're a great option for parents and carers looking for the best of the best for babies, while being conscious of the devastating impact that most disposable diapers have on the environment around us. And they're super convenient for busy families. Bambo Nature's subscribe and save program means saving dollars on your diapers, while having them delivered to your door. Couple this with the Amazon Family program, and you're laughing all the way to the grocery store (where you will not have to pick up diapers). 
Related Reading