Disclaimer: Earth's Best has not sponsored or endorsed this article in any way. As a mom who's passionate about buying the best for babies, I try really hard to include accurate information in all of my posts. If there are any inaccuracies present, please let me know; I'm more than happy to amend any errors. For more information about Earth's Best diapers, head over to their main site: Earthsbest.com. This review has affiliate links. I may receive a small commission at no extra cost to you if you make a purchase through my affiliate link. Please read my disclosure for more info.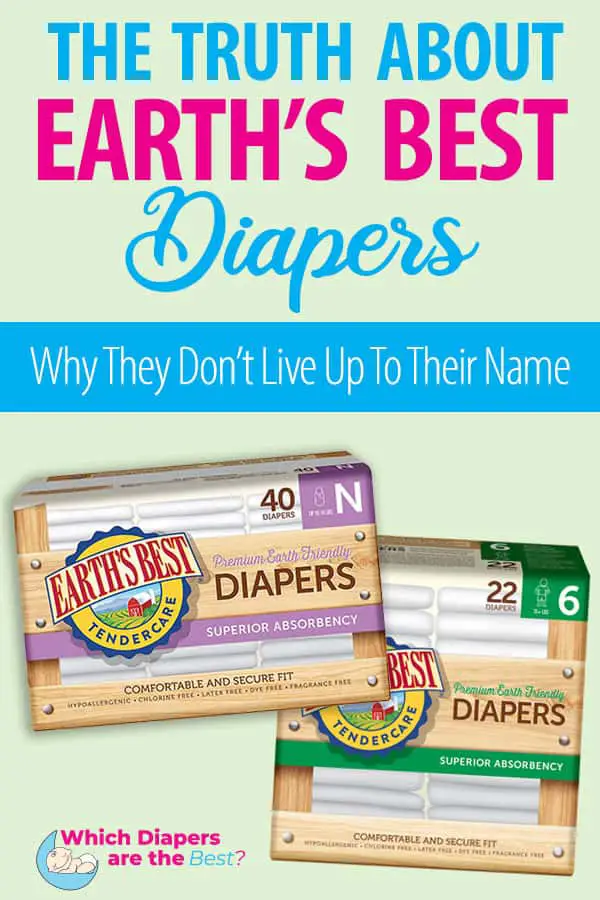 With a name like 'Earth's Best', it's fair to say I'm expecting a lot from this brand. Diapers are just one product they make, along with wipes, formula, baby food, and children's oral care. They clearly know kids! Earth's Best diapers are a pretty popular brand, with eco-credentials, reasonable prices, and the promise of quality just a few reasons as to why. They say they're committed to providing products that are 'better for babies', which is promising, considering our little ones will potentially be wearing these diapers every single day!
But are they all they're cracked up to be? Allow me to dive into the world of Earth's Best diapers to examine what exactly they're made of, if their eco-credentials are legit and if they're a good option for you and your little one!
Everything you need to know about Earth's Best Diapers
What are Earth's Best Diapers made from?
With a name like Earth's Best, it would be fair to expect only the best, most natural materials to be used in their production. While they boast of being chlorine-free, dye-free, latex-free and fragrance-free, it's a struggle to find a full and transparent ingredients list for these diapers. The fact they contain no dyes or chlorine is fantastic, of course, but I always prefer to buy brands, where possible, who are fully open about the materials they use, considering we're putting our little ones in these things every day! 
While they say that their products, in general, are created without genetically-engineered ingredients, and use simple ingredients found in nature, it's a shame that they don't reveal a full list of what these actually are. They do state that their diapers are made with corn and wheat starch for absorbency, but they don't state the percentage used or a full list of ingredients used in their manufacture. Similarly, they state that they're hypoallergenic, so suitable for little ones with sensitive skin, but there could be ingredients used in the diapers that still have the potential to cause a rash. This is especially true considering the use of the term 'hypoallergenic' by diaper companies is unregulated.
Are Earth's Best Diapers eco-friendly?
Again, the brand name really would suggest that their diapers could boast some kind of eco-credentials, but, while they are chlorine-free, which is much better for the environment than using chlorine, the brand doesn't offer much information about the production of the diapers, and whether they're doing anything as a company to reduce their impact on the environment at all. All I can see is that, as they're made with the totally-chlorine free pulp, no dangerous dioxins are released into the environment. This is a great thing, of course, although the majority of diapers that I've seen now steer clear from chlorine in their production, as this can be harmful to the baby, as well as the planet.
Some brands, like Mama Bear Gentle Touch diapers, have a no-waste policy in terms of their production: all waste is either reused or recycled. Many other diapers are made with mainly biodegradable materials, like Andy Pandy or Dyper, which means they can be composted rather than thrown straight into landfills – the wet ones at least. Poopy diapers cannot be composted! These are often made with a sustainable resource like bamboo, which happens to be super absorbent. 
So it's a shame to see that Earth's Best diapers, despite the name, offer no such promises when it comes to their impact on the world. If eco-friendly is really important to you when it comes to finding the right diaper, it might be best to look elsewhere…
How well do Earth's Best Diapers work?
Another big factor, of course, is how well diapers work! Even the most eco-friendly diapers have to be effective; no parent or carer wants to deal with leaks and blowouts at every diaper change. So what makes Earth's Best a good option for your baby?
The company states that they're gentle on baby's skin as they're latex-free, dye-free, and fragrance-free. Their comfy-stretch side panels and grip tabs ensure a secure fit and so serve to prevent leaks. Not only that, but they also have a moisture barrier cuff and breathable sides, to further protect your little one from leaks and disastrous blowouts, and the wheat and corn starch used is super absorbent.
One thing they lack when it comes to effectiveness is a wetness indicator. This isn't absolutely necessary of course, as the more diapers you change the more you'll come to know when your baby needs one! But they really help with wet diapers and for more inexperienced diaper-changers.
Earth's Best Diapers Sizing Chart
| | | | | | | |
| --- | --- | --- | --- | --- | --- | --- |
| | Size 1 | Size 2 | Size 3 | Size 4 | Size 5 | Size 6 |
| Baby Weight | 8-14 lbs | 12-18 lbs | 16-28 lbs | 22-37 lbs | 27+ lbs | 35+ lbs |
| Diaper Count | 44 Count | 40 Count | 35 Count | 30 Count | 26 Count | 22 Count |
Where can I buy Earth's Best Diapers?


The easiest way to get hold of Earth's Best Diapers is to find them online. They have their own website, can be found at certain branches of Super Target, and are available at Amazon. Amazon offers all of Earth's Best's sizes – newborn to size 6 (provided they're in stock, of course!), and they usually offer the best prices. Shopping online will give you immediate access to the full range, and they'll be delivered to your door. This is never a bad thing when you've got a little one – or two, or more! – to look after.
How much do they cost?
As with all diaper brands, the cost will vary depending on the size of the diaper and the size of the pack. Earth's Best will cost you somewhere around 39 cents per diaper, which isn't the cheapest on the market, but there are also more expensive brands out there, so it's pretty much in the middle when it comes to price. 
If you're looking for diapers on a budget, they're probably not the best choice, as you can find much cheaper diapers that make the same promises in terms of their effectiveness: Mama Bear Gentle Touch, for example, which cost around 16 or 17 cents per diaper.
Related Post: Mama Bear Diapers: Budget-Friendly Diapers That Beat The Opposition!
What do the reviews say?
So do Earth's Best Diapers live up to their name? And how effective are they? It goes without saying that all brands will tell you that their product is best, and list all the positive reasons why this is so. But when they're actually tried and tested, what do parents think?
It's safe to say that reviews of Earth's Best diapers are pretty mixed. There are, of course, plenty of positive reviews for the diapers, with parents liking the fact that they're chlorine-free, latex-free, and dye-free. Latex allergies aren't super common, but they can occur in little ones, so the absence of this is, of course, much safer. Other users love that Earth's Best diapers are soft, very absorbent, and great at keeping blowouts under control!
One user does point out, however, that the company doesn't offer any information about what's used in their print, and they question the fact that they boast of being dye-free. Others point out that they don't state whether they're phthalate-free or lotion-free. Inclusion of either of these could irritate the baby's skin, despite their claim to be hypoallergenic. 
In terms of Amazon reviews, they're also not the best compared to other similar brands, with 4 out of 5 on average in over 1800 reviews. 4 out of 5 isn't terrible, of course, but most brands I've looked at so far have a higher rating. Users say that Earth's Best holds in wetness pretty well, but aren't accurate on sizing. 
FAQs
1.Are Earth's Best Diapers chlorine-free?
So why is chlorine, or lack of chlorine, such a big deal when it comes to diapers? The use of chlorine is more of an environmental issue than a health issue, but given that it can pollute water, be toxic for wildlife and deplete the ozone layer, it's obviously better to avoid it!
Earth's Best Diapers are, fortunately, chlorine-free, so this gives them one tick when it comes to eco-friendly credentials. 
2. Are Earth's Best diapers phthalate-free?
What on earth are phthalates, I hear you cry! Despite not really knowing how to pronounce it, I do know that phthalates should be avoided where possible. You'd think this chemical would be safe, considering it's often used in every-day items like vinyl flooring, cosmetics, and children's toys. Studies have found that long-term exposure to phthalates can increase the risk of eczema and asthma in children (1) and, most shockingly of all, can even result in abnormal genital development in little boys.
So when I say that phthalates continue to be used in some diapers, I imagine you're as outraged as I am! Even though experts have campaigned for brands to test their diapers to prove they're safe for our babies, they're still not required by the FDA to do so. This means that, unless they specifically state that they're free from phthalates, brands could still be using them in their products. 
Unfortunately, Earth's Best diapers don't state on their site or on Amazon that they're phthalate-free. But don't worry; there are so many brands out there that explicitly state that they're free from these potentially harmful chemicals, that it's not hard to find brands that are: Dyper, Ecoriginals and Bambo Nature, to name just a few.
Read Next: Ecoriginals Diapers Review, 2023: The Greenest Diaper On The Market?
3. Are Earth's Best Diapers good for the environment?
Despite the lack of chlorine bleaching used in Earth's Best diapers, the company doesn't offer much in the way of eco-friendly facts about their brand or their diapers. They do state that they use natural resources, but, unfortunately, don't go on to provide a full list of what these are. We know that they include wheat and corn starch – which are plant-based – but who's to say what else is hiding in their diapers? It's likely that it's not all great for the planet…
4. Are Earth's Best Diapers biodegradable?
No, the company does not state anywhere that their diapers are biodegradable. Most biodegradable diapers on the market can't attest to being 100% biodegradable, but they tend to contain a large majority of ingredients that are. This means that, instead of going straight into landfills, they can be composted, either at home or by a professional composting service. Check out my top biodegradable diapers article for the lowdown on the best biodegradable diapers on the market, and how to get started!
5. What other products do Earth's Best make?
You may have come across Earth's Best on baby food or toddler snacks before you knew they made disposable diapers! Earth's Best is a company specializing in products for little ones, and diapers are just one part of their business. While they don't claim that any of the ingredients used in their diapers are organic, they do offer a large range of organic baby and toddler foods, from formula and purees to smoothies and granola bars. Earth's Best also offers a special range of gluten-free foods for little ones, as well as various oral care products. 
6. What are some alternatives to Earth's Best diapers?
Whether you're looking for budget-friendly, eco-friendly or baby-friendly diapers, there are so many fantastic options out there that, unfortunately, trump the Earth's Best brand. Check out my guides to the best hypoallergenic diapers and biodegradable diapers here!
In terms of budget-friendly, just because you don't fancy paying the earth for diapers doesn't mean that you can't find cheaper diapers that are good for your wallet and good for the earth. Mama Bear Gentle Touch diapers, for example, are a fantastic price at around 16 or 17 cents per diaper, are hypoallergenic, and produced in a no-waste facility; this means that all waste produced from the manufacture of the diapers is either reused or recycled. 
Plus, if you sign up for the Amazon Family program, you'll get 20% off diaper subscriptions, making them even cheaper. Time for a treat, I think!
The good, the bad and the bottom line
While Earth's Best diapers don't really stand out in such a packed market, there are some positives that come with the brand. Unfortunately, there are also some downfalls…
The Good
The Bad
◆  They're chlorine-free
◆  Hypoallergenic (although this isn't regulated by the FDA)
◆  Latex-free
◆  Dye-free
◆  Fragrance-free
◆  Gentle on baby's skin
◆  They have comfy-stretch side panels and grip tabs
◆  Available in sizes Newborn to 6
◆  Made with absorbable corn and wheat starch
◆  They have a moisture barrier cuff
◆  No wetness indicator
◆  They're not the cheapest brand on the market
◆  They don't provide a full list of materials used
◆  They're not biodegradable
◆  They have mixed reviews
◆  They don't have many eco-credentials
◆  They may contain phthalates
The bottom line
As much as I wanted to say that Earth's Best Diapers live up to their name, there's nothing to suggest that they are particularly beneficial to the planet, or to your baby. This is perhaps because there are so many brands emerging that are trying their hardest to minimize their impact on the environment while providing softness, comfort, and leakage protection for your baby.
They're not super expensive, but they're not budget-friendly either, and there are so many brands that charge a similar amount or less and give you more bang for your buck. Plus, while there are some positive reviews of the diapers – they're absorbent and it's great that they're chlorine-free – there are also quite a few negative ones, with users saying that their lack of transparency when it comes to ingredients is off-putting. 
Ultimately, in all categories – budget-friendly, eco-friendly and baby-friendly – there are better brands out there. Sorry Earth's Best – it just doesn't seem that you are!
References:
Jaakkola, J. J., & Khinght, T. L. (2008). The role of exposure to phthlates from polyvinyl chloride products in the development of asthma and allergies: a systematic review and metaanalysis. Environ Health Perspect, 116(7), 845-53.
Related Reading