With a name like Babyganics, I'm certainly expecting their Skin Love Diapers to be great for babies and great for the planet. The company's on a mission to raise 'the next generation of healthy, happy babies' and pride themselves on parents loving their products. These products must be both effective and kind to the world around us, in their words, so I'm expecting big things when it comes to their safety and eco-friendly credentials!
Babyganics are specialists in products for babies and little ones, and offer everything from sunscreen and laundry detergent to hand sanitizer and bubble bath. But, of course, we're looking at their diapers, and whether or not they're as good for parents, little ones, and the world as they claim to be.
So what are Babyganics diapers, and are they right for you and your family?
Disclaimer: Babyganics Diapers has not sponsored or endorsed this article in any way. As a mom who's passionate about buying the best for babies, I try really hard to include accurate information in all of my posts. If there are any inaccuracies present, please let me know; I'm more than happy to amend any errors. For more information about Pampers Diapers, head over to their main site: babyganics.com This review has affiliate links. I may receive a small commission at no extra cost to you if you make a purchase through my affiliate link. Please read my disclosure for more info.
Everything you need to know about Babyganics Diapers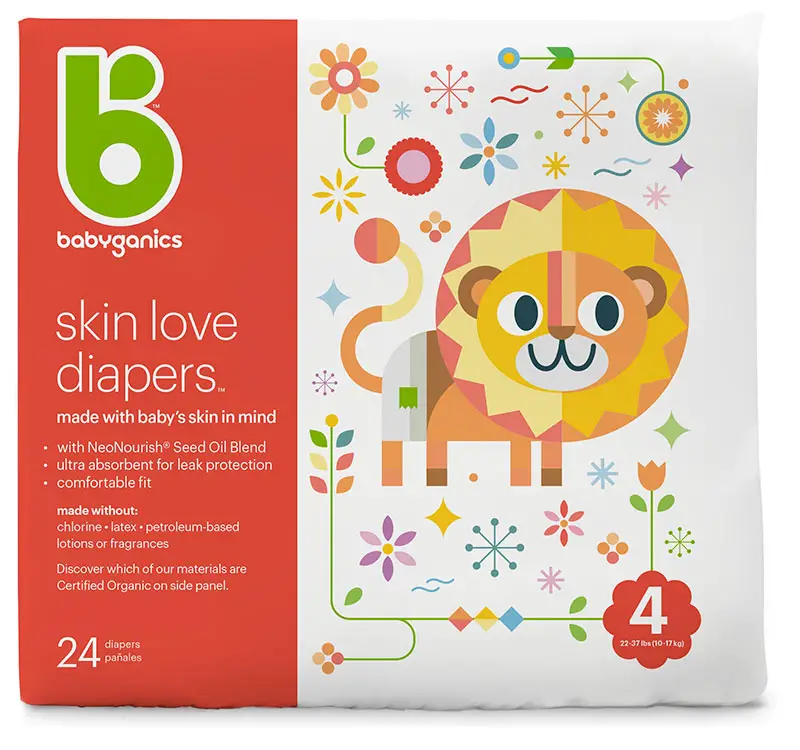 What are Babyganics Diapers made from?
A huge positive when it comes to Babyganics Diapers is that some (not all) of their ingredients are certified organic, which is a fantastic start for you and your little one. While there are plenty of diaper brands that make their ingredients known, so that parents and carers can make an informed choice, many others are incredibly evasive about what goes into their diapers. And, considering that we're putting these diapers on our babies every single day, it's kinda important! Having said that, what immediately lets Babyganics down is that there is an 'ingredients' tab on their site, with no list of materials! It's only after a lot – and I mean a lot – of digging, that I found a list of ingredients used. Why this information doesn't appear on the product page, I'm not quite sure!
Babyganics say that their diapers' super-absorbent core blend is produced with renewable, plant-based material: totally-chlorine free fluff pulp. They similarly use really soft, non-woven materials for the back sheet, top sheet, cuff, and stretchy side wings. Non-latex elastic leg closure is used for reducing the risk of leaks, along with a NeoNourish seed oil blend, which the company says is their own blend of sunflower, cranberry, tomato, raspberry seed oils, and black cumin. 
Of course, what's just as important as what goes into them, is what they steer clear from. In terms of being super safe for baby's skin, ideally, we'd like brands to stay away from dyes, lotions, fragrances, and phthalates. Babyganics Skin Love Diapers state that they contain no latex, petroleum-based fragrances or lotions, and no toxins. Unfortunately, although you would assume that they're phthalate-free, this isn't confirmed on their diaper page. Not sure what phthalates are? Neither was I…
Although I'm still not 100% sure about the pronunciation, what I do know is that phthalates are potentially harmful chemicals that can, believe it or not, be found in everything from vinyl flooring to children's toys… and diapers, of course. Despite increasing the risk of eczema and asthma in children (1) when they're exposed to it, and even increasing the risk of genital abnormalities in boys, phthalates are not FDA regulated. So brands don't have to avoid using them, nor do they have to state whether they do! 
This is pretty shocking, of course, but what's even more shocking is the number of brands who do not state clearly whether they use these chemicals. You would assume that, with a name like Babyganics and their talk of using plant-based materials, that they'd steer clear. Even though it's tough to find anything about their use of phthalates on the Babyganics site what they do say (after lots of digging!) is the following:
'We err on the side of caution and avoid using ingredients like parabens, phthalates, and synthetic fragrance'.
However, this is in response to the question, 'Are Babyganics skincare products non-irritating?'. Whether their definition of skincare products includes diapers is a mystery…
Strangely, Babyganics love to shout about their other baby products being phthalate-free on their specific pages, like some of their baby wipes and sunscreens. It's such a shame that they don't make this clear on the diaper page. So even after a heck of a lot of researching, when it comes to Babyganics and phthalates, I'm none the wiser! They also don't state anywhere that their diapers are hypoallergenic, so if you have a little one with really sensitive skin, I would go for a brand that focuses on this.
It's also worth pointing out that Babyganics Ultra Absorbent Diapers were recently rebranded, and are now called 'Skin Love' Diapers. Although they've rebranded, from my research it looks like some sites are still selling both packs. Rest assured that they're the same diaper, just with a different name!
Are Babyganics Skin Love Diapers eco-friendly?
Babyganics' use of plant-based materials and avoidance of chlorine is a start when it comes to their eco-credentials. Plant-based materials like wood fluff, which is used in the production of Babyganics diapers, and bamboo are undoubtedly better for your baby and for the planet than plastics. 
Another big nod to the environment is their lack of chlorine. Chlorine bleaching is pretty common for a lot of diaper brands but is terrible for the environment. So the fact that Babyganics are chlorine-free is a massive plus!
Despite these positives, Babyganics aren't biodegradable, which is the holy grail when it comes to eco-friendly disposable diapers. Unfortunately, no matter how many plant-based materials are used in diapers, they're all ultimately going to the same place: landfill. Biodegradable diapers, on the other hand, are much kinder to the world around us, because the wet ones (not the poopy ones) can be composted. So a big improvement that Babyganics could make is to go down the biodegradable route, like so many other brands are!
Other brands also do their bit for the environment by introducing no waste policies. Mama Bear Gentle Touch diapers, for example, reuse or recycle all waste produced in the manufacturing of their diapers. That's dedication right there! 
How well do Babyganics Skin Love Diapers work?
Babyganics diapers talk of being incredibly absorbent and offering superior comfort for your baby. They have soft stretch sides to allow baby flexibility, and a thin design so that she doesn't feel restricted. 
The addition of a wetness indicator is super useful, as it takes the guesswork out of changing, and their 'triple-layer core' seems to back up their statement about great absorbency. 
What's pretty unique about Babyganics is their NeoNourish Seed Oil blend, of plant-based ingredients like sunflower, raspberry seed oils, and cranberry, designed to nurture and support baby's skin. 
So it certainly sounds like a recipe for an effective, safe diaper.
Babyganics Diapers Size Chart
| | | | | | | | |
| --- | --- | --- | --- | --- | --- | --- | --- |
| | Newborn | Size 1 | Size 2 | Size 3 | Size 4 | Size 5 | Size 6 |
| Weight | 0-10 lbs | 8-14 lbs | 12-18 lbs | 16-28 lbs | 22-37 lbs | 27+ lbs | 35+ lbs |
Where can I buy Babyganics Skin Love Diapers?
Babyganics Skin Love Diapers are pretty easy to get your hands on. They're available online at Amazon and their company site and in Target, Walmart, and Buybuy Baby stores. So you can either pick up a pick while you're doing your grocery shopping or get them delivered straight to your door!
I personally prefer the delivery option. As all parents know, packs of diapers can be deceptively heavy!
How much do they cost?
*Prices were accurate at the time this article was published but may change over time.
Cost is a hugely important factor when it comes to buying diapers. Price per diaper can vary wildly, with budget diapers costing as little as 10 cents per product and the more expensive brands, up to 60+ cents per diaper. While it's important to look for the brand that will provide the best for baby's skin and for the planet, your budget has to be taken into consideration too. So what's the deal with Babyganics?
Babyganics diapers can be purchased in-store or online at Walmart, who stock sizes 1 through 6. Prices per diaper range from a very budget-friendly 21 cents per product in the size 1 pack to a more expensive 46 cents each when looking at the pack of size 6. These prices certainly aren't bad considering you do tend to pay more for plant-based materials, especially when you're buying the smaller sized diapers. Plus, they'll deliver to your door for free when you spend $35!

You can also get free delivery when you spend $35 with Target, who stock Babyganics Diapers in sizes newborn to 6. With prices ranging from an amazing 20 cents per diaper for size 1 to around 51 cents per diaper when it comes to size 6, they're pretty similar to Walmart's prices. However, Red Card users can save 15% on diaper subscriptions, which is a pretty fantastic saving!
And there's always trusty Amazon… 


Although, some of their prices don't seem to match up with the likes of Target and Walmart, with a pack of newborn diapers costing a whopping 74 cents per diaper. Their size 1 pack works out at a more reasonable 27 cents per diaper and their size 2 is even better 25 cents. Of course, if you're an Amazon Prime member, it's great to be able to get diapers delivered next day for free, and there's also the Amazon Family program to consider: members get a whopping 20% off of subscriptions to baby products like diapers and formula. 
All in all, the prices aren't bad at all for what you're getting. Diaper brands that pride themselves on using natural ingredients and being great for baby's skin (despite the lack of a 'hypoallergenic' label) have a tendency to charge a lot more, so they're pretty on par with others when it comes to cost, and particularly cheap if you're buying the smaller sizes.
What do the reviews say?
With Babyganics Ultra Absorbent or Skin Love diapers being available at so many retail stores, it's easy to find reviews from parents and carers. While Babyganics sound pretty decent on paper, what matters is how well they work in the real baby world!
Looking at the Walmart site first, Babyganics have definitely impressed. They average 4.6 out of 5 in just under 70 reviews, with the vast majority scoring them 5 out of 5. While 70 reviews aren't many, the reviews are pretty glowing. One user said they can't believe how absorbent they are, to the point of being effective overnight. Another said that they're great for their little one, who has sensitive skin, and they've never experienced leaks. 
There are also glowing reviews aplenty on Target's site, with an average of 4.4 in over 300 reviews, and 85% of users have stated that they'd recommend the diapers. Users like how soft the diapers are, and, again, their absorbency, although some say that the wetness indicator isn't always effective.
Heading over to Amazon, and reviews are a little more mixed. Averaging 4.1 out of 5 in just under 150 reviews, while most are very positive, other users have different feelings about their absorbency, saying that they haven't found them leak-proof at all and that they don't deal well with blowouts. There's also mention of the wetness indicator not working properly on these diapers, so this is something to bear in mind!
Frequently Asked Questions about Babyganics Skin Love Diapers
1. Are Babyganics diapers safe?
Babyganics is a brand that prides itself on producing safe products for little ones, or so they claim, at least. They state that they use plant-derived, certified organic ingredients, and only carefully chosen synthetics and preservatives that are crucial, producing gentle and effective formulas. 
We know that their diapers are produced using totally chlorine-free wood pulp, and they avoid using latex or added fragrances, so, in theory, they should be good for little ones with sensitive skin. However, they do not state that they're hypoallergenic, so if it's really important to you to find skin-sensitive diapers, I'd probably look elsewhere. 
And back to my arch-nemesis, phthalates, despite research, it's pretty difficult to determine whether they're used in Babyganics' diapers. They explicitly state that they avoid the use of them in their skincare products, but whether this includes baby diapers is still uncertain!
2. Are Babyganics diapers biodegradable?
Despite their use of plant-based materials, Babyganics diapers don't make a claim to be biodegradable. While even 'biodegradable' diapers aren't fully compostable, it's unfortunate that Babyganics aren't providing this option for eco-conscious parents and carers. 
So, despite their use of fruit and vegetable ingredients and chlorine-free wood fluff, these diapers will all wind up in the same place as other disposable diapers: landfill!
It's hoped that Babyganics make steps towards producing a biodegradable diaper, given that they endeavor to be great for babies and great for the world around us. 
3. Babyganics diapers vs Honest company. Which one is better?
Comparing two brands is tough, as opinions will differ depending on priorities, of course. But I do often hear Babyganics and Honest diapers uttered in the same breath, as they both focus on better products for our baby's health. So which is better?
Both are made from chlorine-free wood pulp, among other plant-based ingredients, and only use plastics when necessary. The brands are also pretty similar in terms of what they don't use. Honest stay away from latex, fragrances, chlorine, and lotions, while Babyganics steer clear of chlorine, latex, and petroleum-based lotions and fragrances. The big difference in the brands, though, is their use of phthalates. 
As I've already mentioned (and complained about – sorry) is the vagueness surrounding the use of phthalates in Babyganics diapers. They do explicitly state that they avoid them in their skincare products, but there's no information on whether they're used in their diapers. In contrast, the Honest Company does state that they avoid phthalates and, considering how potentially harmful they are to us and our little ones, this puts them ahead.
They both have pretty similar reviews, with most users loving their quality, but the price is pretty different. While the Honest Company diapers will set you back between 32 cents and 60 cents per diaper, you can buy Babyganics diapers for as little as 21 cents. So they are a little cheaper on average…
Ultimately, Babyganics' vagueness when it comes to their use of phthalates does put me off as a parent. That's not to say that the Honest Company diapers will be more effective, but we do know that they steer clear of this toxic chemical, which is a massive positive. Having said that, there are lots of companies, like Andy Pandy and Dyper diapers for example, who steer clear of phthalates, are more eco-friendly, and don't cost as much. Check out my full review of Honest Diapers, as well as my top picks for the best biodegradable diapers on the market!
---
4. Did Babyganics change their diapers?
Yes! Babyganics diapers used to use the label 'Babyganics Ultra Absorbent Diapers', packs of which you can still find in stores and on Amazon. They recently rebranded and now use the label 'Babyganics Skin Love Diapers'. These are the same diapers though, so don't be put off by the change of name!
The good, the bad and the bottom line
As with all diapers, the Babyganics brand has its positives and negatives. But, ultimately, are they worth a shot? What's good about them, what could be improved and should they be on your list of diapers to try?
The Good
The Bad
◆   Made from chlorine-free wood fluff
◆   They feature a NeoNourish seed oil blend, which is gentle on baby's skin
◆   They claim they're ultra-absorbent, which most users tend to agree with
◆   Most materials used are certified organic
◆   Latex-free
◆   Free from petroleum-based fragrances and lotions
◆   They have a wetness indicator
◆   Flexible for baby
◆   Available in-store and online
◆   The smaller sizes are very budget-friendly
◆   They claim to have premium leak control
◆   Most reviews are very positive
◆   I'm still confused as to whether they use phthalates, which is a big concern
◆   They're not biodegradable
◆   Some say the wetness indicator isn't effective
◆   Their larger sizes are arguably on the expensive side
◆   Not free from dyes
◆   They don't state that they're hypoallergenic
The bottom line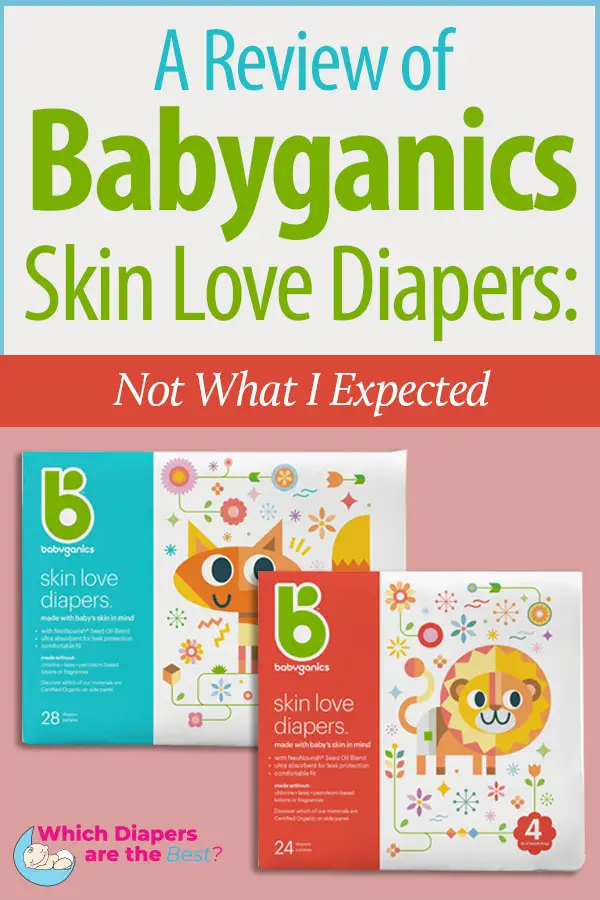 While Babyganics have great branding, along with a fantastic mission statement and ethos, their diapers just don't seem to live up to the hype. It's great that they avoid the use of environment-damaging chlorine and are produced with plant-based materials, but they're not biodegradable, so they will end up in a landfill like all other non-compostable disposable diapers. They claim to be made with baby's skin in mind, but they also don't state that they're hypoallergenic, so I would personally choose another brand if my little one had sensitive skin, just to be on the safe side. 
Reviews are positive on the whole, with some users not experiencing the ultra absorbency as Babyganics promise, but, of course, what works for one baby might not work for another!
Ultimately, what makes me question Babyganics Ultra Absorbent/Skin Love diapers is the amount of effort it takes to decipher whether phthalates are used. And after a long time digging and researching (to the point where I felt like I was back at college), I'm still not sure! Considering how important it is for baby's health to avoid phthalates, and with Babyganics not being clear about whether their diapers use them or not, they're not coming out on top of my recommended list. 
Sorry, Babyganics! As a busy parent, I don't want to have to spend hours checking whether diapers are safe for my little one… mainly because I don't have those hours. 
Parent problems…
References
Jaakkola, J. J., & Khinght, T. L. (2008). The role of exposure to phthlates from polyvinyl chloride products in the development of asthma and allergies: a systematic review and metaanalysis. Environ Health Perspect, 116(7), 845-53.
Related Reading