With a name like Eco Boom, you'd hope these bamboo baby diapers would be kind to the environment. And it's never been so important to choose sustainable products, if we're going to protect the world for generations to come, at least. 
The majority of disposable baby diapers are, unsurprisingly, a huge contributor to landfill sites. Most are made predominantly with plastics and we all know how long that horrible, non-renewable material sticks around for – at least a few hundred years, if not more. 
Eco Boom is just one of the many brands changing the game when it comes to planet-hugging baby products. So what makes them so great? And should you buy them for your baby?
Here's everything you need to know about Eco Boom diapers!
Disclaimer: Eco Boom diapers has not sponsored or endorsed this article in any way. As a mom who's passionate about buying the best for babies, I try really hard to include accurate information in all of my posts. If there are any inaccuracies present, please let me know; I'm more than happy to amend any errors. This review has affiliate links. I may receive a commission at no extra cost to you if you make a purchase through my affiliate link. Please read my disclosure for more info.
Everything you need to know about Eco Boom Diapers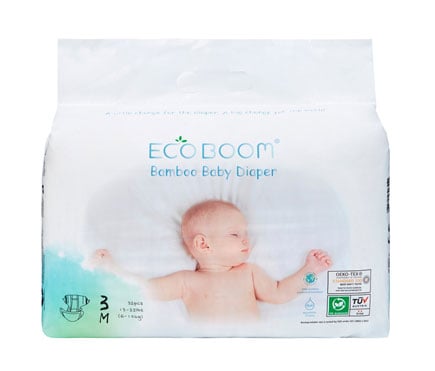 What are Eco Boom Diapers made of?
Eco Boom diapers have 100% bamboo fiber topsheet and backsheet that are completely biodegradable. The super absorbent core consists of FSC certified chlorine-free wood pulp and traditional SAP. SAP is, essentially, what makes the diaper absorbent. It's always made of plastic, unfortunately, but scientists are working on a biodegradable alternative. 
Topsheet and backsheet – 100% bamboo fiber
The absorbent core – FSC Certified Chlorine free wood pulp and traditional SAP
What are Eco Boom Diapers free from? 
It's just as important to know what ingredients diapers are free from. We want the diaper to be as natural as possible, with no harmful toxins or chemicals. So what should we try to avoid?
Chlorine

Chlorine is often used to make diapers more absorbent, but it's completely unnecessary. There are lots of eco-friendly ways of doing this, so look for diapers that are completely chlorine-free. You might see some diapers labeled elemental chlorine-free. This is better than nothing, but there's still chlorine present, so totally chlorine-free is preferable.
Phthalates

Phthalates are often used in diapers, although you wouldn't know it. It's not like many companies are transparent about their use. They're actually used to improve diapers' durability, but they're, again, unnecessary. These chemicals have been linked to abnormal genital development in boys as well as asthma and eczema. Suffice to say, it's best to avoid them!
Fragrances, lotions, and dyes

Fragrances, lotions, and dyes are common additions to disposable diapers. All are potential irritants and not great for a baby's skin. The terms can be used to cover up a bunch of chemicals and toxins present in the ingredients, so it's best to look for diapers that avoid them. 
It's fine if diapers use water-based inks, but regular dyes usually contain heavy metals. These can irritate the skin, so unless a company states explicitly that they use water-based inks, it's safe to assume they use heavy metals. 
Where Eco Boom Diapers are made?
Eco Boom diapers are made in China and available in the UK, US and Australia.
Are Eco Boom diapers biodegradable?
The majority of the ingredients in Eco Boom diapers are biodegradable, although we're not given a specific percentage. All eco-friendly diapers have a little plastic. You'll find super absorbent polymer in all diapers because that's the bit that wicks away the moisture. This is always made from plastic, but hopefully, there'll be some eco-friendly alternatives in the future.
Related Post: Top Picks for the Best Biodegradable Diapers on the Market
How well do Eco Boom Diapers work?
Eco-friendly doesn't mean compromising on effectiveness. 
Bamboo is the perfect material for baby diapers: it's soft, strong, and super absorbent. So Eco Boom diapers will have no trouble wicking away moisture and keeping your baby dry. They have a super absorbent core, natural aloe oil to keep the baby's skin and the diaper itself soft, and a triple elastic fastener to keep the diaper securely in place. There's also a wetness indicator to let you know when your baby needs to be changed.
Read More: The Best Bamboo Diapers On The Market: Join The Eco-Friendly Diaper Revolution!
Eco Boom Diaper Size Chart 
| | |
| --- | --- |
| Size | Weight |
| S | 6-16lbs (3-8kg) |
| M | 13-22lbs (6-10kg) |
| L | 20-31lbs (9-14kg) |
| XL | 26lbs+ (12kg+) |
Where to buy Eco Boom Diapers? 
Eco Boom diapers are available on Amazon. A 74 pack of medium diapers (for 13lbs-22lbs) will set you back about 40 bucks, or 51 cents per diaper. While that's a bit more than budget-friendly diapers, it's not a terrible price for a biodegradable diaper. 
You can make them cheaper by signing up to the Amazon Family Program, which is completely free for Prime members. It'll give you access to parenting tips, offers, and up to 20% off the baby diaper and baby food subscriptions. It's definitely worth getting, especially if you're already signed up to Prime!
What do reviews say?
The reviews for Eco Boom diapers are really positive. In fact, they average 4.4 out of 5 in over 270 reviews on Amazon. One user said they're super absorbent, even overnight. They seem to be pretty good at stopping leaks, with many reviewers saying they haven't experienced leaking at all with Eco Boom diapers. 
And, of course, parents love that Eco Boom diapers are plant-based and biodegradable like every diaper should be!
FAQ about Eco Boom diapers:
1. Do they sell Eco Boom training pants?
Eco Boom produces both diapers and training pants. Like their regular baby diapers, the top and back sheets are biodegradable. They have a stretchy waistband for your baby's comfort and have a fit of underwear. 
Eco Boom's training pants are available in sizes medium, large, extra large, and extra extra large. 
| | |
| --- | --- |
| Size | Weight |
| M | 13-22lbs |
| L | 20-31lbs |
| XL | 26-37lbs |
| XXL | 35lbs+ |
A pack of XXl Eco Boom training pants will set you back 44 cents per diaper on Amazon, which isn't a bad price for larger pants at all. They have great reviews, just like Eco Boom's regular baby diapers and you can save money by signing up to the Amazon Family Program. 
Eco Boom Diapers alternatives
With so many of us looking for eco alternatives to plastic products like baby diapers, the market is (luckily) full of options. Eco Boom diapers are a brilliant choice, but what are the alternatives?
The best diapers for your baby's skin and for the planet are those which are plant-based, completely free of toxins, and, in an ideal world, biodegradable. Some of my favorite companies, which offer these amazing products, include Little Toes, Dyper, Nest, and Eco Pea. In fact, Dyper and Eco Pea go a step further and put their diapers in biodegradable packaging.
Related Post: Eco Pea Diapers Review: Super Soft, Sustainable And Saving The Planet
Related Post: Dyper Diapers Review: Eco-Friendly, Skin-Friendly And Bank Account-Friendly
If you're looking for eco-friendly on a budget, look no further than Hello Bello. This Hollywood diaper company was founded by Kristen Bell and her husband; they offer non-toxic, plant-based diapers, although they're not biodegradable. They're about 30 cents per diaper though, which is a great price for a planet-friendly diaper. 
Related Post: What Are The Best Organic Diapers On The Market, And Why You Should Look For The Most Natural Ingredients
Eco Boom Diapers: are they any good?
Conclusion
I'm pretty impressed with Eco Boom diapers. You can't say fairer than plant-based, chemical-free, and biodegradable. They tick all the boxes when it comes to the most eco-friendly disposable diapers, although they're a little more expensive than some other environmentally-friendly brands. 
Choosing plant-based rather than plastic means fewer non-renewable resources used. Add biodegradable to the list and many of your used baby diapers won't be clogging up landfill sites. 
Eco Boom is just one of the many companies putting the planet – and your baby's skin – first. And future generations will be grateful that they are…
Related Reading