When it comes to choosing the right diapers for your little one, it can be a bit of a minefield. With so many brands on the market, and more and more popping up every week, how do you choose the best for your baby, your bank balance and the planet?
Rascal and Friends is a company from New Zealand, promising premium diapers at affordable prices. They have some pretty fancy-sounding features, so I'm expecting big things!
But it's not only a diaper's effectiveness that we have to think about when picking the right diaper for our babies. With so many hidden chemicals lurking in diapers and their terrible impact on the planet to consider, how do Rascal and Friends diapers compare?
Here's everything you need to know about these premium diapers – what they're made of, what they're free of and if you should give 'em a go!
Disclaimer: Rascal and Friends Diapers has not sponsored or endorsed this article in any way. As a mom who's passionate about buying the best for babies, I try really hard to include accurate information in all of my posts. If there are any inaccuracies present, please let me know; I'm more than happy to amend any errors. For more information about Rascal and Friends Diapers, head over to their main site: www.rascalandfriends.com. This review has affiliate links. I may receive a small commission at no extra cost to you if you make a purchase through my affiliate link. Please read my disclosure for more info.
Everything you need to know about Rascal and Friends diapers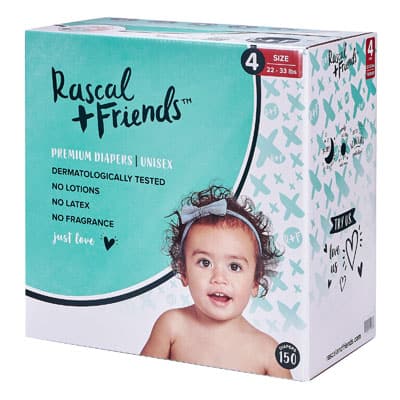 What are  Rascal and Friends diapers made of? 
Rascal + Friends makes their ingredients super clear on their site. Their materials include sustainable fluff pulp, polypropylene nonwoven fabrics, SAP (super absorbent polymer), polyethylene film, fastenings, and elastics. 
What are they free from? 
Rascal and Friends diapers are, in their own words, 'free from nasties'. These hidden toxins include pretty unnecessary stuff, like chlorine, phthalates, fragrances, latex, lotions, and dyes made with heavy metals. 
This sounds great, but why is it so important?
Many of these chemicals, like fragrances and lotions, can cause skin rashes. Chlorine's pretty terrible for the environment and what's even more concerning is that phthalates, a toxin often used in diapers, has been linked to an increase in asthma and eczema1 rates in young children.
Want to learn more about what's inside disposable diapers? Check out my ultimate guide for everything you need to know about diapers – and the toxins you should always avoid.
Are Rascal + Friends diapers eco-friendly?
It's clear that the main selling point of Rascal and Friends diapers is that they avoid harsh toxins. Oh, and their fancy pants design that makes the diaper extra soft and absorbent is a great thing too!
Some diaper companies focus on their use of plant-based materials and some are even biodegradable. Biodegradable diapers are best for the planet, and way better than conventional plastic disposables, because they break down so much quicker. My favorite biodegradable diapers brands are Dyper, Ecoriginals, and Eco Pea Diapers. Diapers made predominantly with plastics, on the other hand, will still be sitting in landfills in 500 years. 
Related Post: Dyper Diapers Review: Eco-Friendly, Skin-Friendly And Bank Account-Friendly
Rascal and Friends diapers are made with fluff pulp in the core and plastic in the inner and outer layer so they are not, unfortunately, eco-friendly.
Top-sheet and back-sheet – Polyproylene fibers
The absorbent core – Fluff pulp and traditional SAP
Related Post: What Are The Best Organic Diapers On The Market, And Why You Should Look For The Most Natural Ingredients
Where are Rascal and Friends diapers made?
While Rascal Friends diapers are designed in New Zealand, they're actually made in China. The company says this allows them to offer affordable products.
How well do Rascal and Friends diapers work?
Rascal and Friends diapers boast some pretty awesome features, which all work to keep the baby dry (and parents free of stress!).
They feature a soft 3D core for 'extra comfort and absorption', soft leg cuffs that curve to fit babies comfortably and allow them the freedom to wiggle and move, and a stretchy waistband for flexibility. 
The company says its grip tabs are 'custom designed' to be super secure and they have a unique deep pocket to help prevent leaks. 
Rascal and Friends diapers Size Chart 
| | |
| --- | --- |
| Size | Weight |
| Size 1 | 6-11lbs |
| Size 2 | 9-18lbs |
| Size 3 | 13-24lbs |
| Size 4 | 22-33lbs |
| Size 5 | 28-39lbs |
| Size 6 | 35lbs+ |
Where can I buy Rascal friends diapers?

Rascal and Friends diapers are available exclusively online at Walmart and in some Walmart stores throughout Texas. So, unless you happen to live close to one of those very few stores, buying online is your best bet!
Are Rascal and Friends expensive?
Rascal and Friends prides itself on offering quality diapers at a great price, so I'm expecting great value for money. 
Looking at size 1 diapers, a pack of 108 will set you back about 18 cents each. The price increases (expectedly) when you look at size 4 diapers – these diapers cost about 27 cents each. This goes up to about 36-40 cents for size 6 diapers. 
The price of Rascal and Friends is pretty great, especially for a non-toxic diaper. 
What do reviews say?
When it comes to diapers, the proof is in the reviews. What do real parents and carers say? It looks like Rascal Friends diapers are made to please, with an average of 4.6 stars out of 5 in over 4600 reviews. 96% of users would recommend the diapers, which is pretty great going. 
One reviewer loves how soft the diapers are and how the side tabs are super secure. Another describes how they've tried pretty much every diaper on the market, and these perform like one of the best. They say they're great for handling poop explosions and they're even effective overnight.
FAQ about Rascal + Friends Diapers:
1. Does Rascal and Friends have a wetness indicator?
Rascal and Friends diapers feature a wetness indicator on their smallest diapers (size 1 and 2), to help parents know when their baby needs to be changed. 
They let us know that their indicator strip is certified free of harmful substances.
2. Do Rascal and Friends make pull-ups?
Yes! Rascal and Friends make training pants featuring the 'same premium' features as their diapers. They feature easy-tear sides for quick changing, a soft stretchy waistband for flexibility, and a 3D core for increased absorbency. 
Rascal and Friends pull-ups are available in the following sizes:
| | |
| --- | --- |
| Size | Weight |
| 2T-3T | 20-34lbs |
| 3T-4T | 32-40lbs |
| 4T-5T | 36lbs+ |
Like their regular diapers, these training pants are available online at Walmart and at some Walmart stores in Texas.
3. What is the tab on the back of Rascal and friends pull-ups?
The little tab on the back of Rascal and Friends is pretty neat… 
It's perfect for making disposal super simple. Just roll it up from front to back, pull down the tape and secure it. And remember to get rid of the poop first!
Check out my guide to the 'right' way to dispose of diapers. Hardly any of us are doing it right!
4. Do Rascal and Friends diapers run big?
Looking at the reviews, it does appear that Rascal and Friends diapers run a little big, according to some users at least. It's worth buying a small pack to begin with in order to check sizing, before buying a larger, value pack. 
It won't always be the case, of course – it completely depends on your little one. They're all unique!
5. Are Rascal and Friends eco nappies biodegradable?
Unfortunately, Rascal and Friends diapers aren't biodegradable. Biodegradable diapers certainly are the creme de la creme when it comes to eco-friendly diapering. This is because they break down much quicker compared to conventional, predominantly plastic disposables. 
In fact, conventional diapers will stick around in landfills for up to 500 years or more. Biodegradable diapers, on the other hand, will break down in months or a few years. 
Want to learn more about these super earth-friendly diapers? Check out my guide to the best biodegradable diapers here!
Rascal and Friends diapers alternatives
It's great that there's so much choice when it comes to baby diapers. While the big brands still dominate, smaller brands, which put way more heart into their products, are starting to rival them.
There's lots of brands out there that offer non-toxic diapers at affordable prices, just like Rascal and Friends.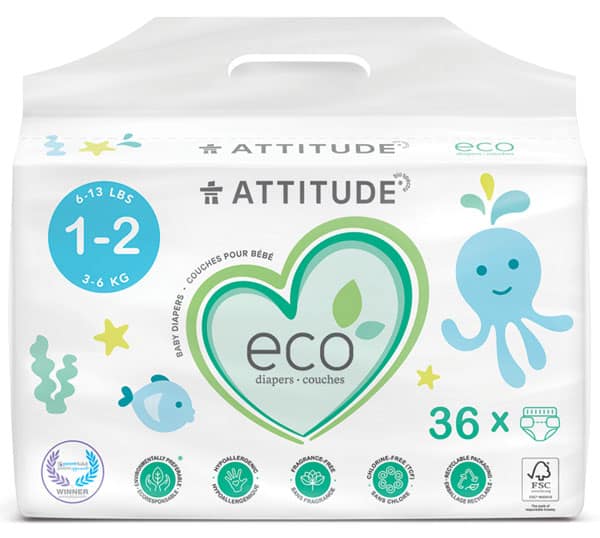 One of my favorite brands is Attitude. Offering toxin-free, PETA-certified cruelty-free diapers, they're changing the diaper game. These diapers go a step further when it comes to the environment too – they're made from 50% biodegradable materials. This is amazing news for the planet, as they'll break down much quicker than conventional disposables (and release fewer toxins as they go!).
Read Full Review: Attitude Diapers, Reviewed: Plant-Based, Non-Toxic And Changing The Diaper Game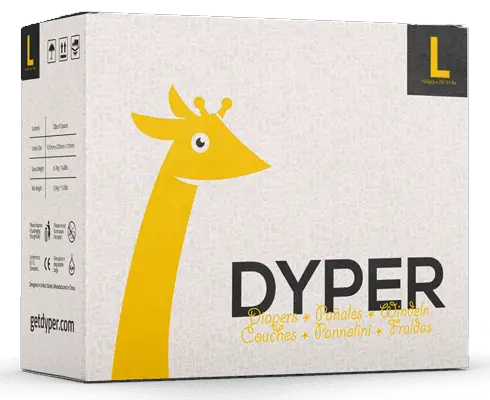 Some of my other favorite biodegradable diapers include Eco Pea, Andy Pandy, and Dyper diapers. Not only is 'Dyper' the best brand name ever, but they also offer compostable diapers (read more about biodegradable and compostable diapers here) and they even purchase carbon offsets with every sale.
Conclusion: Is Rascal and Friends a good diaper brand?
The Bottom Line
Rascal and Friends diapers aren't the best of the best when it comes to eco-friendly diapering, but they do have lots of features that make them worth trying. It's awesome that they're PETA-certified cruelty-free (many diapers aren't vegan or cruelty-free) and they're free of harmful toxins too. 
For the price – which is pretty great – they're absolutely worth trying. 
While they don't quite take the gold medal for earth-friendly products, they're safely securing silver. The more we choose these non-toxic, cruelty-free alternatives, the more we'll see them dominating the shelves. 
And that's great news for our babies and the planet.
References
Hannon, P.R./ & flaws, J.A. (2015). The effects of phthalates on the ovary. Frontiers in endocrinology, 6
Jaakkola, J. J., & Khinght, T. L. (2008). The role of exposure to phthlates from polyvinyl chloride products in the development of asthma and allergies: a systematic review and metaanalysis. Environ Health Perspect, 116(7), 845-53.
Related Reading