If you haven't been to Aldi yet, you probably should. The German grocery stores have taken the world by storm in the last few years, with brilliant value fruit, veg, and other groceries, as well as products you wouldn't expect to find in a budget food store: home furnishings, garden accessories and baby clothes to name a few!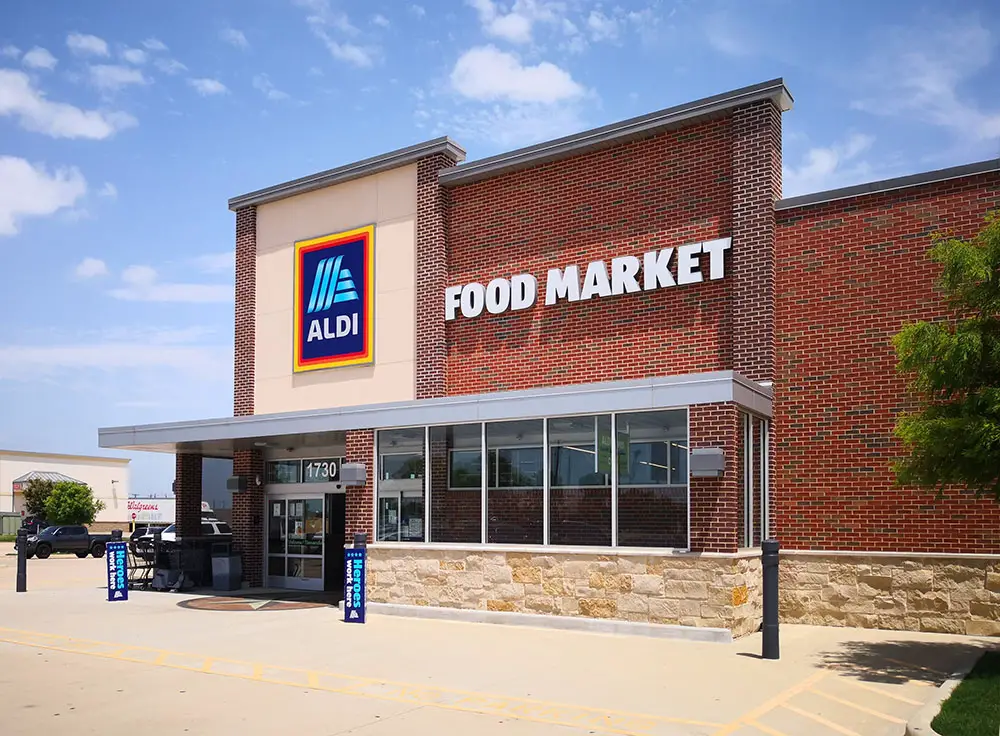 Everything you need to know about Aldi's Little Journey Best Diapers
And talking of baby products, Aldi handily provides us with their very own range of award-winning baby diapers, named Little Journey. Given that Aldi prides itself on budget products, you might not expect great quality from their diapers, let alone any benefits for little ones with sensitive skin. But what's the reality?
Disclaimer: Little Journey Diapers has not sponsored or endorsed this article in any way. As a mom who's passionate about buying the best for babies, I try really hard to include accurate information in all of my posts. If there are any inaccuracies present, please let me know; I'm more than happy to amend any errors. For more information about Little Journey Diapers, head over to their main site: aldi.us. This review has affiliate links. I may receive a small commission at no extra cost to you if you make a purchase through my affiliate link. Please read my disclosure for more info.
What are Aldi Diapers made from?
As I expected, it's pretty tough to get hold of a full ingredients list for Aldi diapers online. But they do have a handy section on their site explaining some of their ingredients, the benefits, and, perhaps most importantly, letting us know which potentially harmful chemicals they're free from. 
Aldi says that their Little Journey diapers feature a hypoallergenic liner with vitamin E and aloe and a soft cloth-like cover. Unfortunately, that's pretty much it when it comes to their description of ingredients, which leads me to assume that a lot of the diaper is made up of plastics, which are potentially petroleum-based. It's certainly unusual for a brand to use plant-based materials in their diapers and not shout about it from the rooftops… after all, why wouldn't you? 
So Aldi's diapers are letting us down a bit with their lack of transparency, although this is an issue with many brands, even those who claim to be eco-friendly! On the other hand, Aldi is great at letting us know what isn't in the diapers, which is just as important. Aldi states that all of their diapers, baby wipes, and baby wash products are made without parabens, formaldehyde, and, my most-hated ingredient of all, phthalates. Stop me if you think that you've heard this one before (you definitely have), but phthalates are number one on my arch-nemesis list when it comes to ingredients in diapers. Why? They're proven to increase the risk of asthma and eczema in little ones and can even cause genital abnormalities in baby boys (1). Frustratingly, the use of these chemicals isn't regulated by the FDA, and you can even find them in some children's toys. So it's a great reassurance to know that Aldi stays well away!
---
Related Post: What Are The Best Organic Diapers On The Market, And Why You Should Look For The Most Natural Ingredients
Are Aldi Diapers eco-friendly?
I think it's safe to say that Aldi's diapers haven't got any eco-credentials to boast. This isn't surprising with a budget diaper, but it's a shame that they don't mention any kind of attempt to reduce their impact on the environment at all. A good comparison is with Amazon Mama Bear Gentle Touch diapers, which, despite not being biodegradable, are made in a zero-waste facility; all waste produced is reused or recycled. 
If Aldi diapers used any kind of plant-based materials like bamboo or chlorine-free wood pulp, I'm in no doubt that they'd highlight it! Unfortunately, without a full ingredients list, it's safe to say that they're no more eco-friendly than any other disposable diaper. Let's just hope this changes in the future!
How well do Aldi Diapers work?
Despite the lack of transparency when it comes to ingredients used, Aldi diapers do boast quite a few fancy features of their Little Journey diapers. They state that they offer up to 12 hours of leakage protection, have dual leg cuffs to prevent leaking, and even feature a wetness indicator, to show you exactly when your little one needs to be changed. 
Aldi's diapers have a soft, cloth-like, breathable cover and feature a hypoallergenic liner enriched with vitamin E and aloe, so they are at least thinking about babies with sensitive skin and preventing diaper rash. They offer a handy comparison chart with similar brands like Luvs and Huggies, which seemingly shows Aldi diapers offering more bang for your buck when it comes to effectiveness.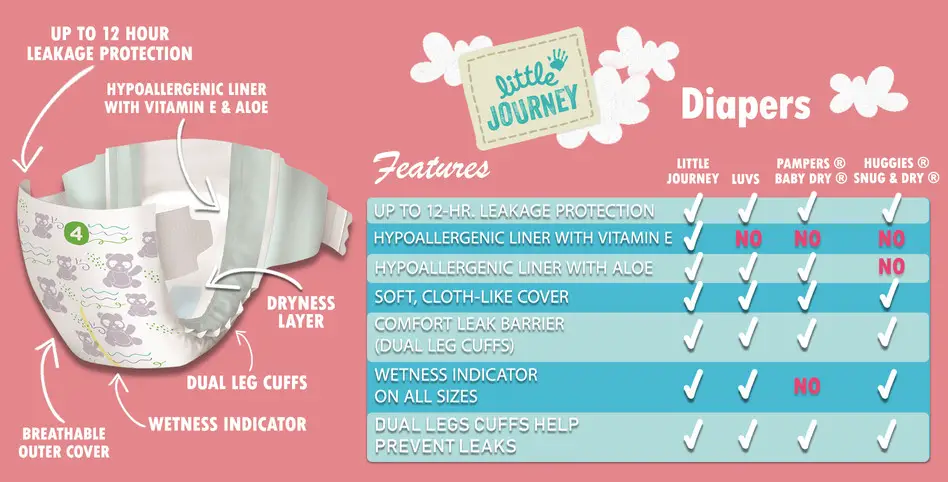 We obviously have to take companies' claims with a pinch of salt. Of course, they think they're better than their rivals… but they have to let real users have the last say on that one.
Aldi Diapers Size Chart
| | | | | | | | |
| --- | --- | --- | --- | --- | --- | --- | --- |
| | Newborn | Size 1 | Size 2 | Size 3 | Size 4 | Size 5 | Size 6 |
| Weight | Up to 10 lbs | 8-14 lbs | 12-18 lbs | 16-28 lbs | 22-37 lbs | 27+ lbs | 35+ lbs |
Where can I buy Aldi Diapers?
Unsurprisingly, Aldi diapers can be bought in Aldi! Just in case it wasn't obvious…
Unlike other brands, whose diapers are easily accessible both online and in-store, Aldi diapers can mainly be found in Aldi stores, and not on the company's website. This certainly rules out customers who don't have an Aldi near to them. 
Having said that, if you do live relatively close to a store, you can use the awesome app Instacart to have your diapers and other groceries delivered straight to your door. Simply download it on your phone or tablet to get started! It's super handy for busy parents and takes the stress right out of food shopping.
While Aldi diapers aren't exactly the most convenient option unless you have a branch close to you, Aldi does offer excellent value on all of its products, so if you can get to a store, I definitely suggest checking it out! They have lovely fresh fruit and vegetables, and even offer organic produce at decent prices. 
Plus, you always come across some kind of treasure you never knew you needed, which is what a lot of people love about the brand. Sewing kit? Pack of pillowcases? A pair of men's hiking boots? You'll probably find these in Aldi, and even if you weren't shopping for a pack of pillowcases, you'll end up buying them….
… if you're anything like me, that is. 
How much do they cost?
If there's one thing I can't criticize, it's the cost. At around 14 cents* per diaper on average, it's safe to say that Aldi Little Journey diapers are just about the cheapest on the market! If budget is a big deal, it's certainly worth giving them a go, especially considering that some other brands which aren't necessarily better quality can carry a price tag of up to 60-80 cents per diaper. That's a massive saving!
*Prices were accurate at the time this article was published but may change over time.
What do the reviews say?
It's not quite as easy to check the reviews of Aldi's diapers as it is for those sold on Amazon or elsewhere online. Aldi's website doesn't provide a section for users to comment on their diapers, but I've luckily managed to find lots of comments on their effectiveness, from real users. 
Again, as expected, reviews are pretty mixed when it comes to Aldi's own brand diapers. Some parents say they hold up well compared to more expensive brands, while others say they prefer similar budget brands. There are a few comments discussing nappy rash with these diapers, so it's worth being cautious if your little one does have sensitive skin. 
Other users say that they're really absorbent and great value for money and one mom said that she's used Aldi diapers exclusively for all 3 of her children! A recommendation indeed. 
As with all diapers, some brands will work brilliantly for your little one and other ones will fall short; every baby is different! But if you're on a budget, these bank account-friendly diapers are worth trying!
Frequently Asked Questions About Aldi Diapers
1. Are Aldi diapers effective?
It's harder to judge this as there aren't many reviews available online. The comments I managed to find are pretty mixed, with some users saying they prefer other budget brands like Luvs, Parent's Choice and Mama Bear Gentle Touch diapers, and others saying they're fantastic value for money. 
Aldi certainly makes their diapers sound effective, with a promise of up to 12 hours of dryness, super absorbency, and hypoallergenic materials. With the price being so low, if sticking to a smaller budget is a priority for you, it might be worth giving them a go.
2. Are Aldi diapers hypoallergenic?
The problem with the term 'hypoallergenic' is that it isn't regulated by the FDA, which means that, in theory, any brand could claim that their diapers are good for little ones with sensitive skin. Aldi says that their diapers have hypoallergenic inner layers with vitamin E and aloe, so, in theory, they should be good at preventing diaper rash. 
Having said that, I've seen comments saying that users' little ones have still experienced diaper rash, so I guess we can't say for sure! It's hoped that this term is soon regulated by the FDA, to offer transparency to parents about which brands are suitable and which aren't!
Related Post: Best Hypoallergenic Diapers For Babies With Sensitive Skin on the Market
3. How much do diapers cost at Aldi?
I don't think I've come across a brand that's as cheap as Aldi's Little Journey diapers. At around 14 cents per diaper, you cannot complain about the price. With some diaper brands setting you back anything up to 80 cents per diaper, Little Journey diapers are clearly budget-friendly, although a lot of brands will have to charge more if they use plant-based materials and have many eco-credentials to boast about. 
They're comparable with similar budget brands like Mama Bear Gentle Touch diapers, which average around 16 cents per diaper, although, I must say, Mama Bear diapers do have more going for them than Aldi's equivalent. Mama Bear Gentle Touch diapers are phthalate-free, chlorine-free, and reuse or recycle all waste from production!
4. How do you know when to go up a diaper size?
Diapers, of course, should fit snugly to prevent leaks, but offer enough wiggle room for baby to move around freely. If you find that diapers are leaving marks on baby's skin from being too tight or they're not able to move comfortably in their diaper, it might be time to go up a size. Of course, if leaks and blowouts then become a recurring problem, it might be time to rethink!
Some brands have well-known 'issues' with their sizing, as they're not all identical, of course. Just because your little one fits snugly in a size 4 in one brand, doesn't necessarily mean they'll be a size 4 in every other brand of diaper. Unfortunately, it's a bit of a case of trial and error!
And you'll know if there's an error when you're seeing leaks and explosions every day… 
The joys of being a parent!
5. How do Aldi diapers compare with similar brands?
When comparing Aldi's Little Journey diapers to similar budget brands, they hold up pretty well, but there are more environmentally-friendly choices out there.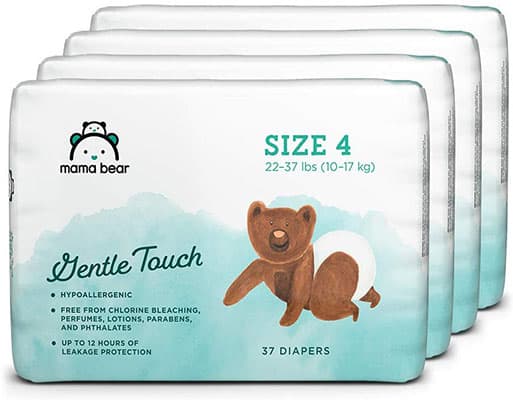 I'm a big fan of Mama Bear's Gentle Touch diapers, which is actually Amazon's own brand. They're incredibly budget-friendly at around 16 cents per diaper, and with the Amazon family program, they work out even cheaper. Their reviews are pretty good, they're free from chlorine, which is incredibly damaging to the environment and even boasts eco-credentials. While they're not biodegradable, they operate a zero-waste policy in terms of their production; all waste will be reused or recycled! That's not a bad deal at all for a diaper that costs 16 cents!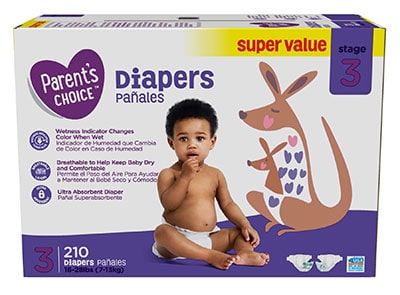 Parent's Choice is another budget-friendly brand, this time from Walmart. So, naturally, it's pretty easy to get your hands on this brand of diaper, both in-store and online. Having said that, we can't be sure that Parent's Choice diapers are free from phthalates, dyes, or lotions, which are potentially harmful to babies, and they probably also use chlorine bleaching. Like Aldi, Walmart is pretty hazy when it comes to their ingredients list, so while they're great for lower budgets, they don't hold up to Mama Bear's standards. 
Having reviewed many cheaper diapers now, it's safe to say that Amazon's Mama Bear Gentle Touch diapers are winning the budget diaper race, with their lack of phthalates and eco-credentials, all at an amazing price!
The Good, The Bad, And The Bottom Line
Aldi diapers clearly aren't the most effective or environmentally friendly, but when it comes to budget diapers, it might be worth giving them a go. 
The Good
The Bad
◆ Very budget-friendly!
◆ They state that they offer up to 12 hours of leakage protection
◆ They feature a hypoallergenic liner with vitamin E and aloe
◆ They have dual leg cuffs
◆ A wetness indicator is included
◆ They have a breathable outer cover
◆ Free from phthalates!
◆ Free from parabens
◆ You can pick up some bargains while shopping for these diapers!
◆ Reviews are mixed, although there's not many to go by online
◆ They have no eco-credentials, so they aren't environmentally-friendly
◆ They're not available online
◆ It's difficult to get them unless you have an Aldi store close to you!
◆ They probably use chlorine bleaching, which is terrible for the environment
The bottom line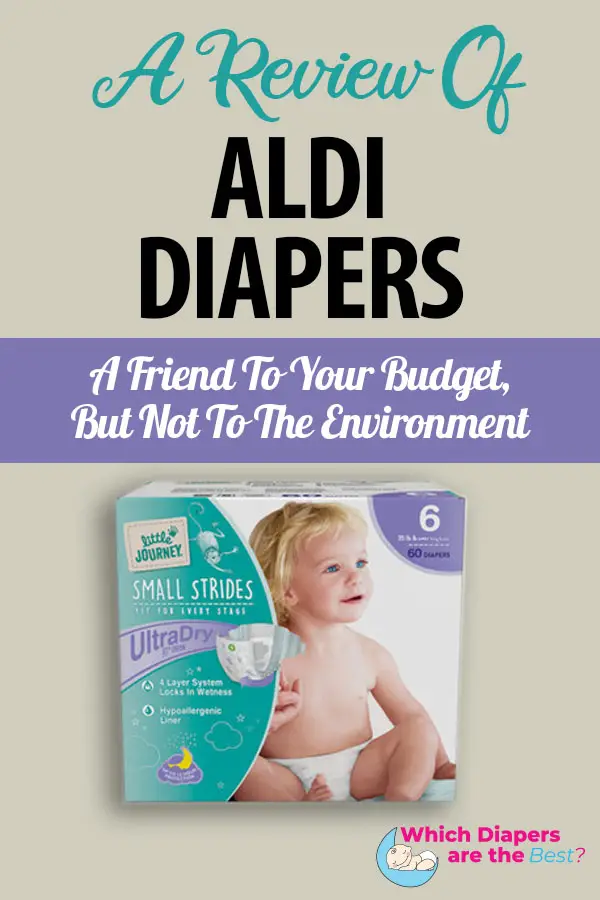 While Aldi's Little Journey diapers certainly trump Walmart's own brand Parent's Choice – mainly because Aldi doesn't use phthalates – I still prefer Mama Bear Gentle Touch diapers. Aldi diapers have a lot going for them considering how incredibly cheap they are, including the addition of vitamin E and aloe, a wetness indicator, and leakage protection. But, when you consider that Mama Bear diapers have a zero-waste policy and they're so easily accessible online, it's hard for another budget brand to overtake them!
Aldi diapers are certainly not the worst out there (at least they're phthalate-free!), but I'd still recommend Mama Bear Gentle Touch diapers over Little Journey diapers if budget is a big deal. Having said that, I do enjoy my trips to Aldi for the super cheap and great quality fresh produce, and the excitement of finding products I definitely don't need, but will buy anyway. 
It's probably best not to go if your willpower is as weak as mine…
References:
Jaakkola, J. J., & Khinght, T. L. (2008). The role of exposure to phthlates from polyvinyl chloride products in the development of asthma and allergies: a systematic review and metaanalysis. Environ Health Perspect, 116(7), 845-53.
Related Reading