Pampers needs no introduction. One of the most popular diaper brands in the world, it's the go-to for many parents and carers, and their Swaddlers variety is the 'number 1 choice for hospitals and parents' in the US. No biggie.
But with more and more of us asking questions about what's in disposable diapers, we need to talk about what's in Pampers. When it comes to hidden toxins and chemicals in diapers, it might surprise you that Pampers is one of the diaper world's biggest culprits. 
Let's take a closer look at Pampers Swaddlers. Are they effective? Are they good value? And, most importantly, are they healthy?
Disclaimer: Huggies Diapers has not sponsored or endorsed this article in any way. As a mom who's passionate about buying the best for babies, I try really hard to include accurate information in all of my posts. If there are any inaccuracies present, please let me know; I'm more than happy to amend any errors. For more information about Huggies Diapers, head over to their main sites: huggies.com. This review has affiliate links. I may receive a small commission at no extra cost to you if you make a purchase through my affiliate link. Please read my disclosure for more info.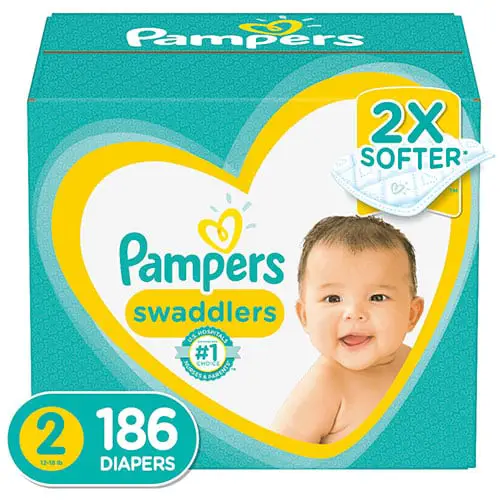 Pampers Swaddlers Features
Pampers Swaddlers are made with your typical diaper features. They have soft flexi sides, 'ultra-soft' absorbent layers, a breathable liner, dual leak guard barriers and a wetness indicator. You'll also find an umbilical cord notch on sizes newborn – Size 2. 
Pampers says their Swaddlers are the brand's softest diapers ever. 
What are Pampers Swaddlers made of?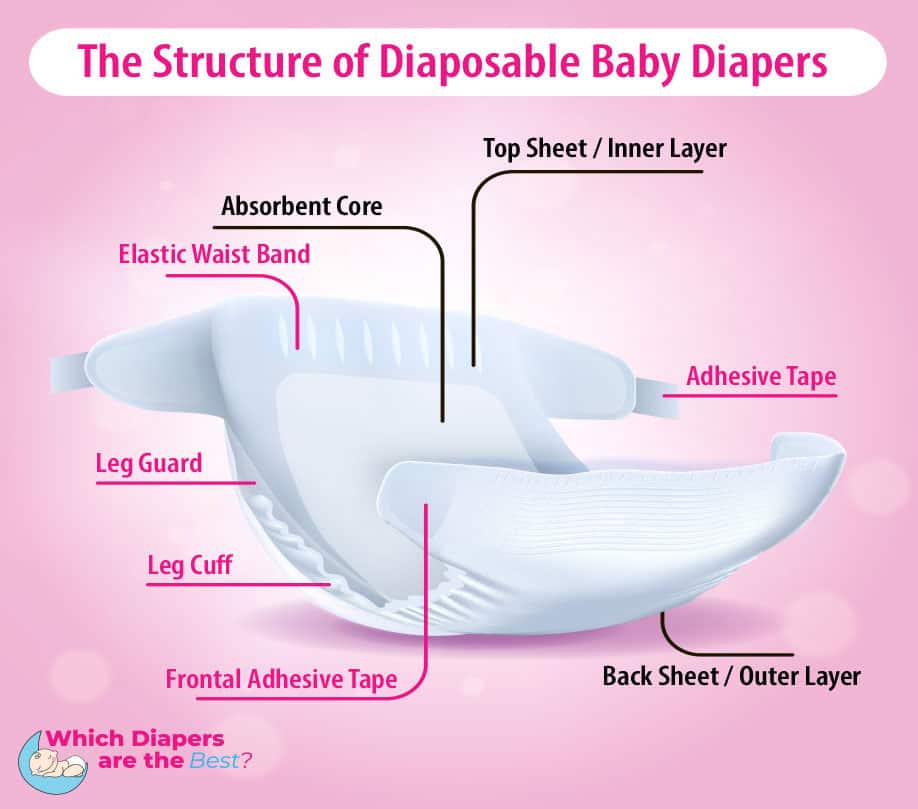 Unlike many brands, who are moving away from petroleum-based plastics to use more eco-conscious materials, like bamboo, wood and cane, Pampers doesn't seem to be making the same efforts. In fact, the vast majority of their diaper varieties use mainly petroleum-based plastics, and contain unnecessary toxins to boot.
Pampers tells us that their products don't use chemicals like latex, alcohol, lead and mercury, parabens and elemental chlorine, which is great. But that still leaves a long list of chemicals like phthalates, fragrances and lotions, found in many of their diaper varieties, including Swaddlers.
Let's see a breakdown of the different parts of Swaddlers diapers:
| | |
| --- | --- |
| Absorbent core | Made with 'light fragrance', SAP and elemental chlorine-free fluff pulp |
| Absorbent Topsheet | Made with polyester, polypropylene and polyethylene. Plastics, in other words! |
| Outer cover | Made with polyethylene and polypropylene – again, plastic. |
| Wetness Indicator | pH-sensitive strip |
| Printed backsheet | Made with inks. |
| Joints and seams | Made with adhesives. |
| Fasteners and leg cuffs | Made with elastics and polypropylene |
| Skin protecting lotion | Made with petrolatum, stearyl alcohol and aloe barbadensis leaf extract |
*Information above is from SmartLabel.org
Are there chemicals in Pampers Swaddlers?
You'll find that diaper brands focus more nowadays on what their products are free of. That's because more and more parents are waking up to the realities of diapers, and the smorgasbord of chemicals they often contain. 
The main nasties I'd advise to steer clear of are phthalates, fragrances, lotions, dyes and chlorine, and you can read more about why it's so important to steer clear of them here. So how do Pampers Swaddlers fare?
Well, not great. Pampers tells us that their Swaddlers variety is free of latex and parabens, but there's no word on phthalates, and they definitely use fragrances, lotions, and dyes. They are elemental chlorine free. 
Again, unless a company very clearly states that they avoid these toxins, you can assume they are used. 
More on this topic: Disposable Diapers: What Are They Made From, And Are They Safe?
Are Pampers Swaddlers chlorine-free?
Pampers doesn't explicitly state that their Swaddlers variety is totally chlorine-free, although their diapers are all free of elemental chlorine. Ideally, we're looking for diapers which are completely free of chlorine. The practice of bleaching diapers is pretty terrible for the environment.
Are Pampers Swaddlers scented?
Pampers Swaddlers do use fragrances, and actually state it quite clearly. It's so important to keep little ones' sensitive skin away from completely unnecessary added chemicals like fragrances and lotions. Your baby, no matter how old they are, would be much better with unscented diapers, like those offered by Dyper, Little Toes and Eco Pea.
Fragrances can easily irritate your little one's sensitive skin, and the term 'fragrances' can be used by companies to cover up a smorgasbord of chemicals. Read more about why you should avoid fragrances here.
Where Pampers Swaddlers are made?
Unsurprisingly, it looks like Pampers diapers are made in manufacturing plants around the globe. 
Pampers Swaddlers price
Pampers aren't always budget-friendly. Generally mid-range, the price you pay might vary, depending whether you get them from your local grocery store or online. 
Looking online at Amazon, 168 size 3 Swaddlers diapers will set you back just over 50 bucks – that's about 30 cents per diaper.
| | |
| --- | --- |
| Size | Price per diaper |
| N | 31 cents |
| 1 | 23 cents |
| 2 | 24 cents |
| 3 | 30 cents |
| 4 | 36 cents |
| 5 | 47 cents |
| 6 | 51 cents |
| 7 | 59 cents |
*Prices were accurate at the time this article was published but may change over time.
Pampers Swaddlers Size Chart
Pampers Swaddlers are suitable for little ones at every stage of their diapering journey, from newborn to toddler. They're available in sizes 0 through 7.
| | |
| --- | --- |
| Size | Weight |
| N | >10lbs |
| 1 | 8-14lbs |
| 2 | 12-18lbs |
| 3 | 16-28lbs |
| 4 | 22-37lbs |
| 5 | Up to 27lbs |
| 6 | Up to 35lbs |
| 7 | Up to 41lbs |
What Customers Say: Pampers Swaddlers reviews
Pampers Swaddlers are one of the most popular diaper varieties in the US. So it's no surprise that you can find plenty of reviews online! In fact, Swaddlers score an average of 4.9 out of 5 in over 57,000 reviews on Amazon. 
It's safe to say that, when it comes to keeping the pee and poop at bay, they're pretty effective. 
Of course, most reviews posted are very positive, praising Swaddlers' great fit and flexibility. 
Some raise concerns over fragrances and strange colorings, perhaps due to the chemicals used in the diaper.
Where to buy Pampers Swaddlers
You're likely to find Pampers Swaddlers at grocery stores across the country and probably even at smaller convenience stores. You can also choose to buy them online at Walmart, Amazon, Target. I like getting my diapers delivered – it's one less thing to think about at the grocery store!
What can I buy instead of Pampers Swaddlers – Pampers Swaddlers alternatives
Where do I start?
There are so many great alternatives to Pampers Swaddlers – diapers that provide the softness and effectiveness of the popular brand, just without the hidden toxins. 
Brands like Abby & Finn and Hello Bello are great value diapers that stay away from harsh chemicals like phthalates and fragrances. Both are available on subscription, so you can get all the diapers you need, delivered straight to your door. 
Or, you can go a step further and go for diapers that not only avoid toxins, but use plant-based ingredients too.
Biodegradable diapers are the gold standard of eco diapers. Unlike diapers like Pampers Swaddlers, which are made predominantly from petroleum-based plastics, biodegradable diapers are made with a high percentage of plant-based materials like bamboo. They're great for the planet because they break down into the soil in a matter of months. Plastic diapers, on the other hand, take years to do the same. And that's if they ever do…
Some of my favorite biodegradable diapers include Dyper, Ecoriginals and Eco Pea. Read my full guide to biodegradable diapers for more! 
Related Post: Dyper Diapers Review: Eco-Friendly, Skin-Friendly And Bank Account-Friendly
Read Next: Ecoriginals Diapers Review, 2023: The Greenest Diaper On The Market?
Pampers Swaddlers FAQ
1. Are Pampers Swaddlers good for overnight?
Pampers Swaddlers aren't made specifically for use overnight. If you're looking for diapers suitable for your little one to wear at night, it might be better to go for Pampers Swaddlers Overnights – designed to lock wetness away for 12 hours.
2. When to stop using Pampers Swaddlers?
Pampers produces Swaddlers in sizes 0-7, so they're suitable for pretty much every stage of the diapering journey. Of course, I'd recommend trying an alternative to Pampers Swaddlers – a diaper that clearly avoids unnecessary added chemicals like phthalates and fragrances. 
Andy Pandy, Ecoriginals and Dyper diapers are just some of my favorites.
3. What is the difference between Swaddlers and Cruisers?
While Pampers Swaddlers are suitable for babies from newborn, Pampers Cruisers are made specifically for older babies who are on the move. Available in sizes 3-7, Pampers Cruisers are made for moving, and are a little more expensive than Swaddlers. Unlike Swaddlers, they don't have a wetness indicator, but they do still contain unnecessary added chemicals like fragrances. 
4. Which is better: Baby Dry or Swaddlers?
With Swaddlers, Pampers focuses on softness. Baby Dry, on the other hand, focus on – you guessed it – absorbency! They say they'll keep your little one dry for up to 12 hours, so, in theory, they're fine for overnights. 
Like Swaddlers, Baby Dry diapers are made predominantly with petroleum-based plastics and contain chlorine, phthalates and fragrances.
The Good and The Bad of Pampers Swaddlers
Conclusion: Are Pampers Swaddlers the best diapers?
Pampers might be one of the most well-known diaper brands in the world, but the company seriously needs to up its game if it wants to stay ahead of the competition.
Pampers Swaddlers aren't the best diapers. In fact, they might be effective when it comes to keeping your little one dry, but their use of petroleum-based plastics and completely unnecessary added toxins needs to be addressed… quickly.
They might be free of latex and parabens, but the likelihood is that they contain phthalates, and they definitely contain lotions and fragrances. With the diaper world moving away from these toxic practices and towards a greener future, there are so many other diaper brands that are a better fit for your little one, and for the planet. 
Related Reading