Freestyle diapers are the newest addition to the world of diapering. And they've entered the market with a bang. Claiming to be the 'best performing diaper you've ever tried, guaranteed', Freestyle is bringing the big talk. 
Already loved by parents, carers, and many, many influencers, these diapers might be new, but they're quickly becoming a staple in diaper bags across the country.
So what's the real deal with Freestyle diapers? They might be high-performing, but what about chemicals – are they safe for our little ones? And are their ingredients protecting our planet?
Let's take a closer look.
Note: Affiliate links may be used in this post. I may receive a small commission at no extra cost to you if you make a purchase through my affiliate link. Please read my disclosure for more info. All prices and availability are accurate at the time of publishing.
Freestyle diapers Review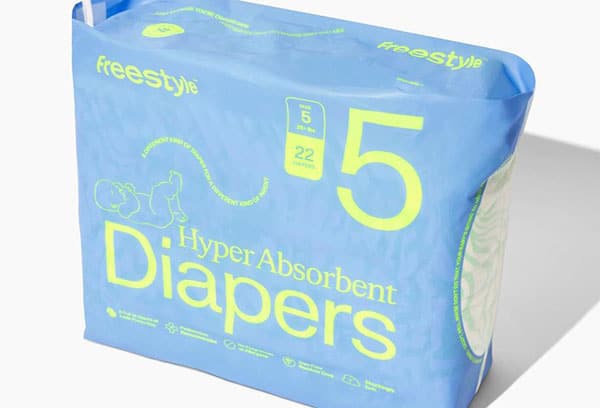 what are they made of
We need to know what's in diapers. These innocent-looking baby products hug our little ones' delicate skin for the first years of their lives, so knowing what they're made from is crucial.
Freestyle offers a full list of ingredients used in their diapers:
Topsheet and Backsheet – Polyethylene & Polypropylene
The absorbent core – BambooTek Core (100% bamboo pulp) and SAP
Elastics – polypropylene, polyethylene and spandex
Toxin-free inks
Impressively, these super eco-friendly diapers are made with 88% biodegradable materials, which is amazing news for our planet, and for our little ones' futures. 
Biodegradable diapers can be broken back down into the soil, while diapers made with petroleum-based plastics will stick around in landfill for hundreds, if not thousands, of years. So choosing biodegradable, plant-based diapers is a huge deal for the planet. 
Related Post: Top Picks for the Best Biodegradable Diapers on the Market
The brand explains that the pulp – the bit that absorbs the wetness – is made with bamboo and non wood pulp. They say that lots of diaper brands that use bamboo only do so on the outer layer, so they still use heaps of wood pulp in the core. This isn't great for the environment, if you think about the number of trees we need to cut down for diapers alone. Bamboo's got better eco-credentials, because it takes less water to grow, and it grows a lot quicker too.
Read Next: The Best Bamboo Diapers: Join The Eco-Friendly Diaper Revolution!
Not only that, but the company purchases offsets on the 'Plastic Credit Exchange'. This means that Freestyle diapers are net plastic negative. The Plastic Credit Exchange is a nonprofit that works to clean up plastic waste, and provides a scheme for companies to contribute to their mission. Talk about ticking all the boxes…
Aside from the ingredients used, Freestyle diapers are ultra soft and super absorbent – thanks to the bamboo. In fact, they offer up to 12 hours of leak protection, and they absorb 55% more than the leading plant-based diaper brand.
Every Freestyle diaper features a wetness indicator, which many parents and carers find useful, and the brand says that they're not tested on animals. It might shock you to learn that not all diapers are cruelty-free. Check out my guide to the best cruelty-free diapers on the market to learn more!
What are Freestyle diapers free from?
Freestyle diapers are free of the following chemicals:
But what are all these chemicals, and why is it important that our diapers steer clear of them?
I was shocked to find out that many, if not most, diapers on the market use toxic chemicals – sometimes because it makes the manufacturing process easier and sometimes, because it's cheaper. 
The FDA doesn't regulate many of these chemicals, so companies are free to use them however they wish to. That means parents and carers everywhere are left confused, and left to do much-needed research ourselves. 
Here's what you need to avoid, and why:
I talk about phthalates all the time. And that's because it's so important to avoid them. Found in children's toys, flooring and baby products like diapers, they shouldn't be anywhere near our babies' delicate skin. Shockingly, a 2014 study concluded that exposure to phthalates as a child may 'perturb normal development' by interfering with hormones. A link to the increased risk of allergic diseases was also discovered.
Luckily, Freestyle diapers are completely free of these horrible toxins.
Fragrances are used again and again in diapers, wipes and cosmetics. The term isn't regulated by the FDA and is often used to hide a bunch of chemicals that are no good for the skin, never mind that of our little ones. These hidden chemicals could be irritants, allergens and carcinogens. 
Again, Freestyle comes through for us, and keeps fragrances away from their diapers.
Chlorine isn't thought to be a skin irritant, but it should be avoided for environmental reasons. If chlorine finds its way into our water supplies, it could mix with other minerals, resulting in harmful toxins. 
Always look for diapers that are completely free of chlorine, or totally chlorine free (TCF), just like Freestyle.
Parabens can be found lurking in diapers, diaper rash creams and cosmetics. Parabens are preservatives, and they're harmful because they mimic estrogen. They can therefore affect hormones, which, in turn, could affect a baby's endocrine system. This system affects the body's growth, development and energy levels.
You won't find any parabens in Freestyle diapers.
It's possible for little ones to have latex allergies, and reactions can be triggered by latex touching the skin. Symptoms can range from skin irritation to trouble breathing, so it's best avoided.
All in all, Freestyle diapers are seriously impressive. With 88% biodegradable materials and completely non-toxic, what's not to love?
Where are Freestyle diapers made?
Freestyle diapers are manufactured in China.
Read Next: Which Baby Diapers Are Made In The USA?
How well do Freestyle diapers work?
Reviews of Freestyle diapers back up the claims that they're the 'best performing diaper, guaranteed'. Blowouts and leaks aren't an issue with Freestyle, thanks to their superior absorbency. 
Made with soft and sustainable bamboo that's super absorbent, it's no wonder that Freestyle diapers work well. 
The brand explains that most bamboo diaper brands just use bamboo for the outer layer. But Freestyle diapers use bamboo for the absorbent core, which makes them super effective when it comes to soaking up wetness and keeping your baby dry.
Some diapers seem to have issues with sizing, too. Certain brands are notorious for running small or big, but that's not the case with Freestyle diapers.
Related Post: The Complete Diaper Size Guide: Chart Of Most Popular Brands
Freestyle diapers Size Chart 
Freestyle diapers are available in sizes 1 through 6, for babies from 8lbs-35lbs+.
| | |
| --- | --- |
| Size | Weight |
| 1 | 8-14lbs |
| 2 | 12-18lbs |
| 3 | 16-28lbs |
| 4 | 22-37lbs |
| 5 | 25lbs+ |
| 6 | 35lbs+ |
Where to buy Freestyle diapers?
You can buy Freestyle diapers on the brand's site and they're not currently available anywhere else.
A one-time box of 204 size 1 diapers will set you back 92 bucks – that's about 45 cents each. Or, you can subscribe and save, and get the exact same box for 78 dollars, which works out at just 38 cents per diaper. This is great value, especially compared to similar biodegradable brands on the market.
Taking a look at the larger sizes, a subscription box of size 3 diapers works out at 46 cents per diaper, and a subscription box of size 6 diapers will set you back 65 cents per diaper. 
These prices are really great for biodegradable and non-toxic diapers. In fact, they're one of the most budget-friendly biodegradable options on the market right now, provided you subscribe and save. Considering you can change or cancel the subscription at any time, it's a no-brainer.
Read Next: 14 Best Diaper Delivery Services: Comparisons & Reviews
What do reviews say?
Over on Freestyle's site, reviews are absolutely glowing. They average 4.95 out of 5 in over 80 reviews, with parents and carers backing up what the brand says about their superior absorbency. The reviews say they're great at preventing blowouts and leaks, they're super soft and feel like a luxury diaper.
Freestyle diapers FAQ
1. Are Freestyle diapers vegan?
Yes! Freestyle has confirmed that all of their products are vegan and cruelty-free. I was shocked when I discovered that not all diapers are made without animal testing. 
There are more vegan and cruelty-free diapers on the market now than ever before, and it's great that Freestyle has joined the club. 
Read my roundup of the best vegan diapers for more of my top picks!
2. Are Freestyle diapers biodegradable?
Forget designer clothes; biodegradable diapers are the must-have baby accessory for the season. The creme de la creme of baby products, biodegradable diapers are a huge part of tackling the waste produced by the diaper industry. 
While the majority of disposable diapers on the market are made with a high percentage of petroleum-based plastics, biodegradable diapers are made with a high percentage of plant-based ingredients. And you don't need me to tell you why plant-based ingredients are far superior.
Rather than stick around for hundreds of years, and probably more, biodegradable diapers can break back down into the soil. Some can even be composted at home (not the poopy ones, though).
So if we want to secure a better future for our little ones, choosing biodegradable diapers is a small but significant act. 
Related Post: Top Picks for the Best Biodegradable Diapers on the Market
And what about Freestyle diapers?
I'm super impressed that the brand's diapers are made with 88% biodegradable materials, including soft and sustainable bamboo. The company explains that many bamboo diaper brands only use bamboo for the outer layer. Freestyle, on the other hand, uses bamboo in the core – the bit that absorbs wetness. This bit of the diaper uses a lot of material, so it's great that it's made with sustainable bamboo rather than wood pulp, which needs more water and time to grow.
It's worth pointing out, though, that the back sheet and top sheet aren't made with bamboo. Instead, they're made with oil-based plastics – polypropylene and polyethylene. 
At the moment, there is no 100% plant-based diaper on the market, so even biodegradable diapers use a certain amount of plastics. Let's hope science catches up and produces a completely plant-based diaper sooner rather than later!
3. Are Freestyle diapers non-toxic?
Yes, and yes. 
It's not enough to just be effective; there are plenty of diapers on the market that are capable of keeping leaks at bay. What we need now are diapers that are safe for the skin, and safe for the planet too.
When choosing diapers for your little one, it's so important to steer clear of the main culprits you find lurking in baby diapers: phthalates, fragrances and lotions. These harmful chemicals have the potential to irritate the skin, cause rashes and, in the case of phthalates, disrupt hormone production. 
Try to find diapers that are totally chlorine free (TCF) too. While chlorine isn't a skin irritant, it's terrible for the environment, and just completely unnecessary. 
Some of my all-time favorite non-toxic diapers include Hello Bello, Ecoriginals and Andy Pandy. And Freestyle certainly fits the non-toxic bill too! Check out my full round-up of the best non-toxic diapers here.
Related Post: What Are The Best Organic Diapers On The Market, And Why You Should Look For The Most Natural Ingredients
 Freestyle diapers alternatives 
Freestyle diapers have certainly made their mark on the market. These non-toxic and  plant-based diapers are showing the rest of the diaper world how it's done. But what are some similar diapers to Freestyle? What are the alternatives? 
The soft and luxury feel of Freestyle diapers brings Coterie diapers to mind. These super crazy soft diapers are, like Freestyle, completely non-toxic. And they work. They've even won awards for their leak protection, and have great reviews from parents and carers alike. 
While they're not biodegradable, they're made with some plant-based materials, and the company offsets the carbon footprint of every diaper pack.
Read More: Coterie Diapers Review: Luxury, Non-Toxic Diapers Your Baby Will Love
Going a step further, Ecoriginals is one of my favorite biodegradable diaper picks. These Australian diapers blew the rest out of the water when they entered the US market, with 90% biodegradable materials. And they're not just eco-friendly, they're high performance too. Ecoriginals diapers are 40% more absorbent than standard disposables, which makes for the perfect all around diaper.
Read Next: Ecoriginals Diapers Review, 2023: The Greenest Diaper On The Market?
And one of the OG biodegradable diapers is Dyper. Like Freestyle diapers, Dyper diapers won't break the bank, and they're available on subscription. Diapers straight to your door are a great choice for busy parents and carers… and aren't we all!
Related Post: Dyper Diapers Review: Eco-Friendly, Skin-Friendly And Bank Account-Friendly
Check out my full round-up of biodegradable diapers for more of my top picks.
Conclusion: Are Freestyle Diapers worth it?
Freestyle diapers are seriously impressive. 
Not only do they promise a superior performance, but they're doing amazing things for the planet too. 
While most disposable diapers are made mainly with plastics, Freestyle diapers are made with an amazing 88% plant-based materials, including soft and sustainable bamboo. Biodegradable diapers are the best choice when it comes to protecting our little ones' future.
And Freestyle diapers also steer clear of nasty toxins, like phthalates, fragrances and lotions. 
And, all at a great price, which is sometimes an issue when it comes to truly green diapers. 
So are they really the best on the market? 
I think they just might be…
Related Reading