Costco is like a toy store for adults. The prospect of a trip there is positively exhilarating, you have to resist the urge to buy way too much and, if you're anything like me, tantrums will ensue if your favorite bulk buy is out of stock. I love it.
While you might be used to their giant bottles of maple syrup and packs of 132,467 toilet rolls, you might not have considered their diapers. Made under their Kirkland brand, you could add huge packs of diapers to your list the next time you visit.
It won't come as a surprise to hear that they're pretty cheap. But are they any good? And with more and more pressure on the planet, do Costco's diapers make any kind of effort to minimize the impact of disposable diapers on our environment? Let's review them.
Disclaimer: Costco has not sponsored or endorsed this article in any way. As a mom who's passionate about buying the best for babies, I try really hard to include accurate information in all of my posts. If there are any inaccuracies present, please let me know; I'm more than happy to amend any errors. For more information about Kirkland diapers, head over to their main site: www.costco.com. This review has affiliate links. I may receive a small commission at no extra cost to you if you make a purchase through my affiliate link. Please read my disclosure for more info.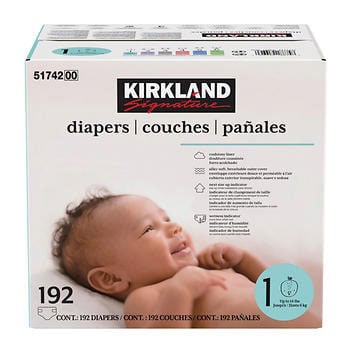 Who makes Kirkland diapers? 
Kirkland diapers are a Costco brand, but they're actually made by Kimberly-Clark, who also make Huggies. You should be able to find them in all branches of Costco, if you're a Costco member.
Costco Diapers Features
So what makes Costco's diapers special? If at all…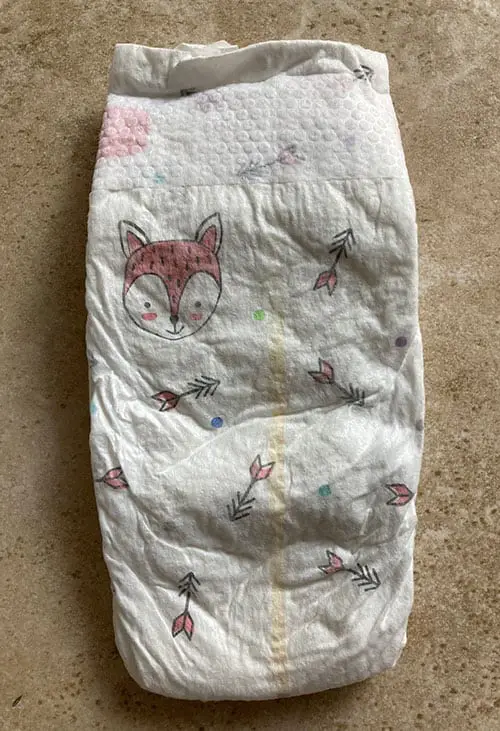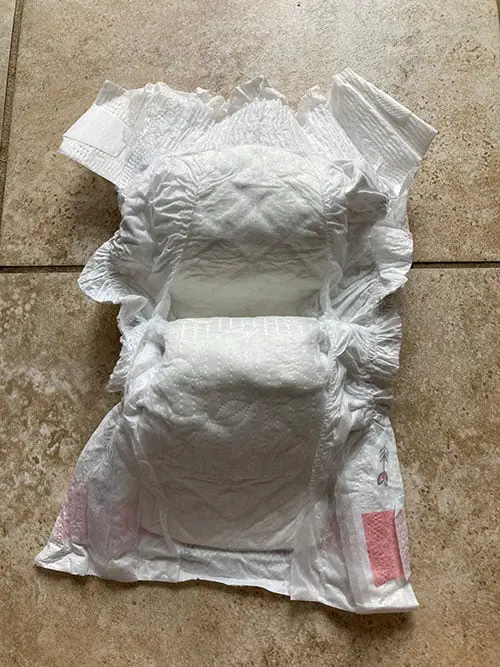 Kirkland diapers feature a 'cushiony liner', so your baby is comfortable wearing them, a 'silly soft' outer cover, a wetness indicator, and a fancy next size up indicator. This certainly helps when you're in-between sizes and not sure when to buy the bigger-sized pack.
Read Next: The Complete Diaper Size Guide: Chart Of Most Popular Brands
What are Costco diapers made of?
We put our delicate-skinned little ones in diapers every single day for the first years of their lives, so it's important to know what actually goes into the diapers we choose. Brands are waking up to the fact that parents and carers want transparency, so many handily provide a full ingredients list.
Here is what Kirkland diapers are made of:
Topsheet – Polypropylene and polyester
Backsheet – Polypropylene and partially plant-based polyethylene
The absorbent core – Elemental chlorine-free wood pulp and SAP
As we can see the majority of the diaper is made with petroleum-based plastics. But the Costco website states that their diapers are made from at least 23% plant-based materials. It's not much, but it's a start!
Are Kirkland diapers toxic?
If you've read my other diaper reviews, you'll know all too well that what a diaper is free of is just as important as the materials they use. The ideal diaper for your baby's health and for the environment is free from toxins and potential irritants like phthalates, chlorine, fragrances, lotions, and dyes using heavy metals. In a nutshell, phthalates have been linked to increased asthma and eczema rates, as well as abnormal genital development, and the term 'fragrances' can be used by companies to cover up a smorgasbord of chemicals, as it isn't regulated by the FDA. Chlorine isn't necessarily harmful to your little one's health, but it's terrible for the environment, and lotions and heavy metal dyes can irritate the skin. Read more about these harmful chemicals in my round-up of the best non-toxic diapers!
If a diaper brand steers clear of these toxins, it should display it pretty prominently on the packaging or on their site; it's a selling point, after all.
More on this topic: Disposable Diapers: What Are They Made From, And Are They Safe?
It looks like Costco's diapers fare pretty well in the non-toxic stakes. In fact, they're completely free of fragrances, lotions, latex, and elemental chlorine. This is great, but I can't find any information on phthalates, so it's possible that they're used. They're also not completely free of chlorine, like other brands are.
Related Post: What Are The Best Organic Diapers On The Market, And Why You Should Look For The Most Natural Ingredients
Kirkland Diapers Reviews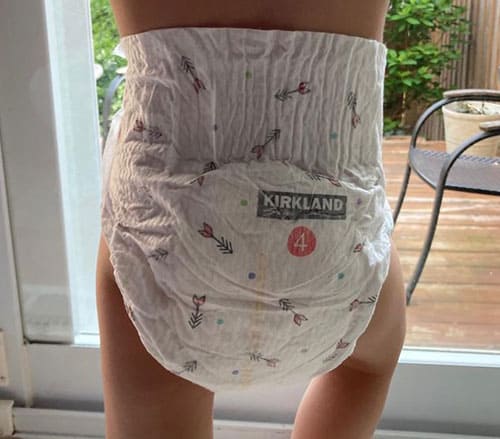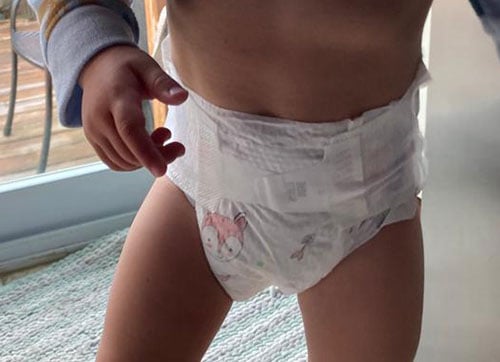 I asked my friend and fellow mom, Mila, to give her opinion on Kirkland diapers. As a mom of 3, she knows a thing or two about what to look for in a diaper… so how do Costco's stack up?
Sometimes, when you open a diaper box, you're hit with chemical smells. So I was pleasantly surprised that when I opened my box of Kirkland diapers, I didn't smell anything at all. But when I took a closer look at the individual diapers, you could certainly smell some of the manufacturing product – it wasn't strong, but it was there.  
The Kirkland diaper feels pretty soft, although not quite as soft as Huggies Special Delivery or Pampers Swaddlers.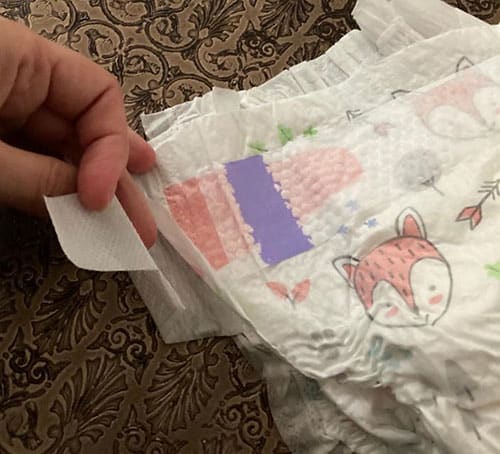 Kirkland is the main diaper brand I use with all my children, so it must be doing something right! If worn correctly, it's very absorbent, and I've never had any faulty tabs or leak issues. And most importantly, none of my kids have had allergic reactions when wearing Costco diapers. This is actually pretty common and not surprising if you think about how many diapers are packed with toxins.
When you compare Huggies Special Delivery to Kirkland side by side, they look pretty identical… although Huggies are still a little bit softer. Considering that Kirkland cost so much less than Huggies, it's a no brainer!
And there are plenty of other parents and carers who agree with Gina!
A reviewer on Reddit said that they've tried a bunch of different diapers in an attempt to find the softest and the best value, including Dyper, Honest, Coterie, Huggies and Kirkland. They love the fact that they're made with some plant-based materials and are budget-friendly. 
The only issue with Kirkland compared to non-toxic diapers like Coterie, Dyper and Honest, though, is that Kirkland diapers aren't free of phthalates. These horrible chemicals should be avoided wherever possible, so it's a shame that Costco diapers probably include them. 
But not all parents and carers agree with this!
Another Reddit parent says she found that the quality of Kirkland diapers is not the same as Huggies. She said they weren't as absorbent, although she did say that she experiences leaks with Huggies on one of her children, and not the other!
It just goes to show that every baby is unique, and what works for one might not work for another!
How much are Kirkland diapers?
*Prices were accurate at the time this article was published but may change over time.
Kirkland diapers are the definition of budget-friendly, although remember that you have to pay about $60 dollars a year to be a Costco member. Costco's offerings are certainly some of the cheapest available if you set aside this fee. In fact, a 192 pack of size 1 diapers will set you back just under 30 bucks, or 18 cents a diaper. Size 2 Costco diapers come in at just 20 cents per diaper, size 3 at 20 cents per diaper, size 4 at 23 cents per diaper, size 5 at 27 cents per diaper, and, finally, size 6 at 34 cents.
Considering some premium diapers can set you back 70 cents per diaper or more, you're looking at a very budget-friendly brand in Costco's diapers. But, with diapers, you really do get what you pay for. While eco and skin-friendly brands tend to be a little more expensive, if you do have the budget, it's worth considering these diaper brands. The positives for your baby and for the planet are aplenty.
Related Post: What Are The Best Organic Diapers On The Market, And Why You Should Look For The Most Natural Ingredients
Where can I buy them?
You don't need me to tell you that you should be able to find Kirkland diapers at all branches of Costco. So make sure there's a Costco not too far and that you're a member before taking a special trip to buy them, of course. Unlike brands like Pampers and Huggies, you won't find Costco diapers at your local grocery store!
You will, however, find them on Amazon, which is great news if you don't have a Costco nearby, or you don't want to pay the membership fee.
When do Kirkland diapers go on sale?
There are no set times for Kirkland diapers going on sale, but reports from parents and carers say that they sometimes go on sale around March and October time. You should be able to get money off both in store and online if you're a member. 
If you're already a Costco member, you're probably getting emails through with coupons attached – keep your eye out for diaper coupons! And bear in mind that there'll probably be a limit of 2 boxes per person when they do go on sale.
Kirkland diapers size chart
Kirkland diapers are available in sizes 1 through 6, so every stage of your little one's diapering journey. Having said that, there isn't a specific newborn size, so you might find size 1s a little big if your newborn's on the smaller side.
| | |
| --- | --- |
| Size | Weight |
| Size 1 | Up to 14lbs |
| Size 2 | 12-18lbs |
| Size 3 | 16-28lbs |
| Size 4 | 22-37lbs |
| Size 5 | 27lbs+ |
| Size 6 | 35lbs+ |
Frequently Asked Questions about Costco Diapers
1. Are Kirkland diapers made by Huggies?
Both Kirkland diapers and Huggies diapers are made by Kimberly-Clark, who are also responsible for huge everyday brands like Andrex, Kleenex, and Scott. There are some similarities between the diapers, but they're not officially the 'same'.
2. Are Kirkland diapers eco friendly?
Kirkland diapers don't boast lots of eco-credentials. Having said that, they're made with 'at least' 23% plant-based materials, which sounds pretty good. But this is probably just the wood pulp, which most diapers use, even the ones made mainly with petroleum-based plastics. And that still means 77% of the diaper is made from non-plant-based materials. Kirkland diapers are elemental chlorine-free, which means some chlorine is still used.
Chlorine bleaching is used by many diaper companies to make diapers more absorbent, but it's terrible for the planet. There are more eco-friendly ways of doing this, but some companies are a little behind on the memo: most notably, Pampers and Huggies.
Considering they're a super budget-friendly diaper, it isn't too surprising that Costco diapers aren't completely chlorine-free, but there is a budget-friendly diaper that goes further to minimize its impact on the environment: Mama Bear's Gentle Touch diapers. Gentle Touch diapers aren't made with any plant-based materials, which is a huge shame, but they are free of the main toxins: chlorine, phthalates, fragrances, lotions, and dyes. The lack of chlorine bleaching is great news for the planet, and the avoidance of potential irritants like phthalates and fragrances is even better news for your baby.
3. Are Costco brand diapers good?
What about the effectiveness of Costco diapers? In other words, do they do a decent job of keeping the pee and poop at bay? Well, according to the reviews, they really do. 
In fact, Kirkland diapers score an average of 4.7 out of 5 in just under 7000 reviews, which is pretty impressive, especially for a budget diaper. Most reviews are overwhelmingly positive, with parents saying they love their absorbency, comfort and, most of all, cost. 
While most reviews are positive, some users report a chemical smell when the packet is opened, and others say they think the brand may have changed their diapers recently, with their babies experiencing more leaks with Kirkland diapers than they did previously. 
All in all, if you don't consider the environmental and skin health side of things, they do seem to work for most parents and carers. And their price can't really be beaten. But they're certainly not the best choice when it comes to avoiding phthalates and chlorine.
4. Are Kirkland diapers better than Huggies?
It's difficult to say whether Kirkland diapers are better than Huggies, especially considering that Huggies offer a variety of diapers, unlike Costco's single variety.
Some parents and carers are convinced that Kirkland diapers are the previous generation of Huggies diapers, but that's not been confirmed!
Let's take a closer look…
Let's break it down.
Price: With so many varieties available, it is tough to compare prices, but, looking at Little Snugglers as an example, Kirkland diapers are clearly cheaper. Little Snugglers range from about 24 – 49 cents per diaper on Amazon, depending on the size you need. In contrast, Costco's diapers range from a super budget-friendly 16 cents to just 30 cents for the biggest size. 
Materials: Every Huggies variety is different, but only one of these offers a diaper made with any kind of plant-based materials: Special Delivery. Just like Costco's diapers, Special Delivery diapers are made with 20% plant-based materials. That leaves the rest to be made up with petroleum-based plastics. 

The fact that both Kirkland and Huggies Special Delivery supports the theory that both varieties are in fact the same, or at least similar. Both brands are manufactured by Kimberly and Clark, so this isn't outside the realms of possibility!
Toxins: Unless it's clearly stated that a brand avoids a certain toxin, it's much safer to assume that it's used. Costco lets us know that their diapers are free of elemental chlorine, fragrances, latex and lotions. This is great, but the company doesn't say anything about their use of phthalates.

Huggies Special Delivery diapers are free of fragrances, lotions, and elemental chlorine. This is great, but it doesn't answer the phthalate question, so I assume they're used in these diapers too.
Availability: Huggies definitely has the edge when it comes to availability. They're available – well – everywhere, really. In fact, you're likely to find Huggies in every store that sells diapers, from online stores like Amazon to large grocery stores like Target, Walmart, and CVS, down to the independent grocery and convenience stores.

Costco's Kirkland diapers, on the other hand, are available at Costco, and membership is priced at $60. Unless you go to Costco regularly, it's not necessarily worth joining just for diaper access.

If you're an Amazon Prime member ($119 per year), you can save money on diapers with them too. Their Amazon Family Program gives you exclusive discounts, parenting tips, and up to 20% off the baby diaper and baby food subscriptions.
Reviews: While Costco's diapers score an impressive 4.7 out of 5 in just under 7000 reviews, reviews are equally positive for Huggies Special Delivery – they average 4.8 out of 5 in over 4000 reviews on Amazon, with users loving their softness and leak protection.

Some parents and carers who have compared the two say that Huggies diapers outperform Kirkland diapers when it comes to absorbency and leak protection, but not all!

Huggles Little Snugglers also score a great 4.8 out of 5 in just under 17000 reviews, so it's clear that for most parents at least, both brands are effective. 

It looks like there's not much in this diaper race, but Huggies Special Delivery diapers do steer clear of fragrances and lotions, which is positive. But it's not really good enough for any of these big brands – Huggies, Pampers, or Kirkland – to be using toxins and to not be making more of an effort to minimize their impact on the environment. It's not as if they don't have the means to…
5. Which brand of diapers is the best?
The best diapers are those which effectively keep the pee and poop at bay, while avoiding toxins that could harm our babies' health, and making some kind of effort to minimize their impact on the planet. That's a tall order for a diaper to achieve at a reasonable, affordable price, but some brands do manage it!
In terms of the best of the best of the best (of the best), biodegradable, plant-based, and non-toxic diapers are the gold medal winners. Brands like Dyper, Andy Pandy, and Ecoriginals offer compostable diapers made from plants – predominantly, at least – which don't have to end up in landfills, and instead, can be broken down either at home in a compost heap or using a professional composting service. 
Silver medal winners are brands like Hello Bello, Honest, and Abby & Finn, which offer non-toxic diapers that aren't biodegradable but have some plant-based materials.
Related Post: The Best Non-Toxic Diapers For Your Baby: Chemical-Free, Hypoallergenic, And Environmentally Friendly
Ultimately, all babies are different, and the best diaper for your little one might not work for another. But the best diapers in terms of health for your baby and for protecting the world for future generations are those which avoid the use of toxins as much as possible and use eco-friendly practices. Unless a brand explicitly states that they avoid certain chemicals and use these eco-friendly practices, it's much safer to assume they don't!
6. Which diapers are better: Kirkland or Target?
Target's own brand of diapers – Up & Up – can certainly challenge Costco's Kirkland diapers to a budget-friendly race, but who comes out on top?
*Prices were accurate at the time this article was published but may change over time.
| | | |
| --- | --- | --- |
| Diaper Size | Costco Price Per Diaper | Target Price Per Diaper |
| Size 1 | 16 cents | 11 cents |
| Size 2 | 17 cents | 12 cents |
| Size 3 | 18 cents | 13 cents |
| Size 4 | 20 cents | 15 cents |
| Size 5 | 24 cents | 16 cents |
| Size 6 | 30 cents | 18 cents |
*Prices were accurate at the time this article was published but may change over time.
If you thought Costco's diapers were budget-friendly, Target's Up & Up brand has just walked in for an epic mic drop. Target's prices are based on the largest packs you can buy of each size, which are naturally the cheapest, so bear in mind that the price per diaper will be slightly higher if you buy the smaller packs. But it seems that Target's diapers are even cheaper than Kirkland, which is saying something.
Like Kirkland diapers, Target doesn't make their use of toxins clear, and the reviews aren't as good as Costco. In over 2700 reviews, Up & Up diapers score an average of 3.9 out 5, compared to Costco's 4.7 out of 5.
Many reviews say that Kirkland diapers are thicker and softer than Target diapers – all around better quality! And looking at leak protection, Kirkland diapers certainly seem to take the trophy. Many Target diaper reviews talk about leaks, which isn't surprising when they're thinner than Costco diapers.
7. New Kirkland diapers 2020: What is the difference?
There's nothing more frustrating than finding the perfect diaper for your baby, only to buy a new pack and find that they're just 'not the same' as before. This is a common issue with many diaper brands, and some users of Costco diapers are saying that 2020 has seen a decline in the quality of Kirkland diapers. This year's just the worst.
Some parents report a 'new' chemical-like smell when the package is opened and say that the new diapers are stiffer than they were previously. It also looks like the design might have changed slightly, but prints don't make any difference to the quality, of course! 
8. What are Kirkland diapers most similar to?
There are plenty of budget-friendly disposable diapers out there, but which should you try? Whether Costco's diapers aren't doing the trick for your baby, or they're not doing quite enough for the planet, there are lots of alternative choices.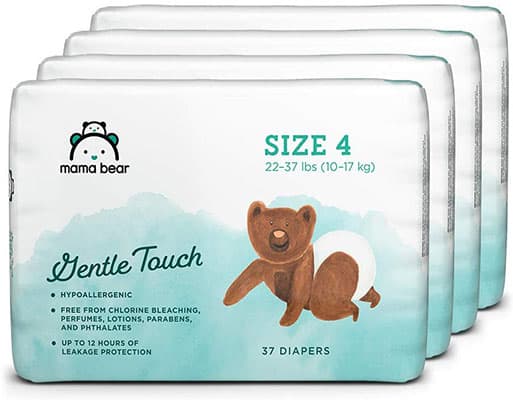 One of my favorite budget-friendly diapers is Mama Bear Gentle Touch. Amazon's own brand diapers work out at a very similar price to Costco's, but they're free of phthalates, fragrances, chlorine, and lotions. As we know – because I can't stop talking about it – added toxins like these are terrible for the planet, and potentially awful for your baby's health too. 
Not only do Mama Bear's Gentle Touch diapers (and it's important to choose this variety, not their original variety – 'Best Fit') avoid toxins, but they're produced in a zero-waste-to-landfill facility. The downside is that they're not made with any kind of plant-based materials, so if you're looking for a diaper that does a little more without breaking the bank, here's what I recommend…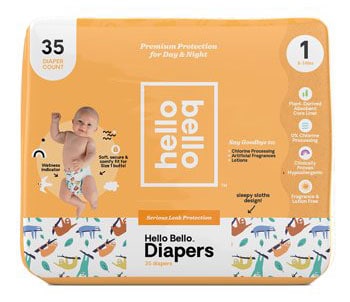 You've probably heard of Kristen Bell, but in a crazy popular children's film context rather than a baby diaper one. But, like Jessica Alba, she's part of the Hollywood healthy-diaper-making movement, founding the non-toxic diaper company 'Hello Bello' with her husband, Dax Shepard. 
She wanted to close the gap between what we know as parents is healthiest for our babies, and what we can realistically afford. So her diapers not only have some plant-based materials and are toxin-free, but much cheaper than some similar healthy brands. Hello Bello diapers will set you back 38 cents per diaper. This is still more than Costco's diapers, of course, but if your budget can stretch to it, it's certainly worth it. 
Read Next: Hello Bello Diapers Review: A-List Diapers For Your Little One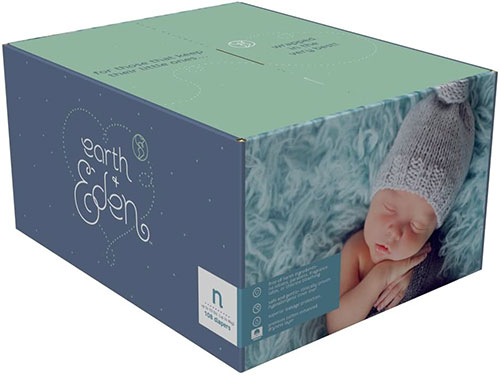 A similar brand that's great value is Earth & Eden. You can buy their plant-based, non-toxic diapers for about 25 cents each, depending on the size you need. Both brands are showing us, and the big brands like Huggies and Pampers, what diapers should look like. Let's hope that, as more of us choose them, the gap between healthy diapers and affordability will continue to close!
Read Next: Earth And Eden Diapers Review: As Good For The Earth As The Name Suggests?
Costco Diapers: the good, the bad, and the bottom line
So now we've taken a pretty in-depth look at Costco's diaper offerings, what's good, what's bad and what's the bottom line when it comes to these budget-friendly baby diapers?
The Good
The Bad
◆ They're very cheap!
◆ They have a size up indicator
◆ Free of fragrances
◆ Free of lotions
◆ Free of latex
◆ Free of elemental chlorine
◆ Soft-breathable cover
◆ Made with 20% plant-based materials
◆ They have a wetness indicator
◆ They're not transparent about their use of phthalates
The bottom line
As much as I love a trip to Costco, and spend way too much every time I visit, I won't be in too much of a rush to buy their diapers. It's great that they're made from 23% plant-based materials and free from fragrances and lotions, but the fact that they're not transparent about their use of phthalates isn't ideal. It's not exactly unusual for baby diaper brands to be secretive though.
I'll certainly still visit for my fill of way more maple syrup than I'll ever need or use, but I prefer diaper brands that are very obviously non-toxic. The only problem with some non-toxic, planet-friendly diapers is the price. Ultimately, so many of us are on tight budgets, especially this year. It's therefore important to have access to healthy diapers that are affordable.
Related Reading