If you're expecting a new arrival and haven't got your diaper pail yet, you need to get one. As a mom of two who's changed thousands of diapers over the years, trust me – it's worth it.
While diapers, clothes, wipes, and bottles are mainstays on registry lists, diaper pails are often missed. For me and for so many other parents and carers, a diaper pail is just as necessary as the diapers themselves. It's true that you very quickly become used to diaper changing, the pee leaks, and even the blowouts, but what you don't want to get used to is the lingering smell of dirty diapers.
So what should you consider when looking for a diaper pail, and which diaper pails are the best on the market?
Note: Affiliate links may be used in this post. I may receive a small commission at no extra cost to you if you make a purchase through my affiliate link. Please read my disclosure for more info. All prices and availability are accurate at the time of publishing.
Do you really need a diaper pail?
To quote Rachel's mom from the iconic show 'Friends', 'you can't leave a baby alone'! She says this after Rachel innocently explains that she'll take every dirty diaper out to the trash. As a first-time mom, she's not yet experienced the chaos, tiredness, and 'you'll never have a minute to do anything ever again'-ness of parenthood.
Luckily, Rachel is gifted a diaper pail, so she won't have to worry about taking each dirty diaper out to the trash, or leaving the smell to fill the room.
Diaper pails, I think, are a must-have for every parent. Not only do they provide a handy hiding place for all of your baby's dirty diapers, but they lock away the smell too. And here's a pretty horrifying reminder – your baby will use anything up to 4000 diapers in their first year alone.
Suffice to say, diaper pails are useful.
How does a diaper pail work?
So why can't you use a regular trash can for dirty diapers? Technically, you can. But diaper pails are different in a few ways. Firstly, they have quick closing lids and a secure seal to stop the smell from wandering around the room.
Your diaper pail might also have odor-filtering technology, which regular trash cans just can't boast.
Most diaper pails are operated by foot and some are even child-proof, so they stop your baby or toddler from reaching in and pulling out all those dirty diapers!
What to consider when choosing a diaper pail
To choose the best diaper pail for you and your family, there are a few things to consider.
Size


Different diaper pails hold different numbers of diapers. You want to make sure it'll hold more than a couple of dirty diapers so that you're not having to change it super regularly.
Trash bags


Some diaper pails are designed not only to hold all of your baby's dirty diapers but to steal all of your money too. Certain models are only compatible with the brand's own trash bags, which are often a lot more expensive.

I prefer diaper pails that work with any trash bag – it works out a lot cheaper – so make sure you check this before you buy.
Design


Some diaper pails don't look like diaper pails at all, which I guess is a plus! You can get them in all kinds of colors and designs. You're likely to pay more for fancier ones, though.
Price


As with all products, and especially those designed for babies, the prices of diaper pails vary wildly. On the budget-friendly side, you're looking to pay about 30 bucks, while the more expensive versions can cost up to 100 dollars or more.
Reviews


Always check the reviews before buying. They'll tell you all you need to know about how effective the diaper pail really is.
Best Diaper Pail Reviews Of 2022 
Here's my roundup of the best diaper pails for 2021 – from budget-friendly to sleek designs to odor-resistant, you're sure to find the best diaper pail for you!
We'll start as we mean to go on – with an award-winning diaper pail. The Ubbi Steel Odor Locking pail is one of my favorites.
Because it's steel and has rubber seals, it makes light work of keeping horrible smells contained. Not only does it have a childproof lock for keeping little hands out, but it doesn't require special trash bags. Having the freedom to buy any trash bags you like can save you a heap of money in the long-run. It also means you can go for eco-friendly, biodegradable trash bags if you'd like to.
Another amazing thing about the Ubbi pail is that it comes in loads of different designs and colors, including white, gray, cloudy blue, blush pink, gray chevron, ivory, marble, light blue, sage, mint, slate, and woodgrain. If you can't find an Ubbi diaper pail to match your decor…
And the Ubbi pail isn't style over substance. While it has a sleek and discreet oval shape, it can hold up to 55 newborn diapers. The price varies depending on the design you choose. On the lower end of the scale, you'll pay just over 70 bucks, but some designs run up to 120 dollars.
It seems like the price is worth it though if you consider the reviews. The Ubbi diaper pail averages 4.6 out of 5 in over 9500 reviews, with users saying it's great at locking in odors and it's super easy to clean.
The bottom line
If you're looking for an easy-to-use diaper pail that'll lock away those horrible poopy smells while looking amazing, you need the Ubbi!
The Playtex Diaper Genie is the number 1 selling diaper pail for a reason. It has a long list of cool features and a great price tag to match.
This famous diaper pail has built-in antimicrobial properties which slow down bacteria growth, as well as double air-tite clamps and carbon filter. It's super easy to use with its foot pedal and easy-to-use trash bags, the downside being that you do have to buy special bags for the Playtex diaper pail. It does feature a built-in bag cutter to make it easy to take out the dirty diapers though.
The Playtex pail is tall, so there's no bending down involved, and it can hold up to a whopping 270 newborn diapers, which means fewer trips to the trash. It's available in grey, blue, pink, and white – not as many colors as the Ubbi offers, but you're still sure to find a design that suits your nursery!
When it comes to price, the diaper genie doesn't let us down. At around 40-50 dollars, you get a lot of bang for your buck. And the reviews are great too. It averages 4.6 out of 5 in over 4300 reviews. Users love how many diapers it holds and how it really does trap the odors.
The bottom line
You can't argue with the facts – the Playtex Diaper Genie is the number 1 selling diaper pail. When it comes to keeping odors and bacteria at bay, it does the job, and more.
If you want a diaper pail hi-tech enough to rival the latest iPhone, look no further than the Dekor Plus. It has a whole bunch of fancy features, like a rubber seal to contain odors, a child lock, a reusable refill cartridge, scratch-resistant plastic, a foot pedal, and a child-proof refill cutter. Phew…
And it's not just made from any old plastic. Whereas most plastic diaper pails yellow over time as they absorb bacteria and odors, Dekor's 'ABS' plastic prevents odors and resists color changes. It's completely safe to clean it with household cleaners, but it's not always okay to do this with steel pails – it might rust.
The Dekor pail is available in white, gray, soft pink, soft blue, soft mint, and white with gray trim, so it'll be easy to find one that fits with your nursery decor. At about 40-50 bucks, they're a great price and the reviews are equally great. Out of over 4500 reviews on Amazon, it averages 4.5. One user prefers it to the Playtex pail because it's easier to dispose of the diapers without 'spillage'. Others love that you can open it with the foot pedal, so it's hands-free.
The bottom line
I love this diaper pail. It's great for hands-free use, it's durable and you can use any trash bags. It ticks all the boxes.
This Safety 1st Easy Saver diaper pail is super budget-friendly. At 20 bucks, it's a steal! It's easy to use and is compatible with any trash bag. It comes with a deodorizer disc, which is great, but that's where it ends when it comes to features.
Although it's on the basic side – and it's only available in white – it looks like it does the job. It has great reviews for such a bargain price. It scores an average of 4.4 out of 5 in over 3400 reviews, so it's tried and tested. One user says it's just as good as the Playtex diaper genie and another says it's good value for money.
The bottom line
If you're not looking for a diaper pail with a fancy design or features and you're looking to stay on budget, this is the diaper pail for you!
The Munchkin Step Diaper Pail has a lot to live up to. It describes itself as the 'proven number 1 in odor control', promising to keep your nursery fresh. And it was awarded the best overall diaper pail of 2020 by the Good Housekeeping Institue. So it's a pretty big deal.
How does it offer this superior odor control? The Munchkin pail has a patented self-sealing system, keeping the odors at bay whether the lid's open or closed.
It has a step pedal so it can be used completely hands-free, a child-proof locking system, and, probably the best of all its features, added odor protection with lavender-scented baking soda in the lid!
The Munchkin Step is compatible with both rings and snap, seal and toss bags. For the pail and 6 refills, you're looking at about 70 bucks. Judging by the reviews, it's certainly worth the money. It averages 4.7 out of 5 in over 2500 reviews. Parents really like the built-in lavender odor control.
It's only available in white, which is a potential downside if you're looking for a colorful diaper pail.
The bottom line
If you're not looking for a fancy design and you're all about odor control, you're good to go with the Munchkin Step.
The only diaper pail made especially for cloth diapers, if you're a cloth diaper mama, the Odorless Cloth Diaper Pail by Busch is an absolute must-have. It has a strong clamp closure to keep those odors locked away safely and its carbon filter lets air in without letting those odors out. It has a wide opening and durable lid, perfect for bulkier cloth diapers.
And if you're concerned about the environmental impact of diapers and diaper accessories, this model's got you covered; it's made from recycled plastic, and it's recyclable!
It's only available in white – no fancy colors – and it's priced at about 66 dollars, so it's a little more than some other diaper pails. Out of just over 200 reviews, it averages 4.3 out of 5 stars on Amazon, with reviews saying it's great at keeping the odors at bay and holds a couple of day's worth of diapers.
The bottom line
For cloth diaper mamas, the Odorless Cloth Diaper Pail won't let you down. The only pail made specifically for cloth diapers, it'll make light work of keeping the odors locked away until you get the chance to wash and dry them.
The Bubula Steel Diaper Pail is a transformer of sorts. It easily converts into a regular trash bin, so you don't have to give it away when you no longer need it for diapers. It's made from steel and aluminum has an air-tight lid to trap odors, and is a larger container than similar diaper pails.
That's great news for babies who get through plenty of diapers. So, all of them, really. And it's especially great if you have twins or you're expecting twins! When you've got two little ones to feed, change and snuggle, the last thing you want is to be taking the trash out every 2 minutes.
The Bubula has a tall base, a safety lock, and uses any trash bags, so there's no need to worry about buying a specific brand.
If you want a diaper pail that fits with your nursery decor, you're in luck – the Bubula is available in gray, light blue, light pink, purple, sage, white and white/silver. The price depends on the color you choose – some will set you back about 80 bucks, while others cost over $110.
When it comes to ratings, it's not as loved as some other diaper pails; it averages 3.9 out of 5 on Amazon. Most reviews are pretty positive, with parents loving the colors, but some reviews state that they're not great at keeping odors contained.
The bottom line
This diaper pail is great for holding more diapers than other brands, so it's great for twins or multiples!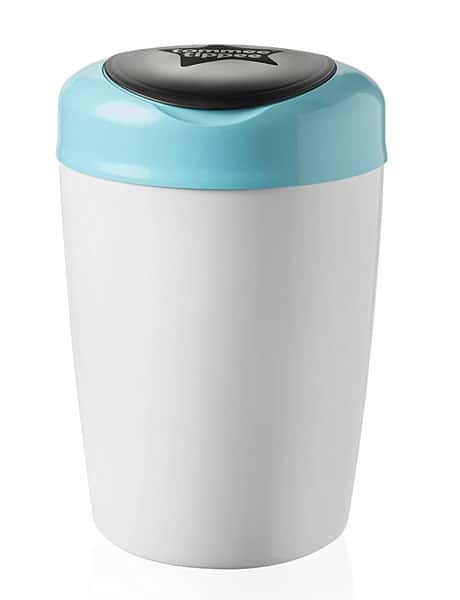 Tommee Tippee might not be well known in the US, but it's a household name in the UK when it comes to all things baby. This Simplee Sangenic disposal bin offers protection against germs and smells. It has a smart sealing lid, which keeps odors trapped, and the antibacterial film is more effective than diaper bags.
Easy to use one-handed, just lid the lid and push the diaper through. It holds up to 18 diapers, so not as many as some other brands, but it is perfect for smaller spaces as a result. Plus, there's an eco-friendly element to it: all Tommee Tippee refills are made with 98% recycled plastic.
This diaper pail is available in white and blue or white and pink and will set you back just over 30 bucks, so it's pretty cheap! In over 230 reviews, it averages 4.5 out of 5, so the vast majority of users love it.
The bottom line
If you're looking for a diaper pail that holds plenty of diapers, this pail is not the one for you. But it's simple to use and it's small, so it's great for smaller spaces.
FAQ about best odor locking diaper pails:
1. How do I stop my diaper pail from smelling?
There's a few things to consider when it comes to keeping the diaper pail smelling… acceptable. First of all, make sure you're changing the diaper pail pretty regularly. It goes without saying that, the more diapers in the pail, the more it's likely to smell!
Secondly, it's also important to clean the pail regularly. I clean my diaper pail by spraying it with anti-bacterial cleaner or bleach, filling it with hot, soapy water and leaving it to soak and, finally, giving it a good scrub!
And Thirdly, you could try using scented diaper bags, but try to use bags with natural scents.
2. Can you put poopy diapers in the diaper genie?
Technically, no.
It sounds crazy, but you actually shouldn't put poopy diapers straight in the diaper pail. Because human waste is potentially hazardous, it shouldn't end up in landfills, as it could cause health issues. Although nearly every parent completely skips the following advice, what we should be doing is scraping poop into the toilet rather than putting it straight in the pail or dumpster. In fact, all diaper brands include this advice in the small print. Who knew?!
Once the poop's gone, you can then put the dirty diaper in the pail and pee diapers can go straight in there, without worrying about making a trip to the bathroom first!
3. Is throwing away dirty diapers illegal?
Strangely, although it's not technically illegal, putting human waste in the trash is against the World Health Organization's guidelines. You should therefore put your baby's poop in the toilet before disposing of the diaper in the diaper pail.
Again, you don't have to worry about pee diapers, but sending poop to a landfill could cause health hazards, so it's important to scrape it into the toilet first.
Try to throw your dirty diapers away at home if you can, and not in public places. Check out my guide to disposing of dirty diapers for more guidance!
4. What are Diaper pail alternatives?
I think a diaper pail is a must-have for any parent, but there are some alternatives.
A regular trash can


A regular trash can will of course keep your dirty diapers in one place until you get the chance to take them out to the dumpster. But it's not gonna look pretty, and trash cans won't lock the odors away like diaper pails do.
Diaper bags


Diaper bags are another alternative to a diaper pail, although you have to be super careful with plastic bags around babies and small children. If you don't mind having lots of tied-up diaper bags hanging around in the room, they're an 'okay' alternative, but having a diaper pail or trash can is safer.

If you are looking to use diaper bags, look for biodegradable ones if you can. This just means that the bags will break down easier than their plastic counterparts. These biodegradable bags are lavender scented, which should certainly help with the poopy odors!
Grocery bags


Some parents use old grocery bags for their diapers. It's certainly an environmentally-friendlier way of doing things! Not so great for the look and feel of the nursery though. And, again, never leave grocery bags or plastic bags near to babies or small children.
5. How to clean a diaper pail
It's no surprise that diaper pails need to be cleaned regularly – they're holding a lot of pee and poop. And it's the bacteria from that which makes them smell, really, really bad. But it's easy enough to clean diaper pails, and have them smelling tip-top in no time. Not that they'll stay that way for long.
Everyone has their own tips, tricks, and cleaning ways. I clean my diaper pail using my favorite antibacterial spray cleaner (bleach is an option too) and by filling it with hot soapy water to soak. After tipping the water out, I give it a good scrub down and rinse it out again. It's worth doing this every few days if you have the time.
It's certainly easier said than done when you've got a baby – or babies – to look after!
6. Are diaper pails worth the money?
Diaper pails are absolutely up there on my list of must-haves for soon-to-be parents along with diapers themselves, wipes, bottles, and other necessities. They're a super convenient way of disposing of your (many, many) dirty diapers hassle-free while keeping those nasty poop smells away from the rest of your baby's nursery. Plus, some of them actually look cute, which always helps.
There are many things to consider when you're looking for the right diaper pail: price, size, design, compatible trash bags, and reviews. But whether you're looking for budget or top of the range, a pail for a small or large space, or a basic design or super cute design, you're sure to find the right diaper pail for you.
Say goodbye to horrible diaper smells and hello to a clean, fresh nursery!
Related Reading